Lucas Simões . Ressaca
Aug 11th – Sep 15th 2018
São Paulo, Rua Estados Unidos, 1324
Map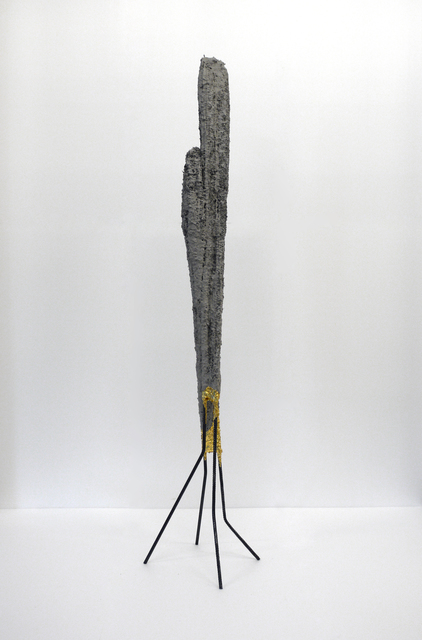 Press Release
Casa Triângulo is pleased to present Ressaca, Lucas Simões first solo exhibition at the gallery.
The show features a large installation consisting of 52 metal panels hinged together. The 65 meters length of this work is equivalent to the extension of the terrain of Casa Triângulo with the public space. The installation is an invitation to visitors to reconfigure the space of the gallery generating new paths and diverse spaces.
Parallel to the installation, the artist presents a new series of sculptures titled you text nothing like you look. Each sculpture proposes a dialogue between matter and poetry - verses in their original languages inspire the production of the sculptures that, when finalized, point to another verse in another language. This ensemble sculpture and poem become resigned, opening to new interpretations and senses.
Lucas Simões (1980, Catanduva, Brazil) held solo exhibitions at Museu de Arte Moderna Aloísio Magalhães (Recife, Brazil), Caixa Cultural (São Paulo and Rio de Janeiro, Brazil) and Pivô Arte e Pesquisa (São Paulo, Brazil). He also took part in group exhibitions at the 10th Bienal do Mercosul (Porto Alegre, Brazil), Zacheta National Gallery (Warsaw, Poland), Astrup Fearnkey Musset (Oslo, Norway), Itocho Ayoama Art Square (Tokyo, Japan), Museu Brasileiro da Escultura (São Paulo, Brazil) and Instituto Figueiredo Ferraz (Ribeirão Preto, Brazil). His works are part of the public collections Itaú Cultural (São Paulo, Brazil), Museu de Arte do Rio de Janeiro (Rio de Janeiro, Brazil) and Museu de Arte Contemporânea da Universidade de São Paulo (São Paulo, Brazil).
Follow Artists In This Show