Alex Hoda Chance Encounters
Including both new pieces and significant early works, Chance Encounters presents a survey of the work of British artist Alex Hoda. Whilst varying in materials, technique and form, the exhibited sculptures are all a testament to the artist's enduring dialogue with art historical t
May 1st – Nov 8th 2015
Goodwood, New Barn Hill
Map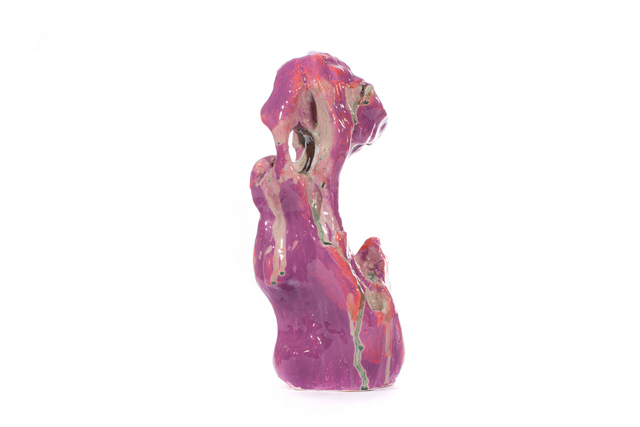 Press Release
'Alex Hoda: Chance Encounters' marks the first of a new series of exhibitions and associated publications by the Cass Sculpture Foundation. The Work in Progress programme is intended to provide an overview of the work of Britain's most influential and interesting contemporary artists working today.
Featuring both early works and new compositions, this exhibition traces the evolution of Hoda's practice as a sculptor, chronicling his career-long dialogue with varied art-historical traditions, including Classicism, Modernism and Surrealism. Visitors can expect to view Hoda's early, anthropomorphically suggestive rubber sculptures, inspired by found objects such as sex toys and ceramic animals, alongside his more recent waste-derived marbles and bronzes, as well as new ceramic works from his Wisp and Puncture series.
Despite the shifts in his chosen materials over his career, Hoda's work is unified by the tension he creates between the banality of the object and the grandeur inherent in the sculptural tradition through which it is presented.
Thus, discarded nicotine gum becomes an organic artefact blown out of proportion and carved in Carrera marble or moulded in bronze. His increasing interest in using waste substances – chewing gum, banana skins and driftwood – as subjects of sculpture reflects this intention to question preconceived notions of what makes a fitting subject for art, using the humour of unexpected, even absurd, contexts to challenge our relationship with the legacy of traditional art and the vast proliferation of everyday matter that fills our lives.
Playfully executed but with a serious purpose, 'Chance Encounters' places the onus of interpretation on the viewer, triggering, challenging and dispelling received ideas and subconscious associations concerning everyday objects and artistic tradition.
The exhibition runs from 3 April to 8 November, and will be accompanied by a comprehensive survey of Hoda's sculptural practice. Work in Progress: Alex Hoda is the inaugural publication in Cass Sculpture Foundation's new series dedicated to contemporary British artists.
NOTES FOR EDITORS
About Alex Hoda
Born in Canterbury in 1980 and educated at Wimbledon College of Art and Goldsmiths College, Alex Hoda graduated from the Royal Academy of Arts in 2008. His large-scale works are variously realised in the traditional materials of bronze, marble and copper, or in rubber, latex and ceramics, and frequently make use of modern 3D-modelling technologies. Often adopting the technique of automatism, whereby unconscious processes are incorporated into the process of creation, Hoda brings a surrealist approach to a classical sculptural tradition.
His solo exhibitions include: The Armory Show, New York (2014); Lisa Bird Contemporary, Vienna (2014); Edel Assanti, London (2013); Metro 5 Gallery, Melbourne (2009); 20 Hoxton Square Projects, Berlin (2011). His work has been included in numerous group shows, including: Fundament Foundation at Park De Oude Warande, Tilburg, (2014); Edel Assanti, London (2013); Haunch of Venison, London (2012); Saatchi Gallery, London (2010); Leslie Fritz Gallery, New York (2009); Allsopp Contemporary and Weidel Fine Art, London (2008). He lives and works in London.
About Cass Sculpture Foundation
Occupying 26 acres of beautiful West Sussex countryside, the Cass Sculpture Foundation is a charitable commissioning body based in Goodwood. Established in 1992 by Wilfred and Jeannette Cass, the Foundation is dedicated to showcasing monumental modern works by emerging and established artists and maintains an ever-changing outdoor display of 80 contemporary sculptures, all of which are available for sale. Among the 400 works commissioned by the Foundation in its 20-year history are pieces by Anthony Caro, Marc Quinn, Rachel Whiteread, Gavin Turk and a host of other ground-breaking artists.
www.sculpture.org.uk
Follow Artists In This Show