Max Henry - 1820
The title of Max Henry's first exhibition, 1820, reverses the two pairs of digits that make up the number 2018, the year in which this exhibition takes place.
Mar 8th – Apr 9th
Vienna, Schleifmühlgasse 1a Charim Events
Map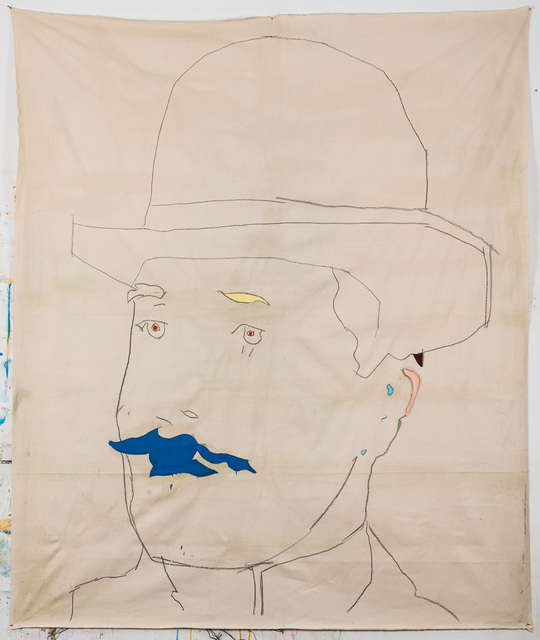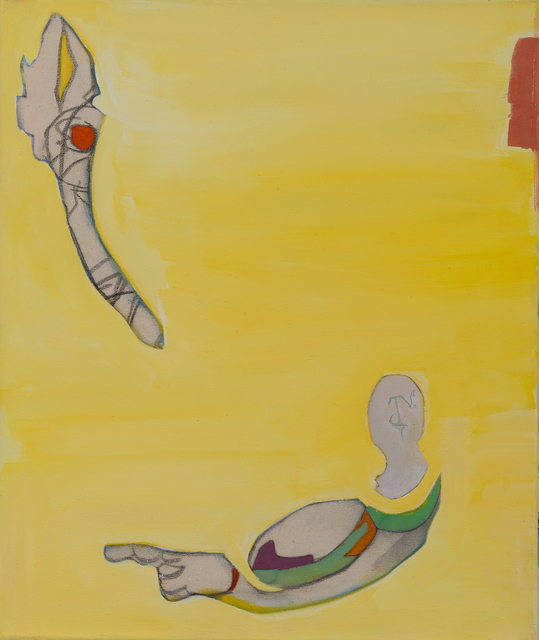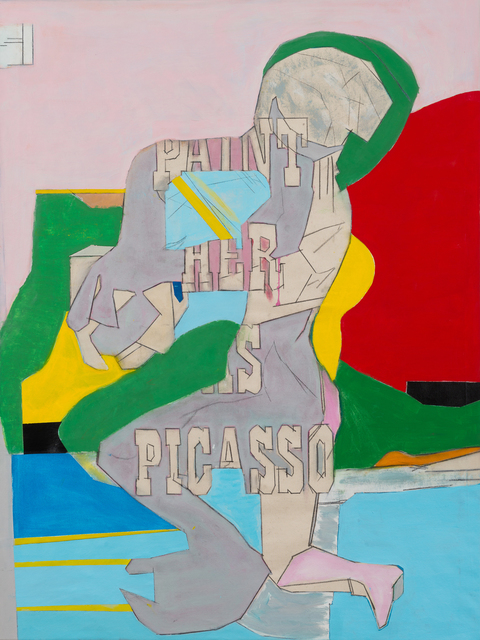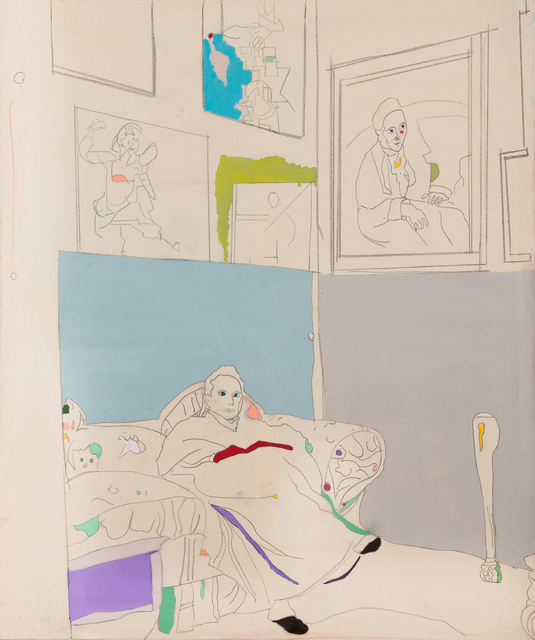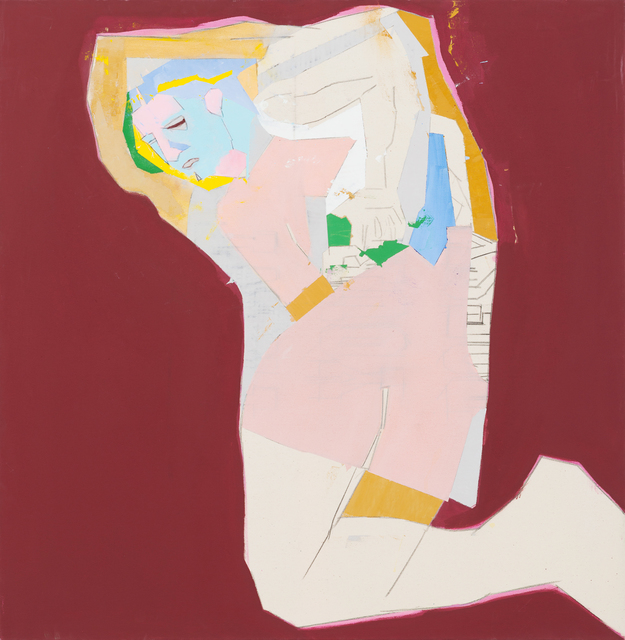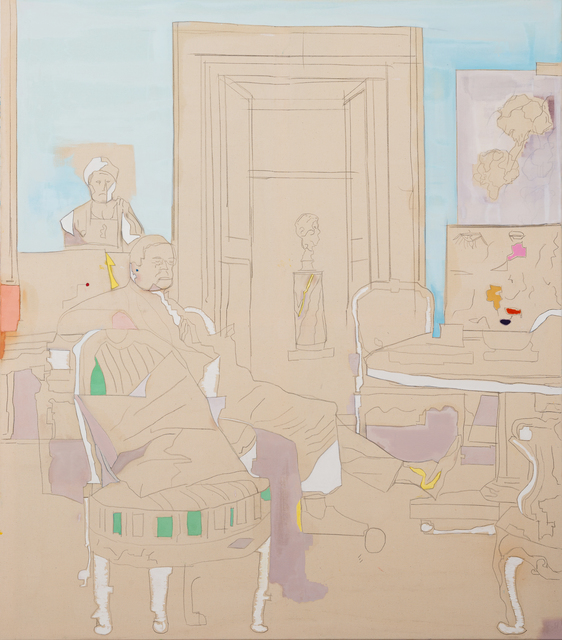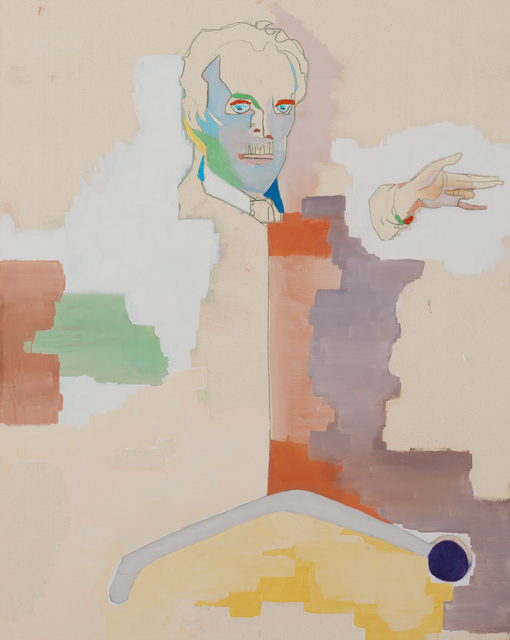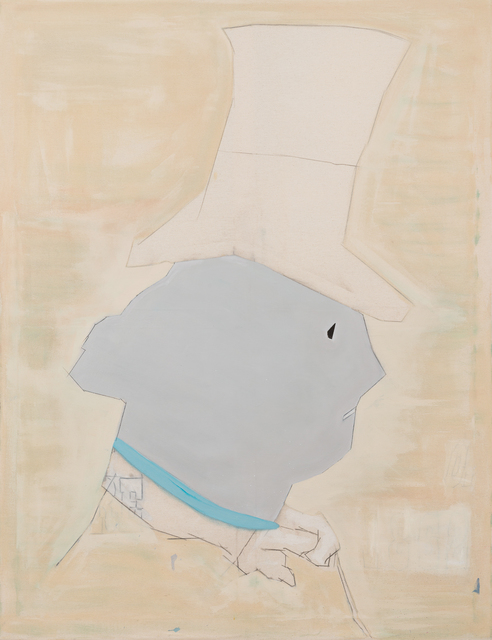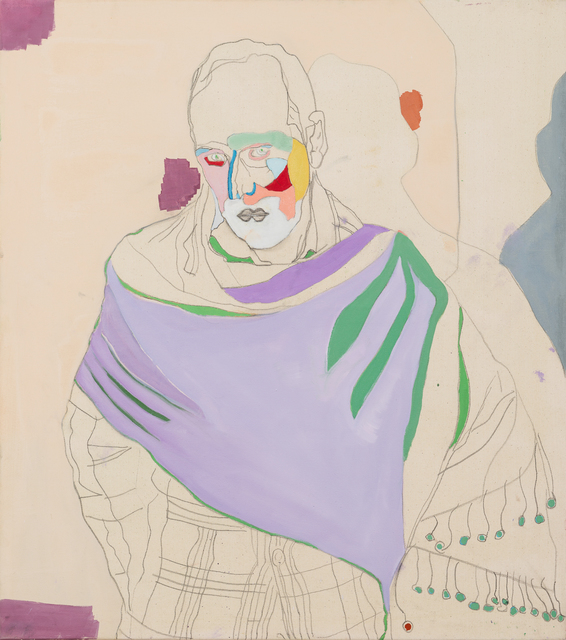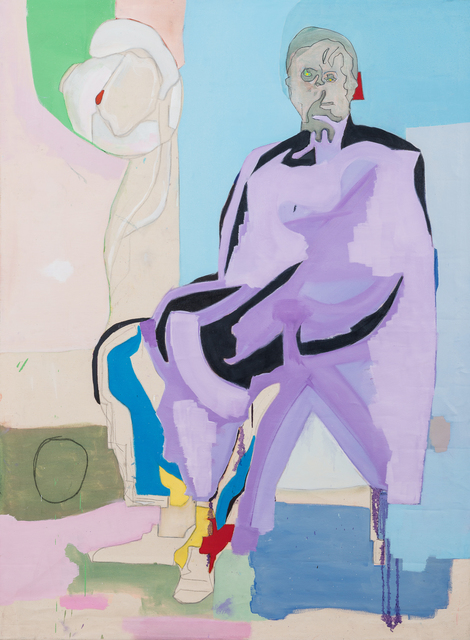 Press Release
Fully in line with the avant-gardists, he seeks to give his present-day artistic endeavors a future direction by connecting them with the spirits of the past, namely those of the nineteenth century. Of course, the twofold direction in time, which appears to result from this play of permutation with the number of the current year, could also be seen as an attempt to suspend time, so as to bring about a moment in which the mighty spirits of any epoch can be invoked. In any case, this play relieves him of answering the question whether painting is in keeping with the times, as painting is part of Henry's concept, according to which it is designed to act, just like the painter, as an intermediary medium between eras and worlds as well as between depiction and poetry.
One of the key figures Max Henry has brought to his canvas, with a Modernist propensity for series, is William Blake, who in his day appeared out of step with his own time, both as a poet and a visual artist. As we know, this has not weakened Blake's long-term influence. His sentence "If the doors of perception were cleansed everything would appear to man as it is, infinite" was not only the source of Aldous Huxley's title The Doors of Perception, which appeared in 1954 and describes the effects of the psychedelic drug mescaline. It also provided Jim Morrison with the name of his band The Doors. Max Henry has now made the bust portrait, whose different versions reference Blake, appear transparent and always ready to morph, perhaps even into maps of imaginary islands. In an early small acrylic study (we are talking about a period of about two years) the skull ascribed to Blake still throws a shadow painted in pink hues, highlighting the ambiguity of the symbolic representation that oscillates between drawing and painting. Henry's constructing as well as deconstructing brush searches his uncertainty for the certainty of remaining open, in order to allow for more general, which is to say, abstract interpretations. Something similar is true for his colors. In the segmented structure of the picture, they serve as elements not only of a color palette that shapes a style (what else could thinking in colors be about), their interplay also seems to produce a calculated effect. If we ignore the lines that form the outlines of figures, the resulting pure color image is an abstract painting in its own right. Thus, these two levels are always at play here, as well, adding an additional dimension to these compositions.
Max Henry penned long poems before taking up painting, and it is not only poetry writing painters or painting poets that serve as his models in a quite literal sense. The dialog he seeks to enter into with these spirits through painting also draws on the relationships that have always existed between painters and poets: The relationship between Manet and Baudelaire is paradigmatic for the nineteenth century. Portraits of the two are, of course, found among Henry's works. For his Baudelaire, he transformed an etching by Manet back into a painting, which the latter had patterned on his depiction of Baudelaire in his own painting La musique aux Tuileries (1862). On a more general level, what connects Henry with Manet is the method of integrating portrayals by earlier painters into his own pictorial cosmos, as Manet had already integrated or collaged into his canvases figures and compositions by Raphael, Titian, Velázquez and Goya, among others. Then there's Baudelaire, whose essay Le Peintre de la vie moderne brought the term Modernism into play in the visual arts. Due to the mere fact that, as a poet, he oriented himself towards visual art and acted as its critic, he seems to fit the role of a guiding star for Max Henry who has long made a name for himself as a curator and art critic. Baudelaire never grew tired of pointing to the poetic potential of pictorial artistic representation, challenging his readers to understand the elements of perception as signs designed to inspire the imagination with their multilayered interrelations. Baudelaire called Delacroix a painting poet, and he once described his own writing as reflections on reflections on nature in the paintings of Delacroix. Perhaps it is only through the mirroring of procedures that criticism becomes truly constructive and what happens in various mediums is rendered comprehensible. The friendship between Baudelaire and Manet, who was eleven years his junior, was cut short by Baudelaire's untimely death in 1867. Manet captured the scene of the funeral in an unfinished painting, one of Max Henry's favorite pictures.
In Henry's portrait of Guillaume Apollinaire, which he modeled on a 1902 photo of Apollinaire in Cologne, another poet enters the picture. It was he who coined the term Surrealism and inspired the movement's play of interconnecting signs, representation, and the (sub)consciousness, which blurred the lines between poetry and visual imagery. Through his friendship with Pablo Picasso (who did a profile drawing of him) Apollinaire also advanced the cross-reflection of modes of representation and techniques of pictorial art and poetry. And with this we have arrived at the most influential artist who set off profound paradigm shifts, most clearly visible in Cubism and collage, and led painting from the nineteenth into the twentieth century. Following his avant-gardist inverse towards the nineteenth century, Max Henry sets out to reactivate and appropriate this artist as well, by, again, emphasizing Picasso's relationships to poets and the poetry of his day. It is connections like these that Henry pursues in his paintings and evokes in his designs, turning his canvasses into antennas for the more subtle oscillations of poetic understanding. This is where the third eye is looking that Max Henry painted in his portrait of Lord Byron with a red cloak.
In her Picasso biography (1938) Gertrude Stein wrote, "[...] Picasso wrote painting as other children wrote their a b c. He was born making drawings, not the drawings of a child but the drawings of a painter. His drawings were not of things seen but of things expressed, in short they were words for him and drawing always was his only way of talking and he talks a great deal." After declaring him a natural talent, for whom painting and poetry harmonized from the start, she turns to Picasso's environment: "His friends were writers rather than painters, why have painters for friends when he could paint as he could paint. It was obvious that he did not need to have painters in his daily life, and this was true all his life. He needed ideas, anybody does, but not ideas for painting, no, he had to know those who were interested in ideas, but as to knowing how to paint he was born knowing all of that. So in the beginning he knew intimately Max Jacob and at once afterwards Guillaume Apollinaire and André Salmon, and later he knew me and much later Jean Cocteau and still later the Surréalistes; this is literary history. His intimates amongst the painters, and this was later, much later than Max Jacob and than Guillaume Apollinaire and than André Salmon and than I, were Braque and Derain they both had their literary side, and it was this literary side that was the reason for their friendship with Picasso." (Gertrude Stein, Writings 1932–1946, The Library of America 1998, p. 497 ff.) Thus wrote Gertrude Stein on Picasso, and this also encapsulates what Max Henry's painted excursions are about. It is little wonder, then, that we find her in one of Henry's large-format pictures (after a photograph from 1930), sitting on a sofa in her Paris studio, above her on the right Picasso's portrait of her, whom she, in turn, immortalized in two of her word portraits. The picture in the picture, which doubles the portrayed and which Henry retains in his painterly reproduction or estrangement of a photograph, thus becomes a representation or estrangement of a picture within a representation or, rather, estrangement, which is what a painterly reproduction of a photograph represents. The fact that in his reproduction, Henry replaces the other pictures seen in the photograph with abstractions of his own can be seen as further evidence that the estrangement effect plays the bigger role here. As comfortable as Gertrude Stein may have been seated and even if her slippers are highlighted by colors in Henry's picture, reduced to her graphic outline by background hues, and due to the sparing use of color— which, as a grammatical structure, strives towards abstraction—she seems to hover above it all like a ghost.
However, it would be way off the mark to reduce Max Henry's painterly engagement to some Midnight in Paris. He aims to trace an arc that reaches much further back than William Blake. It ranges from the origins of Western poetry and art history in antiquity all the way to contemporary artist-poets. No faux romanticism is chased here (in one of our conversations, Max Henry called himself a painting machine). For instance in a study (reminiscent of a Calder mobile) for a larger portrait of Franz West where his head, mounted above an Adaptive, looks at the viewer and a matching hand points in one direction (left or right, depending on whose perspective it is seen from). The designation of Franz West's famous form of sculptures was contributed by his poet friend Reinhard Priessnitz who is seen on photographs next to West's half brother, poet Otto Kobalek, presenting himself as one who knows how to handle Adapitives. Cy Twombly, for whose solo exhibition at Vienna's Museum Moderner Kunst Franz West staged a performance with music and his own SMS poems, has been portrayed by Max Henry multiple times. In one picture, which shows a certain kinship with Henry's portrait of Gertrude Stein, we see him sitting in his apartment, surrounded by sculptures and works of his own (pictures in picture, which allow Henry to compose his Cy Twomblies). His sketched right foot touches on the circle of his Orpheus symbol. School of Athens, Virgil ... like Franz West, Cy Twombly's attempts to connect with philosophy and poetry are numerous. The relationship between his work and writing is the subject of Roland Barthes' essay on Twombly. "TW has been compared to Mallarmé. But what enables the comparison, i.e., a kind of higher aestheticism which would unite them, exists in neither one. To attack language, as Mallarmé did, implies a much more serious—much more dangerous—intention than that of aesthetics. Mallarmé wanted to deconstruct the sentence, that time-honored (for France) vehicle of ideology. In passing, in loitering (one might say), TW deconstructs writing." (Roland Barthes, Cy Twombly: Fifty Years of Works on Paper, Schirmer Mosel, 2016.)
Notoriously underpaid when measured against the value of goods traded in this market, poet, curator, and art critic Max Henry has spent decades working in the field of art, which he is familiar with on both sides of the Atlantic and in which he has made a name for himself. When he decides to let his concepts play out in the realm of painting itself, we can expect every picture to be full of allusions and cross-references reflecting his knowledge and understanding. Of course, its art historical and literary references thus allow it to be read as an individual work. And, as such, it does not rely on the institutional context that was exposed by Duchamp's Fountain and Bottle Rack. In a more existential sense, however, it certainly does depend, like its participants, on a system that remunerates them or that they despair of. The poet-curators' attempt to assemble an imaginary museum, in which the pictures he himself has created are designed to invoke the spirits they depict, thus takes on a sociological dimension that puts him on a level with Marcel Broodthaers' installations. The references that poeticize art history thus turn into criticism directed at a heedless, business oriented art world, which disregards the interpretability and wider context of its products and has forced, as a phenomenon, this endeavor, reduced to the necessity of improving living conditions. Thus, this phenomenon itself, translated into actionism, takes on art historical significance.
Benedikt Ledebur
Translated by Matthias Goldmann
Follow Artists In This Show