Chicago
This exhibition of James Welling's colorized images documents the campus of the Illinois Institute of Technology (IIT) and Chicago's Lake Shore Drive Apartments, both by Mies van der Rohe and closely associated with the modern movement of the 1950s.
Sep 16th, 2017 – Jan 7th, 2018
Chicago, Water Tower Gallery 806 North Michigan Avenue
Map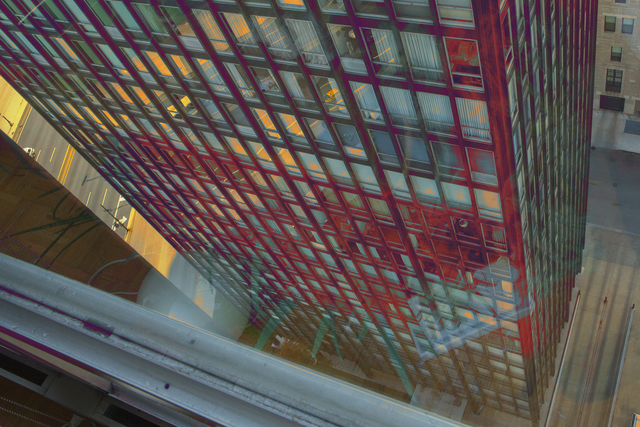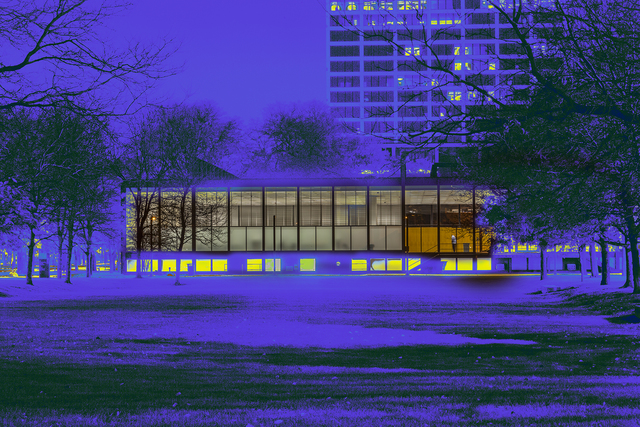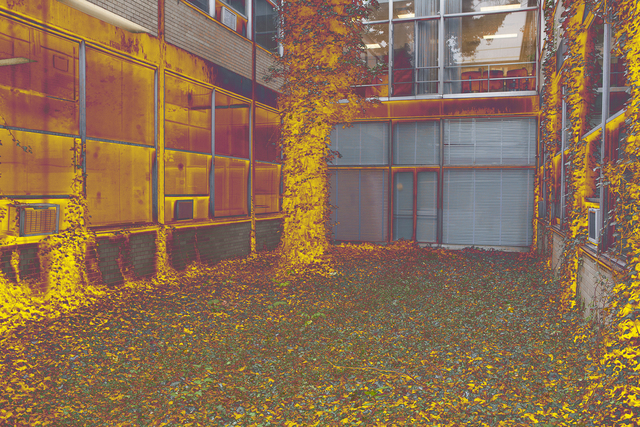 Press Release
James Welling's project Chicago, commissioned for the 2017 Chicago Architecture Biennial, comprises photographs of modernist architect Mies van der Rohe's Illinois Institute of Technology campus and Lake Shore Drive apartments. Welling first encountered the work of Mies early in his career, while photographing models and design objects in the Department of Architecture and Design of the Museum of Modern Art under Arthur Drexler.
In Chicago, Welling re-creates digital versions of lesser-known multi-film exposure techniques invented over 50 years ago to make experimental color photography. Welling's method, which he describes as modeling, draws out the environmental information captured in the image frame and transforms it, exposing an alternative and popish filtration and atmosphere to counter the iconic absolutism of the architecture of the period.
Chicago reflects an important aspect of the Biennial's curatorial interest the tools and techniques of architectural interpretation were as much a part of rendering modernity as were the spaces produced in that period.
About James Welling:
James Welling has been questioning the norms of representation since the 1970s. His work centers on an exploration of photography, shuffling the elemental components of the medium to produce a distinctly uncompromising body of work. Welling is also intensely interested in cultural and personal ideas of memory. In opening up the medium of photography for experimentation, his practice has influenced a generation of artists and photographers.
Welling was born in 1951 in Hartford, Connecticut. He studied at Carnegie Mellon University and the University of Pittsburgh and received his BFA and MFA from California Institute of the Arts. Since 2005, his work has been represented by David Zwirner. In 2015, James Welling: Choreograph marked his sixth solo show at the gallery in New York.
In January 2017, the Stedelijk Museum voor Actuele Kunst (SMAK) in Ghent, Belgium, presented James Welling: Metamorphosis, a solo show encompassing the artist's work from over three decades. The exhibition will travel to Kunstforum Wien in Vienna.
Things Beyond Resemblance: James Welling Photographs, a solo exhibition hosted in 2015 by the Brandywine River Museum of Art in Chadds Ford, Pennsylvania, presented 50 works from the artist's Wyeth project. The museum also commissioned the artist to create eight site-specific installations, Gradients, which explore the intersection of photography and sculpture. In 2013, a major survey, James Welling: Monograph, was organized by the Cincinnati Art Museum and accompanied by a catalogue published by Aperture. The exhibition traveled to the Hammer Museum in Los Angeles. In 2012, James Welling: The Mind on Fire at the MK Gallery in Milton Keynes, England, explored the origin and development of Welling's abstract photographs from the 1980s. The show traveled to the Centro Galego de Arte Contemporánea in Santiago de Compostela, Spain, and the Contemporary Art Gallery in Vancouver.
Welling's work has been exhibited widely in the United States and internationally, including solo exhibitions at the Art Institute of Chicago Fotomuseum Winterthur, Switzerland University Museum of Contemporary Art, University of Massachusetts, Amherst Wadsworth Atheneum Museum of Art, Hartford, Connecticut Minneapolis Institute of Art Palais des Beaux-Arts, Brussels Art Gallery of York University, Toronto Sprengel Museum Hannover, Germany Carnegie Museum of Art, Pittsburgh and the Kunstmuseum Luzern, Lucerne, Switzerland. In 2000, the Wexner Center for the Arts, Columbus, Ohio, organized a major survey of his work, which traveled to the Museum of Contemporary Art, Los Angeles, and the Baltimore Museum of Art. The artist's first museum exhibition was presented by Kunsthalle Bern in 1990.
Work by the artist has been extensively included in international group exhibitions, including This Will Have Been: Art, Love & Politics in the 1980s, which was first hosted by the Museum of Contemporary Art Chicago in 2012. In 2011, his work was included in Jeff Wall: The Crooked Path, first presented at Palais des Beaux-Arts, Brussels in 2009, his work was featured in the critically acclaimed historical survey The Pictures Generation, 1974–1984 at the Metropolitan Museum of Art, New York and in 2008, he participated in the Whitney Biennial. In 2004, his work was presented in Os anos 80: Uma topologia (The '80s: A Topology) at Museu de Serralves, Porto, Portugal, and Éblouissement at Jeu de Paume, Paris, and in 1992, his work was included in Documenta IX.
In 2014, Welling was a recipient of the Infinity Award given by the International Center of Photography. In 2016, he received the Julius Shulman Institute Excellence in Photography Award from Woodbury University. From 1995 to 2016, he was Area Head of Photography at the University of California, Los Angeles. He is presently a Visiting Professor of Photography at Princeton University.
The artist's work is held in major museum collections, including the Centre Georges Pompidou, Paris Hammer Museum, Los Angeles Kunstmuseum Wolfsburg, Germany Los Angeles County Museum of Art Metropolitan Museum of Art, New York Museum of Contemporary Art Chicago Museum of Contemporary Art, Los Angeles Museum of Fine Arts, Boston Museum of Modern Art, New York Solomon R. Guggenheim Museum, New York Tokyo Metropolitan Museum of Photography Vancouver Art Gallery Wadsworth Atheneum Museum of Art, Hartford, Connecticut and Whitney Museum of American Art, New York. He lives and works in Los Angeles.
Follow Artists In This Show