Angel Otero: Everything and Nothing
"Angel Otero: Everything and Nothing" is Otero's first survey exhibition and encompasses nearly a decade of his painting and sculpture.
Dec 10th, 2016 – Mar 19th, 2017
Houston, 5216 Montrose Blvd.
Map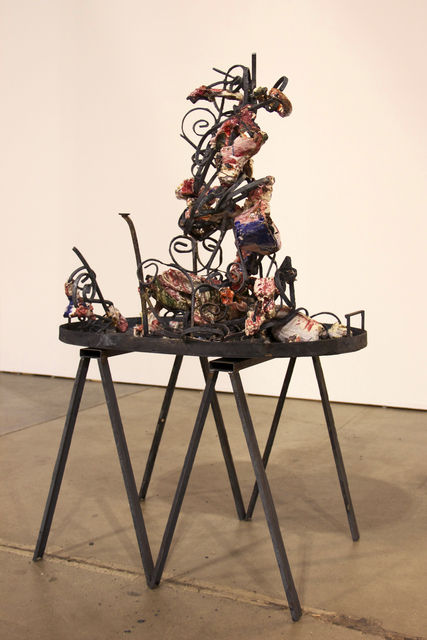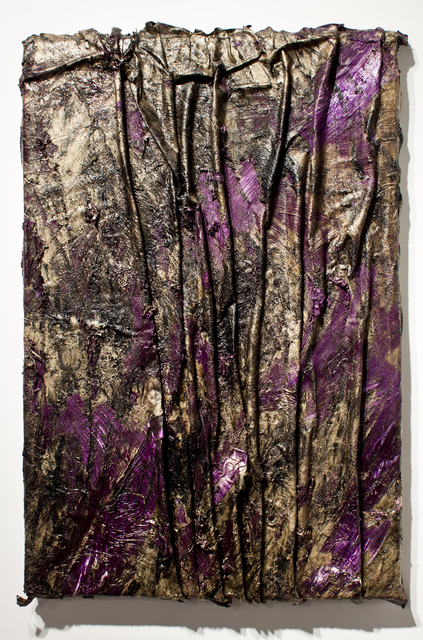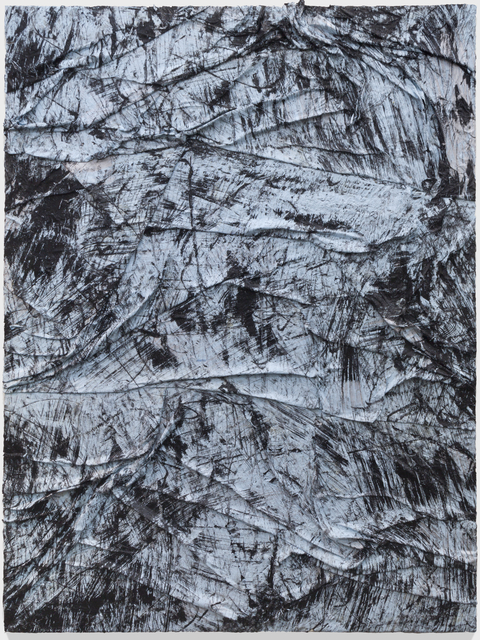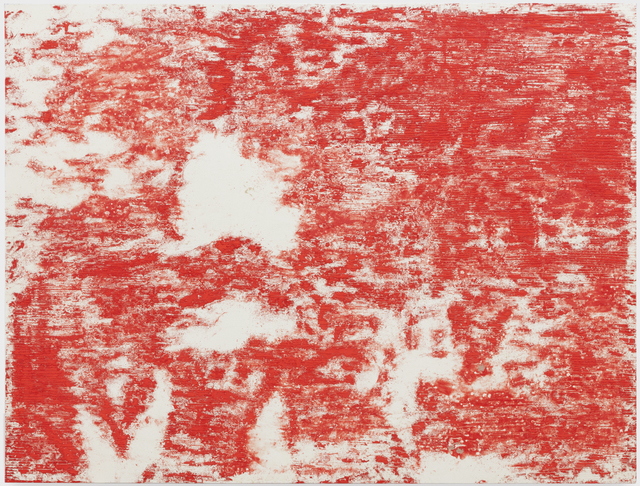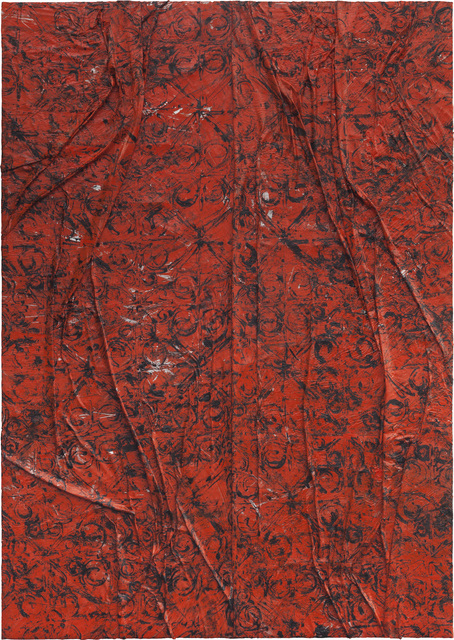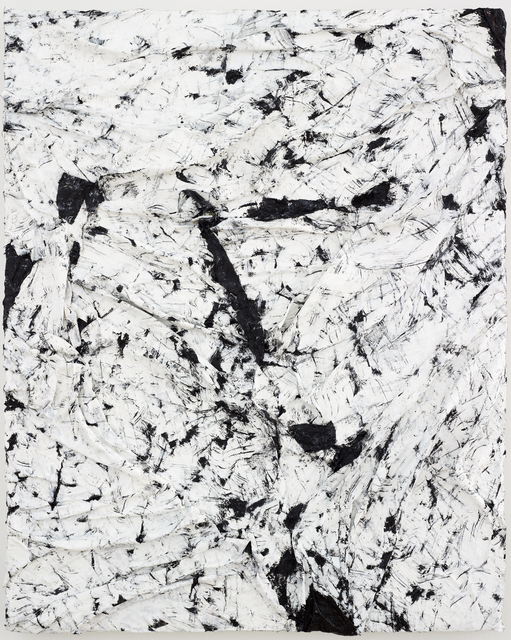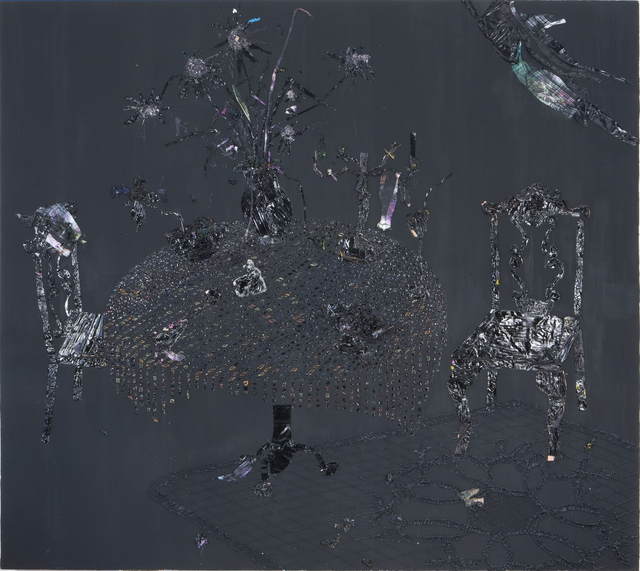 Press Release
Angel Otero: Everything and Nothing
December 10, 2016-March 19, 2017
HOUSTON, TX (December 1, 2016)—Angel Otero is a painter and sculptor whose lush, seductive canvases and hybrid works in porcelain and steel test the elasticity of these traditional forms. The Contemporary Arts Museum Houston is pleased to present Angel Otero: Everything and Nothing, which chronicles the evolution of the artist's practice from 2009 to date. The exhibition features four distinct bodies of work, including his iconic "skin" and "transfer" painting early paintings, which are created using silicon and collage, as well as sculpture. Otero offers thought-provoking new dimensions to the field of abstract painting. Drawing upon the history of painting, the artist presents
a proposition of shifting perceptions of the genre–what it is and what it can become. His experimentations in painting push the field into new territory for our time. Moreover, his sculptures invite audiences to suspend expectations surrounding the three-dimensional form; like his paintings, Otero's sculptural work infuses the genre with narratives that are both personal and universal. This is the artist's first survey exhibition.
Born in Santurce, Puerto Rico in 1981, Otero draws on geography and familial history as inspiration in his work. Otero did not grow up immersed in the arts. At the age of 12, Otero found an art class through an advertisement that stated, "Do you want to learn how to paint like Bob Ross? We give official classes." Otero was by far the youngest student; his classmates were all over the age of 60. As a child he practiced drawing by recreating comic figures, never as interested in the content as in the process. The idea of abstraction resonated with Otero when he visited the Museo de Arte de Ponce and saw the paintings of fellow Puerto Rican Arnaldo Roche; the work left an indelible imprint upon him. Despite being discouraged from his pursuit to become an artist and a short foray as an insurance agent, Otero chose to study at the School of the Art Institute of Chicago, with the support of a teacher. Once in Chicago, Otero immersed himself in the history of painting, especially modern and contemporary art. He successfully completed undergraduate and graduate studies at the School of the Art Institute, specializing in painting. Otero is currently based in New York and continues his practice of exploring objects, process, and transformation. For the artist, the question itself has become the subject.
Although Otero's works are visually abstract, they are embedded with deeply personal narratives.
His early still life paintings are inspired by childhood memories of Otero's grandmother's home, especially the light and composition of her dining table. The "skin paintings" for which is he is most well-known emerged from an exploratory process—indeed from "failure." The exhibition's title is taken from a 2011 work by Otero, which is borrowed, in turn, from a parable by the great Argentinean writer Jorge Luis Borges. Otero's Everything and Nothing, with its undulating surface of rich hues, primarily red and orange, is an example of his skin paintings. The works
are inspired by iconic paintings throughout art history, particularly the Baroque period. In creating the "skin" paintings, Otero begins by painstakingly recreating well-known masterpieces in oil on large sheets of Plexiglas, which he then destroys to make other works by peeling off the oil-paint skin and collaging it on a new canvas, thereby leaving the original image either completely obscured or barely visible. In one case, Otero recreated Titian's Bacchanal of the Andrians (Museo del Prado, Madrid), dissolving the scene of revelry on the island of Andros into an explosion of color and unstructured composition. The resulting painting, Bacchanale (2012), reveals notions of the studio as a laboratory and of the artist's hand performing a range of experimental action. This process shows Otero's artistic impulse to insert himself into the art historical canon even while displaying ambivalent feelings about the hierarchy assigned to its narratives.
Otero began making his "transfer paintings" in 2010 and has consistently used them to counterbalance his signature "skin" paintings. While the latter channel the artist's struggles with the weight of art history, the former function more as a personal journey into his intimate life. The "transfer paintings" are made by projecting a digitized photograph onto canvas to create a template, outlining parts of the image in silicone, applying loose graphite pigment to the silicone, and compressing the surface with Plexiglas. One such work, Portrait of Dad When He Was Young (2010), is of his father as a boy. The portrait and other "transfers," as he calls them, function more like monotype prints than paintings, but the artist deploys the process to great effect. Generally large in scale, the works are based on old photographs the artist collected while on a visit home to Puerto Rico. Otero digitally recomposes and, in this case, intentionally cropped the image, allowing viewers to focus on the small child in a pressed uniform holding fast to an adult's hand. The sparse use of graphite powder infuses the figure with an inherent innocence and vulnerability. In addition to the early transfers, the exhibition will feature a series of Otero's newer transfers created using cadmium (a red pigment) that underscore the artist's fascination with his broader cultural interests shaped by childhood fascinations of the mainland. The title of his red painting LAGO (2015), for example, is a reference to the fictional red-painted town in Clint Eastwood's 1973 American Western, High Plains Drifter.
Always challenging materiality and process in his studio, Otero turned to sculpture in 2012. Otero drew on his memories and, again, on old photographs to produce these works. The wrought-iron fence and balcony structures of his grandmother's home in San Juan, where he spent much of his childhood while his parents were working, permeated his imagination. The interior of his grandmother's home was filled with bric-a-brac and curiosities, including ceramics. The objects that were deemed precious were placed out of his reach, which only led him, in retrospect, to imagine their transformation into totemic objects. The sculptures started as broken pieces of porcelain and masses of unfired clay that Otero then placed in large fragments of wrought-iron gates he found in antique stores or on the streets. This process was so new and experimental that studios would not allow Otero to use their kilns, so he purchased his own and placed it in his studio. Through trial and error, he once again stumbled onto a new method and a signature aesthetic.
Angel Otero: Everything and Nothing is organized by Valerie Cassel Oliver, Senior Curator at the Contemporary Arts Museum Houston. The exhibition is on view December 10, 2016 through March 19, 2017. A range of complementary programming accompanies the exhibition, including a loft concert by Musiqa and a lecture by writer, curator, and professor Terry R. Myers, who contributed an essay to the exhibition catalogue.
PUBLICATION
A significant monograph published by Skira will accompany the exhibition. The publication includes a foreword by CAMH Director Bill Arning and contributions by the organizing curator, Valerie Cassel Oliver, as well as Terry R. Myers and Christian Viveros-Fauné. The monograph also features color reproductions of the works presented in the exhibition, a bibliography of general reading, and a chronology of the artist's life and work. The overall scope and comprehensive material featured in the accompanying catalogue promise to serve as a scholarly reader and a critical and lasting document for the exhibition.
The catalogue accompanying the exhibition is made possible by a grant from The Brown Foundation, Inc. of Houston.
PUBLIC PROGRAMS
These events are free, open to the public, and take place at the Contemporary Arts Museum Houston. Seating is limited. Please check CAMH.ORG for the most current information.
OPENING RECEPTION
Angel Otero: Everything and Nothing
Friday, December 9, 2016 | 6:30-9PM
Celebrate the opening of Angel Otero: Everything and Nothing, a survey that chronicles the evolution of the artist's practice to date. Beverages will be available for purchase at our cash bar.
IN CONVERSATION: Artist Angel Otero and Senior Curator Valerie Cassel Oliver
Saturday, December 10, 2016 | 2PM
Learn more about the exhibition Angel Otero: Everything and Nothing during a discussion with the artist and organizing curator.
OPEN STUDIO:
Saturday, January 7, 2017 | 2-4PM
Remix, recycle, and respond to the Old Masters by appropriating images of famous works of art and using a variety of textured materials to create a 3D collage inspired by the exhibition Angel Otero: Everything and Nothing.
PERFORMANCE: Musiqa
Thursday, February 9, 2017 | 6:30PM
Musiqa presents a special concert in conjunction with the exhibition Angel Otero: Everything and Nothing.
ART @ NOON
Friday, February 24, 2017 | 12-1PM
Join Rex Koontz, Director of the University of Houston School of Art, for a discussion on the work of artist Angel Otero. Light lunch provided.
FAMILY DAY
Saturday, March 18, 2017 | 1-4PM
Come participate in hands-on activities inspired by current exhibitions.
GALLERY TALK: Terry R. Myers
Saturday, March 11, 2017 | 2PM
Join writer, curator, and professor Terry R. Myers for a walk-through of Angel Otero: Everything and Nothing to explore the work more closely through the lens of contemporary painting.
EXHIBITION SUPPORT
Angel Otero: Everything and Nothing is generously supported by Jill and Jay Bernstein, Jereann and Holland Chaney, Hilda and Greg Curran, Marilyn and Larry Fields, Louise Jamail, Kavi Gupta Gallery, Lehmann Maupin, Bernard I. Lumpkin and Carmine D. Boccuzzi, John and Amy Phelan, and Robin and Andrew Schirrmeister. The exhibition is also made possible in part by an award from the National Endowment for the Arts.
This exhibition is made possible by the patrons, benefactors, and donors to the Museum's Friends of Steel Exhibitions: Director's Circle - Chinhui Juhn and Eddie Allen, Fayez Sarofim, and Ms. Louisa Stude Sarofim. Curator's Circle - Dillon Kyle Architecture, Inc., Mr. and Mrs. I.H. Kempner III, and Robin and Andrew Schirrmeister. Major Exhibition Circle - A Fare Extraordinaire, Bergner and Johnson Design, Jereann Chaney, Marita and J.B. Fairbanks, Barbara and Michael Gamson, Blakely and Trey Griggs, George and Mary Josephine Hamman Foundation, Leslie and Mark Hull, Jackson and Company, KPMG, LLP, Beverly and Howard Robinson, and Michael Zilkha.
GENERAL SUPPORT
Funding for the Museum's operations is made possible by generous grants from Chinhui Juhn and Eddie Allen, Jereann Chaney, Marita and J.B. Fairbanks, Jo and Jim Furr, Barbara and Michael Gamson, Brenda and William Goldberg, Leticia Loya, Fayez Sarofim, Robin and Andrew Schirrmeister, and Marion and David Young. The Museum receives partial operating support from The Brown Foundation Inc. of Houston, the Houston Endowment, the City of Houston through the Houston Museum District Association, the Texas Commission on the Arts, The Wortham Foundation, Inc., and artMRKT Productions.
CAMH also thanks its artist benefactors for their support, including Chris Beckman, Michael Bise, Bruce High Quality Foundation, Mel Chin, Jules de Balincourt, Julia Dault, Trenton Doyle Hancock, James Drake, Keltie Ferris, Mark Flood, Barnaby Furnas, Theaster Gates, Jeffrey Gibson, Camille Henrot, Jim Hodges, Joan Jonas, Jennie C. Jones, Maya Lin, Julian Lorber, Robert Mangold, Beatriz Milhazes, Melissa Miller, Marilyn Minter, Nic Nicosia, Angel Otero, McKay Otto, Joyce Pensato, Enoc Perez, Gavin Perry, Rob Pruitt, Matthew Richie, Dario Robleto, Ed Ruscha, Jacolby Satterwhite, Cindy Sherman, Shinique Smith, Al Souza, John Sparagana, James Surls, Sam Taylor-Johnson, Carrie Mae Weems, William Wegman, Haegue Yang, and Brenna Youngblood.
United is the Official Airline of the Contemporary Arts Museum Houston.
CAMH MISSION
The Contemporary Arts Museum Houston is a leading destination to experience innovative art. CAMH actively encourages public engagement with its exhibitions through its educational programs, publications, and online presence.
ALWAYS FRESH, ALWAYS FREE
GENERAL INFORMATION
The Contemporary Arts Museum Houston is located at 5216 Montrose Boulevard, at the corner of Montrose and Bissonnet, in the heart of Houston's Museum District. Hours are Tuesday, Wednesday, and Friday 10AM–7PM, Thursday 10AM–9PM, Saturday 10AM–6PM, and Sunday 12PM–6PM. Admission is always free. For more information, visit CAMH.ORG or call 713 284 8250.
@CAMHouston
#AngelOtero
Follow Artists In This Show