Annabeth Rosen: Fired, Broken, Gathered, Heaped
"Annabeth Rosen: Fired, Broken, Gathered, Heaped" is the artist's first major survey and chronicles over 20 years of her work in ceramics. The exhibition will also feature works on paper that mirror the trajectory of her works created in clay.
Aug 19th – Nov 26th 2017
Houston, 5216 Montrose Blvd.
Map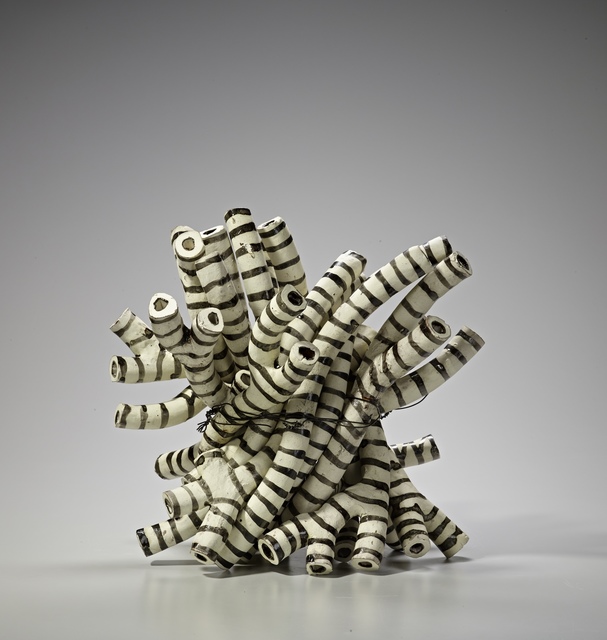 Press Release
HOUSTON, TX (May 18, 2017)— Annabeth Rosen: Fired, Broken,
Gathered, Heaped is the artist's first major survey and covers over
twenty years of her work. The exhibition will also feature works on
paper that mirror the trajectory of Rosen's sculptural work.
For over two decades, Annabeth Rosen has interrogated the
place of ceramics in the contemporary art landscape. Formally trained
in ceramics yet heavily influenced by painting, Rosen has expanded
her practice into conceptually-driven sculptural forms. While Rosen's
earlier works engaged first with traditional ceramic forms conjuring
landscape and nature, her more recent works push past the physical
realm and into intangible states of being.
Exploring the temporal nature of ceramics, Rosen melds the performative into both material and process. Composing through
laborious, additive techniques, she pushes the medium beyond spectacle
and into conversations about endurance-based performance,
feminist thought, contemporary painting, and conceptual art. The
artist rarely attempts to obscure her hand as a primary instrument
and often "binds" multitudes of discrete works to create multifarious
objects, sometimes diminutive and occasionally monumental.
Rosen sees both her studio and the kiln as spaces of invention.
She embraces process and chance as essential elements in the formation
of her art objects. Rosen has said of her work, "I break almost as
much ceramics as I make, and I think I learn as much about the work
by doing so. By being so focused on a destination for the piece, I overlook
shapes and ideas. Much of the work is made with already fired
parts broken, reassembled, reglazed, and re-fired with the addition of
wet clay elements if necessary. I work with a hammer and chisel, and I
think of the fired pieces as being as fluid and malleable as wet clay."
Celebrated as an artist's artist, Rosen is a pioneer in contemporary
ceramics, bringing fluidity to the genre and its discourse with
contemporary art. Within the genre's trajectory, Rosen functions as
an important link between such artists as Peter Voulkos, Jun Kaneko,
Mary Heilmann, Lynda Benglis, and a new generation of artists working
in the medium.
ABOUT THE ARTIST
Born in Brooklyn, New York, Annabeth Rosen received her BFA from
NYS College of Ceramics at Alfred University and her MFA from
Cranbrook Academy of Art. After graduate school, Rosen taught at
School of the Art Institute of Chicago, Rhode Island School of Design,
Tyler School of Art, and Bennington College. She has also participated
in residencies at the Bemis Center For Contemporary Arts
(Omaha, NE); Watershed Center for the Ceramic Arts (Newcastle,
ME); the Fabric Workshop and Museum (Philadelphia, PA) and the
Borowsky Center for Publication Arts (Philadelphia, PA). Rosen
presently teaches at University of California Davis, holding the
Robert Arneson Endowed Chair in Ceramic Sculpture. Rosen has
received multiple grants and awards, including a Pew Fellowship,
two National Endowment for the Arts Fellowships, a number of UC
Davis Research Grants, and most recently a Joan Mitchell Painters
and Sculptors Award. Rosen's work is in the collection of the Los
Angeles County Museum of Art (Los Angeles, CA), Oakland Museum
of California (Oakland, CA), Denver Art Museum (Denver, CO), and
Everson Museum of Art (Syracuse, NY), as well as in numerous public
and private collections. Rosen's work has been exhibited around the world, including venues in Taipei, Taiwan; Kyoto, Japan; Seoul, Korea;
Mallorca, Spain; London, England; and Glasgow, Scotland.
PUBLICATION
A significant monograph published by Lucia|Marquand accompanies
Annabeth Rosen: Fired, Broken, Gathered, Heaped. The publication
includes an introduction and essay by organizing curator Valerie
Cassel Oliver, as well as contributions by Nancy Princenthal and Jenni
Sorkin. The monograph also features color images of the artist's works
and a chronology of the artist's life and work. The overall scope and
comprehensive material featured in the accompanying catalogue
promises to serve as a scholarly reader and a critical and lasting document
for the exhibition.
OPENING RECEPTION
Annabeth Rosen: Fired, Broken, Gathered, Heaped
Friday, August 18, 2017 | 6:30–9PM
Celebrate the opening of Annabeth Rosen: Fired, Broken, Gathered,
Heaped, the artist's first major survey exhibition chronicling over
twenty years of her work in ceramics and drawing. Beverages will be
available for purchase at our cash bar.
PUBLIC PROGRAMS
These events are free, open to the public, and take place at the
Contemporary Arts Museum Houston. Seating is limited. Please check
CAMH.ORG for the most current information.
EXHIBITION SUPPORT
Annabeth Rosen: Fired, Broken, Gathered, Heaped is generously supported
by Sara and Bill Morgan. This exhibition is also made possible
in part by grants from the National Endowment for the Arts and The
Andy Warhol Foundation for the Visual Arts.
Support for CAMH is generously provided by the Museum's
Board of Trustees and their families: Allison and David Ayers,
Candace Baggett and Ron Restrepo, Vera and Andy Baker, Jereann
Chaney, Estela and David A. Cockrell, Ruth Dreessen and Tom Van
Laan, J.B. and Marita Fairbanks, Michael Galbreth, Barbara and
Michael Gamson, Blakely and Trey Griggs, Melissa and Albert J.
Grobmyer IV, Catherine Baen Hennessy and Matt Hennessy, Leslie
and Mark Hull, Louise Jamail, Dillon Kyle and Sam Lasseter, Erica
and Benjy Levit, Catherine and George Masterson, Elisabeth and Brian McCabe, Greg McCord, Cabrina and Steven Owsley, Mary
Hammon and Jacob Quinn, Howard and Beverly Robinson, Andrew
and Robin Schirrmeister, Reggie and Leigh Smith, Margaret Vaughan
Cox and Jonathan Cox, David P. and Marion Young, Elizabeth and
Barry Young.
GENERAL SUPPORT
Additional funding for CAMH's exhibitions, programming, and
operations is provided by its dedicated patrons and donors: A
Fare Extraordinaire, Chinhui Juhn and Eddie Allen, Art Market
Productions, Bergner and Johnson Design, City of Houston through
the Houston Museum District Association, George and Mary
Josephine Hamman Foundation, Houston Endowment, Jackson and
Company, James M. Collins Foundation, Kavi Gupta Gallery, Mr. and
Mrs. I.H. Kempner III, KPMG, LLP, Lehmann Maupin, Leticia Loya,
M.D. Anderson Foundation, Mary Kathryn Lynch Kurtz Charitable
Lead Trust, Mid-America Arts Alliance, National Endowment for
the Arts, Fayez Sarofim, Ms. Louisa Stude Sarofim, Susan Vaughan
Foundation, Targa Resources, Inc., Texas Commission on the Arts,
Todd Events, Union Pacific Foundation, Mr. Wallace Wilson, The
Wortham Foundation, Inc., and Michael Zilkha.
Exhibition catalogues and additional programming are made
possible by a grant from The Brown Foundation, Inc. of Houston.
CAMH also thanks its artist benefactors for their support,
including Chris Beckman, Michael Bise, Bruce High Quality
Foundation, Mel Chin, Julia Dault, James Drake, Mark Flood, Jeffrey
Gibson, Wayne Gilbert, Roberta Harris, Camille Henrot, Oliver Herring,
Joan Jonas, David Kelley, Julian Lorber, Marilyn Minter, Nic Nicosia,
McKay Otto, Joyce Pensato, Gavin Perry, Susie Rosmarin, Jacolby
Satterwhite, Shinique Smith, John Sparagana, Mary Weatherford,
Carrie Mae Weems, Haegue Yang, and Brenna Youngblood.
United is the Official Airline of the Contemporary Arts Museum
Houston.
CAMH MISSION
The Contemporary Arts Museum Houston is a leading destination to
experience innovative art. CAMH actively encourages public engagement
with its exhibitions through its educational programs, publications,
and online presence.
ALWAYS FRESH, ALWAYS FREE
Follow Artists In This Show