Atlas, Plural, Monumental
Atlas, Plural, Monumental is Paul Ramírez Jonas's first survey exhibition in the Americas. The exhibition includes photographs, videos, drawings, performative lectures, and participatory works made from 1991 to 2016.
Apr 29th – Aug 6th 2017
Houston, 5216 Montrose Blvd.
Map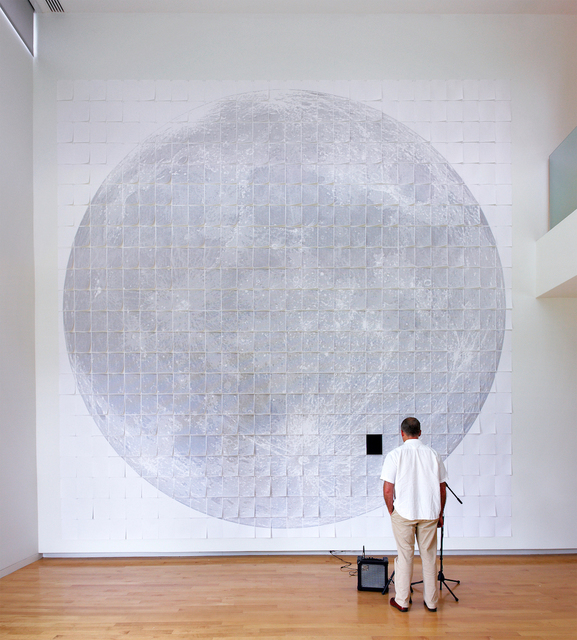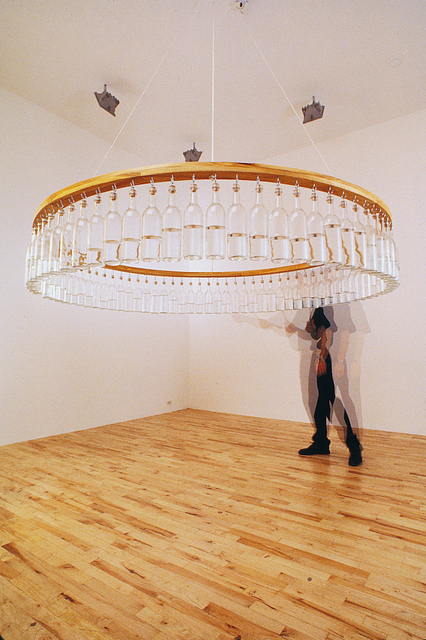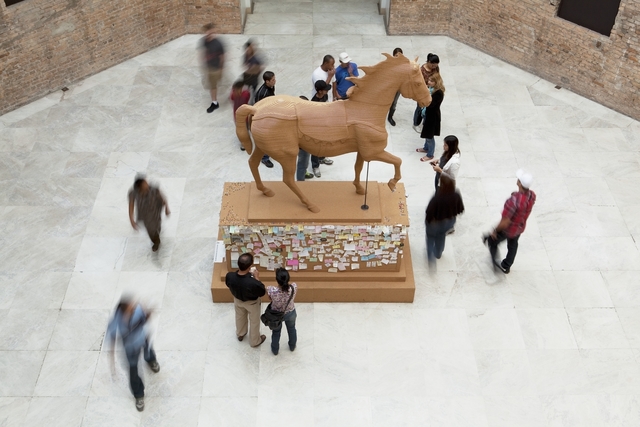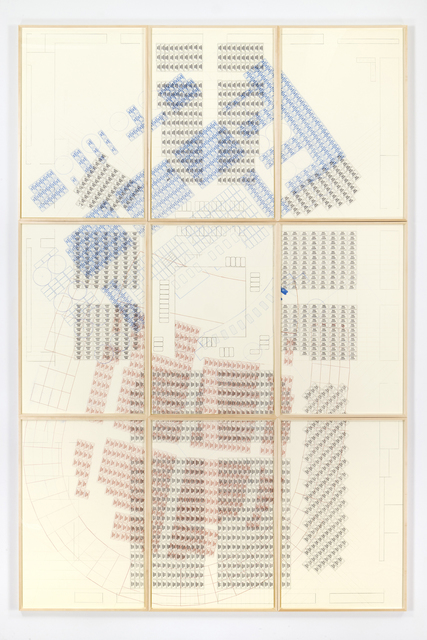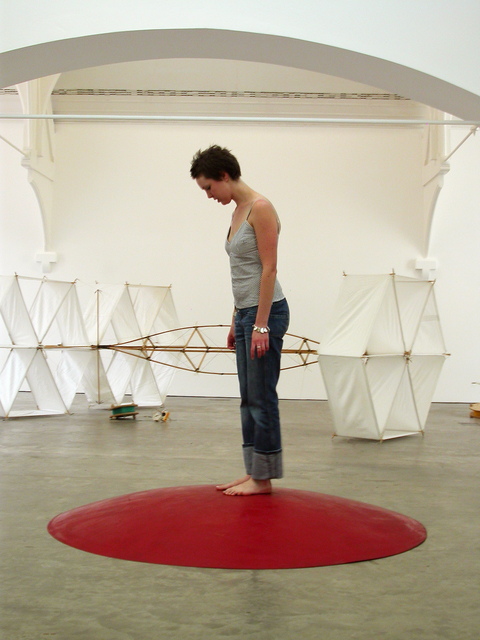 Press Release
HOUSTON, TX (February 23, 2017)—Including works made over the
past 25 years, Atlas, Plural, Monumental is artist Paul Ramírez Jonas's
first survey exhibition in the Americas. It features sculpture, photography,
video, drawing, and his signature participatory works that demonstrate
how Ramírez Jonas is redefining public art through an innovative
practice that considers how artworks galvanize the formation of
new communities.
Ramírez Jonas utilizes unlikely sources, such as scientific
experiments, and treats them as "scores" that he creatively reinterprets.
When his faithful reproductions of kites designed by the
inventors Alexander Graham Bell and Joseph Lecornu took to the
air, they carried alarm clocks Ramírez Jonas re-engineered to trigger
the shutter of a single-use disposable camera. The resulting photographs—
each paired with their kite—capture images of the artist on
the ground. While the kites can be appreciated for their sculptural form, the photographs exhibited alongside them act as proof of their
aerial capability. Ramírez Jonas's kites prove the functionality of
Graham Bell and Lecornu's designs and simultaneously document
the artist's actions. In other instances Ramírez Jonas presents
museum visitors with the opportunity to participate in his "scores."
In His Truth is Marching On (1993), the public is invited to use a
mallet to tap a hanging chandelier of water-filled wine bottles, whose
successive musical notes produce a rendition of the anthem, The
Battle Hymn of the Republic.
In 2005, Ramírez Jonas shifted his focus toward more decidedly
public forms, including monuments, keys to the city, and public
pronouncements. If monuments commonly memorialize singular
individuals or events with immutable proclamations in bronze or
marble, Ramírez Jonas provides us with memorable, yet mutable,
alternatives. The Commons (2011) is a riderless equestrian statue
crafted entirely from cork, and the public is invited to attach mes -
sages to its base with pushpins. In creating a sculpture that accom -
modates a diversity of messages rather than the singular voice of the
state, Ramírez Jonas's engaging work acts to democratize this form.
In another participatory work, Public Trust (2016-ongoing), audience
members make a promise that is recorded in a drawing shared with
its maker and with the visiting public via marquee signage in the gal -
lery. The work encourages participants and the audience to consider
the impact of their word on the community and individually. Local
Houston performers and educators will activate Public Trust each
Saturday during the exhibition.
Ramírez Jonas's work galvanizes connections between the
personal, the collective, and the public, making them concrete and
observable. Manifested in visually, materially, and conceptually
compelling forms, Ramírez Jonas's work invigorates our cultural
commons by inviting the public to reflect on and engage with public
art in inventive and surprising ways.
ABOUT THE ARTIST
Paul Ramírez Jonas was born in 1965 in California. He lives and
works in Brooklyn, New York. He has had solo exhibitions at The
Exploratorium, San Francisco (2014); Pinacoteca do Estado, São
Paulo, Brazil (2011); The Aldrich Contemporary Art Museum,
Ridgefield, Connecticut (2008); The Jack S. Blanton Museum of Art,
Austin, Texas (2007); at Ikon Gallery, Birmingham, England (2004)
and Cornerhouse, Manchester, England (2004). He has also exhibited
with Koenig & Clinton (NYC); Roger Björkholmen (Sweden);
Galeria Nara Roesler (São Paulo); and Postmasters Gallery (NYC).
His work has been included in group exhibitions at the Guggenheim
Museum (NYC), P.S.1. Contemporary Art Center (NYC), and The New
Museum (NYC), and at The Whitechapel (London), the Irish Museum
of Modern Art (Dublin), and the Kunsthaus Zurich (Switzerland).
Ramírez Jonas also participated in the 1st Johannesburg Biennale,
the 1st Seoul Biennial, the 6th Shanghai Biennial, the 28th Sao Paulo
Biennial, the 53rd Venice Biennial, and the 7th Bienal do Mercosul,
Porto Alegre, Brazil. His works are included in the collections of
the Blanton Museum of Art, Austin, TX; Bronx Museum, New York,
NY; Columus Museum of Art, Columbus, OH; New Museum, New
York, NY; Albright-Knox Art Gallery, New York, NY; and Malmö
Konstmuseum, Malmö, Sweden.
PUBLICATION
Atlas, Plural, Monumental is accompanied by a generously-illustrated,
full-color catalogue with an introductory essay by CAMH Director Bill
Arning, an essay by CAMH Curator Dean Daderko, and commissioned
essays by Claire Barliant and Shannon Jackson. The most comprehensive
survey of the artist's work to date, this book—designed by Federico
Pérez Villorio, edited by Karen Kelly and Barbara Schroeder, published
by Dancing Foxes Press and the Contemporary Arts Museum Houston,
and distributed by D.A.P.—features a checklist of works included in the
exhibition in addition to biographic and bibliographic information.
OPENING RECEPTION
Atlas, Plural, Monumental
Friday, April 28, 2017 | 6:30–9PM
Celebrate the opening of Paul Ramírez Jonas's first survey exhibition
in the Americas, Atlas, Plural, Monumental, which includes sculptures,
photographs, videos, drawings, performative lectures, and participatory
works made from 1991 to 2016. Beverages will be available for
purchase at our cash bar.
PUBLIC PROGRAMS
These events are free, open to the public, and take place at the
Contemporary Arts Museum Houston. Seating is limited. Please check
CAMH.ORG for the most current information.
EXHIBITION SUPPORT
Atlas, Plural, Monumental is generously supported by Mary and
Marcel Barone, Business Solutions International, and Cullen K.
Geiselman. The exhibition is also made possible in part by a grant from
the Union Pacific Foundation.This exhibition is made possible by the patrons, benefactors,
and donors to the Museum's Friends of Steel Exhibitions: Director's
Circle - Chinhui Juhn and Eddie Allen, Fayez Sarofim, and Ms. Louisa
Stude Sarofim. Curator's Circle - Mr. and Mrs. I.H. Kempner III. Major
Exhibition Circle - A Fare Extraordinaire, Bergner and Johnson Design,
Jereann Chaney, Barbara and Michael Gamson, Blakely and Trey
Griggs, George and Mary Josephine Hamman Foundation, Leslie and
Mark Hull, Jackson and Company, KPMG, LLP, Beverly and Howard
Robinson, and Michael Zilkha.
The catalogue accompanying the exhibition is made possible by a
grant from The Brown Foundation, Inc. of Houston.
GENERAL SUPPORT
Funding for the Museum's operations is generously provided by
Melissa Kepke Grobmyer, Louise Jamail, Dillon A. Kyle, Catherine and
George Masterson, Elisabeth McCabe, Fayez Sarofim, and Robin and
Andrew C. Schirrmeister III. The Museum receives partial operating
support from The Brown Foundation Inc. of Houston, the Houston
Endowment, the City of Houston through the Houston Museum
District Association, the Texas Commission on the Arts, The Wortham
Foundation, Inc., and Art Market Productions.
CAMH also thanks its artist benefactors for their support,
including Chris Beckman, Michael Bise, Bruce High Quality
Foundation, Mel Chin, Jules de Balincourt, Julia Dault, Trenton
Doyle Hancock, James Drake, Keltie Ferris, Mark Flood, Barnaby
Furnas, Theaster Gates, Jeffrey Gibson, Camille Henrot, Jim
Hodges, Joan Jonas, Jennie C. Jones, Maya Lin, Julian Lorber,
Robert Mangold, Beatriz Milhazes, Melissa Miller, Marilyn Minter,
Nic Nicosia, Angel Otero, McKay Otto, Joyce Pensato, Enoc Perez,
Gavin Perry, Rob Pruitt, Matthew Richie, Dario Robleto, Ed Ruscha,
Jacolby Satterwhite, Cindy Sherman, Shinique Smith, Al Souza, John
Sparagana, James Surls, Sam Taylor-Johnson, Carrie Mae Weems,
William Wegman, Haegue Yang, and Brenna Youngblood.
United is the Official Airline of the Contemporary Arts Museum
Houston.
CAMH MISSION
The Contemporary Arts Museum Houston is a leading destination to
experience innovative art. CAMH actively encourages public engagement
with its exhibitions through its educational programs, publications,
and online presence.
ALWAYS FRESH, ALWAYS FREE
GENERAL INFORMATION
The Contemporary Arts Museum Houston is located at 5216 Montrose
Boulevard, at the corner of Montrose and Bissonnet, in the heart of
Houston's Museum District. Hours are Tuesday, Wednesday, and
Friday 10AM–7PM, Thursday 10AM–9PM, Saturday 10AM–6PM, and
Sunday 12PM–6PM. Admission is always free. For more information,
visit CAMH.ORG or call 713 284 8250.
Follow Artists In This Show