The XY Chromosome Project
Court Tree Gallery proudly presents The XY Chromosome Project. The recent collages of filmmakers Mark Street and Lynne Sachs. Street and Sachs have been making films individually and collaboratively for over 30 years, which is also the length of their relationship as a couple.
May 10th – 31st
Brooklyn, 371 Court Street, 2nd Floor
Map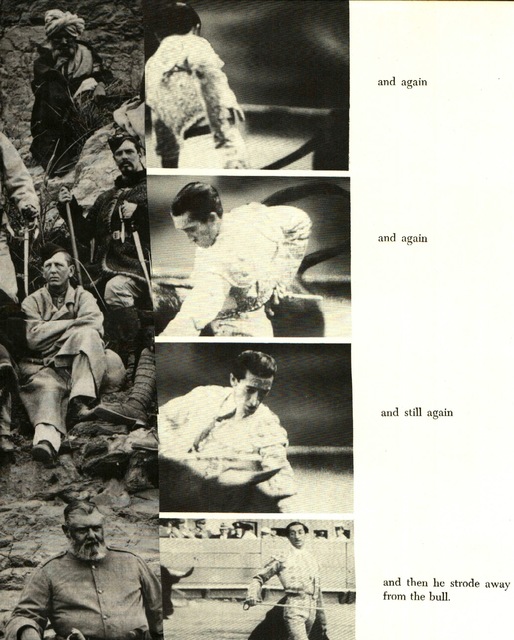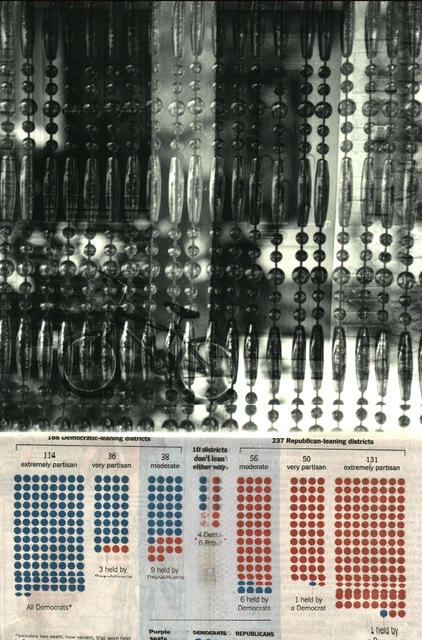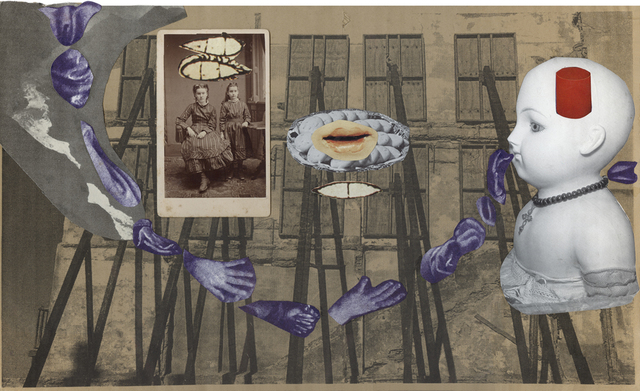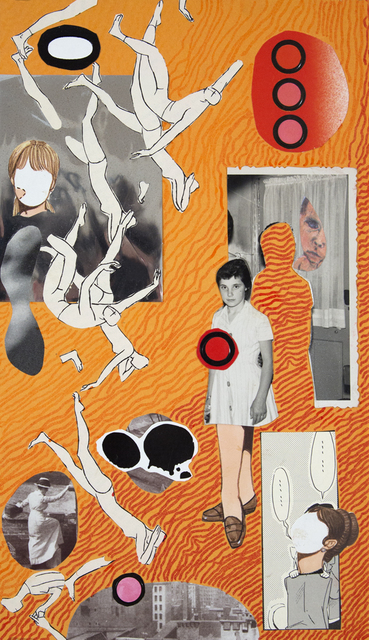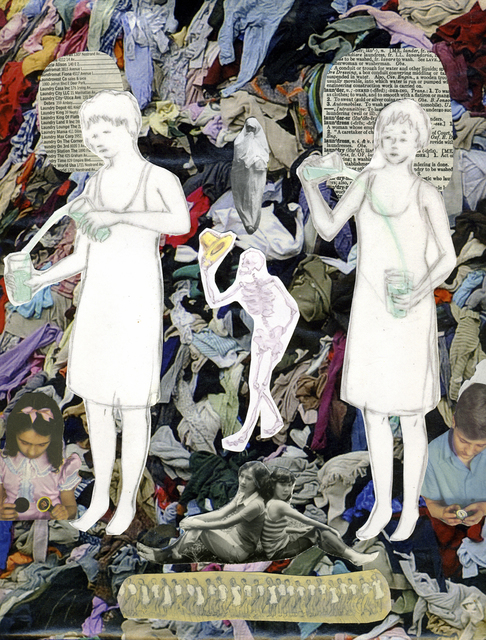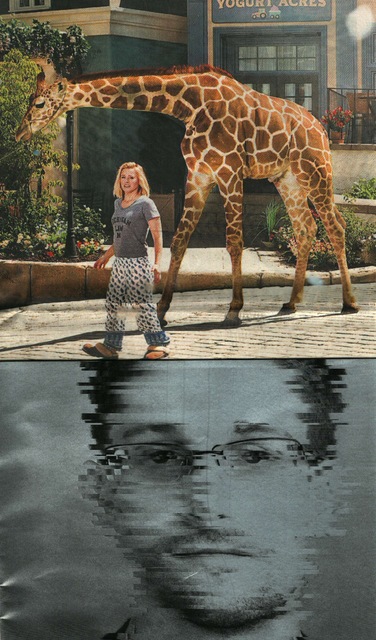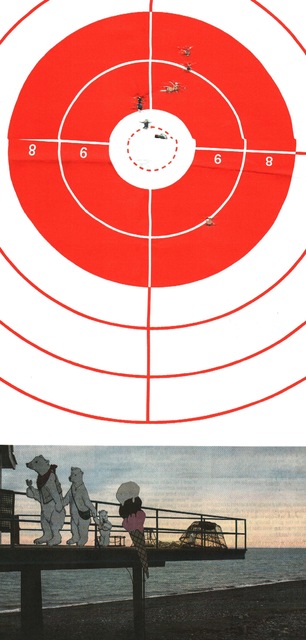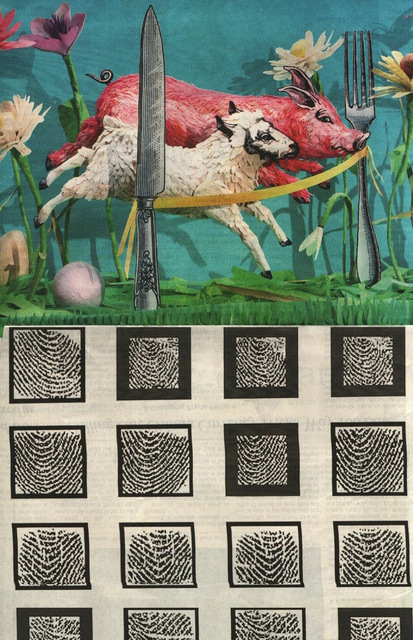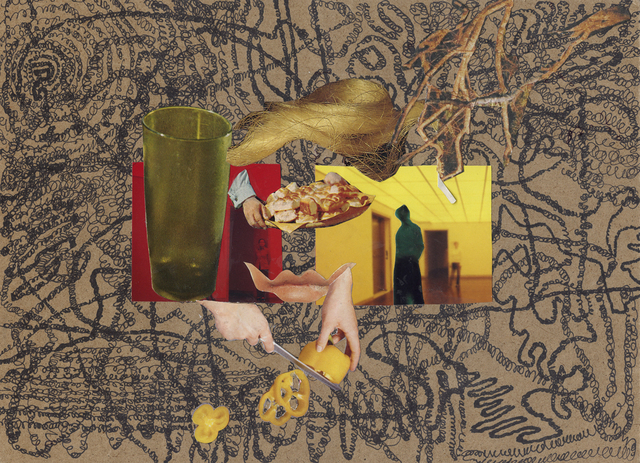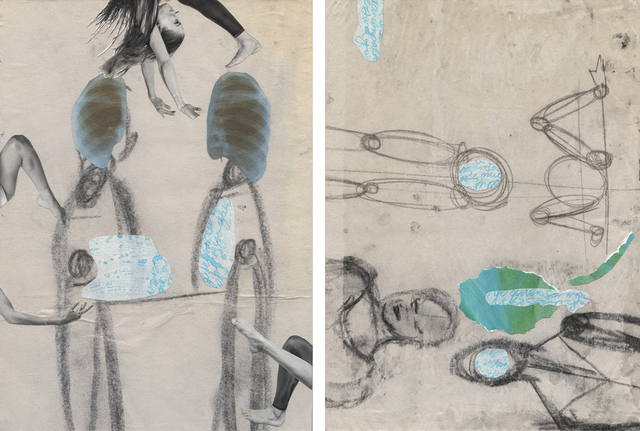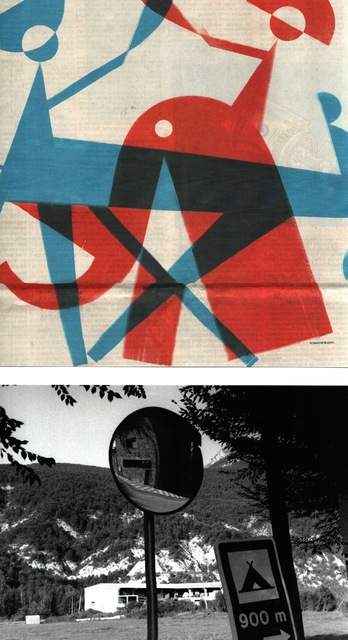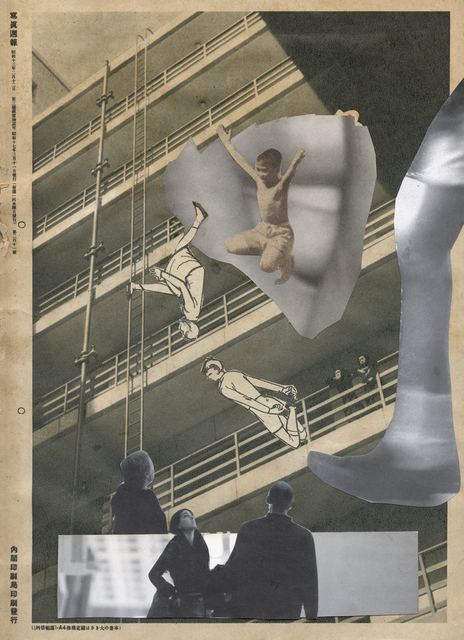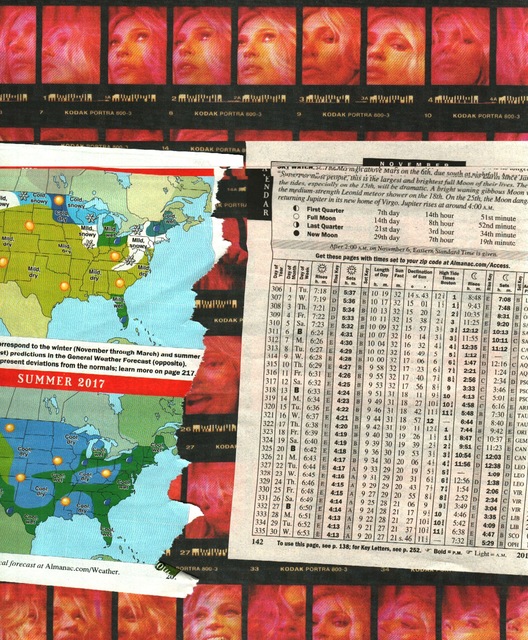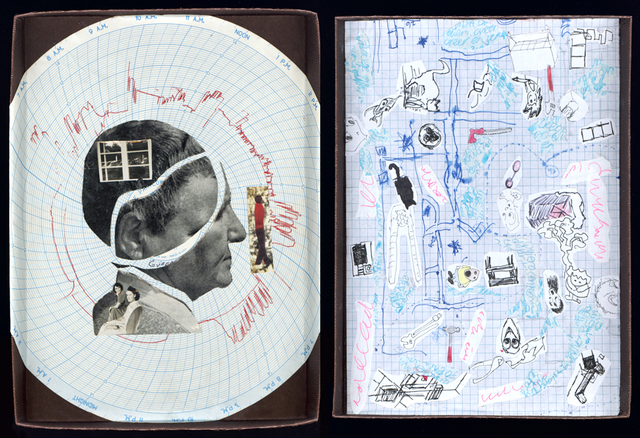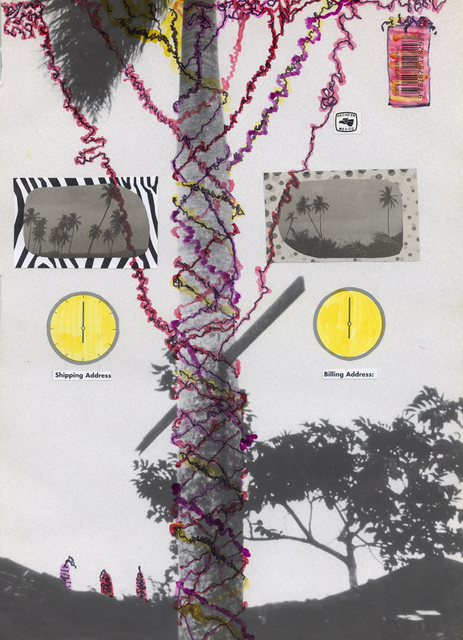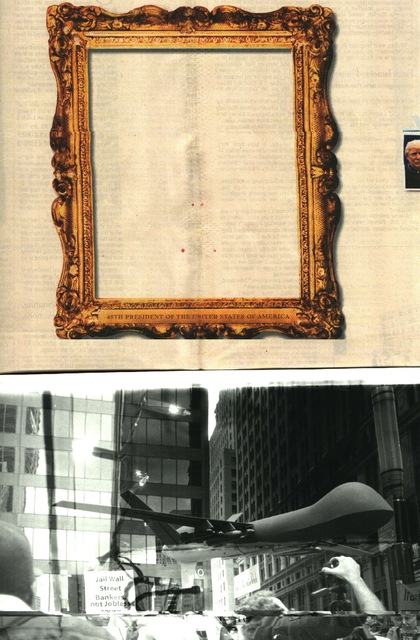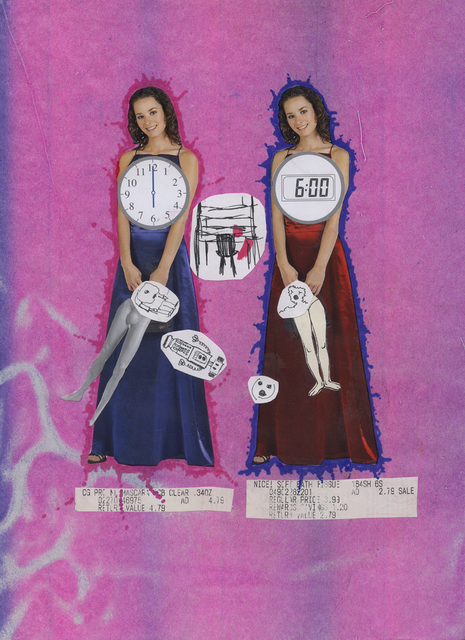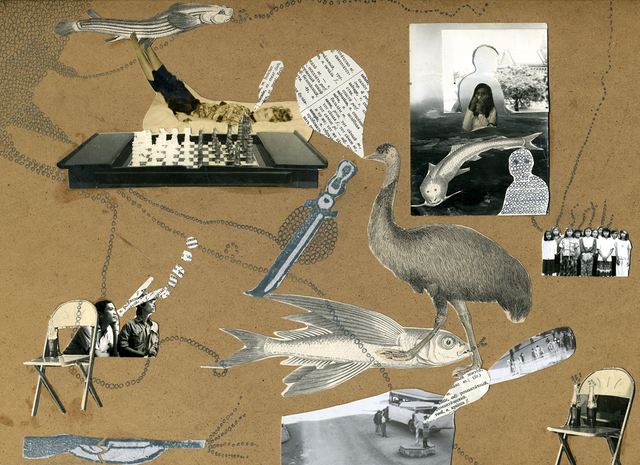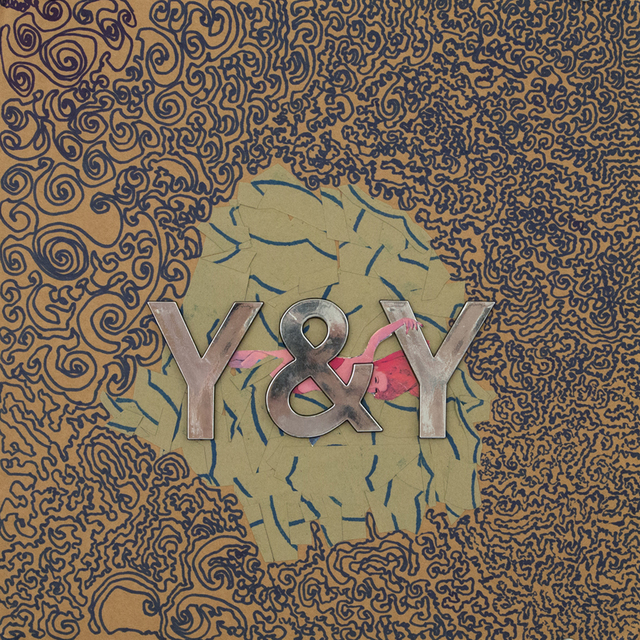 Press Release
The XY Chromosome Project follows the career paths of Lynne Sachs and Mark Street. To follow this path is to trace a blueprint on devotion. Working both together and individually for the past 30 years, each artist has carved out their own niche without the obvious influences of being married. They part ways to be left alone to their own creations. It is the respect for the other's work that bonds them. Left alone, their work could not be more different. Lynne's work is cerebral and emotional. As seen in her full length films "Your Day is My Night" and "Tip of My Tongue". She collages the art of storytelling by layering stunning visuals while swimming between reality and performance. Her films are remarkable. Mark is the experimental film hero, a pioneer in film manipulation, an encyclopedia in the world of experimental films. His film work is solely connected to what is possible in the organics of film manipulation. They celebrate experimentation in its truest form. Yet both come down on the same line when it matters most. The line of captivation which as any artist knows is the hardest to achieve.
In 2010, they created The XY Chromosome Project an umbrella for their collaborative ventures. Together they have produced an array of collaborative installations, performances, and two-dimensional art works. In addition to exhibiting their collages on the walls of the Court Tree Gallery, they will present movies, poetry and essays by themselves and other artists and writers throughout the month of May.
In 2017, Lynne embraced her life-long love of collage during an artist residency at Beta Local, an art center in San Juan, Puerto Rico dedicated to supporting and promoting aesthetic thought and practice. While there, Lynne worked with San Juan artists who shared images torn from magazines or newspapers, found in a drawer, a family album or in the trash -- personal, commercial and ephemeral objects. Lynne then proceeded to "collaborate" with these artists by integrating both the treasures and the trash from their lives into her collages.
"Morning Addition" is a series of collages Mark has been working on since 2015. He uses images from newspapers, old books, Farmers' Almanacs, paper shooting targets and original photographs to create strange and uncanny combinations. What arrives on the doorstep and found on the street mixes together to distill quotidian ephemera down to an unanticipated broth.
Artist bios:
Lynne Sachs (born August 10, 1961 in Memphis, Tennessee) is a media artist who makes films, collages, installations and web projects exploring the intricate relationship between personal observations and broader historical experiences. She is known for weaving together poetry, painting, politics and layered sound design. After graduating from Brown University, she moved to San Francisco where she was deeply inspired by the collages of Bruce Conner, who would later become her mentor, and by the ciné poems of Maya Deren. Sachs received Masters degrees from San Francisco State University and the San Francisco Art Institute. She studied with Trinh T. Minh-ha, George Kuchar and Barbara Hammer. As seen in "Your Day is My Night" and "Tip of My Tongue", Sachs's films embrace a collage sensibility to their very core. They weave together a fascination with form, performance and non-fiction. In the words of NYC artist Kelly Spivey, "Lynne allows her 'characters' to explore storytelling from various subjectivities, opening up a more authentic portrayal of being alive during a specific time, situation or place. We learn that to burrow down into our ability to imagine another's pain or joy, and then to perform these as part of our own exploration for the camera, yields a deeper connection than if we'd simply 'told the truth.' Lynne's work can best be epitomized by her interests in intimacy, collaboration and space." Sachs's work has been supported by the Guggenheim, Rockefeller and Jerome Foundations, NYSCA, Experimental Television Center and MacDowell Colony. Her films have screened at the Museum of Modern Art, Whitney Museum of American Art, Tate Modern, Sundance Film Festival and New York Film Festival. Sachs teaches in the Art Department at Princeton University and lives in Brooklyn with filmmaker Mark Street. She is the sister of filmmaker Ira Sachs and author Dana Sachs. www.lynnesachs.com
Mark Street (born October 31, 1963 in Beloit Wisconsin) makes films ranging from abstract 16mm hand-manipulated pieces to feature-length improvised narratives. He is also a street photographer (both still and film/video) and some of his photographs are collected in the book 100 Sides of a Sphere (available from Printed Matter). Mark likes to work the surface of film to create rich visuals which he shapes in a very intuitive, personal way. Since he started making films in 1983 he's always gone back to painting, bleaching and marking frames one-by-one; he's exhilarated by this tactile relationship with film material. In 2015, he created the Celluloid Series, a collection of 20 variable size prints scanned from 35mm film that's been eroded by time and abrasive materials. He also have immersed myself in various communities and attempted to represent the tensions and resonances of those locales. "Hasta Nunca" (2012) is a feature-length improvised narrative film shot in Montevideo, Uruguay. "Oiltowns" (2017) is a documentary about the oilfields of Western North Dakota. In addition to presenting at film festivals (Sundance, New York, Sarajevo, Tribeca, San Francisco, London), Mark has also exhibited video installations in galleries, including Court Tree Collective's "Still Here" (2014) and the New York Film-Makers' Cooperative's "A Train Ride Can Be a Tracking Shot" (2016) as well as at the School 33 Art Center in Baltimore. Mark has also had musicians accompany his films at various venues including Downtown Community Television (DCTV), Issue Project Room, Galapagos Art Center and Hallwalls. He teaches film and videomaking and is Program Director of the Visual Arts Department at Fordham University. www.markstreetfilms.com
Weekly Events at Court Tree Gallery:
Thursday, May 10 – The XY Chromosome Project Opening Party 7 - 9pm
Thursday, May 17 – Short Films by Mark Street and Lynne Sachs 7 - 9pm
Since 1992, Lynne and Mark have been showing films together in an attempt to uncover connections and dissonances, pitting the X against the Y, the magenta against the green, the hard edged against the ephemeral. At Court Tree Gallery, they will present 11 short films (including one they made together) created over the last 25 years. Loose themes and affinities will unspool, including chimerical traces of their children, women's voices amplified on the screen, quotidian diary effusions, found footage movies reimagined, weather as an apocalyptic (bell)weather and finally, the frame as a shifting, malleable grid. Total running time: 69 min.
Films include:
"Sliding off the Edge of the World" by Mark Street, 7 min. 2000.
Time slows down and silence envelops a series of quotidian moments snatched from transience. The frameline is always moving, and images are stacked like nesting dolls.
"Same Stream Twice" by Lynne Sachs, 4 min. 2012.
Our first daughter's name is Maya. In 2001, I photographed her at six years old. Eleven years later, I pulled out my camera once again to film her – different but somehow the same.
"And Then We Marched" by Lynne Sachs, 3 min. 2017.
Sachs shoots film of the 2017 Women's March in Washington and intercuts this footage with films of Suffragists and 1970s advocates for the Equal Rights Amendment.
"Carolee, Barbara & Gunvor" by Lynne Sachs, 9 minutes 2018
From 2015 to 2017, Lynne visited with Carolee Schneemann, Barbara Hammer and Gunvor Nelson, three multi-faceted artists who have embraced the moving image throughout their lives.
"Vera Drake, Drowning" by Mark Street, 4 min. 2012
A theatrical trailer buried in the garden for several years. The vagaries of nature (snow, rain, ice, sun) yield a scrupulous document of the passing of time.
"Zoom" by Mark Street, 6 min. 2018
Painting and bleaching a Dutch/French 35mm film to divulge haunted layers of psychological complexity.
"After Synchromy" by Mark Street, 6 min. 2015
An homage and reimagining of Norman McLaren's 1971 film leavened by a cascade of daily quotidian still photography.
"Winterwheat" by Mark Street, 7 min. 1989
From an educational film about the farming cycle; a red sky vision emerges from between the tractor blades.
"Drift and Bough" by Lynne Sachs, 7 min. 2014
Lynne spent a morning in Central Park shooting film in the snow. The stark black lines of the trees against the whiteness created the sensation of a painter's chiaroscuro.
"Starfish Aorta Colossus" by Lynne Sachs, 5 min. 2015
Poetry watches film. Film reads poetry. Paolo Javier's text is a catalyst for Lynne to journey through twenty-five years of shooting film.
"The X Y Chromosome Project" by Lynne Sachs and Mark Street, 11 min. 2007
Lynne and Mark use a split screen to create a diptych that functions both as a boxing match and a pas de deux.
Thursday, May 24 – XY Chromosome Invitational Poetry and Prose Readings 7 - 9pm
Lynne and Mark invite local writers of poetry and prose Denver Butson, Jason Dubow, Paolo Javier, Heather Johnson, and Maria Robinson Somerville to look at the idea of the XY Chromosome – the notion of boy-girl, gender, sex, DNA, biology, society, and identity.
Guest writers:
Denver Butson is a Brooklyn-based poet, collaborator with artists in various disciplines, father, husband, cook, gardener, guitarist, and creative director of an arts and cultural center in southern Italy. Many of his poems involve real or imagined tensions between real or imagined people in real or imagined relationships.
Jason Dubow teaches at St. Francis College and is working on a book that grew out of his blog, "LearnMeProject: Reflections on One Family's Home School Experiment and Beyond". Jason and his son Isaac, a jazz trumpet player, will read/perform their collaborative essay "A Father and Son in a Sort of Conversation."
Paolo Javier's collaboration with Listening Center appeared as a book-cassette, Ur'lyeh/Aklopolis in early 2017. A featured artist in MoMA PS1's 2015 Greater NY Show as well the Queens International '18, Paulo is the author of four full-length collections of poetry, including Court of the Dragon which Publisher's Weekly calls "a linguistic time machine".
Heather Lynn Johnson is the author of The Survival Guide for Queer Black Youth and the 2017 literary fellow for the Queer|Art|Mentorship program. Heather's work is characterized by its lyricism and cultural critique. Through the use of imagery and the written word, Johnson explores being other-ed in a consumerist society by mining the history of gender, sexuality, and the racialized body.
Maria Robins-Somerville is a Brooklyn writer and recent graduate of the University Michigan where she received a Hopwood Prize for Poetry. This fall, she'll be starting at the CUNY Graduate School of Journalism. Maria will read an essay about her twin brother.
Follow Artists In This Show