cubus-m
Art Rotterdam 2016
'Talking Business' - 3-channel video installation by Kerstin Honeit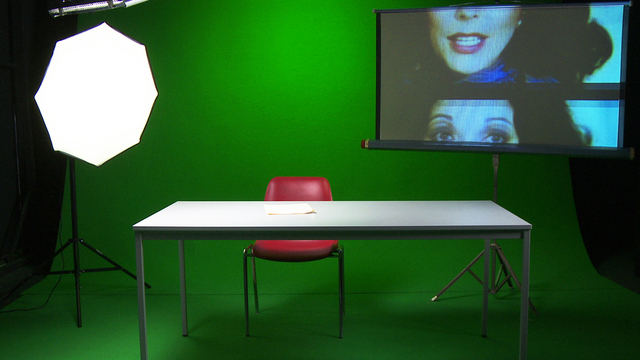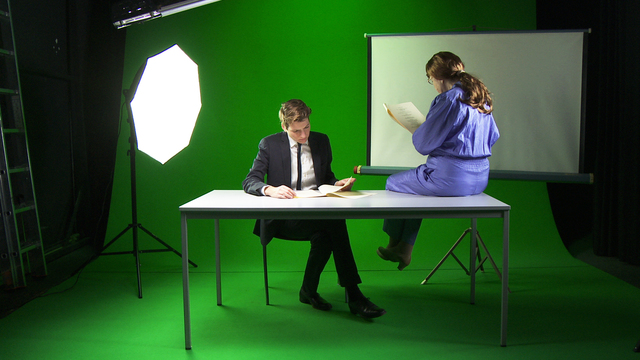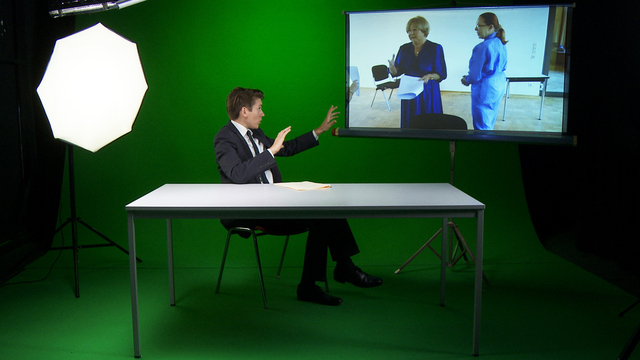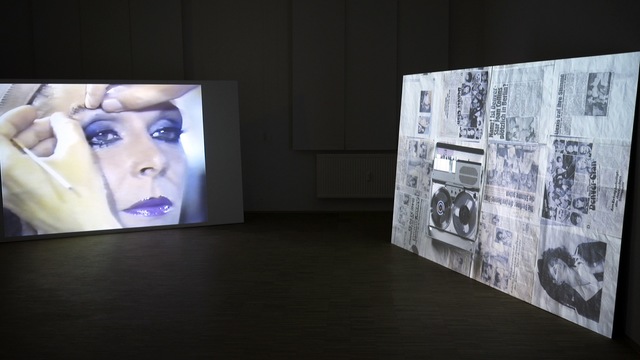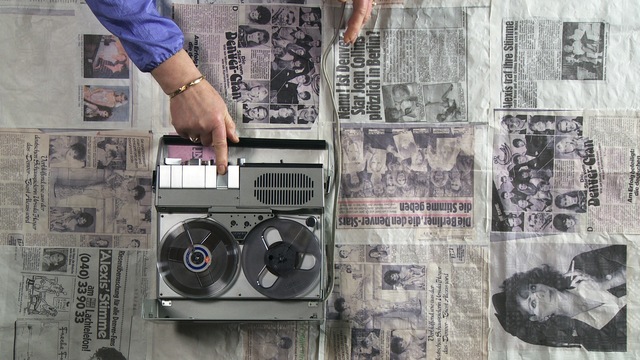 Press Release
Art Rotterdam 2016 | Projections
cubus-m, Berlin
Kerstin Honeit | Talking Business
3-channel video-installation
dur. 13:00 min, HD, colour, sound, language: English/German
In her video work, installations and performances Kerstin Honeit explores the staging of hegemonial imagery. She hereby uses media strategies like film synchronization and lip-synching to decode the usual reception processes and to question the coherence of body and voice, the construction of figures, stereotypes and identities.
In her new work Talking Business (2015), Honeit continues her research on the phenomenon of the disembodied voice and applies herself especially to the reproduction and doubling that underlies the process of film dubbing, which is still common practice with all foreign film and TV productions in Germany. Working in collaboration with the two Berlin based voice actors Ursula Heyer and Gisela Fritsch, a film script was developed based on the substantial amount of material they collected together. It was these two voice artists who 30 years ago gave the fictional characters Krystle Carrington and Alexis Carrington Colby from the TV soap opera Dynasty their German voices. While the TV actresses achieved a great deal of media attention and fame, the two voice artists stayed relatively unknown. Their voices constructed a new hybrid identity of series characters who started to take on their own life with the growing popularity of the soap opera, mixing the Hollywood narrative with the lives of the voice actors themselves.
Honeit dissolves the familiar unity of sound and picture, voice and body in her 3-channel video work. The two voice actors appear in front of the camera as themselves while at the same time challenging the film characters by personifying a double role. Through asynchronous elements and fluid transitions between the roles of film character, actor and voice actor, Honeit orchestrates a multiple-voiced work that continues to question and redefine the issue of 'who is talking'.
Kerstin Honeit (*1977 in Berlin)
As a native Berliner the city's constant transformation forms a crucial background for the staging of Kerstin Honeit's practice. In 2010 she finished her studies in Fine Arts and Theater Design at Kunsthochschule Weißensee, Berlin. Since 2014 Honeit has been teaching at the Kunsthochschule Kassel (kuenstlerische Mitarbeiterin, class of Bjørn Melhus).
Her recent work has been shown at:
Monitoring Kasseler Kunstverein – 32. Kassel Dokumentarfilm- und Videofest | Arsenal – Institut für Film und Videokunst Berlin | Videonale.15 Kunstmuseum Bonn | NBK Berlin | Internationale Kurzfilmtage Oberhausen | NKV Wiesbaden | Les Complices* Zurich | Clarke Gallery Birmingham | Site Gallery Sheffield | SIA Gallery Sheffield | Gallery 400 Chicago | CCNY New York | Kunstraum Kreuzberg / Bethanien Berlin | London Film Festival | MIX Film Festival New York | Outfest Los Angeles | Hong Kong Film Festival
Honeit's video work Talking Business was awarded with a Honorary Mention by the jury of 2015 at Monitoring Kasseler Kunstverein – 32. Kassel Dokumentarfilm- und Videofest.
www.kerstinhoneit.com
Follow Artists In This Show