Vova Vorotniov : Land-shaped Box
Vova Vorotniov solo show during Warsaw Gallery Weekend 2016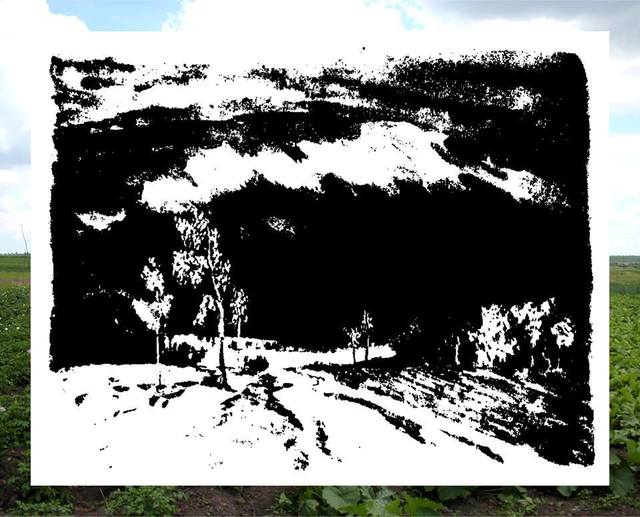 Press Release
Land-Shaped Box
In my recent series I examine the basics of my own perception of a landscape. The question when and why I have started to appreciate the paysage as the contemplative natural scenery led me to the times of my childhood, when I had started to notice the mysterious woods and skylines in the village far from the noisy city.
Those bucolic surroundings, however, were not necessarily picturesque. The sights of challenging wilderness or rustical unhurried, as it appeared to me, activities were indeed agreeable, but not thought of in any terms of 'beauty' or uniqueness yet. I think it was the Soviet badly printed shabby cheap thin books for children that started to draw my attention to nature as a particular phenomenon, archetypal and sublime, but sensitive and fragile at the same time. While the texts were always didactic and explicitly uninteresting to kids, the illustrations lived their own life, beyond censorship or propagandistic tricks, merely representing the dark moody Northern forests with melancholic watercolour palette. If bright Western comics were always standing for action, those cold pictures were totally for non-action. Beholding the eternal spectacle of the nature was not just a working escapist stance — it was also disruptive and condemnatory towards the social reality of the USSR. And though the Nature is nothing more than a construct, the subversive character of its representation in this context has shown me how to see through and to break down the conventional credibilities.
The Land-Shaped Box is technically a series of collages consisting of photographs of the primary landscapes, which tuned my dimensional vision, and fragments of the original Soviet book illustrations that played a significant role in my spatial gratification.
Vova Vorotniov
Kyїv, 2016
Follow Artists In This Show