David Kordansky Gallery
Frieze New York 2015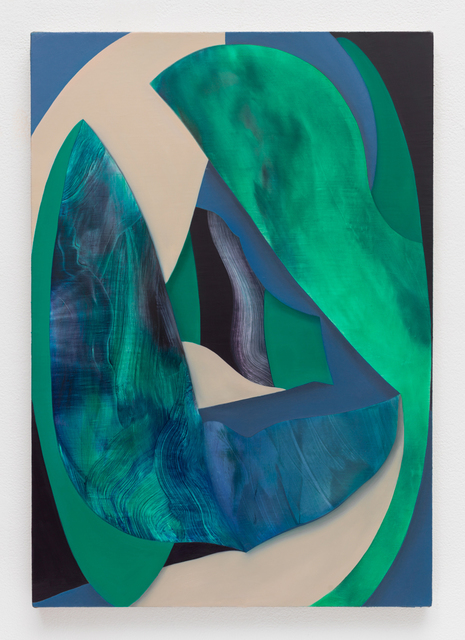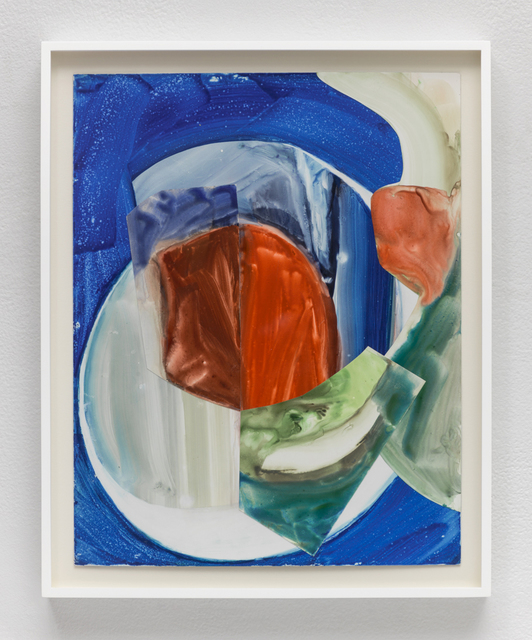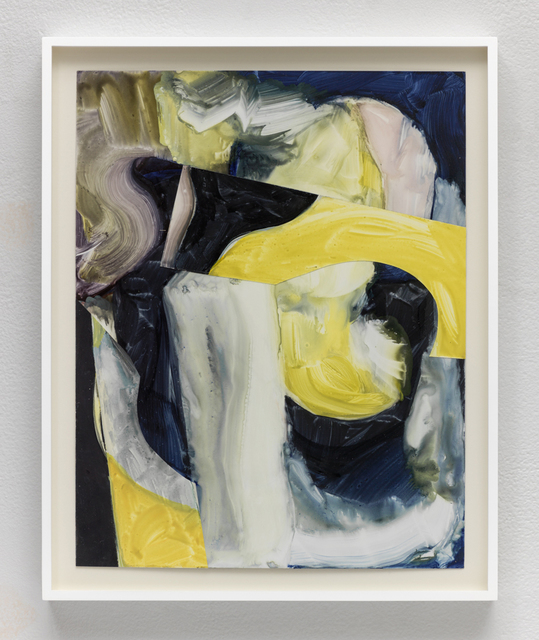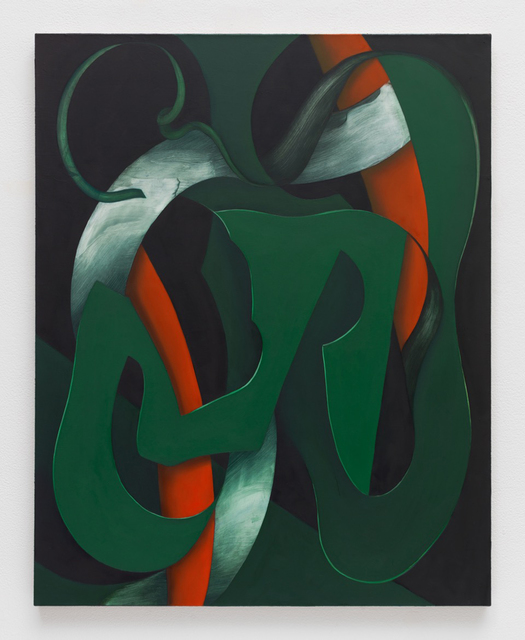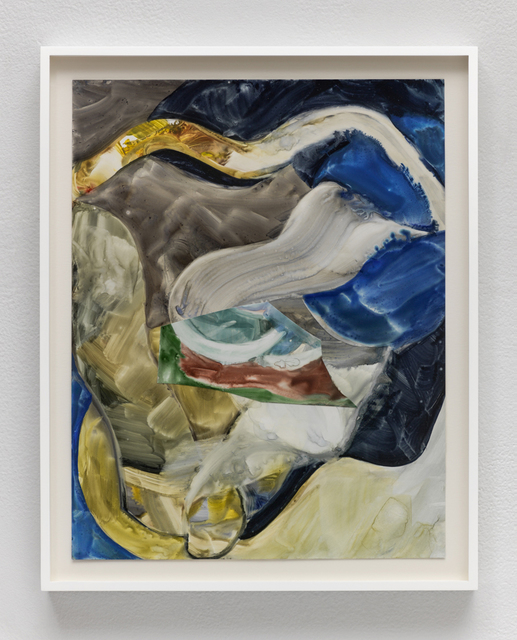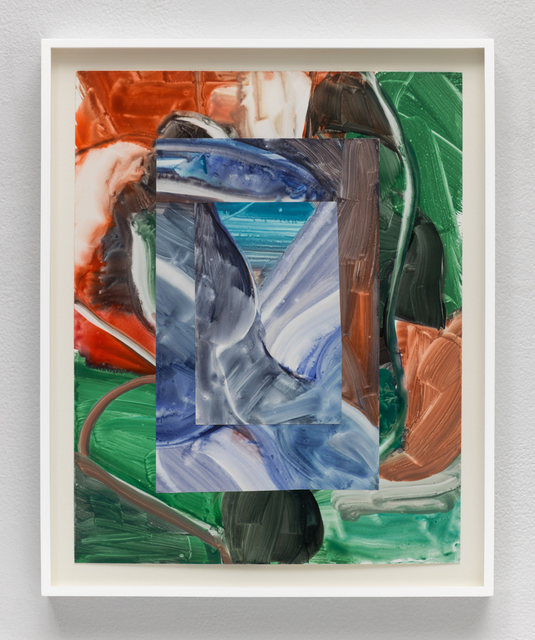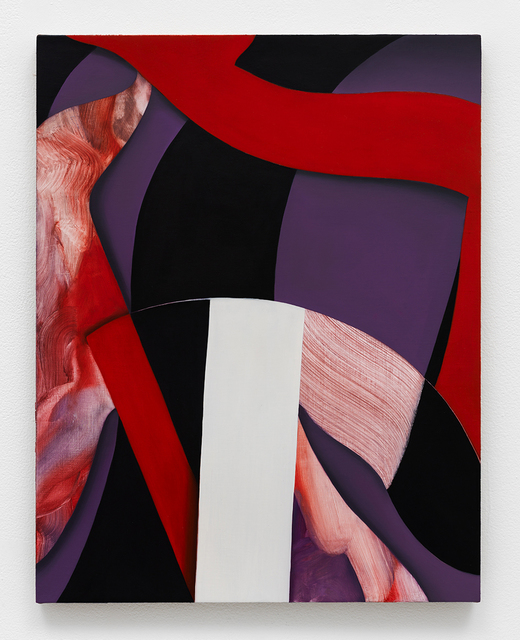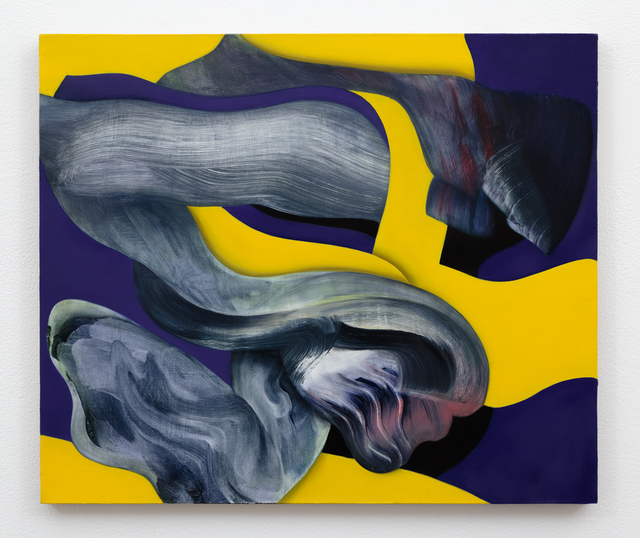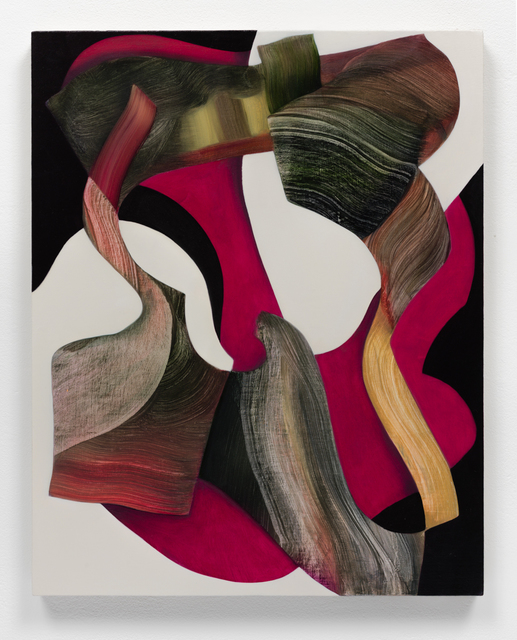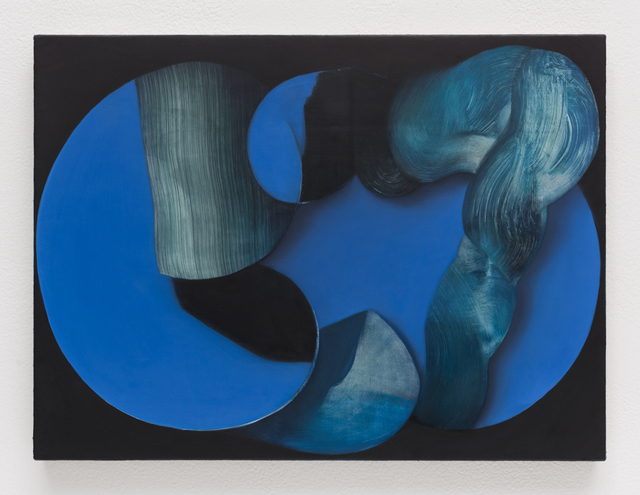 Press Release
David Kordansky Gallery is pleased to announce a solo presentation at Frieze New York of new work by Los Angeles-based painter Lesley Vance. One of the gallery's founding artists, Vance has developed a singular abstract language, a portrayal, romantic yet exacting, of plastic space as a surrealist pictorial continuum. Her new paintings and collages, featuring her boldest colors and most graphic gestures, appear unmoored from worldly referent while according with, and flouting conventions of optical construction. Materially flat, they depict non-objective forms with emotive sensuality and dramatic finesse.
Vance's oil and linen pictures unwaveringly occupy the personal scale of a window; her largest abstract paintings to date, on view here, only stretch 30 inches in one direction, and most measure less than 20. Within these intimate bounds, intricate depths unfold: Ribbon-like fields of flat color abut, overlap, intersect, and meld into fine-haired painterly strokes and swath-like expanses. The borders of these forms are at once hard-edged and porous. Like brushwork Möbius strips, they are at turns sharply discrete while also flowing and fading into each other. Throughout, Vance delineates her forms as much by their internal patterning as by neighboring contours or seemingly imposed line; for example, a form's outer edge follows the "natural" curvature of a brushstroke, or appears cut entirely independent of this grain.
Adding illusionistic effects like drop shadows and highlights to the edges of her forms, as well as chiaroscuro-like modeling, Vance further conjures perceptual labyrinths. Depicted shapes simultaneously appear as fragmentary forms and fragmentary views of space, i.e., both as figures and slivers of ground. In particular, negative spaces take on positive presences; apertures look both recessed and superimposed. Lines and colors extend freely between forms, again paradoxically suggesting both retinal continuity and distinction.
Vance's earlier pictures frequently began with still-life compositions, abstracted in wet-on-wet applications of oils. Her new paintings advance her working process to the climax of this activity: the intense interplay between colors sharing a surface and field of view. In these works Vance patiently pieces and parses the ramifications of color considered as a pictorial as well as painterly object, increasingly subject and sensitive to the representation of volume and light. Her approach, which has always studiously drawn upon art history's tertiary masters, grows modern, eliciting both expressionist and color-field strategies by Howard Hodgkin, Lee Krasner, and Ken Price, while still evoking the hyperreal theatricality of baroque sculpture.
An accompanying series of new collages further probe the vagaries of constructing space from color and form. Excising vignettes from her radiant and lush watercolors, Vance pastes one or two of these fragments onto other finished full sheet watercolors. These sharp-edged layers seem to uncannily "fit" the abstract picture, chromatically and compositionally. However, this relation is Vance's virtuosic fabrication, another seductive fiction, with the eye as her willing accomplice.
The work of Lesley Vance (b. 1977) has been the subject of solo exhibitions at the Bowdoin College Museum of Art, Brunswick, Maine (2012); the FLAG Art Foundation, New York (2012); and, with Ricky Swallow, the Huntington Library, Art Collections, and Botanical Gardens, San Marino, California (2012). Recent group exhibitions featuring her work include Variations: Conversations in and Around Abstract Paintings, Los Angeles County Museum of Art (2014); Painter Painter, Walker Art Center, Minneapolis (2013); A House of Leaves. Second Movement, David Roberts Art Foundation, London (2012); Difference, Dallas Museum of Art; Three Evidentiary Claims, Center for Curatorial Studies, Bard College, Annandale-on-Hudson, New York (2012); and 2010, Whitney Biennial Exhibition, Whitney Museum of American Art, New York. Vance's work is included in the public collections of the Hammer Museum, Los Angeles; the San Francisco Museum of Modern Art; the Milwaukee Art Museum, Wisconsin; the Museum of Modern Art, New York; and the Whitney Museum of American Art, New York, among others. Vance lives and works in Los Angeles.
Follow Artists In This Show