Rebecca Allan In Voltaire's Garden
This presentation covers two botanically distinct categories of Allan's painting practice: landscapes of deciduous forests in the Northeastern US and Northern Europe as well as the rugged mountains and desert terrain of the Southwestern US.
Jun 11th – Jul 14th
Santa Fe, 1570 Pacheco Street Suite E2
Map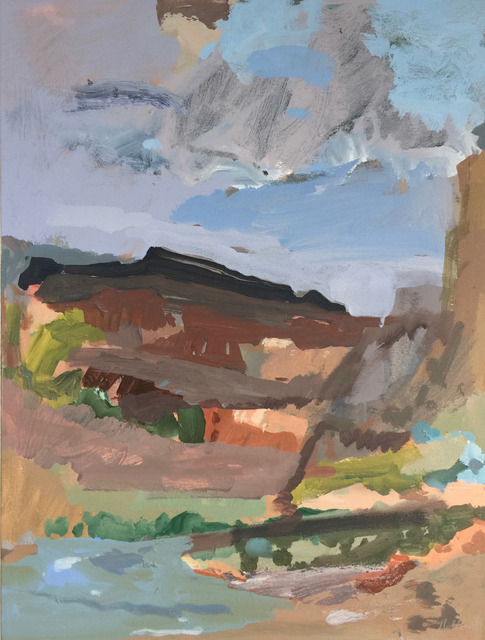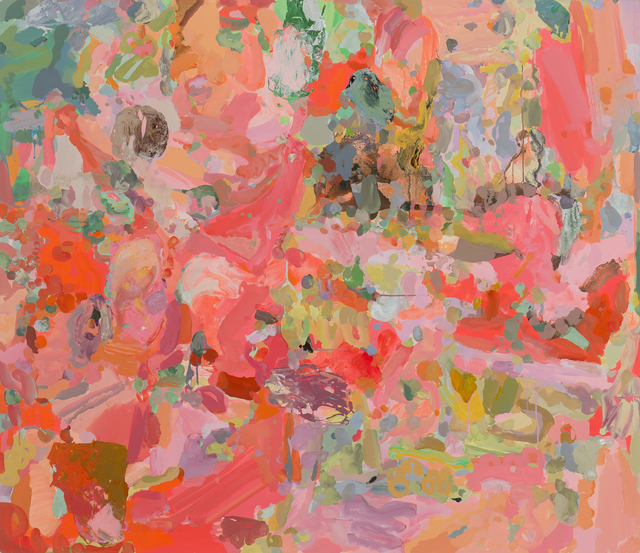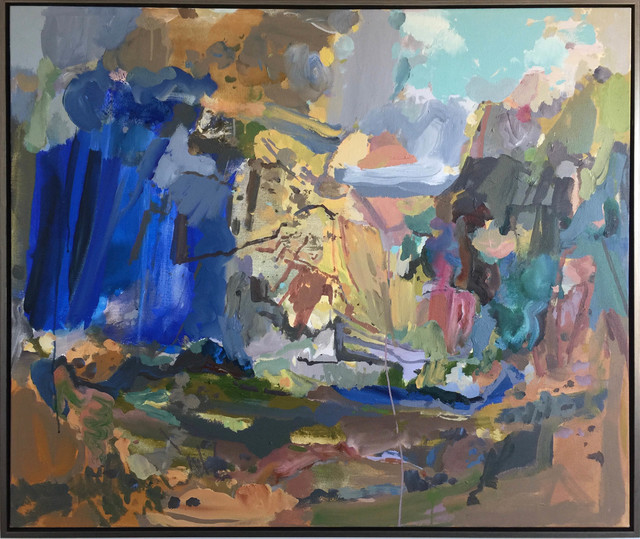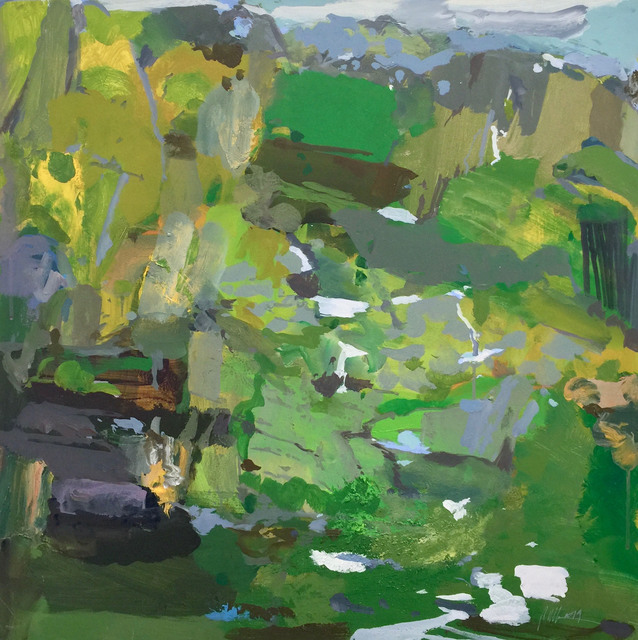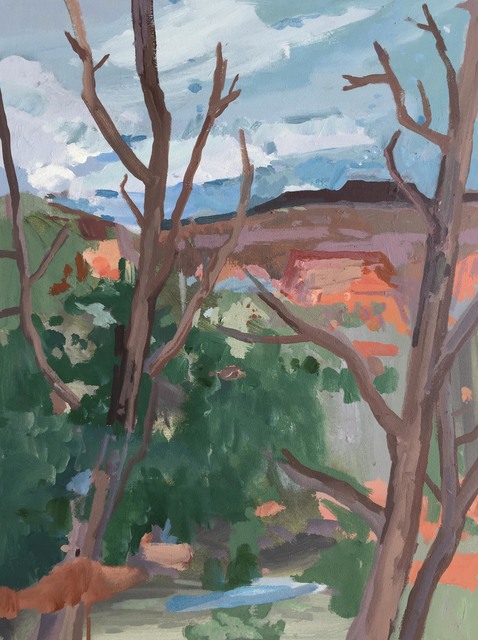 Press Release
REBECCA ALLAN
In Voltaire's Garden
June 12 - July 14, 2018
Artist Talk: Saturday, July 7, 4:00 - 5:00 PM
Artist Reception: Saturday, July 7, from 5:00 - 7:00 PM
David Richard Gallery, LLC
Santa Fe Venue – 1570 Pacheco Street, Suite E2, Santa Fe, NM 87505
P: 505-983-9555
www.davidrichardgallery.com
Rebecca Allan comments, "My abstract paintings are catalyzed by the deep relationship that I have with deserts and deciduous landscapes, whether at the confluence of the Hudson and Harlem rivers that I see from my studio window, vibrant colors of gardens and in France or Lebanon, or the severe grandeur of northern Northern New Mexico. I still believe that there is an essential place for the observation and translation of the landscape in our art. This is more important now than it has ever been, as the agencies of our government that are enlisted with protecting our wild lands and waters inconceivably refute that mission."
This presentation covers two botanically distinct categories of Allan's painting practice: landscapes of deciduous forests in the Northeastern US and Northern Europe as well as the rugged mountains and desert terrain of the Southwestern US. The unique palette's of the different geographies readily distinguish them and bring compositional variations. However, the similarities between them are far greater as each is a celebration of the earth and the fragile ecosystems that support life on this planet. Ecology and appreciating the environment are the essence of Allan's landscapes, as the latter only survives as a result of the former.
About Rebecca Allan:
Rebecca Allan is a New York-based visual artist known for her richly layered and chromatically nuanced abstract paintings. Her work investigates watershed environments of the Northeast, Pacific Northwest, New Mexico, the Gulf Coast, Lebanon, France, and Norway, and is inspired by her interest in landscape ecology, botany, and geology. The artist's studio overlooks the Spuyten Duyvil, at the confluence of the Harlem and Hudson Rivers in The Bronx.
Exhibiting in the United States and abroad for more than 25 years, Allan has been represented in 40 solo, and 23 group exhibitions. She is also a contributing writer for publications including Fine Art Connoisseur, and the online journal artcritical.com. In addition, she has had a professional career as an arts administrator, museum educator, public programs curator, and teaching artist, most recently as the Director of Public Programs and Head of Education (2006-2014) at Bard Graduate Center for Studies in the Decorative Arts, Design History, and Material Culture in New York City. From 2004-2006 she was Curator of Education at the National Academy Museum. In February 2015, Allan was invited to Lebanon as a visiting artist at Lebanese American University in Beirut. In 2009, she was the first visual artist to have an exhibition, and to present a joint lecture with ecologist Dr. David Strayer at the Cary Institute of Ecosystem Studies, a scientific research institute in Millbrook, New York. From 1990 to 1993 Allan was a museum educator at Seattle Art Museum where she developed the museum's inaugural Art Studio Program.
Allan's most recent solo exhibitions were presented at: Lillian August Gallery, Norwalk, CT; Marsh Gallery, Indiana-Purdue University at Indianapolis, IN; The Performing Arts Center at SUNY Purchase College; Hudson Opera House Gallery, Hudson, NY; Nancy Dryfoos Gallery at Kean University, NJ; ArtLab 78, New York, NY; Tippetts Gallery, Utah State University; and 2/20 Gallery, New York, NY. Her 2011 exhibition, Horizon Lines, at Seattle Art Museum (SAM) Gallery was presented in tandem with a collaborative work of the same title for chamber music and film, commissioned by the Seattle Chamber Music Festival and created with composer Laura Kaminskyand filmmaker John Feldman. Allan's work is represented in the U.S. Art-in-Embassies Program and has been exhibited in Equador and Djibouti. She is also represented in the Bronx Artist Documentary Project, the first photographic record of visual artists in the borough.
In 2012, Allan became a principle collaborator of The Crossroads Project: Rising Tide—working with physicist Dr. Robert Davies and The Fry Street Quartet (at Utah State University), Laura Kaminsky, and Canadian environmental photographer Garth Lenz. This trans-disciplinary work of "performance science" addresses climate change through the perspectives of environmental science, chamber music, and visual art. The Crossroads Project creators were the keynote presenters at the National Conference of the Association for the Advancement of Sustainability in Higher Education in Los Angeles in 2012, and more recently for the Ecological Society of America in Baltimore in 2015. The work has been presented at venues in the U.S. and abroad including: University of Monterrey (Mexico), Boston University, University of Iowa, SUNY Purchase College, Utah State University, University of North Carolina, Asheville, and in New York City at Wave Hill and Symphony Space.
Since 1993, Allan has been awarded artist's residencies at The Camargo Foundation in Cassis, France (2016); The Hermitage Artists Retreat, Englewood, Florida (2011, 2012, 2014); Centrum Foundation, Port Townsend, WA (2007, 2008, 2011); Virginia Center for the Creative Arts, Amherst, VA, (2006, 2009, 2013); and Dorland Mountain Arts Colony, Temecula, CA (1993, 1994, 2010).
Follow Artists In This Show