Davidoff Art Initiative
Moving Image New York 2016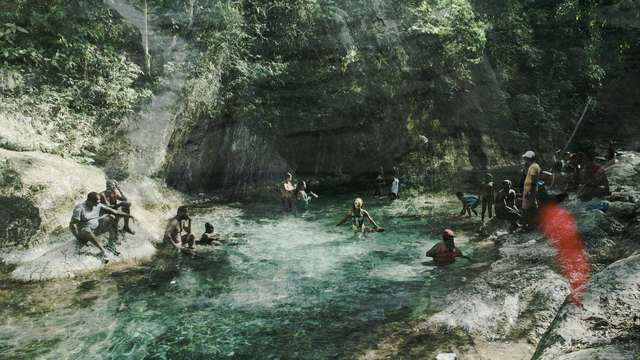 Press Release
Olivia Mc Gilchrist is a French-Jamaican visual artist exploring translocation and issues of Caribbean
cultural identity by proxy of her alter-ego 'whitey's' placement in the Jamaican landscape.
Questioning the shifting categories in which she belongs, from the female body in a postmodern
space to a visibly white postcolonial creole identity, whitey questions the role of racial, social and gender
based categorization, classification and discrimination in the contemporary Caribbean space.
By juxtaposing parallel realities through photographs, video installations and more recently with
virtual reality, elements of the tropical picturesque are re-appropriated, and remapped in the search for her
cultural identity.
Born in Kingston, Jamaica to a French mother and a Jamaican father, Olivia grew up in France and the UK. In 2010, she completed her Master's in Photography at the London College of Communication (LCC) and in 2011, she moved back to Kingston to work as a Curator at the National Gallery of Jamaica (NGJ) and to become a Lecturer in Photography and New Media at the Edna Manley College of the Visual and Performing Arts (EMCVPA). Her work has been shown worldwide, including in Jamaica, Trinidad, Barbados, Grenada, Brazil, the US, the UK, and France,. In 2013, she won the Trinidad & Tobago film festival and ARC Magazine New Media Prize.
Follow Artists In This Show