One day this kid will get larger
A group exhibition of emerging contemporary artists who address the ongoing HIV/AIDS pandemic in North America through the lens of childhood, education, pop culture and race.Guest-curated by Danny Orendorff and is presented concurrently with the touring exhibition ArtAIDSAmerica
Jan 6th – Apr 2nd 2017
Chicago, 935 W. Fullerton
Map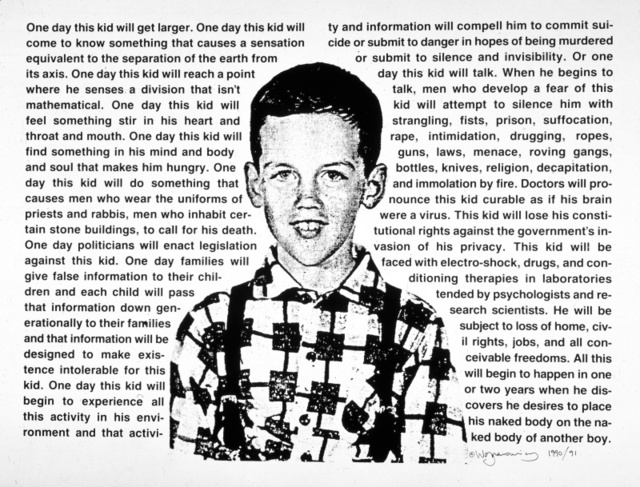 Press Release
CHICAGO — For a rising generation of young, contemporary artists, the AIDS crisis has always been part of their lives. This winter, DePaul Art Museum will present "One day this kid will get larger," a group exhibition that examines HIV and AIDS through the lenses of childhood, youth culture and marginalized communities. It opens Jan. 26 and runs through April 2.
Curated by Danny Orendorff, the exhibition complements the Alphawood Foundation's presentation of "Art AIDS America," now on display down the street from DePaul University's Lincoln Park Campus.
"This collaboration and Danny's expertise can bring to light issues that are overlooked and artists who are under-recognized," said Julie Rodrigues Widholm, the museum's director and chief curator. "DePaul Art Museum is focused on diversity and inclusion, and in this exhibition we hear from voices that are not part of the mainstream dialogue about AIDS and HIV."
Orendorff set out to "shift the image economy" around HIV and AIDS, and to move beyond images of death and risk to focus on life and issues of social justice. "'One day this kid will get larger' explores what it means to have been brought up in the shadow of the AIDS crisis, as young queer people, and how artists today are revisiting their feelings and experiences," said Orendorff.
Childhoods, institutions 'of becoming'
Greeting visitors at the outset of the exhibition will be Shan Kelley's photograph "Growing Concerns" from 2013, in which an infant crawls in a crib under a colorful wall hanging that asks, "What will you teach your children about AIDS?"
"There's no one version of childhood," said Orendorff. "These artists consider the many ways in which the AIDS epidemic has infiltrated both formal and informal institutions of becoming," he said.
Nearby will be Katja Heinemann's "On Borrowed Time: Growing Up with HIV," a series of photos from a Minnesota camp for HIV positive youth, as well as those with HIV positive family members either living or deceased.
In "The Papi Project," DePaul alumnus Oli Rodriguez uses a multi-media, "art-meets-life" approach to explore his relationship with his father, who died from AIDS-related causes.
Performance and pop culture
A second gallery will explore how "communities cohere around performance and various forms of media," said Oredorff. This section will include a new, site-specific mural by Aay Preston-Myint that incorporates designed objects and audio from DJs.
In what Orendorff calls a "spiritual tribute to the ballroom community," photographer Samantha Box's photographs portray a community that thrives despite being deeply affected by HIV and AIDS.
A series of digital video works revisits pop culture milestones and mundane moments from primetime melodrama and reality television shows. Vincent Chevalier unearths footage of himself as a young man re-performing a scene of positive-status disclosure on a daytime talk show for "So … when did you figure out you had AIDS?" A video by My Barbarian, a collective of artists that includes Malik Gaines, Jade Gordon and Alexandro Segade, responds to representations of activist Pedro Zamora from MTV's "The Real World."
Educations and activism
In photos from Lenn Keller's "Another Image: Black Teens Coming of Age" series, the artist combines portraits and text about teens' experiences of racism and sex education in public school. Using digital collage, artist and educator Ted Kerr interrogates the history of a black teenager, Robert Rayford, who died of HIV-related complications in 1969.
Other works include screenprints by Demian DinéYazhi'​ that explore the impact of HIV and AIDS on American Indian and indigenous communities, and silkscreen posters by Nancer LeMoins, which demand that youth recognize their inevitable aging.
There will also be commissioned pieces from artist, activist and printmaker Angela Davis Fegan displayed in the bathrooms and the large, second floor window overlooking the Fullerton 'L' stop. Fegan hand-makes and distributes an ever-expanding set of text-based printed works on handmade paper exploring the history of radical queer politics and sloganeering.
Orendorff is a curator, writer, activist and teacher born in the south suburbs of Chicago who now resides in Brooklyn, New York. He is manager of public and community engagement programs at the Museum of Arts & Design in New York City. His curatorial work has appeared in several galleries including The Center for Craft, Creativity & Design in Asheville, North Carolina; Columbia College's Glass Curtain Gallery in Chicago; SFCamerawork in San Francisco; and Vox Populi in Philadelphia.
Admission is free at DePaul Art Museum, located at 935 W. Fullerton, just east of the CTA's Fullerton 'L' stop. Museum hours are Wednesdays and Thursdays from 11 a.m. to 7 p.m., Fridays from 11 a.m. to 5 p.m., and Saturdays and Sundays from noon to 5 p.m. The museum is closed Mondays and Tuesdays. For more on DePaul Art Museum's upcoming exhibitions and events, call 773-325-7506 or visit http://museums.depaul.edu/.
###
Follow Artists In This Show