igneus - Jone Kvie
In Igneus the main material is basalt rock, cast aluminum and marble. Basalt consists of a substantial proportion of calcium which is a vital component for all living organisms, since it acts as a neurotransmitter in the central nerve system.
Nov 17th – Dec 16th 2017
Stockholm, Ulrikgatan 15
Map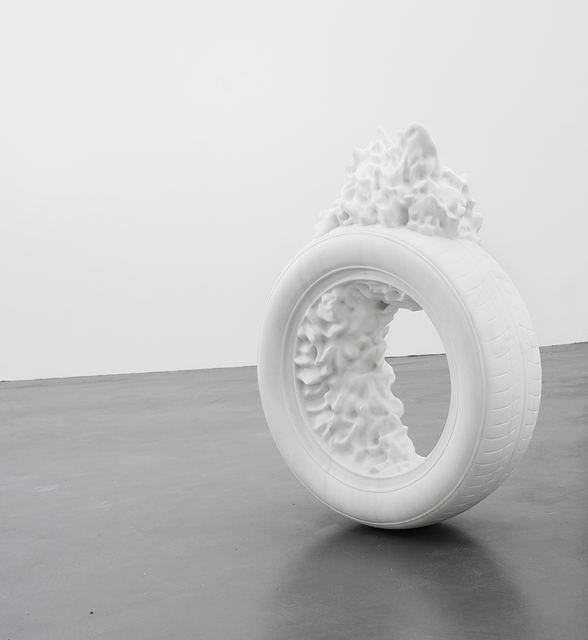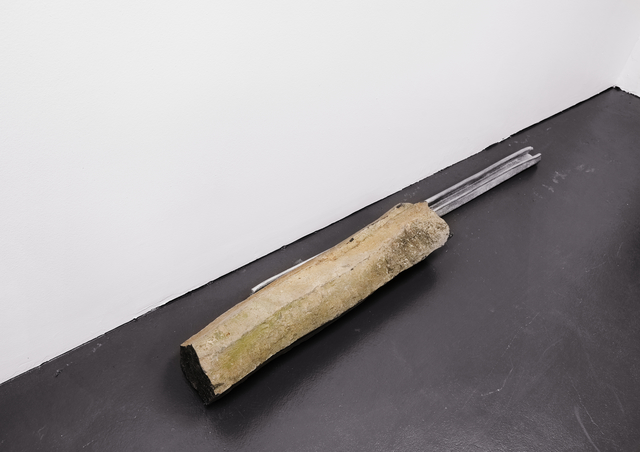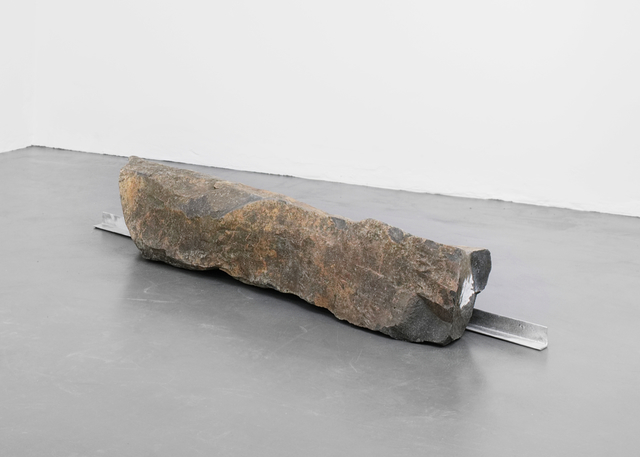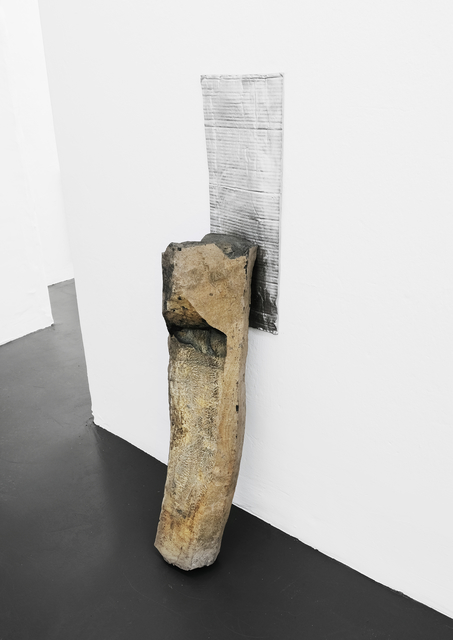 Press Release
Jone Kvie is an artist crucial to understanding the interests of the gallery's program. He makes works that I can't get out of my head. They operate like ghosts in my mind and in my memory. They remind me why I surround myself with art, and why I started and still run Elastic Gallery. I see art as a balance between language, knowledge, the uncertain and sometimes intangible. For me it is a lifelong journey, it is the oxygen I breathe and for me an essential part of being human.
When I first encountered Jone Kvie's artistic practice in 2005 he forced me to go back in my own history, when I was making sculptures as an art student myself. I had to try to get into the vantage point and hands-on experience of making art. At the time of Kvie's first solo show in the gallery in 2006, see images here, he presented three sculptures: Nebula (2006), a sculpture of a interstellar gas cloud littered with glitter, set on a table top with references to 1950's design and feelings of hope and progress. The second work was Launch (2006) the cloud of the explosion of Space shuttle Challenger. An image etched in many people's minds as a kind of collective memory/image from the space race between the superpowers USSR and USA. The third work in the show was Helmet (2005), a bronze sculpture of an astronaut's helmet, with the visor highly polished giving us as viewers a reflected view around the gallery space. But as often with Kvie's artworks, the object opens up an alternative path and dimension with its inside pigmented pitch black. This black presence was vastly bigger then the outside of the sculpture, it both closed and opened itself at the same time. Similar to the two other works Helmet was still in flux, expanding and evolving rather than being a fixed object. The sculptural process was still in progress, much in the same way as it is to follow an artist development over his or her career.
Kvie is in some ways opportunistic in his processes: Sculpting gas clouds/nebulas, explosions of space shuttles or atom bombs, or as in his ongoing series of meteors and other shapes that are somewhat unstable. Even though Kvie casts his sculptures in bronze, aluminum or other moldable materials. Phenomenons that are molded into new shapes through the pressure of vast amount of energy. Processes that are reminiscent of the creation of earth and the universe as a whole.
Energy is ever present in Kvie's artistic practice. In Igneus the main material is basalt rock, cast aluminum and marble. Basalt consists of a substantial proportion of calcium which is a vital component for all living organisms, since it acts as a neurotransmitter in the central nerve system. The cast aluminum parts in the series Second Messenger are leftover building components and packaging, like the cardboard piece in Second Messenger #5 (2017). They operate between nature and culture, the rock shape leaning against a wall to prop up the discarded materials. But here it is elevated through its transformation into an aluminum cast of a cardboard piece.
In the sculpture Evolution (2017) Kvie presents us with a burning car tire carved in carrara marble. We as viewers see the energy that has transformed the materials, but we also see a manmade process. The fire becomes a signal of change and force. It is also a reference to the unsettling times we live in. Kvie mixes progressive action with perhaps one of the most traditional artistic expressions: a marble sculpture.
Both shaping the rocks and casting metal are evolutional processes. In that respect Kvie forces us to look at ourselves and our own bodies in our immediate environment with its urban spaces and architectural features.
Kvie's artistic practice reminds us of our past, present and future, and how to negotiate our space in it. How to reference our own body when surrounded by what might appear as solid grounds but when looked at closely might be completely fluid.
Welcome
Ola Gustafsson, ELASTIC Gallery
Kvie currently lives in Marseille and Skräddaröd. Kvie will open a solo exhibition at Göteborg Museum of Art in February 2018.
He has exhibited in many group and solo shows at Scandinavian institutions including, ARoS Art Museum (Aarhus), Bergen Art Museum, Vigeland Museet (Oslo), The National Museum of Contemporary Art (Oslo), Malmö Art Museum and Göteborgs Museum of Art to mention a few.
He has produced both public and private commissions, and is represented in public and private collections including those of Corcoran Museum (Washington DC), AROS (Aarhus); The National Museum of Art (Oslo), Göteborg Museum of Art Collection, The National Public Arts Council (Stockholm), the Art Museums in Malmö, Bergen and Stavanger as well as the Skåne Municipal Art Collection and the Gävleborg Municipal Art Collection.
Follow Artists In This Show