Katinka Matson | White Flowers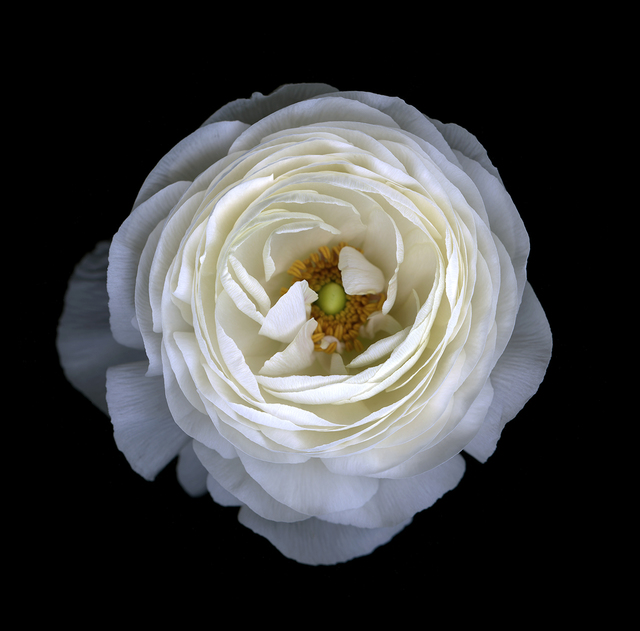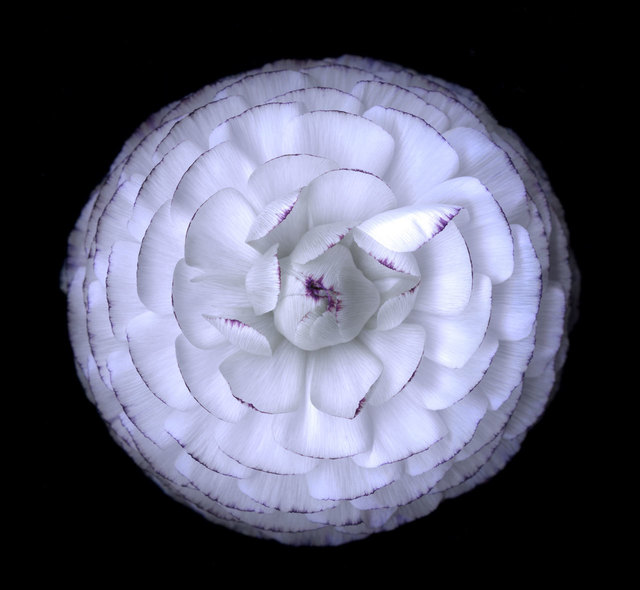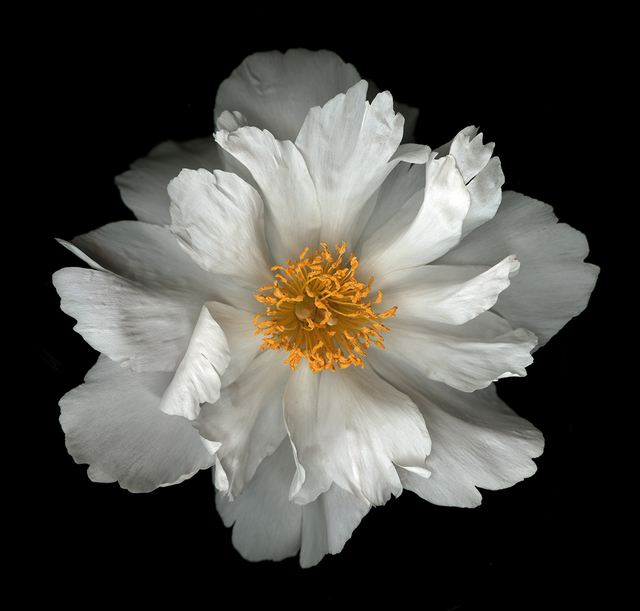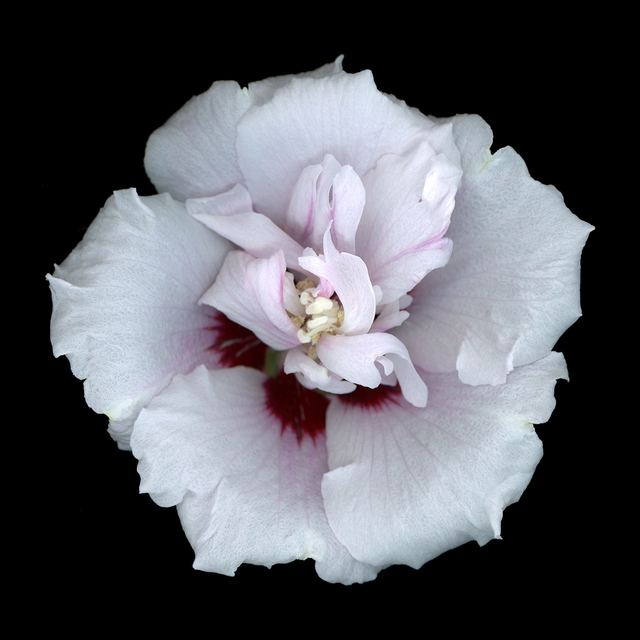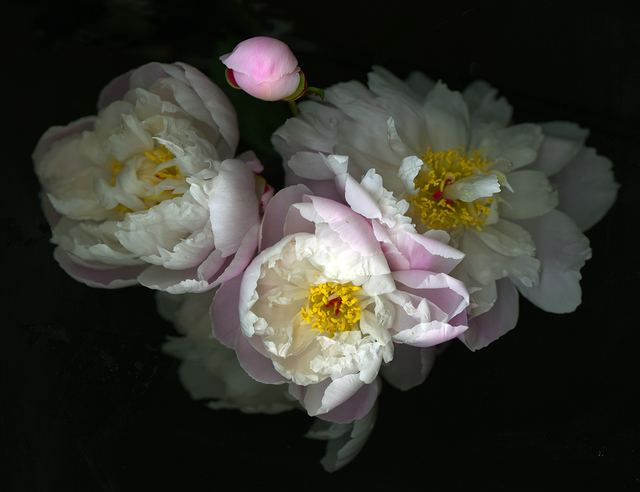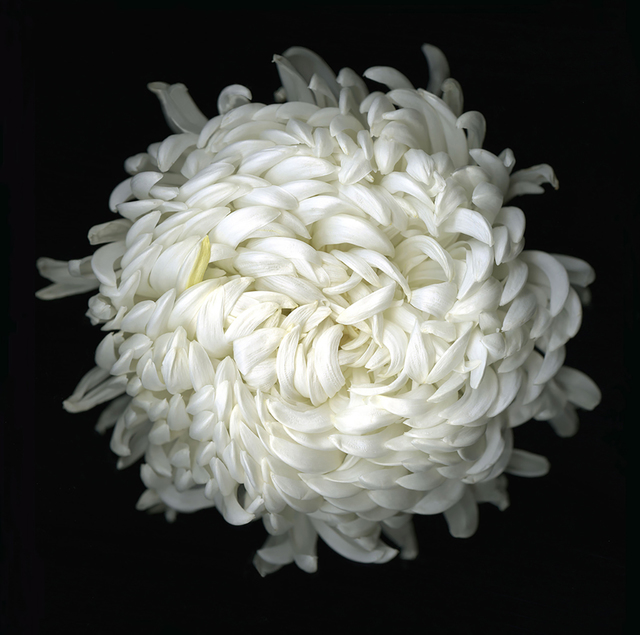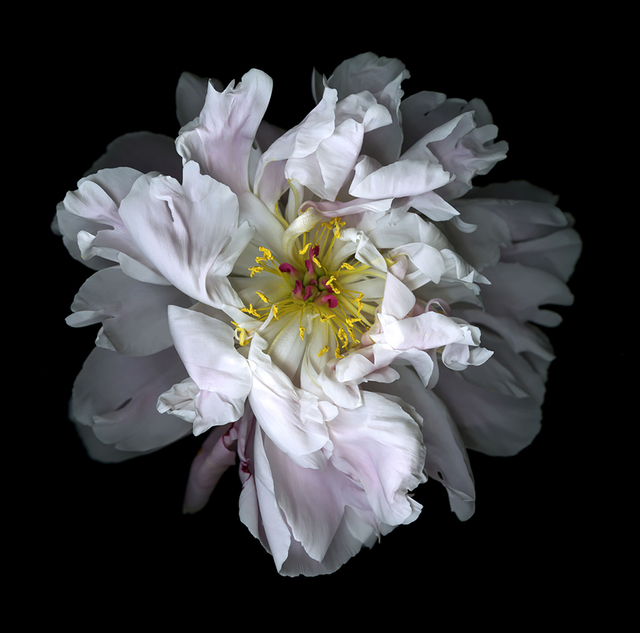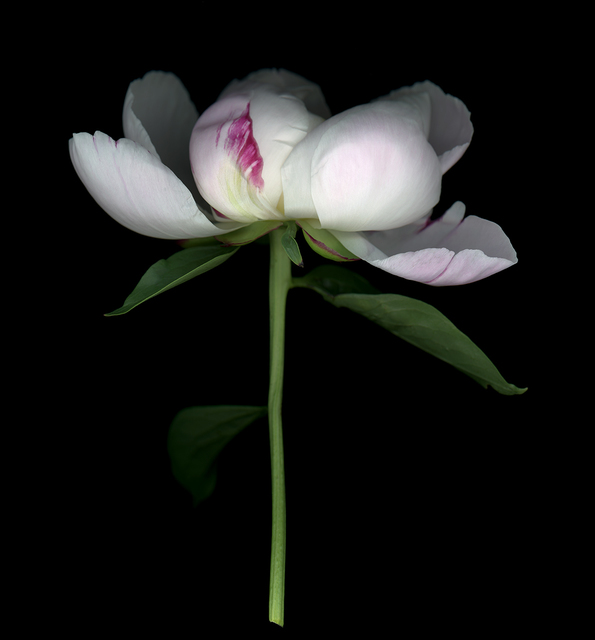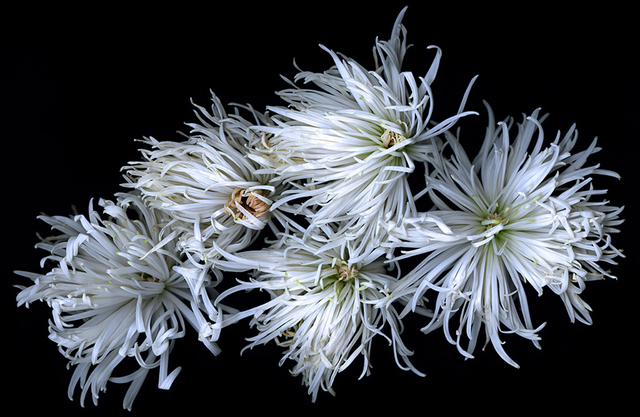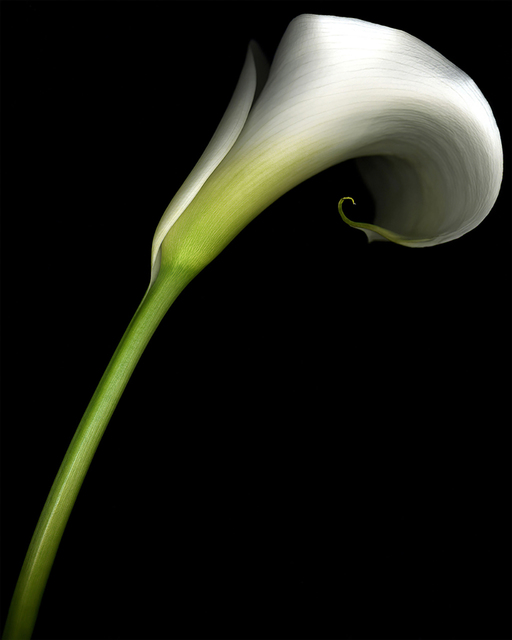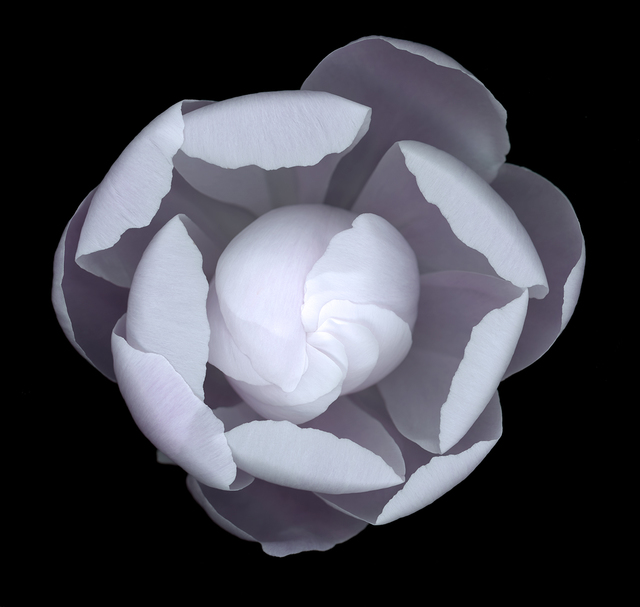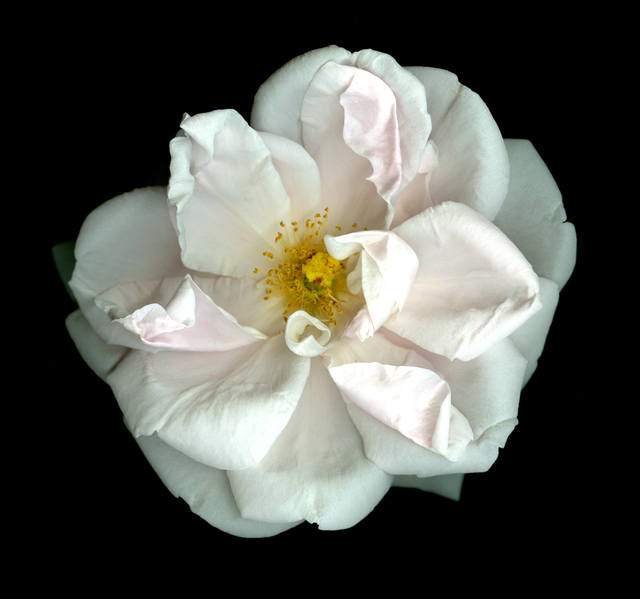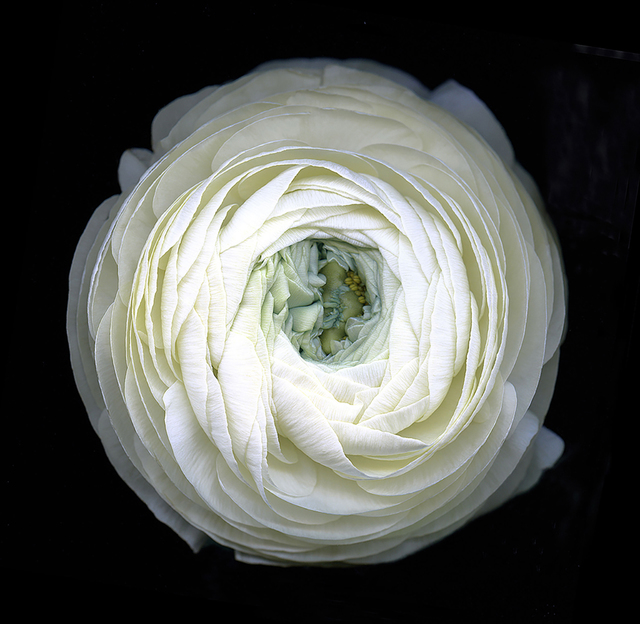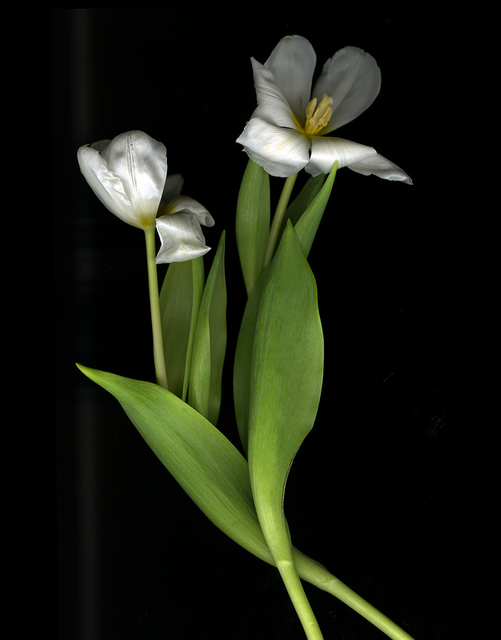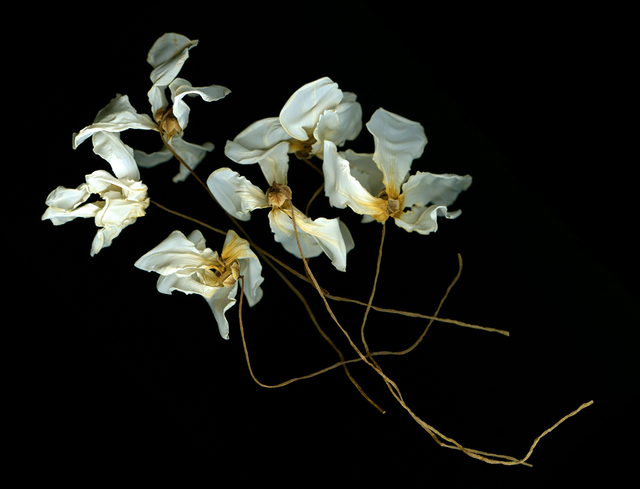 Press Release
Los Angeles CA: March 10, 2018 – Today Eric Buterbaugh, world-renowned floral and fragrance designer and founder of the Eric Buterbaugh Gallery, announced his show for Katinka Matson, artist and pioneer of the radically new digital aesthetic that fuses nature and technology. Together on March 10th, they will host her WHITE FLOWERS exhibit at The Eric Buterbaugh Gallery on Melrose Avenue.
"For the past two decades I have experimented with a non-photographic technique for creating images by utilizing input through the flatbed CCD scanner," said Katinka Matson. "No camera or lenses are used. The process involves scanning flowers and other natural objects on an open-top scanner from underneath the objects with a slow-moving sensor. This technique allows for unusual opportunities to explore new ideas involving light, time, and rhythm."
The resulting images mark a new foray into modern art. "The flower images by the New York artist Katinka Matson are different for their exactness and completeness: the surreal aura of her pictures come from their enormous clarity. The flowers seem to radiate from the inside and the details are recognizable into the last fiber as though they were being viewed under a magnifying glass," stated the Sueddeutsche Zeitung.
Los Angeles CA: March 12, 2018 – To further celebrate the fusion of art and science, on March 12th at 6pm at the Eric Buterbaugh Gallery, Edge and ForYourArt will host an intimate conversation with George Dyson, Kevin Kelly, Katinka Matson and Hans Ulrich Obrist on the impacts of technology on perception, tracing the evolution of representation from painting to photography to digital methods, as well as nature as an observed subject vis a vis our nature as observers.
About Katinka Matson
Katinka Matson is an artist and a literary agent. She is President of Brockman, Inc., a leading international literary agency, co-founder of the prestigious online salon Edge ("The world's smartest website", The Guardian), and co-founder and a director of Edge Foundation, Inc.
As an author her books include The Psychology Today Omnibook of Personal Development; Short Lives: Artists in Pursuit of Self-Destruction; The Working Actor: A Guide to the Profession; and as co-editor (with John Brockman), How Things Are: A Science Tool-Kit for the Mind.
Her pioneering work in digital photography is featured on Edge as well as her own website katinkamatson.com.
About Hans-Ulrich Obrist
"I am thrilled to host Katinka Matson at my gallery next month," said Eric Buterbaugh. "These prints come
from her heart and soul, and each piece reveals the significant impact she has had on the photography
world through her unique eye, technique, and ability to find beauty everywhere. We are honored to be
the first gallery to showcase her work and welcome her with open arms."
Hans Ulrich Obrist is Co-Director of the Serpentine Galleries, London. Prior to this, he was the Curator of
the Musée d'Art Moderne de la Ville de Paris. Since his first show "World Soup" (The Kitchen Show) in
1991 he has curated more than 300 shows.
So far in 2016, Obrist has co-curated at the Serpentine Galleries solo shows for Michael Craig-Martin,
Simon Denny, Hilma af Klint and DAS INSTITUT. In 2014 he curated the Swiss Pavilion at the 14th
International Architecture Biennale in Venice, where he presented Lucius Burckhardt and Cedric Price—A
stroll through a fun palace; the building was designed by architects Herzog & de Meuron, and the
program was developed with artists Liam Gillick, Philippe Parreno, Tino Sehgal and Dominique Gonzalez-
Foerster. Obrist's Art of Handwriting project is taking place on Instagram
(https://www.instagram.com/hansulrichobrist/) and is a protest against the disappearance of handwriting
in the digital age.
In 2013, Obrist co-founded with Simon Castets the 89plus, a long-term, international, multi-platform
research project, conceived as a mapping of the digitally native generation born in or after 1989. In 2011
Obrist received the CCS Bard Award for Curatorial Excellence, in 2009 he was made Honorary Fellow of
the Royal Institute of British Architects (RIBA), and in 2015 he received the International Folkwang Prize
for his commitment to the arts. Obrist has lectured internationally at academic and art institutions and is
contributing editor to several magazines and journals.
About George Dyson
Obrist's recent publications include Conversations in Colombia, Ways of Curating, The Age of
Earthquakes with Douglas Coupland and Shumon Basar, and Lives of The Artists, Lives of The Architects.
GEORGE DYSON is a historian of technology whose interests (and books) have included the development
(and redevelopment) of the Aleut kayak (Baidarka), the evolution of digital computing and
telecommunications (Darwin Among the Machines, 1997), and a path not taken into space (Project
Orion).
His most recent book, Turing's Cathedral) is, as he describes it, "a creation myth for the digital universe"
that illuminates the transition from numbers that mean things to numbers that do things in the aftermath
of World War II.
A dual citizen of the United States and Canada, Dyson lives in Bellingham, Washington, and has lectured
widely as well as contributing articles to Scientific American, Nature, Forbes, Discover, Wired, and Make
magazines. His early adventures, contrasted with those of his father, physicist Freeman Dyson, were the
subject of Kenneth Brower's classic 1978 dual biography The Starship and the Canoe.
Dyson's career (he never finished high school yet has been awarded an honorary doctorate from the
University of Victoria) has proved as impossible to classify as his books. He is currently returning to his
deep interest in the history and prehistory of the Aleutian Islands and beginning an unfettered literary
exploration of a possible future, permeated (with only a few remote island sanctuaries) by a true artificial
intelligence that may not be as far off as we think.
About Kevin Kelly
KEVIN KELLY, the co-founder of Wired, the author of numerous influential books including What Technology Wants, The Inevitable, and Out of Control. After co-founding Wired in 1993, he served as its Executive Editor from its inception until 1999. In 1994 and 1997, during Kelly's tenure, Wired won the National Magazine Award for General Excellence (the industry's equivalent of two Oscars).
From 1984 to 1990 Kelly was publisher and editor of the Whole Earth Review, a journal of unorthodox technical news. The non-profit Whole Earth Review (formerly called Co-Evolution Quarterly) is a small, yet influential, journal that consistently published trend-making topics years before other publications noticed them. Under Kelly's direction and editorship, Whole Earth was the first consumer magazine to report on virtual reality, ecological restoration, the global teenager, Internet culture and artificial life (to name just a few early trends).
In the late 80s, Kelly conceived and oversaw the publication of four versions of the Whole Earth Catalogs. Whole Earth Catalogs are award-winning compendiums evaluating all the best "tools" available for self- education. (Over a million Whole Earth Catalogs have been sold.) The kind of tools reviewed include hardware, power tools, books, and software-anything that leverages power to individuals. In 1988 Kelly edited, published, and wrote much of Signal, a Whole Earth Catalog of personal communication tools, which evaluated the technologies of faxes, satellite TV, cellular, digital retouching, online systems and the whole emerging world of digital technology.
Kelly was also co-founder of the annual Hackers' Conference, a weekend rendezvous which in 1984 brought together three generations of legendary computer programmers for the first time. He was also involved with the launch of the WELL, a pioneering online service started in 1985.
Kelly is a member of the board of The Long Now Foundation. which is a group of concerned individuals building a clock and library that will last 10,000 years. A working prototype of the unique mechanical- digital clock has been built and demonstrated, and a mountain top in eastern Nevada purchased as a site to build the monumental clock. The purpose of the project is to foster long-term responsibility.
He is the author of Out of Control: The New Biology of Machines, Social Systems, and the Economic World; New Rules for the New Economy; Asia Grace; What Technology Wants; Cool Tools: A Catalog of Possibilities; and, most recently, The Inevitable: Understanding the 12 Technological Forces That Will Shape Our Future. His writing has appeared in many national and international publications such as the New York Times, The Economist, Time, Harpers, Science, GQ, Wall Street Journal and Esquire. His photographs have appeared in LIFE and other national magazines.
He is currently "Senior Maverick", Wired.
Follow Artists In This Show