SELBSTBILDNIS IN FARBE
NICOLA STAEGLICH / Solo-Show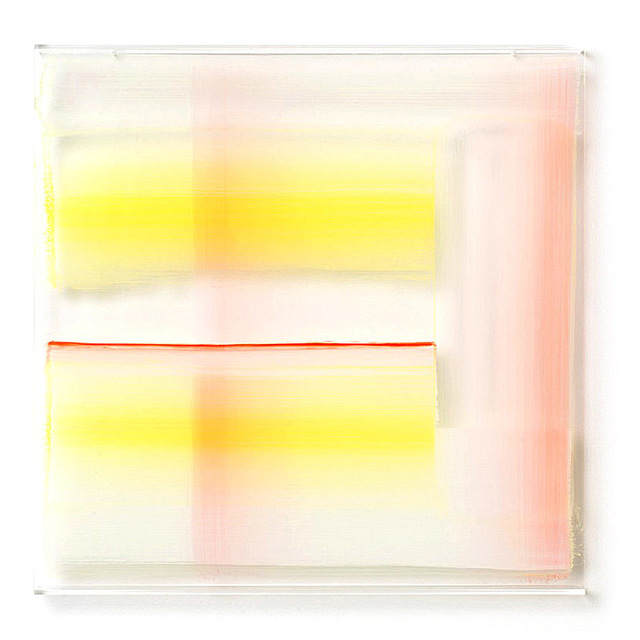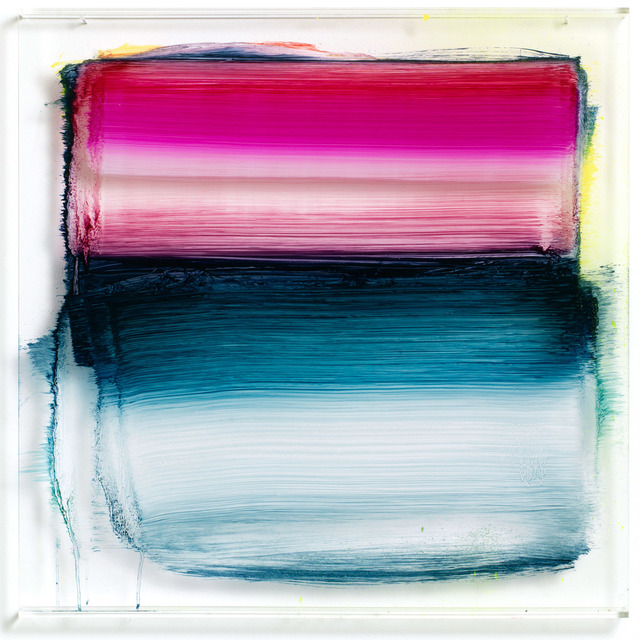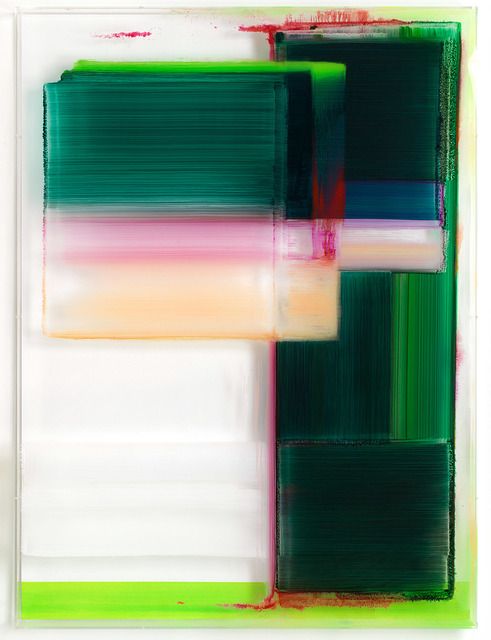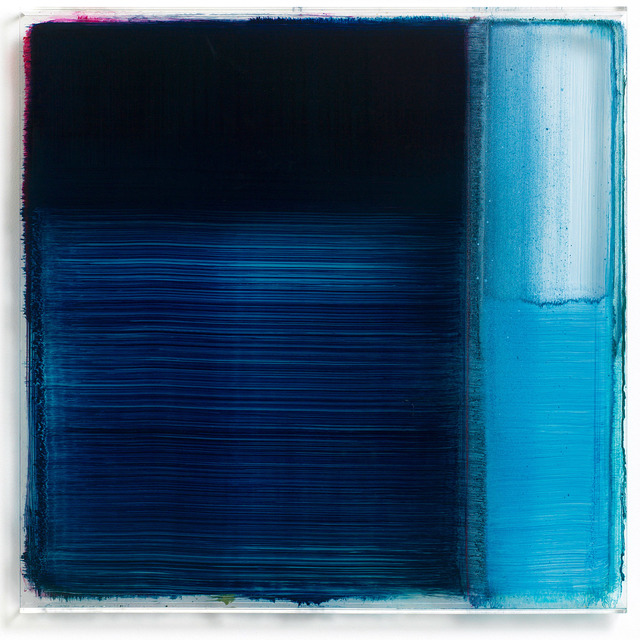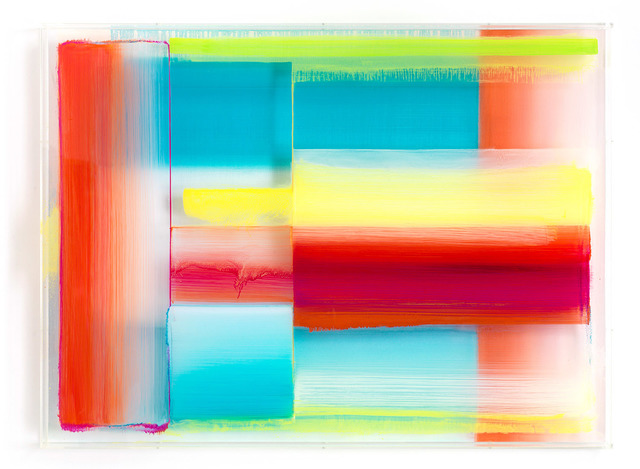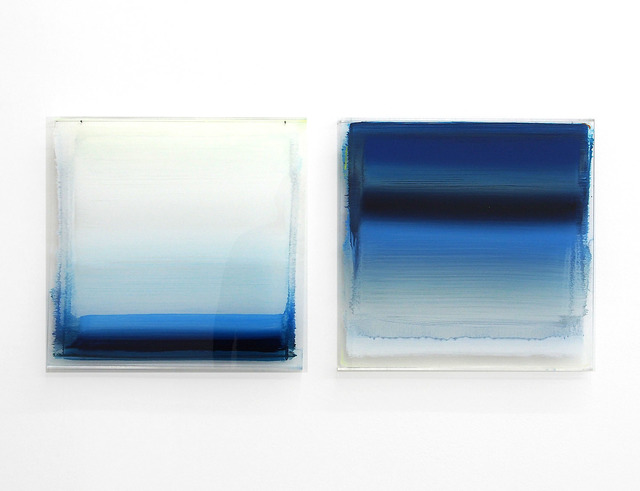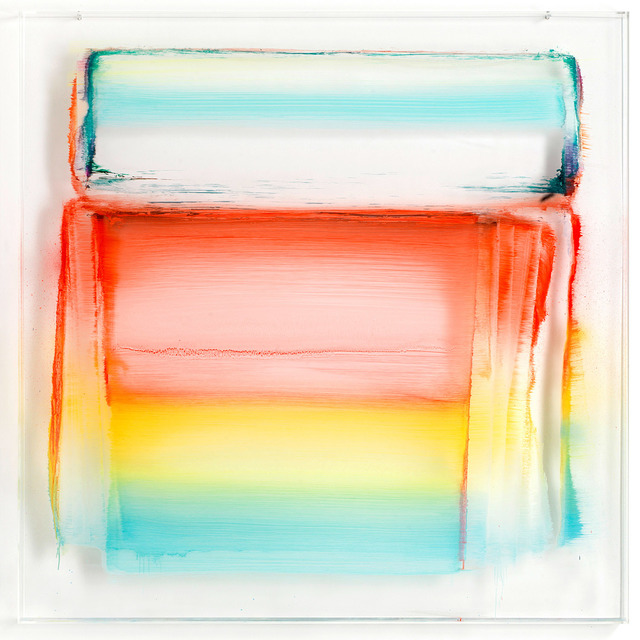 Press Release
INTERVIEW WITH NICOLA STAEGLICH
Nicola what, for you, is the significance of the ephemeral character of light? And what do you feel are the specific types of expressive possibilities in your paintings with respect to the effects of light and translucent color?
Painting on a transparent substrate such as an acrylic sheet provides me with the highest degree of luminosity and the strongest contrasts that color can offer. It's as if my keyboard had previously unsuspected octaves at its disposal. You'll only find this kind of luminous brilliance in glass paintings. In my "Transparencies," color is located behind the transparent and reflective surface of the sheet – in the distance between it and the wall. The light touches the surface and reflects the color of my paintings towards the viewer, and, depending on the paint's see-through quality and thickness, then projects it away from the viewer and onto the wall, either as color or grayed out, or onto a second substrate. As a result, the painting exists as real object floating in space. The projection of color as well as the deposit of more increments of paint, for example onto the substrate or the edges of the acrylic glass frames, make for a complex type of color perception inflected by time and space; this is because the frames aren't placed directly on the wall but at a distance from the wall. The space of the painting is thus a luminous space stripped of borders. The special luminosity of the paint is not to be reduced to a mere "saturation with color." The brushwork, but also the liquid dispersal of the paint is illuminated through and through and thus acquires a very special presence and a special expressiveness. This is not about technique but about emotionality. I have visited again and again the glass windows made by Henri Matisse for the Chapelle du Rosaire in Vence. The luminosity of the colors and the release of these colors from their support in the form of colorful shadows in space have moved me deeply. I am driven by the desire to make colors float because then they become immaterial and space becomes infinite.
What difference does it make for you when you use other types of substrates for your painting, such as paper, wood or canvas?
When you paint on paper, wood or canvas, your pictorial construction is the opposite of the one you'd engage in when working with transparent substrates. Paint gets absorbed by the white primer underneath and remains accessible to the viewer who can touch it. I can let the paint flow more strongly and sometimes work with such processes as autopoiesis.
The basic composition and application of paint in your works look as though they were controlled and yet they always yield primacy to the physical and visual presence of color.
The presence of color in my works lives in its strongly physical inscription by means of broad brush strokes. I work in part with brushes that are 80 cm wide. They allow me to make clear decisions. But that which is subject to control and planning is always interrupted by a loss of control.
What specific significance does color have for your paintings, for example as a phenomenon of natural science?
The perception of color is one of the most complex types of sensory perception that light produces for consciousness. We can only see a fraction of existing colors – wave lengths of about 400 to 750 nanometers. If we look at UV as bees do, then we live in another world. My paintings do not constitute an experiment in physics – and yet, the idea of ephemerality has precisely to do with light waves.
How would you describe the transfer or relationship in your paintings between picture and reality?
For me, to submit to the process of seeing and to observe color, light and shadow is like eating and drinking. Pictorial idea and reality are closely connected for me. The Greeks likened memory to a block of wax into which experience was etched. Sometimes a piece of sky, a slant of light, the body or architecture are enough for me to have an idea. Up to age 7, I lived in cities. After that, I moved to the Mittelgebirge highlands. Since completing my studies, I have again been living in cities almost exclusively, especially in Berlin. I scan the constitution of the horizon, the layers of air and the formation of clouds. I perceive these phenomena every day and also seek them out in their specificity. Last summer, I went up to Wildspitze mountain to gain new experience in seeing and bodily being. What's particularly resonant for me are empty and wide-open landscapes. My one-year stay in Los Angeles and my travels through Arizona, Utah and New Mexico were deeply influential. For me, the picture is a site of experience.
Does the focus on light in your new works also produce a different concept of space and time?
These paintings are interactive. They change during the course of the day and as the viewer moves around in front of the work. This is how perceptions to come are being displaced. The perception of space and time is always subject to change. The reflection of observers and their environment becomes part of the picture. The non-linear overlap of these various levels and the irritation caused by what's visible is interesting to me. It's almost as though one were hallucinating.
In your pictorial works, does painterly thinking conceived of as a performative act and as a "performance" of painting play a role for you and if so how?
My movements take place on the transparent and reflective substrate. That fact, for me has first of all an existential and not a theoretical dimension. I usually start out spraying paint and then work my way into the fine fog of color with brushes. Continuities and disruptions are full of passion and violence..
Questions by Jette Rudolph.
Follow Artists In This Show