Foxy Production
Frieze New York 2017
New works by PETRA CORTRIGHT, SARA CWYNAR and TRAVESS SMALLEY.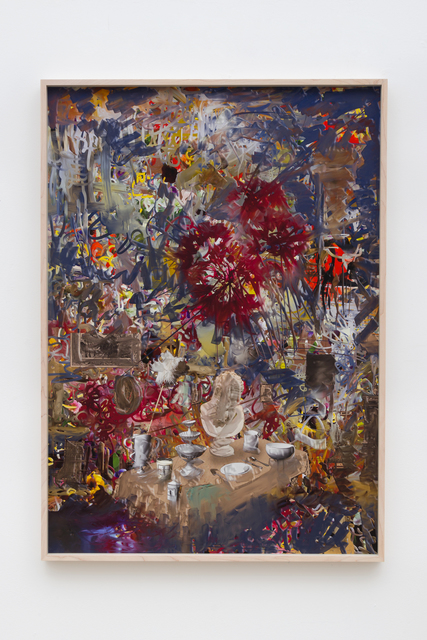 Press Release
PETRA CORTRIGHT
SARA CWYNAR
TRAVESS SMALLEY
Petra Cortright presents two new digital paintings, one on canvas and the other on cotton rag paper. The large work on canvas is from a new series of abstractions that have a subtle tonal range and the appearance of daubs and brushstrokes. The work's sense of impasto, color play, and action mines a history that includes early European Abstraction, Abstract Expressionism, and more recent post-modernist and conceptually-led painting. Cortright's work on paper, likewise, recontextualizes art history. It is a wondrous mix of traditional still-life and floral impressions morphing into painterly abstraction.
Sara Cwynar presents new works from her "Tracy" series, where a model is photographed in the studio in a style reminiscent of bygone print advertisement catalogs. Objects and images are placed on her image and then a composite photograph is made that is both familiar and oddly atemporal. Cwynar also presents a photograph from her "armor" series that uses a similar technique. The artist takes the image of a suit of armor from reference book and rephotographs it with an assortment of images imposed upon it; in doing so, she peels back the protective layers of fierce masculinity that the original image symbolizes.
Travess Smalley presents a new series of his Drawings, comprising framed grids of 16 ink drawings. Each image has an organic, semi-abstract quality that may allude to plant-life or fractals. Like Smalley's digital work, the individual drawings follow a set of parameters that define color and form, although the technology he uses here is very analog: his own hand. The series' framing highlights the variations and similarities among the drawings and reveals the formal algorithms that inspire them.
Follow Artists In This Show