Ghebaly Gallery
Frieze London 2016
Ghebaly Gallery is pleased to present at the Frieze Art Fair in London a solo presentation of 8 seminal works by Channa Horwitz, (1932-2013).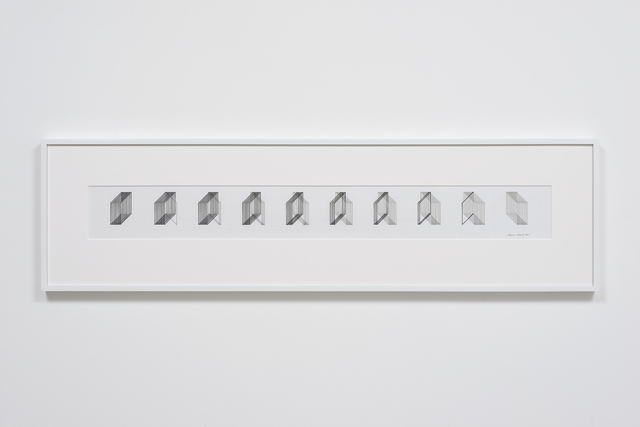 Press Release
Ghebaly Gallery is pleased to present at the Frieze Art Fair in London a solo presentation of 8 seminal works by Channa Horwitz, (1932-2013).
Beginning in 1964, Horwitz directed her practice through the exploration of limitation and rules as a means to experience greater freedom and depth of exploration within her work. After setting her framework and developing a primary language consisting of circles and squares within the boundaries of the grid, she developed a notation system to track movement and time visually; she named this series Sonakinatography in 1969.
At Frieze London, the Sonakinatography series will be illustrated with two works: the early horizontal Sonakinatography Composition Movement #5 (1973), and Sonakinatography Composition 16 (1987), a more complex play on numbers exemplifying her later compositions. These unique compositions, conceptually and visually consummate in their two-dimensional graphic form, were also open to performative or installational interpretation. Each number was given an associated path within eight beats, which, when plotted according to their rules, would create the composition. The eight numbers could then be expressed in countless forms such as lines, patterns, colors, lights, dancers, or instruments.
Through this system, Horwitz developed a new language that could be applied universally, and that gave her the ability to track the 'fourth dimension' two dimensionally, and to create new dynamics, as the grid became coordination points of dense angular lines as illustrated at Frieze London in the Canon series with Canon #5 and Canon #10, both from 1982. Canon #8 (1983) shows the key to the Canon structures with the numeric sequence of eight numbers each associated to a defined angle as plotted in the grid, while Noisy (1985) deconstructs the canons into straight angled lines, which are then inverted.
The presentation concludes with Flipping Squares (2006) and White Subliminal Circle (2006) where the artist revisits her early circle and square motifs along with the conceptual sequences discovered in her previous series, resetting Horwitz' research back to a beginning. The presentation will also include copies of artist books made by the artist further exploring her systems, such as Flip Book (1979) or Moirés (1985).
Channa Horwitz (b. 1932, d. 2013, Los Angeles), lived and worked in Los Angeles throughout her life. Recent exhibitions include Raven Row, London; Ghebaly Gallery, Los Angeles; The Drawing Center, New York; KW Institute for Contemporary Art, Berlin; Air de Paris, Paris; Aanant & Zoo, Hamburg; Solway Jones, Los Angeles, among others. She was awarded a Guggenheim Fellowship in 2013 and her work has been exhibited in numerous institutions and group shows including Museum Tinguely, Basel; Centro de Arte Contemporânea Inhotim, Brazil; Los Angeles County Museum of Art; the 2014 Whitney Biennial; the 55th Venice Biennale curated by Massimiliano Gioni; Made In LA: 2012 at the Hammer Museum; Pacific Standard Time: 2012, Los Angeles; Ghosts in the Machine at the New Museum; and in A Void: Guy de Cointet, Channa Horwitz and Henri Chopin at Kunsthalle Dusseldorf, among others.
Follow Artists In This Show