KASPARS GROSHEVS, IEVA KRAULE: DANCING WATER
IEVA KRAULE, KASPARS GROSHEVS
Dec 10th, 2016 – Feb 12th, 2017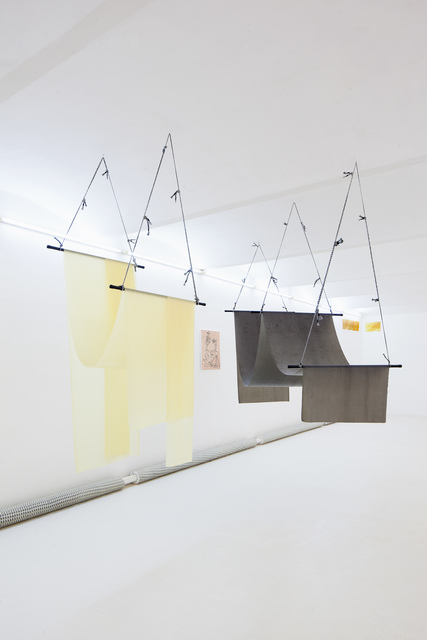 Press Release
Sand seep out of my sleeves, out of my pockets. Persistent seeping for days, years, decades till there is nothing left of me but sand. Dig deep into it. Be adventurous, be archaeologist and make me your field study. Lose your time in me, bury your dreams in me. Suspend your fears in my hair, let the old skin droop, tangle yourself till circulation stops and you turn blue as the sea.
Sunday morning. You are the blue sea; sand in my pockets. Don't be blue. Dance! Vogue as 9 year old Robert Jeffrey. Steal his youth and let me quench my thirst.
Ieva Kraule, Kaspars Groshevs
The basic moves of vouging demand the hands to spin and rotate in an irregular wavy pulsing rhythm incited by the shouts of "HA!". The shouts burn and melt the bodies into a rubber mass. Bodies, which have otherwise been used to resisting, are now falling to the ground under the weight of industrial-sounding beats. Figures in tight latex clothes bow at the order of a crashing noise of metal on metal.
Human figures, twisted in a nonhuman manner, are fastened together and rolled up
like Japanese kakemonos – hanging scrolls – and simply become "hanging things". The sandy surface of one of the things is waiting to be soaked in pigment through its secondary layer. The other loosely hanging thing has had the dark color saturated in it a long time ago. The fingerprints, resembling poorly concealed liver spots, function as a reminder that drives the viewer's attention towards overflow seeping from inside the damaged surface.
"The glass covering a waxy hand" described by Ieva Kraule in her poem, the windows obscured with "stained glass" made of paper by Kaspars Groshevs, and even the ending of Kraule's poem culminating in "Sunday morning" represent the dividing line in time and space that are all drawn with the same apparentness as the intuitive battle line drawn between opposing dancers. Kraule's loops, knots, and "stairs made from rabbits' bones caught in loops" or Groshevs' prison tattoos (and even his music imprint) evoke a sense that everything is in constant motion, yet constantly freezing at the same time, under the influence of cyclic vibrations; harmoniously mirroring the unwritten rules on the dance floor that are enforced even more strictly and effectively than the rules of the outside world.
The blackened dancing water snitches on the flesh color, which is whitewashed and neat, hence conjuring the memory of Madonna's prior appropriation of the vogue black and queer culture. When we look into the past, we see this as crossing the line - foolish and thoughtless. Flashing back to the 80s comedy movie, Trading Places, with Dan Akroyd and Eddie Murphy's tune that was crucial to every ballroom track and vogue party: "Boo-bwele-Boo-bwele-Boo-bwele-ah-HA!".
The curves of the ropes mark out the tattoo lines from the cutouts of a whitewashed body.
Tattoos that have turned green and blue because of age recall the analogue memory of Robert Jeffrey's vogue high in front of a green screen projecting a VHS panorama of NYC. "Let your body go with the flow". Let it melt in time like bee wax in which a dead crane has printed its feathers… The bent, dandy looking walking sticks then raise from the pool of the maze of shapes. When you walk with them, you cannot trace your path, but they still lead to revelation that the "aurora borealis" shines from within the scrolled bodies, especially in places "where you bump and grind it".
Lumír Nykl
Follow Artists In This Show