Galeria Millan
Art Basel 2015
Galeria Millan brings historical works, from Artur Barrio, from the 70's.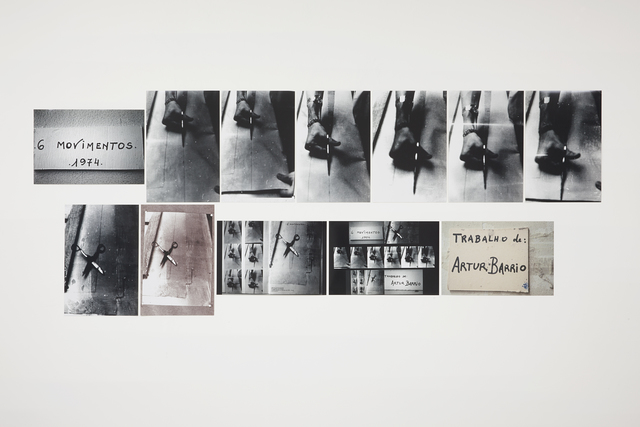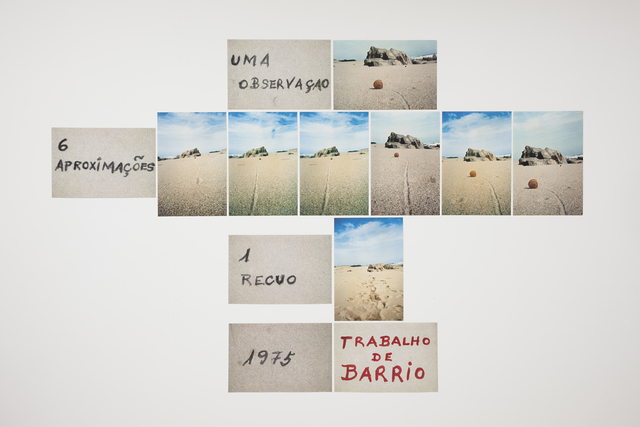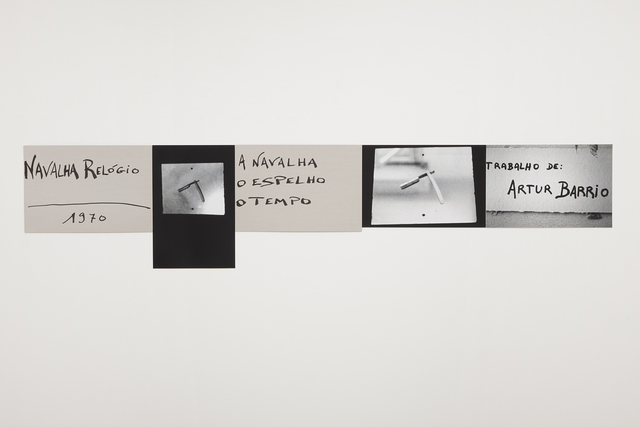 Press Release
Galeria Millan is delighted to participate in the Feature sector of Art Basel 2015 with works by the
Brazilian artist Artur Barrio.
Artur Barrio's projects engage the viewer as a participant, challenging the sensorial coordinates with which we usually consider the world so as to conjure up other ways of understanding it. Working in media such as performance, installation and video, and using unusual and potentially disturbing materials such as meat, salt, organic waste, Barrio investigates transient and hidden aspects of our reality, often revealing beauty where it is unexpected. His work transgresses the limits to which art is generally subjected and eludes stereotypical classifications. Although Artur Barrio works with a variety of procedures the conceptual core of its trajectory are the Situações (Situations) in which the artist physically manipulates space: modifying it and rendering it both active and vibrant.
According to João Fernandes, director of Museo Reina Sofía, "Barrio…creates situations where he constructs a personal discourse in which he appropriates the real, reconstituting it poetically and politically in the residues of this same real that he evidences and that are often occulted from us by the social domestication of taste and by the social self-legitimation of the artistic object".
For Basel Galeria Millan will present the photographic documentation of three of these Situations: Navalha Relógio (1970), 6 Movimentos (1974) and Uma observação, 6 aproximações, 1 recuo (1975). Since these projects exist in accordance with their ephemerality, the records are the only way to allow those that did not witness them in the flesh to become acquainted with his projects.
Navalha Relógio (Razor Blade Clock) comprises three photos and two cardboards that document an action that the artist himself describes as: "Work accomplished in July 1970, Rio de Janeiro. A MIRROR WITH A RAZOR BLADE PLACED OVER IT. THE TIME – THE IMAGE. THE RAZOR BLADE".
The second work, titled 6 movimentos (6 movements) is dated 1974, when the artist was again living in Portugal. The piece comprises 12 photographs of the action of cutting a canvas.
Uma observação, 6 aproximações, 1 recuo (One observation, 6 approximations, 1 retreat), is from 1975. Accomplished when he was living in Paris, the piece has a more poetical tone than the others and has the beach and the sea as setting, elements that are dear and recurring in Barrio's production.
Artur Barrio
Artur Barrio (Porto/Portugal, 1945) is undoubtedly one of the most important Brazilian artists of his
generation. Born in 1945 in Porto, Portugal, Barrio moved to Brazil in 1955, where he studied at the Escola
Nacional de Belas Artes in Rio de Janeiro. He experienced first hand the social tensions resulting from the
Brazilian coup that imposed the military dictatorship in 1964; then ten years later in Portugal during the fight for
liberation from the regime of António de Oliveira Salazar in 1974, he returned temporarily to his native land.
Barrio has lived in Brazil since 1955. He was the only artist representing Brazil at the Venice Biennale (Italy), in
2011, and awarded the Velázquez Prize that same year. He participated in the Bienal de São Paulo multiple times,
from 1981 to 2010, and in the dOCUMENTA (Kassel, Germany) in 2002. Barrio held several solo exhibitions
in Brazilian institutions and abroad, at the Tamayo Museum (Mexico City, Mexico) in 2008; the 21st Century
Museum of Contemporary Art (Kanazawano, Japan) in 2006; the Palais de Tokyo (Paris, France) in 2005; the
Stedelijk Museum Voor Actuele Kunst – SMAK (Ghent, Belgium) in 2005; and the Pinacoteca do Estado de São
Paulo (SP) in 2002, among others. In 1970, after exhibitions in Rio de Janeiro (RJ) and Belo Horizonte (MG),
Barrio's work featuring bloody bundles of cloth, received international recognition. Records of this work were
shown at the Information exhibition at MoMA (New York, USA) in 1970.
Galeria Millan
When it was founded in 1986, Galeria Millan introduced relationships between the production of the
contemporary artists that it represented and the modern artists who had influenced their education. This
commitment to a historical and critical view of art would mature throughout the gallery's more than twenty-year
existence and, today, partnered with a belief in the enriching dialogue between generations and artistic currents,
it allows Galeria Millan to solidly and coherently represent a team of plural and consistent artists, ranging from
well known names to young artists beginning their careers. Headed by André Millan and Socorro de Andrade
Lima, the gallery closely follows the careers of its artists and offers absolute support to their creative process. In
addition to developing a broad program of acquisitions along with both institutional and private collections in
Brazil and abroad, Galeria Millan gives priority to exchange programs with cultural institutions, museums and
foundations and organizes publications together with renowned art publishing houses. The careful follow-up
measures offered by Galeria Millan allows for the work developed by the artists in its team to have wide reach,
participating in various biennials all over the world and presenting exhibitions at the most prestigious institutions
such as Musée du Louvre, Palais de Tokyo and Fondation Cartier (Paris); Solomon Guggenheim Museum and
MoMA (New York); Museum of Fine Arts (Houston); Museo Reina Sofia (Madrid); Museu da Fundação de
Serralves (Porto); Stedelijk Museum (Amsterdam); Moderna Museet (Stockholm); Henry Moore Foundation
(Perry Green).
GALERIA MILLAN:
Rua Fradique Coutinho, 1360 São Paulo, SP Brasil, 05416-001 www.galeriamillan.com.br
Follow Artists In This Show