Jan Voss - Works on canvas and paper
Special opening times for DC Open 2016: Friday, 02 Sept 10 am – 10pm | Saturday, 03 Sept 10 am – 8 pm | Sunday, 04 Sept 10 am – 6 pm
Sep 2nd – Oct 22nd 2016
Cologne, Drususgasse 7-11
Map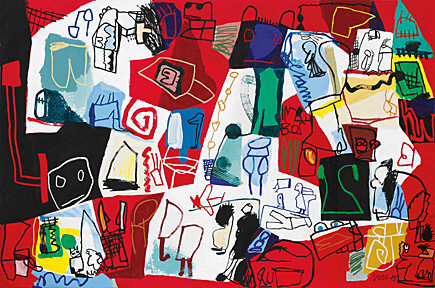 Press Release
Jan Voss, born in Hamburg, has lived and worked in Paris since 1960 and is regarded as one of the
most outstanding artists of modern day France. Numerous exhibitions in Germany have brought him
recognition here too.
For decades, Jan Voss has experimented with various different techniques, materials and groups of
works. The underlying theme in his work is creating order in the midst of a perpetually moving chaos
of complex situations – chaos and order, construction and decay of uncertain situations, similar to the
conditions that exist in everyday life. Today, this state is bombarded by a number of signs and
meanings which also play a major role in Jan Voss's art.
Galerie Boisserée's exhibition, showing his current work of the last five years, is accompanied by
Anne Tronche's monograph which was published last year. With more than 300 pages and mostly
coloured illustrations, the catalogue provides an extensive overview of Jan Voss's oeuvre: from his
early drawings and paintings of the early 60s to the present day. In addition to the richly coloured
illustrations, many of them full-page, the book includes numerous photographs showing Jan Voss with
other artists in the Sixties (such as Christo, Niki de Sainte Phalle and Tinguely).
Jan Voss's works on canvas and paper created in the last few years exude youthfulness and
spontaneity and are characterized by powerful and vibrant colours. According to Jan Voss, "colour is
the physicality of an artwork but also its spirit and soul". The spirit and soul of an experienced yet not
at all weary artist are manifested in his new large canvases and seem to introduce a new era of his
work. As well as canvases and works on paper the exhibition will focus on Voss's wood reliefs
("Figurant") and paper reliefs ("Site").
What all of Voss's works, be they canvases, works on paper, wood or paper reliefs, have in common
is an accumulation of colour and formation of merging elements that are intertwined by lines,
drawings, fragments of drawings, discarded elements of torn watercolours. Despite continually
evolving, inventing new pictorials and exploring different types of material, Jan Voss has always
retained an utterly unique style that could never be mistaken for someone else's.
In addition to the above-mentioned monograph, a catalogue with coloured illustrations of all
exhibits will accompany the exhibition. For the price of EUR 10 it will be shipped free of charge
within Germany.
Follow Artists In This Show