Fik van Gestel — Moulting
Fik van Gestel is neither a prophet of nature nor a cultural pessimist. He's just a painter. Nature is simply the starting point to get to where his task actually lies, i.e. creating a world that lives through the strength of its pictorial qualities.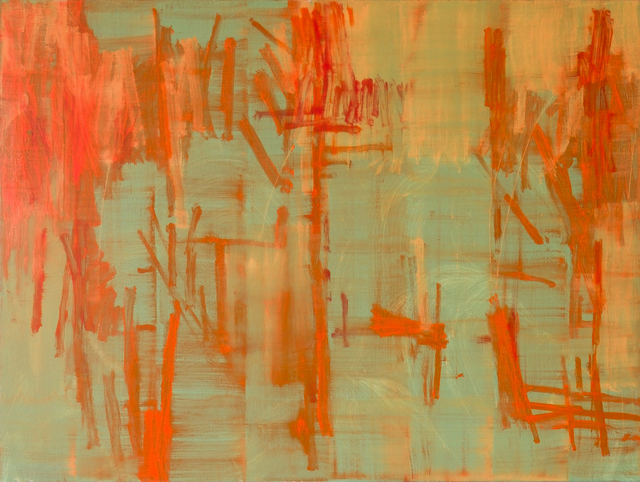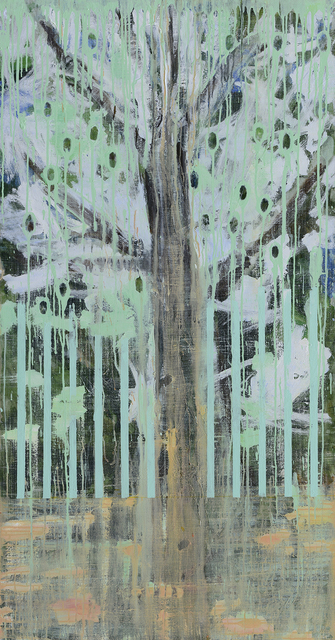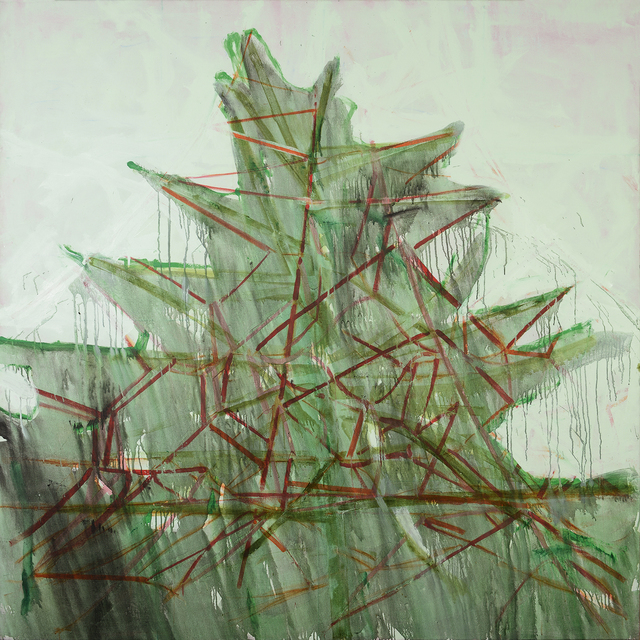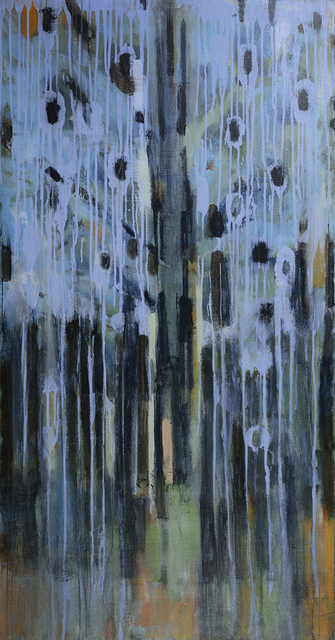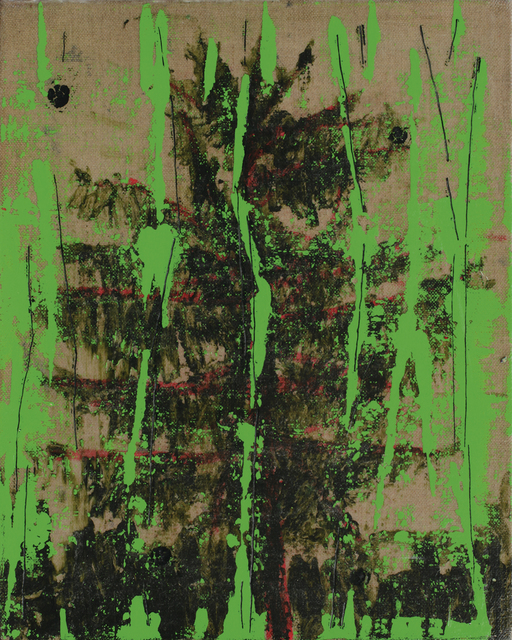 Press Release
Fik van Gestel, from nature beyond nature.
The Gemeentemuseum Den Haag is celebrating the centenary of De Stijl with a Piet Mondriaan retrospective. His pictorial landscapes rumble and burst in a bid to be representative. He focuses on a tree, pars pro toto for nature. But this isn't a sprightly tree trunk standing proud and assured with light at its crown and water at its feet. This is a weeping willow, folded over under the wisdom it bears, a metaphor for existence, in search of the essence. Starting from impressionistic superficiality, a consequence of what people see as an 'epidermic revolution', as Claude Lévi-Strauss called it, the quest for essence proceeds from phase to phase, from the expressive 'tree-ness' in paint that is much too thick, to a possible explanation of nature: coloured squares in harmony. Theosopher Mondriaan believed he had discovered the visual form of divinity. Such an aphorism about the transition from impressionism to expressionism and arriving at abstract art reflects the huge surprise I encountered when learning about the history of modern art: the abstract is not necessarily a chimera created by the painter's imaginative brain. It can also simply be the result of a sustained abstraction of perception. And it isn't meaningless. Its greatest existential fear is to be confused with decoration. Malevich didn't show us nothingness either, but rather 'Nothingness' with his with his suprematist surfaces which pushed the icons out of the corner. We often forget that his 'Black Square' was first exhibited in the exact place devout Russians would hang their icon.
I don't know whether this consideration has any link to the work of Fik van Gestel but you can always learn from differences. I suspect there isn't a great deal of divinity hidden in his canvasses. He is of this earth and cherishes his own earthly paradise in Gierle. He doesn't stray far from his natural environment in the Campine, just as Claude Monet didn't stray far from his water garden in Giverny. Painters have to make do with a beautiful spot here on Earth.
In 'Lilse Bergen' (2014) he shows us immediately what his subject matter is: life. What is art supposed to tell us alongside science, philosophy or, in the absence of such enlightenment, religion? Art stands firmly in the middle and is claimed by both theoretical opponents, knowledge and belief, as a medium of teaching. Yet art doesn't want to serve either. This is why in the modern era art's first name has been 'autonomy'.
For Fik van Gestel life represents the tension between nature and culture. Man's nature is his culture. He was left with a good impression of the nearby Lilse Bergen recreation park after a playful visit there with his grandchildren. The tree is just as important in his work as it was for Mondriaan, hence my introductory glimpse into this exploratory text. The focal point of this 2x2m work is a spruce tree. The greens portrayed are obviously the predominant colours for Fik is a painter of the natural world. It isn't really openly joyful; it wouldn't be suitable for the Green-party spokesperson's office. It's actually quite wistful: growth and blossom are followed by falling leaves and decay. Red lines are spun like a spider's web over the green in a hint to the climbing frame in the playground. The young are learning to climb, part of growing up, whereas the grandfather is aware of decay. Coming into being and declining into decay are processes that both belong to nature and culture.
This explains the exhibition of the title, 'Moulting'. In animals moulting means when they lose their winter fur in the summer. This is a movement we also find in trees. Leaves appear and disappear. What a beautiful metaphor for humans and their culture.
Fik van Gestel is neither a prophet of nature nor a cultural pessimist. He's just a painter. Nature is simply the starting point to get to where his task actually lies, i.e. creating a world that lives through the strength of its pictorial qualities. Turn the painting upside down and you no longer think of the subject. Fik dares to do this in some of his works. The artistic takes precedence over the theme, leading to a powerful tension between green spots and surfaces and a nuanced red line. Isn't this one of Wittgenstein's unexpected statements (like many others of his), in his 'Lectures on aesthetics', that "a picture must be good even if you look at it upside down?"
This artistic reference to plant-based nature was already present in the early 80s when Fik's name cropped up as the Flemish representative of what is now called the Nieuwe Wilden (Neue Wilde) movement, linking up with German predecessors, as well as the Transavantgarde movement, a nod to Italy. Once the artistic world had run dry through greater attention to less sensory arts, including the conceptual, a pent-up desire to paint broke loose and Fik van Gestel was the perfect example of a thoroughbred paint addict. It would thus be wrong to call him a 'neo-expressionist'. Deformation and accentuation, the two principles of expressionism, can't routinely be found in his work. What is important in his work is how he plays with disappearance, reducing things to a trace, discovering how layering works, the subtle colour contrasts that shouldn't but do fit together, the transparency and vibration of contouring, a graphic structure.
However, in texts about Fik, you regularly come across the classic example of neo-expressionism, Philippe Vandenberg. It's true that, alongside his lamented friend, he has come to a shared observation that you have to crawl into a painting. If you develop a dialogue with it, you come out the other side a different person. Both oeuvres have very little else in common. A touch of natural mysticism and a concern about the causes of human suffering open up two different worlds. Both, though, are linked through an ambiguous love for darkness. The purple painting 'Ontij' (2016) was inspired by a remarkable book on the history of darkness by historian Roger Ekirch. As he read the book, the painting changed. Fik is also greatly interested in how a work develops and comes into being. He isn't a 'canvas-a-day' guy. He gives his works time to rest, almost as if he needs time to keep track of the spirit of the work being created. Images develop so quickly.
The aim of this brochure isn't to focus on every single work in the exhibition at the Zwart Huis. They are variations on a main theme, namely the belly of the tree as a metaphor for people and their homes within, where nature and culture flow together.
One last thought: the works entitled 'Gustav' with Roman numbers refer to Fik's encounter with lesser-known works by Gustav Klimt. Not the flashy gilded ladies in strange poses, but rather wild and leafy forest landscapes. Wasn't it Merleau-Ponty in 'L'Oeil et l'Esprit' who wrote that painting raises the visible to the power of two? Here that would be to the power of four.
Willem Elias.
Follow Artists In This Show