Jenkins Green
Fik van Gestel is a contemporary artist who explores the possibilities of painting. His tactile sensibility allows the artist to focus on the nuances of the paint while working. "Jenkins Green" is the name of a powerful and full green color often used by van Gestel.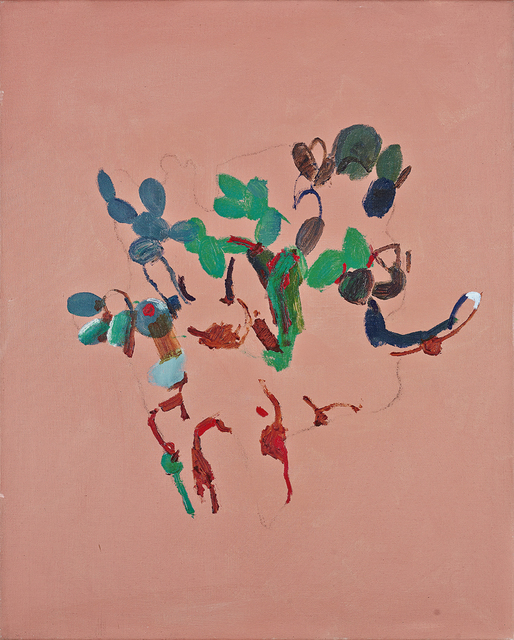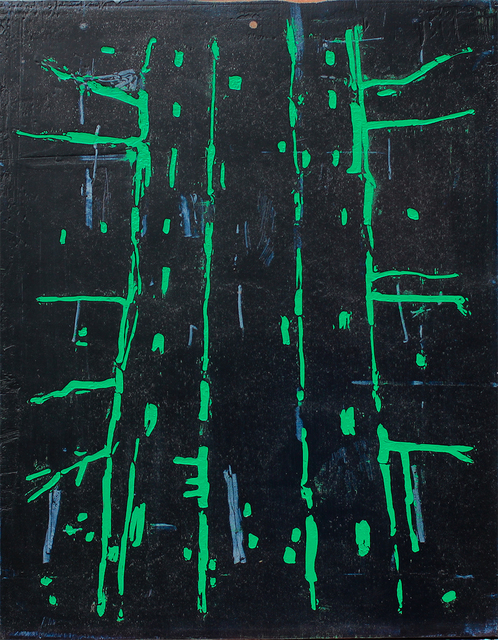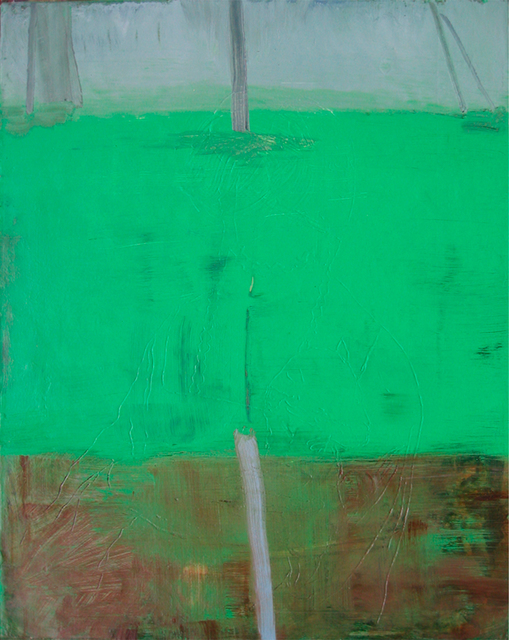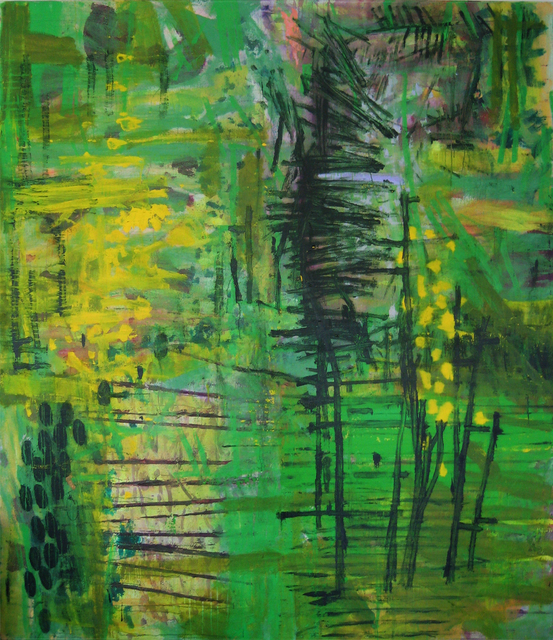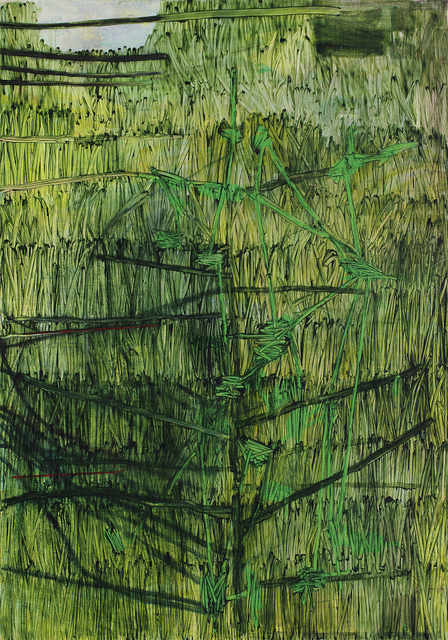 Press Release
"Jenkins Green" is the title of an exhibition by Fik van Gestel. Undeniably the name brings expectations. Does it refer to a green oasis in London or in the outback of Australia or is Jenkins Green too unsightly to be found on any map? An atlas won't make us any wiser, because the reality is less prosaic. Jenkins Green simply is the name of a powerful and full green color often used by Fik van Gestel. According to the manufacturer the name refers to the American abstract expressionist painter Paul Jenkins (1923-2012) for whom this acrylic was made . Until recently, Fik van Gestel was not aware of this fact. He didn't even know the artist Paul Jenkins, which is actually not that strange. From a European perspective Jenkins is an abstract expressionist who stands in the shadow of painters like Willem de Kooning or Jackson Pollock . It is neither a coincidence that Fik van Gestel fell for the custom made Jenkins Green. Both painters have an exceptional sensitivity to color, light and the tactile properties of their brushwork.
Fik van Gestel studied at the Royal Academy of Fine Arts in Antwerp, where he experimented with conceptual work and where he made a few objects. But none of this satisfied him like painting. After the seventies, when the art world saw the more conceptual art set the tone, in the early eighties a renewed worldwide interest in painting arose. There was a renewed appetite for the pictorial image. Exactly during those years Fik van Gestel took his first professional steps in the art world. In Germany the "Neue Wilden" stepped into the limelight, in Italy the "Transavanguardia". Obviously Belgium did not lag behind. In 1981 the International Cultural Centre in Antwerp - which for years had stood on the barricades for concept art, video art, installation art, etc. - presented the exhibition "Picturaal 1" . This exhibition is undoubtedly the key moment for the revival of painting in Flanders in the early eighties of the last century. Curators Florent Bex and Hilde Van Pelt gathered a few young painters in this exhibition: Dirk De Vos, Frans Gentils, Mark Luyten, Piet Moerman, Narcisse Tordoir, Philippe Vandenberghe, Siegfried Van Malderen, Daniël Weinberger and also Fik van Gestel. His work, which he previously presented in several smaller exhibitions, did not go unnoticed. Afterwards, other exhibitions with so-called new painting followed, partly with the same, partly with different names. Because this kind of painting was surely a break from the more intellectualized conceptual art of the previous decade, critics made the link with previous expressionist art movements. The urge for qualification launched concepts such as "neo-expressionism" or "Neue Wilden", but leafing back through catalogs of those years, the question arises whether this really binds these young artists. Is there more than just the fact that they resolutely opt for painting?
Fik van Gestel has long shaken off the neo-expressionist label that can be applied to some of his works from the late seventies or early eighties. Over the years he has developed his painting skills and has mastered its intricacies. He has developed into a highly skilled painter with an extraordinary mastery of the craft. This enables him to use his sense of color, to develop a sensitivity to light and the tactile possibilities of acrylic paint. An artistic investigation into the opportunities and the place of watercolor in contemporary art practice has undoubtedly been of service . His familiarity with the pictorial possibilities of acrylic paint allows him a highly differentiated use of this type of paint: from heavy to thinly opaque and sometimes almost translucent. The surface of each painting is almost always characterized by different textures that capture and reflect light in their own way. Additionally Fik van Gestel has a remarkable and even daring sense of color. Although his first works were marked by a formal explosion of numerous colors, his use of color gradually retrenched. But there is one constant factor in his use of color. Over the years, he has had a strong preference for 'green' in different tones, often in combination with pink and red. The use of these two colors is at least curious: they are almost complementary and because of their intensity not always easy to use. Yet Fik van Gestel has again and again succeeded in finding a balance between composition and the visual aspect of color in his paintings. The pink is striking, sometimes almost kitschy, but the artist has always found ways to deal with this. In the painting "Jenkins Grass", which is predominantly green, the rose-blue cloud-like spot at the top of the work may serve as a hint for a possible interpretation. Yet it is also a component which brings tension into the composition by the color contrast and the brushwork.
In the introduction to "Picturaal 1" Hilde Van Pelt writes "From a very subjective attitude of the artist towards his surroundings arises spontaneous and expressive painting. This brings about a new iconography, a visual expression of what accidentally touches the inner soul of the artist." This is certainly true for Fik van Gestel. He doesn't use any 'great' themes. For him the essence of painting lies within painting itself. Besides the physical act, it is a mental process whereby the answer to the question "What to paint?" is contained in his thoughts and feelings, his experience with the world around him. And that environment, a village tucked away in the countryside, is characterized by the omnipresence of green. The green of nature and the green of his large garden he has shaped over the years.
Without really being a figurative painter, he searches his and our collective memory for images which are both interesting in a pictorial way, and contain a meaning (or meanings). Images fascinate him only when they are almost isolated and ambiguous, balancing on the border between figuration and abstraction. By combining and layering his manner of painting he invites the viewer to 'finish' the painting mentally by adding his reading, his interpretation. (Jan Cools)
Follow Artists In This Show