Tallur LN: Interference Fringe
This survey exhibition of his work will include over 30 sculptures created in a range of media including found objects, appropriated industrial machines, carved stone and wood, cast bronze, and works embedded in concrete and coated in coconut oil. Curator: Gary Garrido Schneider
May 5th, 2019 – Jan 5th, 2020
Hamilton, 80 Sculptors Way
Map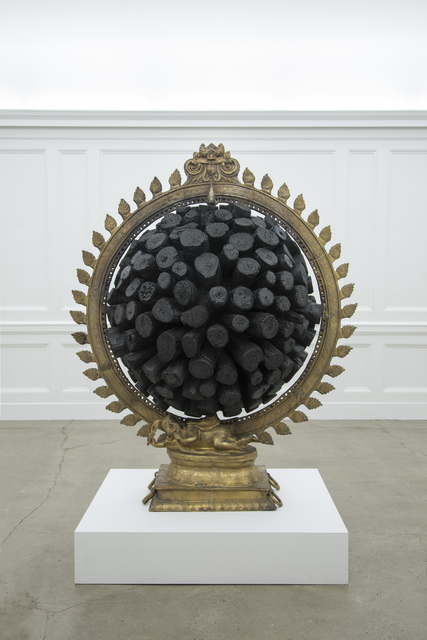 Press Release
TALLUR LN is a conceptual, multidisciplined artist. This survey exhibition of his work will include over 30 sculptures created in a range of media including found objects, appropriated industrial machines, carved stone and wood, cast bronze, and works embedded in concrete and coated in coconut oil. Building on the rich sculptural traditions of India, Tallur often makes reference to ancient Indian iconography, Hindu symbols, and mythology. By pairing the sacred with the secular, handmade with machine-made, or decorative with functional, he purposefully obscures, transforms, and subverts the traditional reading of these historic references. His work speaks to the complexity of the global world we live in, creating a dynamic tension between the past and the present while provoking questions about the future.
At the heart of this exhibition is Obituary Note, a sculpture recently acquired by Grounds For Sculpture. The central figure of the Hindu god Shiva (depicted as Nataraja) is encased in a modernist globe of charred wood, creating a form that both compliments and complicates the reading of cosmic destruction and creation embedded in the traditional mythology. The process of destruction, obfuscation, and erosion occurs throughout the exhibition.
For example, in one body of work, the artist used termites to digest parts of a found wooden icon. The partially decomposed results were then digitally scanned and carved into new works. It is both a tangible and metaphoric statement on decay and consumption, and on the seemingly futile attempt to preserve an eroded past in museum collections. In a related work, a commercial-grade polishing machine is co-opted for an installation in which coins are burnished until their denomination and value is lost. The artist is fascinated with the irony that creation can lead to nothing (destruction). With wit and humor, Tallur raises serious questions about how value (monetary, spiritual, historic) is prescribed and mutable.
As a multinational artist, Tallur splits his time between his rural family home in Karnataka, India and the industrial urban city of Daegu, South Korea. The process of moving between cultures informs his truly global view and brings a fresh perspective to his daily life, politics, technology, and mythology. A museum studies education influenced his focus on ideas, values, traditions, and the questions (politics) of representation and display.
This exhibition, which will include many loans from international collections, is part of series of projects that affirm Grounds For Sculpture's commitment to reflecting the diversity of our region and the dynamic world around us. It is curated by Grounds For Sculpture Executive Director Gary Garrido Schneider.
Follow Artists In This Show