Hauser & Wirth
Frieze Masters 2018
Hauser & Wirth's presentation is focused on 'The Worlds of Stephen Spender' and explores the fascinating life of this progressive poet, essayist, editor, and public intellectual, who believed that literature and art could transcend political and ideological divides.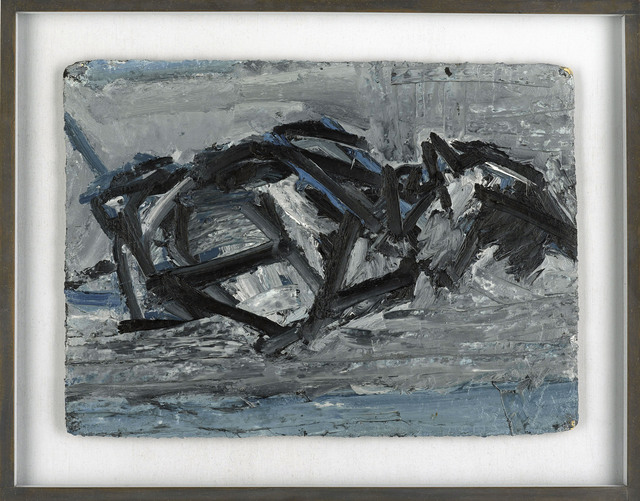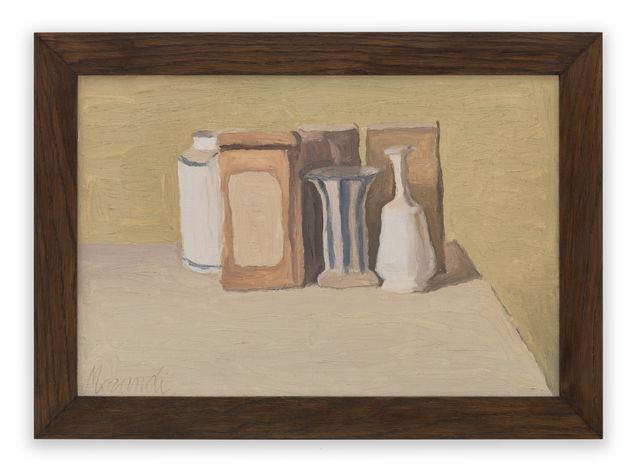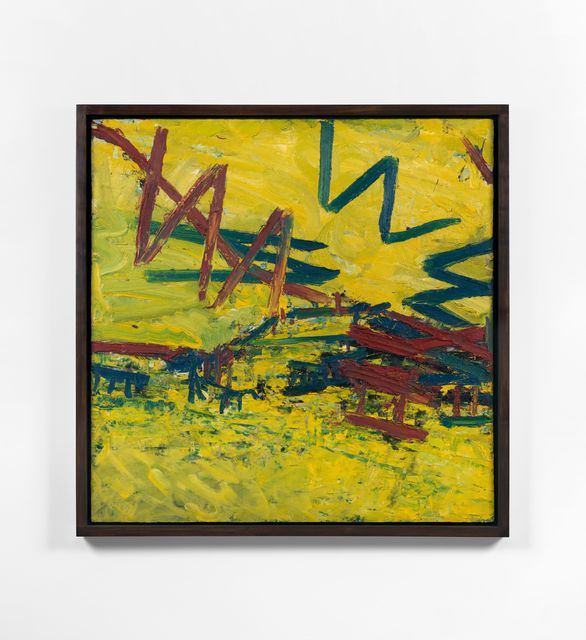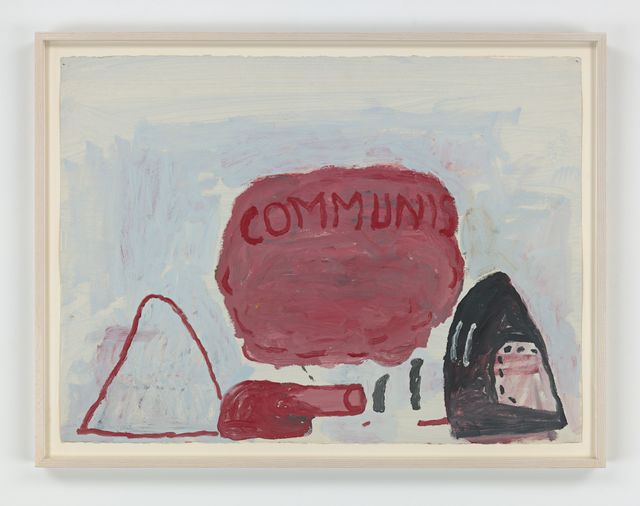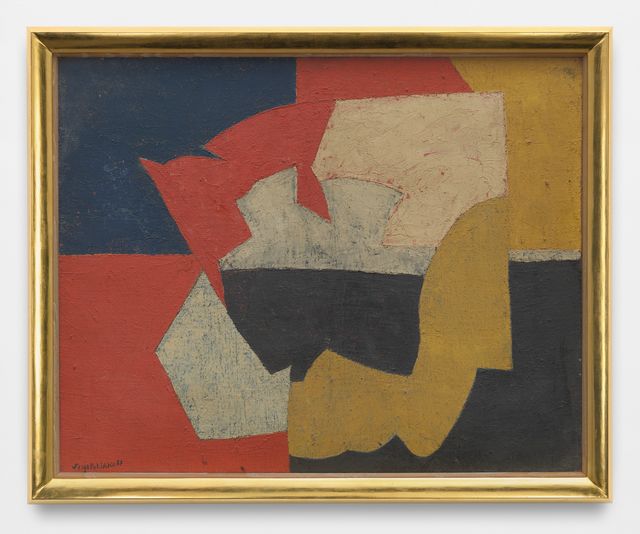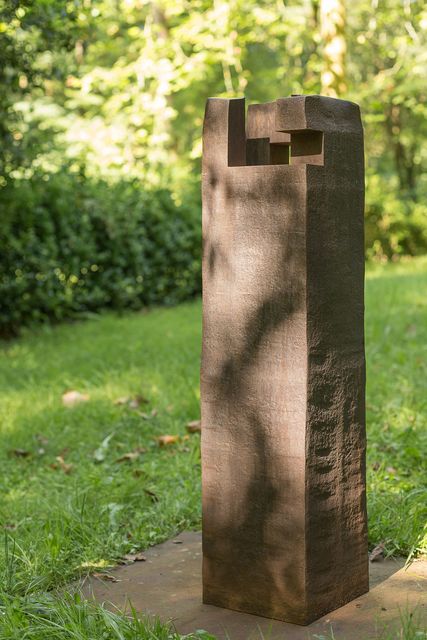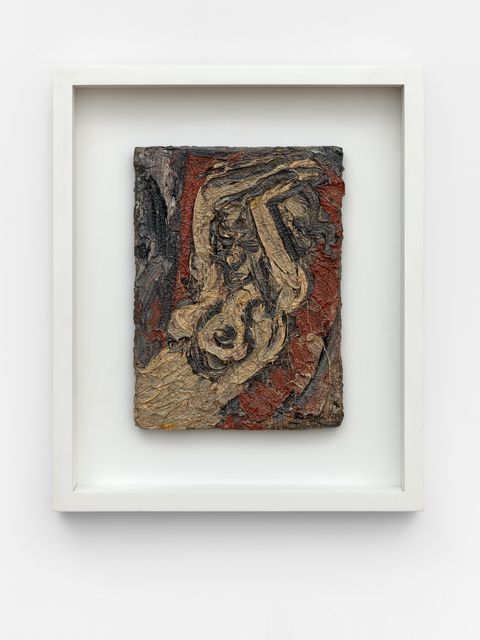 Press Release
Hauser & Wirth and Moretti Fine Art's presentation at Frieze Masters 2018, 'The Worlds of Stephen Spender', is inspired by the fascinating life of this poet, essayist, editor, and public intellectual. The project explores both Spender's progressive ideas and his artistic friendships. The presentation features important works by artists he personally knew and collected – including Michael Andrews, Frank Auerbach, Lucian Freud, Leon Kossoff, Henry Moore, Giorgio Morandi, Serge Poliakoff and Yannis Tsarouchis – along with international artists representative of Spender's political and social interests. Positioning twentieth-century masterworks in dialogue provides a compelling context to discover the enduring relevance of his ideas.
Spender and his circle passionately believed that art and literature could transcend political or ideological divides to help find a common humanity at a time when the world was in crisis. Through his travels in the 1930s, Spender had experienced first-hand the end of Weimar-era democracy, the rise of Hitler and the Spanish Civil War. Spender's conviction in 'a shared subject matter' shaped his own writing, his activities as an editor and his political beliefs. He felt a great kinship with artists and intellectuals including W.H. Auden, T.S. Eliot, Lucian Freud, Cecil Day Lewis, Michael Andrews, Henry Moore, Frank Auerbach, Christopher Isherwood, David Hockney and Pablo Picasso. His wife Natasha Spender was an erudite and accomplished concert pianist and their home became a meeting place for artists, writers, filmmakers, intellectuals, and politicians from London and around the world.
The exemplary works in the presentation that are particularly reflective of Spender's friendships include his portrait by a young Lucian Freud who set up a studio in the Spenders' flat for a time in 1942; paintings by Frank Auerbach who Spender met at his first solo London show in 1956; portraits by life-long friend Henry Moore and Yannis Tsarouchis; and important still life paintings by Giorgio Morandi. Spender's open and international outlook and belief in the importance of a continual exchange of ideas has informed the inclusion in this project of work by contemporaries such as Hans Arp, Louise Bourgeois, Arshile Gorky, Philip Guston, Lygia Pape and Eduardo Chillida. The Spender family have generously loaned key works from Spender's own collection to give valuable context to the presentation allowing viewers a unique opportunity to more comprehensively enter his 'world'.
Spender spent time in Hamburg at the end of the Weimar-era and encountered Bauhaus design. Inspired by the bold modernist aesthetic he saw in Germany, he subsequently recreated it in his own flat on his return to London and was photographed in this interior with Auden and Isherwood in 1937. Taking these images as a point of departure, the architectural sensibility of the booth's 'rooms' is inspired by the decades of the 1930s to 1950s with furniture by Marcel Breuer, Mies van der Rohe and others. Hauser & Wirth and Moretti Fine Art collaborate for the fourth year running at the fair and the exceptional Old Master works and Icons reflect the Spender family's ongoing engagement with Italy.
Spender's commitment to reach as wide an audience as possible and his belief in free speech and international co-operation is seen through the journals he edited: Horizon, Encounter and Index on Censorship, examples of which are included in the books and manuscripts which form part of the presentation. In keeping with this ethos, a book from Hauser & Wirth Publishers, entitled 'The Worlds of Stephen Spender', expands on the ideas of the presentation and their contemporary relevance. The editor of this publication, Ben Eastham (founding editor of The White Review), describes Spender as 'a sexually liberated young radical who wrote paeans to modernity, a committed Socialist who travelled with the International Brigade to fight in Spain, a post-war liberal who withdrew from party politics in favour of a doctrine of free speech and universal human rights, a dedicated husband and devoted father who never entirely renounced what he called in his journals his 'queer identity', a titled member of the English establishment who considered himself part of an international community of writers.'
The book features Spender's poems selected by Frank Auerbach who has contributed a letter explaining their personal significance. Expanding upon Spender's ideas, Caroline Moorehead writes on free speech and censorship while Francesca Wade vividly describes the community of writers, artists, and activists of which Spender was an integral part in the 1930s. Novelist Tom McCarthy writes on how the greatest art and literature, from Shakespeare to Joyce, has always depended on the free exchange of words, narratives, and ideas. Edith Devaney writes an account of the friendship between Spender and Hockney and their travels in China. Barry Humphries, son-in law of Spender, gives a personal recollection which joins Matthew Spender's personal account of his father.
Saskia and Cosima Spender, granddaughters of both Stephen Spender and Arshile Gorky, have collaborated closely on the project. An accompanying film directed by Cosima Spender features an interview with Matthew Spender filmed at his home in Italy which brings to life his personal recollections of his father along with photographs and material from the family's archives and images of the works featured at Frieze Masters.
'The Worlds of Stephen Spender' is at Frieze Masters until 7 October and is the subject of a book edited by Ben Eastham (Hauser & Wirth Publishers).
Follow Artists In This Show