In The Gallery
fotofever Paris 2016
In The Gallery presents a group show with new work by Jacob Gils, Carsten Ingemann and Lea Jessen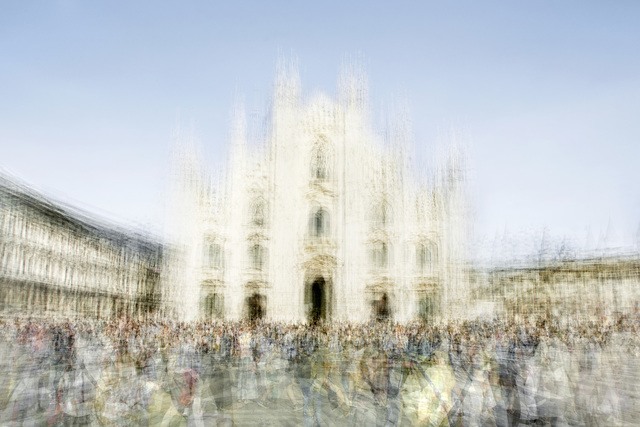 Press Release
In The Gallery participates in Fotofever 2016 with a presentation focusing on the concept of time lapse in photography and featuring the Danish photographers Jacob Gils, Carsten Ingemann and Lea Jessen.
Photography is often understood to be the capturing of a decisive moment within a frame momentary imprint of reality on the photographic paper. But with techniques such as multiple exposures, extended long exposures and the like, time does not always stop as the shutter is pressed, nor is it a given that only one layer of time is captured in each photo. The works that we wish to present at Fotofever all challenge the traditional perception of time in photography.
Jacob Gils works with multiple exposures of the same motif within one picture. His technique adds a vibrant, dynamic quality to his work, capturing a multitude of different times, scenes and angles within each frame. What at first appears as almost iconic imagery of well-known land- and cityscapes, upon closer inspection reveal an alluring ambiguity and displacement in both space and time. The same issue of time lapse is present in his second series Limit To Your Love in which each work consists of several fragmental polaroid images transferred onto watercolor paper and juxtaposed to create the full motif.
Carsten Ingemann will be represented with works from his series Darkness in which he uses his camera as an extension of his own senses. By applying extreme long exposures his photos reveal what cannot be seen with the naked eye, and thus presents to us a world, which starts where our regular perception ceases. Darkness offers us a unique glimpse into an alternative dimension established by the collapse of time, along with the tranquility of the night.
In addition to the works of Gils and Ingemann, In The Gallery introduces artist, Lea Jessen. In Jessen's monumental work Steps, 2016, depicting a pool staircase descending into azure water, the focus on time is not in the technique, but rather in the theme itself. The pool as motif is often repeated within modern and contemporary art as well as popular culture. Steps draws upon the connotations of these images but at the same time its abstract colour planes and clean lines lend the image a timeless, iconic quality. With its dazzling light suggestive of a nostalgic permanent vacation, Jessen's pool becomes a dreamy vision in which references to specific images are simultaneously contained and dissolved.
Follow Artists In This Show