Karin Bravin
SPRING/BREAK Art Show 2016
Karin Bravin will present a site specific installation by Fabian Marcaccio.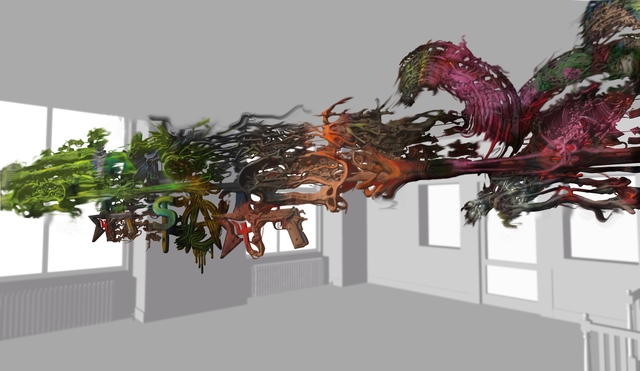 Press Release
Fabian Marcaccio is a pioneer in the transition between analog and digital painting. Since the middle of the 1990s, he has worked with digital compositing, digital printing, and later on 3D printing to create a variety of pictorial works that he calls Paintants (painting+mutant). Marcaccio emphasizes the digital process as part of a personal manipulation of the techniques instead of focusing on ready-mades or made-to-order culture. His works range from digitally printed painting to photo-painting-sculptures to mural-like environmental paintings. Marcaccio's sources come from formal, spatial, and informational sources. In all his work, he finds continuity between politics, science, formal models and material/spatial relations. He emphasizes the connections between these source and considers the work trans-media and trans-formal.
For Spring Break Art Show, Marcaccio has created a full 3D printed environmental painting-sculpture that will expand across the walls of the space. The work will consist of a constellation of "plastemas" (new pictorial 3D printed painting activities) that work together in a swarming structure. Each of the pieces is made with colored plastic and pigmented silicone; they are engineered to be supported by rope and aluminum suspended in the space. The work can expand and contract depending on the space.
The artist was born in Rosario Argentina in 1963. He lives and works in New York City. He has exhibited widely throughout the United States, Europe and South America. Major solo exhibitions include "Paintant Stories" Casa Daros, Rio de Janeiro (2014); "Some USA Stories", Krefeld Kunstmuseen,Krefeld, Germany (2012); "The Structural Canvas Paintants", Lehmbruk Museum, Duisburg, Germany (2012) and "From Altered Paintings to Paintants", Kunstmuseum Liechtenstein, Vaduz Liechtenstein (2004).
Follow Artists In This Show