Casanova: The Seduction of Europe
Casanova: The Seduction of Europe explores the 18th century across Europe through the eyes of one of its most colorful characters, Giacomo Casanova (1725--1798).
Aug 27th – Dec 31st 2017
Fort Worth, 3333 Camp Bowie Boulevard
Map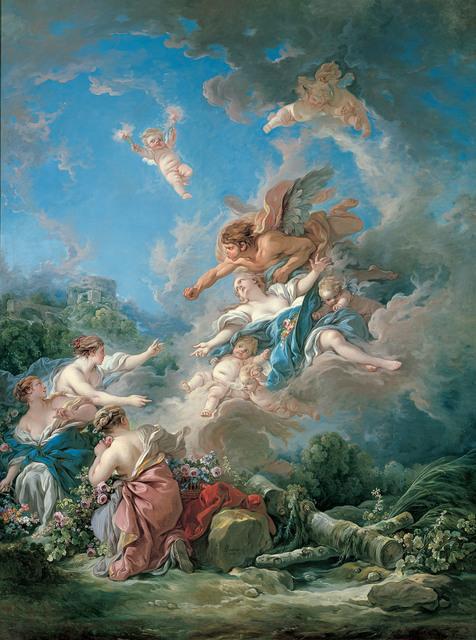 Press Release
For Immediate Release:
June 29, 2017
THE SPLENDOR OF THE AGE OF CASANOVA
REVEALED IN AN EXHIBITION AT THE KIMBELL
ART MUSEUM
Casanova: The Seduction of Europe
AUGUST 27–DECEMBER 31, 2017
On view in the Louis Kahn Building
FORT WORTH—This autumn, the Kimbell will premiere the international loan exhibition
Casanova: The Seduction of Europe, a free-spirited exploration of mid-18th-century
Europe. The celebrated Giacomo Casanova (1725–1798), who epitomizes the
sophistication of the 18th century, will act as our guide. His famous memoirs portray an
individual perfectly suited to his era: one of glamour, creativity, sensual pleasure and
social and political ambition. Inspired by Casanova's story, the exhibition will introduce
21st-century viewers to the variety and complexity of European art and culture that
form the backdrop of his life.
"Casanova's era has plenty in common with our own," commented Eric M. Lee, director
of the Kimbell Art Museum. "The 18th century's cult of celebrity, of shifting identity, its
use of gossip as currency and its obsession with travel and novelty are all cultural forces
that confront us today. I'm confident that this exhibition will resonate with visitors and
am thrilled to welcome them on a grand tour of the visual delights of Casanova's time."
Casanova emerges as daringly modern in his freewheeling approach to life and his
apparently limitless capacity for self-invention. Although his name is now synonymous
with the archetypical seducer and adventurer, he was in fact much more than that:
contemporaries regarded him as a charming and witty conversationalist, an expert on
many fascinating topics and an international man of letters. Casanova lived in or visited
many of the principal art centers of 18th-century Europe, particularly Venice, Paris and
London, but also the capitals of Central and Eastern Europe. Moreover, he knew many
of the greatest figures of the age: the philosophers Voltaire and Rousseau; the
celebrated opera singer Farinelli; Benjamin Franklin, American ambassador to France;
two Popes; and such monarchs as Louis XV of France, George III of Great Britain and
Catherine the Great of Russia.
This exhibition will feature approximately 200 works of art, including paintings,
sculpture, drawings, prints, furniture, metalwork, porcelain, costumes and musical
instruments. Together, they will illustrate the splendor of mid-18th-century Europe,
gently structured around the chronology, geography and major incidents of Casanova's
life, and will address such themes as travel; courtship and seduction; theatre, identity
and the mask; and the pleasures of dining.
Casanova's colorful life experiences will be evoked by the work of the great Italian
artists Canaletto, Bellotto, Tiepolo, Longhi and Piranesi; by the French masters Boucher,
Nattier, Houdon and Fragonard; and by such British painters as Hogarth and Reynolds.
Evocative vignettes of costumed figures in settings enlivened by extraordinary period
furnishings will bring to life the sumptuous world in which Casanova lived—a world that
he seduced not only with charm and romance but through his keen wit and his rare
intelligence.
Casanova: The Seduction of Europe has been organized by the curators of the three
presenting institutions. In Fort Worth, C.D. Dickerson, now head of sculpture and
decorative arts at the National Gallery of Art, Washington, D.C., first proposed the idea
for the exhibition to deputy director George T.M. Shackelford, who has supervised the
project. In San Francisco, former curator in charge of European paintings Esther Bell
(now at the Clark Art Institute, Williamstown), her successor, Virginia Brilliant, their
colleague Kirk Nickel and curator in charge of European decorative arts and sculpture
Martin Chapman have given their expertise to the project. Finally, in Boston, art of
Europe chair Frederick Ilchman, senior curator of decorative arts Thomas Michie and
Pamela Parmal, chair of textile and fashion arts, assisted by Courtney Harris, were
responsible for the stewardship of the loan process and the assembly of the exhibition
catalogue. Bell, Dickerson, Ilchman and Michie are essayists for the lively book that
accompanies the exhibition, in conjunction with a panoply of international scholars.
The exhibition is accompanied by a full-color catalogue, Casanova: The Seduction of
Europe, available for $45 in the Museum Shops. It is organized by the Kimbell Art
Museum, the Fine Arts Museums of San Francisco and the Museum of Fine Arts, Boston.
Promotional support is provided by American Airlines, the Fort Worth Star-Telegram
and NBC5.
Kimbell Art Museum
The Kimbell Art Museum, owned and operated by the Kimbell Art Foundation, is
internationally renowned for both its collections and for its architecture. The Kimbell's
collections range in period from antiquity to the 20th century and include European
masterpieces by artists such as Fra Angelico, Michelangelo, Caravaggio, Poussin,
Velázquez, Monet, Picasso and Matisse; important collections of Egyptian and classical
antiquities; and the art of Asia, Africa and the Ancient Americas.
The Museum's 1972 building, designed by the American architect Louis I. Kahn, is widely
regarded as one of the outstanding architectural achievements of the modern era. A
second building, designed by world-renowned Italian architect Renzo Piano, opened in
2013 and now provides space for special exhibitions, dedicated classrooms and a 289-
seat auditorium with excellent acoustics for music.
#
Media Contacts: 817-332-8451
Jessica Brandrup, ext. 241, or jbrandrup@kimbellmuseum.org
Claire Lukeman, ext. 248, or clukeman@kimbellmuseum.org
Images and further press information are available upon request or by visiting
www.kimbellart.org.
Follow Artists In This Show