Louis Kahn: The Power of Architecture
Louis Kahn: The Power of Architecture, organized by the Vitra Design Museum, is the first major retrospective of Kahn's work in two decades, encompassing an unprecedented and diverse range of architectural models, original drawings, photographs and films.
Mar 26th – Jun 25th 2017
Fort Worth, 3333 Camp Bowie Boulevard
Map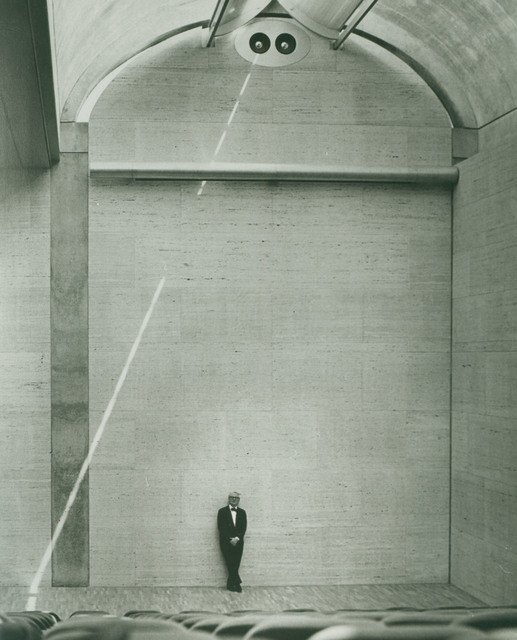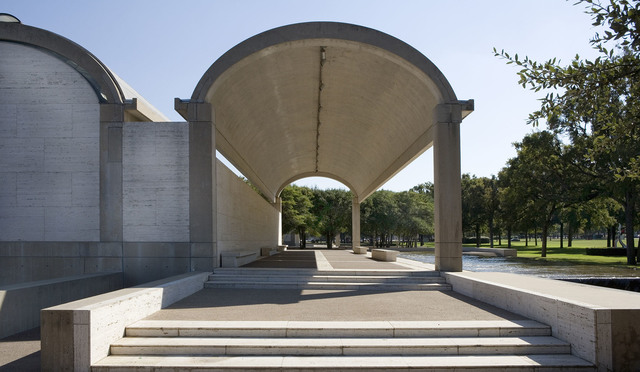 Press Release
THE KIMBELL'S ARCHITECT COMES TO LIFE IN AN IN-DEPTH EXHIBITON
Louis Kahn: The Power of Architecture
March 26–June 25, 2017
On view in the Louis Kahn Building
FORT WORTH— The American architect Louis Kahn (1901–1974), designer of the Kimbell Art Museum, is regarded as one of the great master builders of the 20th century. With complex spatial compositions and a choreographic mastery of light, Kahn created buildings of archaic beauty and powerful universal symbolism. In addition to the Kimbell (1966–72), his most important works include the Salk Institute in La Jolla, California (1959–65), and the National Assembly Building in Dhaka, Bangladesh (1962–83). The exhibition Louis Kahn: The Power of Architecture, organized by Vitra Design Museum (Weil am Rhein, Germany), is the first major retrospective of Kahn's work in two decades.
In addition to The Power of Architecture, the Kimbell Art Musuem is the sole venue for a complementary exhibition, The Color of Light, The Treasury of Shadows: Pastels by Louis I. Kahn from the Collections of His Children. Admission to both special exhibitions is free.
"The Kimbell's Kahn-designed building is acknowledged the world over as an architectural masterpiece," commented Eric M. Lee, director of the Kimbell Art Museum. "Visitors who come to this exhibition will get know Kahn, the architect, and follow him on the thrilling journey that led to the vision for the Kimbell Art Museum."
The exhibition encompasses an unprecedented and diverse range of architectural models, original drawings, photographs and films. All of Kahn's important projects are extensively documented—from his early urban planning concepts and single-family houses to monumental late works such as the Roosevelt Memorial in New York City (1973/74), posthumously completed in October 2012. The view of Kahn's architectural oeuvre is augmented by a selection of watercolors, pastels and charcoal drawings created during his travels, which document his skill as an artist and illustrator. Highlights of the exhibition include a 12-foot-high model of the spectacular City Tower designed for Philadelphia (1952–57), as well as previously unpublished film footage shot by Nathanial Kahn, the son of Louis Kahn and director of the film My Architect. Interviews with architects such as Frank Gehry, Renzo Piano, Peter Zumthor and Sou Fujimoto underscore the current significance of Kahn's work, which is being rediscovered and made accessible to a wide public audience with this exhibition.
A biographical introduction to the exhibition is followed by six thematic sections that illustrate the development of Kahn's work over time and explore Kahn's quest for origins: in architecture and art, in the natural sciences, and in the observation of human behavior and society. The first section of the exhibition, entitled City, examines the architect's relationship to Philadelphia—his adopted home after immigrating to the United States—which became a laboratory for the development of his own urbanistic and architectural principles. Science demonstrates how Kahn studied the structural laws inherent in nature as a means of establishing a foundation for the renewal of architecture. Landscape emphasizes that nature was not only a source of inspiration for Kahn but also increasingly important as a context for his buildings. House illustrates that Kahn's desire to create a stronger connection between architecture and the surrounding environment also formed the basis of his residential designs; he regarded the house as an archetype and starting point for his understanding of architecture and community. Kahn's increasing success was accompanied by the evolution of an architecture that was closely linked to the timeless foundations of traditional building, yet radically innovative and future-oriented in terms of technology and construction. The underlying ideal of an Eternal Present resulted from Kahn's intense engagement with architectural history and archetypical structures, vividly documented in his travel drawings from Italy, Greece and Egypt. The culmination of the exhibition is represented by the section Community, which expresses how essential the social significance of architecture was to Kahn and how he derived new forms for public buildings from it. Taken as a whole, the six themes of the exhibition reveal a new view of Louis Kahn's oeuvre that defies the common classifications of modernism or postmodernism.
Kahn's uniqueness lies in his synthesis of the major conceptual traditions of modern architecture—from the École des Beaux-Arts and the constructive rationalism of the 19th century to the Arts and Crafts movement and Bauhaus modernism—enhanced by the consideration of indigenous, non-Western building traditions. Kahn gained important impulses from architectural movements such as metabolism and brutalism. He anticipated aspects of building that are highly relevant today, including a return to local resources and "soft" factors such as air, light and water. He saw himself as part of a tradition that spanned thousands of years and that understood architecture not only as a means of satisfying utilitarian needs, but as an instrument of artistic speculation and a vehicle for contemplating nature, history and human community.
Convinced that contemporary architects could—and should—produce buildings that were as monumental and as spiritually inspiring as the ancient ruins of Greece and Egypt, Kahn devoted his career to the uncompromising pursuit of formal perfection and emotional expression. Working with simple materials, notably brick and concrete, Kahn applied his principles to create buildings instilled with the spiritual qualities he desired through a masterful sense of space and light. He employed this approach to create his first masterpiece, the Salk Institute (1959–65). Kahn's interest in the relationship of architecture to its location and landscape is one of the most magical elements of the Salk Institute, an extraordinarily inspiring sequence of buildings perched on a cliff above the Pacific Ocean. This interest was equally important to his campus buildings at Bryn Mawr College, Pennsylvania (1960–65), the Exeter Library, New Hampshire (1967–72), and the Yale Center for British Art (1968–74). Striving for perfection, Kahn's development during this period culminated in another masterpiece, the Kimbell Art Museum, which is still regarded as an exceptionally compelling and empathetic environment for displaying painting and sculpture.
The exhibition is organized by Vitra Design Museum, Germany, in collaboration with the Architectural Archives of The University of Pennsylvania and the Netherlands Architecture Institute, part of the New Institute, Rotterdam. It is globally sponsored by Swarovski. Additional sponsorship support is provided by The Beck Group. Promotional support is provided by the American Airlines, the Fort Worth Star-Telegram, and NBC5.
Complementary Exhibition
The Color of Light, The Treasury of Shadows:
Pastels by Louis I. Kahn from the Collections of His Children
This intimate exhibition presents a selection of pastels dating from a three-month period in 1950–51 when Kahn was Architect in Residence at the American Academy in Rome. While there, he had the opportunity to travel and sketch the great historic monuments and public spaces of Italy, Greece and Egypt. Away from the daily concerns of his architectural practice, his eye and spirit were free to absorb the essence of these places. In pastels that have been acknowledged as the most sublime examples of his drawing, he captured the vivid colors that light and shadow make as they illuminate the ancient sites.
Special thanks to the children of Louis I. Kahn, Sue Ann Kahn, Alexandra Tyng and Nathaniel Kahn, for generously lending their works for this exhibition.
Kimbell Art Museum
The Kimbell Art Museum, owned and operated by the Kimbell Art Foundation, is internationally renowned for both its collections and for its architecture. The Kimbell's collections range in period from antiquity to the 20th century and include European masterpieces by artists such as Fra Angelico, Michelangelo, Caravaggio, Poussin, Velázquez, Monet, Picasso and Matisse; important collections of Egyptian and classical antiquities; and the art of Asia, Africa and the Ancient Americas.
The Museum's 1972 building, designed by the American architect Louis I. Kahn, is widely regarded as one of the outstanding architectural achievements of the modern era. A second building, designed by world-renowned Italian architect Renzo Piano, opened in 2013 and now provides space for special exhibitions, dedicated classrooms and a 289-seat auditorium with excellent acoustics for music.
#
Media Contacts: 817-332-8451
Jessica Brandrup, ext. 241, or jbrandrup@kimbellmuseum.org
Claire Lukeman, ext. 248, or clukeman@kimbellmuseum.org
Images and further press information are available upon request or by visiting www.kimbellart.org.
Image Caption:
Kimbell Art Museum, Fort Worth, Texas; constructed 1969–72
North portico with reflecting pool
Louis I. Kahn (1901–1974), architect
Photograph: Robert LaPrelle © 2013 Kimbell Art Museum, Fort Worth
*Admission to Louis Kahn. The Power of Architecture is FREE
**Admission is always FREE to view the Museum's permanent collection.
Visit the Kimbell Art Museum online at: kimbellart.org, Facebook.com/kimbellart and Twitter.com/kimbellart
Kimbell Art Museum 3333 Camp Bowie Boulevard, Fort Worth, TX 76107 www.kimbellart.org
Kimbell Art Museum hours: Tuesdays–Thursday and Saturday, 10 a.m.–5 p.m.; Friday, noon–8 p.m.; Sunday, noon–5 p.m.; closed Monday. For information, call 817-332-8451.
Follow Artists In This Show