Wifredo LAM, Le Feu Vert
Wifredo LAM, Le Feu Vert
Jul 27th – Dec 31st
Miami, 1063 NW 36th St.
Map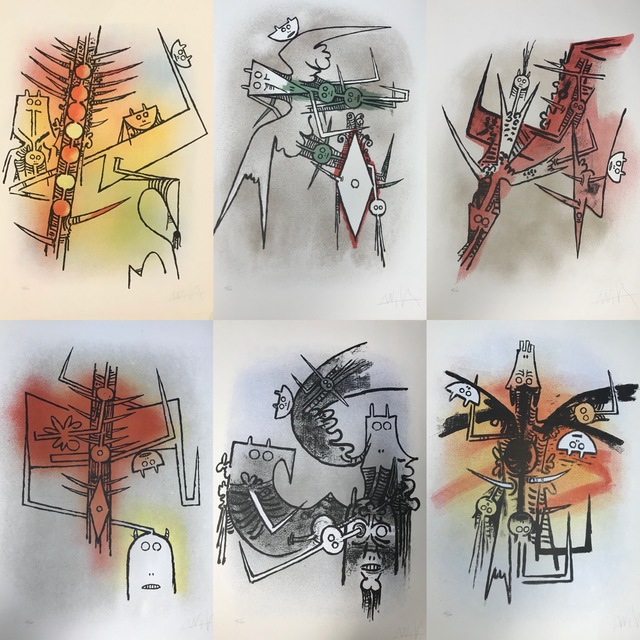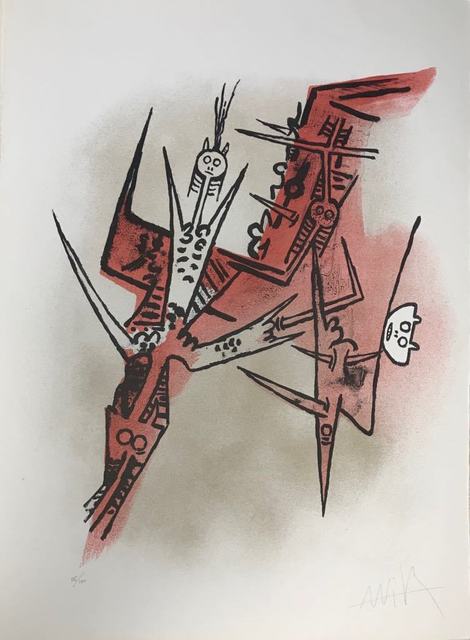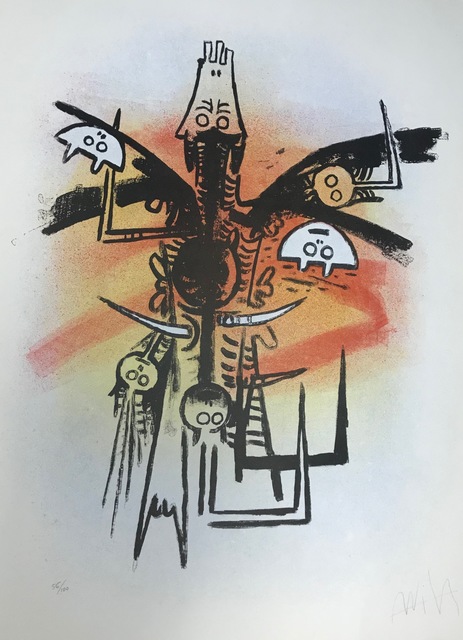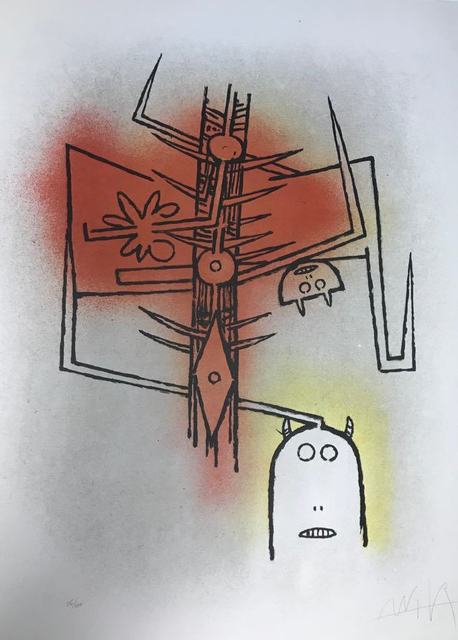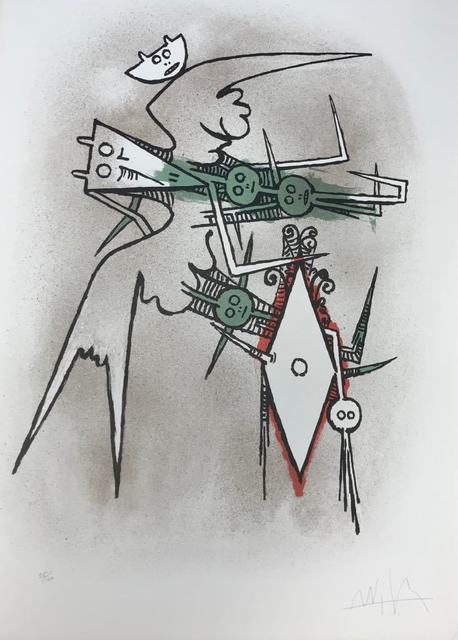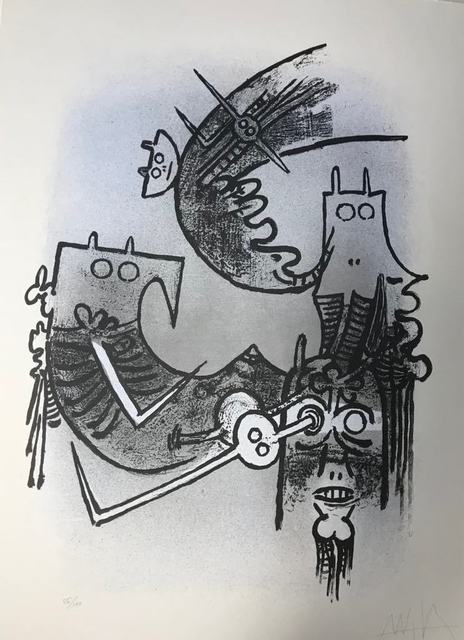 Press Release
1970-1974 Lam illustrates a variety of publications in 19-20: Dialogues des mes lampes by the Haitian poet Magloire-Saint-Aude; El Círculo de piedra, a collection of fifteen poems by Carlos Franqui, with artworks by Erró, Jorn, Kowalski, Miró, Pignon Rebeyrolle, Tàpies, Vedova, Cárdenas, Calder and Camacho. Lam visits numerous exhibitions throughout the year, among them the 8th Menton Bienal in early July, for which he has designed a poster dedicated to Latin American artists.
In 1971, he participates in the publication Flight, which commemorates the 30th anniversary of the American Emergency Rescue Commit in Maseille, directed during the War by Varian Fry; a lithograph from 1966, pulle by Emil Matthieu, is included in the portfolio. He also creates a series of six etchings to illustrate the poem Croiseu noir by André Pieyre de Mandiargues, published by O. Lazar Vernet in the collection Paroles Peintes, then seven drawings for "Pour Wifredo," a text by Leiris published in the journal Ephémère.
In 1972, Alain Jouffroy's Lam, La conquête poem de I´unité perdue, includes Lam´s poem "Lumiére." Lam is attributed an entire hall in the 36th Venice Biennale. His show, along with the Alechinsky pavilion, is viewed by the critics as among the best features of the year.
In 1973, he creates six lithographs for the poems by Dominique Agostini in Le Regard vertical. He also contributes to two collective portfolios in homage to Picasso and Miró. For the homage to Picasso, published by the Propyläen Verlag in Berlin, he creates the lithograph Acide doux. In L'Emerveillé merveilleux, published by Au Vent d'Arles in homage to Miró, Lam illustrates a poem by René Char. Dismayed by the situation in Chile, he produces a serigraphy in 1973 for the portfolio Chile 11 septembre-11 Latino-américains, published by the France-Latin-America Committee in Paris as a way of raising funds for the victims Pinochet's military coup.
In 1974, a film is made about him, Lam o l'animado grafismo, directed by Mario Carbone, shot both in his house in Albissola and in Giorgio Upiglio's studio in Milan. He continues to produce a lot graphic work: lithographs for Le Feu vert published in Italy; and in Paris, under the presses of the Guillard studio in Cachan, ten litographs to accompany José Pierre´s poems, "Fous rires dans les fourrés," published in Pleni Luna, prefaced by Ragnar von Holten. He has a number of solo exhibitions of prints: at the Galerie de Zwarte Panter in Antwerp; at the Galleria Sanmichele in Savona; in Stockholm, various art centers in Yugoslavia, and in Washington DC. Lam also begins work on night etchings for Char´s Countre une maison seche.
Studio Forini, Zagreb, 1974
6 lithographs, cat. nos. 298 to 303
Six lithographs by Lam, loose-leaf, and four bifolios: the title page (with a photo of Lam inside), an analytical text, the biography, and the colophon, all inside a brown cloth-covered clamshell box.
Colophon:
Le tirage a été soigné par les EDITIONS d'ART TORCULAR/(talie). Matrices détruites après l'impression. Tirage sur papier /de pures chiffes, des papeteries Magnani de Pescia./ Exemplaires 100, numérotés en chiffres arabes de 1 à 100, et/ en outre exemplaires XXX, numérotés en chiffres romains de I/ à XXX à disposition de l'Artiste et de l'Editeur. /Trois exemplaires ont été imprimés sur papier Japon Nacre, et/ dédiés par l'Artiste AD PERSONAM.
Collections: Gravelines, Musée du dessin et de l'estampe originale.
Exhibitions: 1974, Yugoslavia, various Yugoslavian cultural institutes, Le Feu vert; 1975, Albissola Mare, Museo della Ceramica, Wifredo Lam. Ceramiche, acqueforti, litografie; 1993-1994, Gravelines, Musée du dessin et de l'estampe originale, Wifredo Lam. Euvre gravé et lithographié, cat. no. 299, cat. no. 301, and cat. no. 302; 1994, Paris, Maison de l'Amérique Latine, Wifredo Lam. Euvre gravé et lithographié, cat. no. 299, cat. no. 301, and cat. no. 302.
Bibliography: Xuriguéra, Gérard. Wifredo Lam. Paris: Filipacchi, 1974, cat. no. 298 ill p. 37; Biette, Brigitte "Wifredo Lam. Euvres illustrées." Master's thesis, Université de Paris I, Panthéon-Sorbonne, 1982, pp. 133-134.
Follow Artists In This Show