10,000 Years From Now
Lazarides Rathbone is pleased to announce 10,000 Years From Now. The latest work from British artist Ian Francis examines the fragility of this lifetime in contrast to geological timescales.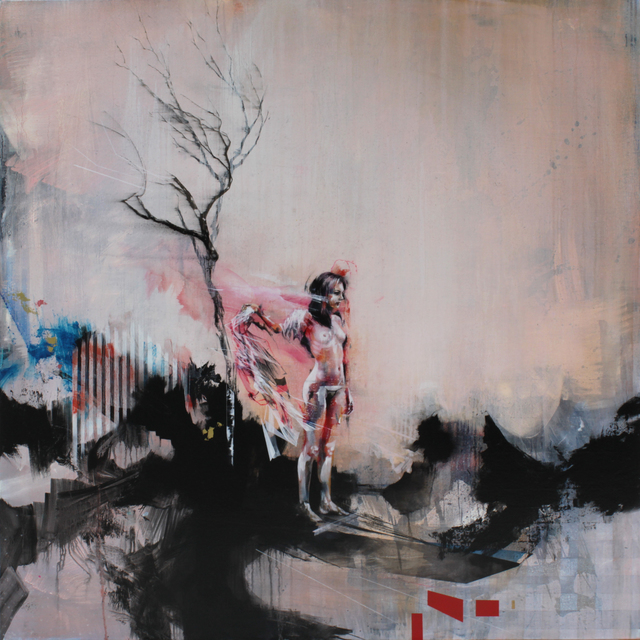 Press Release
10,000 Years From Now is an exhibition of all new works by British artist Ian Francis opening at Lazarides Rathbone on 27 April 2012. The artist's latest body of work examines the fragility of this lifetime in contrast to geological timescales.
Inspired by his fascination with the Internet and other technological forms of mass communication, Francis isolates popular scenarios from the present and examines their inherent fragility against collapsing architectural backdrops as they exist within digital formats. 10,000 Years From Now highlights the perilous nature of our constructed world and brings into to focus the futility of our social legacy.
Working in mixed media on canvas, Ian Francis combines abstraction, figuration and elements of both painting and drawing to create distinctly contemporary works. His robust approach uses a range of techniques including acrylic, oil, charcoal, ink and graphite, all deployed in a spontaneous manner. Below this active and colourful 'surface,' however, are delicate notes of melancholy, alienation and social critique, revealing a nuanced regard for contemporary mores which can be observed in his paintings in which he references the graphical coding errors in computer games.
Francis draws inspiration and raw material from cinema, pornography, street culture, and images sampled from the Internet, synthesizing these sources into a quasi-literal vision of the 'mediated' landscape. Having started using the Internet as a tool for research and news in 2001, triggered by the attacks on The World Trade Centre and the wars in Afghanistan and Iraq, Francis became captivated by the amount of information he could readily access and consume from around the world. Over the past decade, Francis has discovered that a large amount of his life and subject matter for his work centres around the escapist worlds he surrounds himself with including magazines, books, the internet, film and television. The physical act of painting has become a cathartic process and a way in which he can digest the torrent of information. Through his work he explores society's obsession with popular culture and the detachment he personally undergoes in relation to this pervasive sense of societal collapse and impending apocalypse.
Follow Artists In This Show