Alexandre Mazza - No deserto, o oásis somos nós [In the desert, we are the oasis]
Alexandre Mazza's third solo show
Apr 26th – May 28th 2016
Rio de Janeiro, Rua Barão de Jaguaripe, 387 Ipanema
Map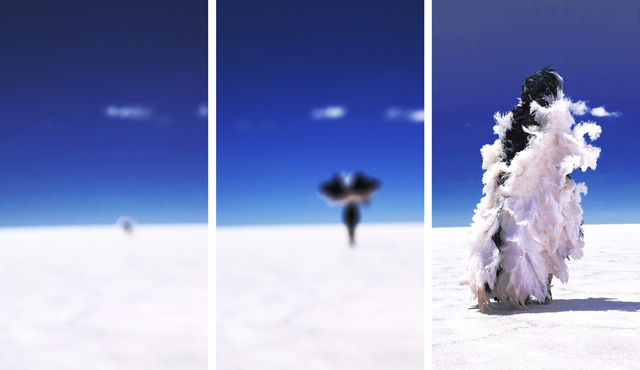 Press Release
A história da exposição "No Deserto, o oásis somos nós", que abre no dia 26 de abril na Luciana Caravello Arte Contemporânea se iniciou quando, durante um engarrafamento no trânsito do Rio de Janeiro, o artista curitibano Alexandre Mazza teve uma visão que lhe revelou uma figura misteriosa semelhante a um grande pássaro, anjo ou entidade hibrida e feminina, flutuando sobre o chão espelhado de um deserto. Ainda emocionado com a beleza que acabara de ver, ligou para o curador Bernardo Mosqueira, com a certeza de que deveria reproduzir aquela cena, mas ainda sem saber como fazê-lo. Poucos dias depois, o filho mais velho do artista lhe contou que o lugar existia - e era o Salar de Uyuni, a maior planície de sal do mundo, na Bolívia.
A expedição imersiva de 20 dias para filmagens contaria com uma equipe de 7 pessoas e cruzaria ainda o Atacama, pelo norte do Chile e se tornaria a base de experiências para uma pesquisa sobre a relação entre os conceitos de vida, tempo e mistério. "Foi quase a produção de um filme", afirma Mazza, "cruzamos, no total, mais de 5 mil quilômetros de carro e passamos por altitudes superiores a 5 mil metros. Passamos por cenários com lagos verdes com flamingos, sítios arqueológicos de 4 mil anos, desertos rochosos com 35 graus de temperatura e montanhas verdes com nevasca!". Na mostra estão 21 trabalhos entre vídeos, objetos, fotografia e uma instalação. Entre eles, há um vídeo de 11 minutos, com trilha original de Jonas Rocha e Ulisses Capeletti, além de figurino de Sol Azulay, que também fez parte da equipe de viagem.
Alexandre Mazza define a vida como o período temporal onde manifestamos interesse pelo mistério e investiga, nos trabalhos dessa exposição, as noções de ciclo, percurso e revelação. "Em Uyuni, somente nessa época do ano, durante o período da Lua Cheia, a água sobe sobre a superfície branca do sal e faz o deserto virar um grande espelho", diz Bernardo Mosqueira. O curador lembra que Mazza é conhecido por ter desenvolvido muitos trabalhos que se configuram como caixas de espelhos. "Em Uyuni, ficamos entre o espelho d'água salgada do chão e o grande espelho do Sol que é a Lua Cheia.".
A exposição parte das experiências da viagem para investigar a relação do humano com os sinais oferecidos pelo mundo para nos aproximar dos nossos desejos e nos afastar dos medos durante a vida. Entre os trabalhos, há imagens fortes, como a de um crânio que tem o Cruzeiro do Sul furado no topo na cabeça ou a bússola buscando a orientação enquanto boia em um riacho sobre uma rolha de cortiça. "A bússola, a constelação, a pipa ao vento e os objetos mágicos e sagrados são todos ícones de orientação", diz Mazza. "Essa entidade, meio pássaro, meio mulher, que parece a materialização do desejo e ao mesmo tempo de seu próprio objeto, se movimenta eternamente por um cenário lindo, mas muito árduo e completamente solitário. No deserto, nós lembramos que somos feitos 70% de pura água. Encontrar outra pessoa no deserto da vida é um milagre e a maior chance de conseguirmos sobreviver. Daí, dessa crença e adoração ao humano, é que vem o título 'No deserto, o oásis somos nós'."
--
The story of the exhibition "In the desert, we are the oasis," which opens on April 26 at Luciana Caravello Arte Contemporânea, began when, during a traffic jam in traffic in Rio de Janeiro, artist Alexandre Mazza (PR, Brazil) had a vision which revealed a mysterious figure, a bird, angel or hybrid-like female entity, floating on the mirrored surface of a desert. Still thrilled by the beauty he had just seen, he called the curator Bernardo Mosqueira, knowing that he should reproduce that scene, but still not knowing how to do it. A few days later, the eldest son of the artist told him that the place existed - and was the Salar de Uyuni, the world's largest salt flat in Bolivia.
The 20-day immersive expedition to begin footage with a team of 7 people, also crossed the Atacama Desert, the north of Chile and would become the experience basis for a research on the relationships between the concepts of life, time and mystery. "It was almost the production of a film," says Mazza, "we crossed a total of more than 5000 km by car and we passed altitudes above 5000 meters. We went through scenarios with green lakes, flamingos, archaeological sites 4000 years old, rocky deserts with 35 degrees of temperature and snowy green mountains." In the exhibition, there are 21 works among videos, objects, photography and installation. Among them, there is an 11-minute video, with original soundtrack by Jonas Rocha and Ulysses Capeletti, and costume design by Sol Azulay, who was also part of the travel team.
Alexandre Mazza defines life as the time period in which we express interest in mystery and investigates through the works in this exhibition, the notions of cycle, path and revelation. "In Uyuni, only this time of year, during the full moon, the water rises over the white surface of the salt and makes the desert turn into a huge mirror," says Bernardo Mosqueira. The curator reminds us that Mazza is known to have developed many works that are configured as mirror boxes. "In Uyuni, we were placed between a mirror of salt and water on the ground and the full moon – major mirror for the sun.".
The exhibition begins from the experiences of the trip to investigate the human relationships with the signals given by the world to bring us closer to our desires and keep us away from our fears in life. Among the works, there are strong images, such as a skull that has the Southern Cross carved atop its head, or the compass seeking guidance as it floats on a cork down a river stream. "The compass, the constellation, the kite in the wind and the magical and sacred objects are all guidance icons," says Mazza. "This entity, half bird, half-woman, who seems the embodiment of desire and at the same time its own object, moves eternally in a beautiful, but very tough and quite lonely scenery. In the desert, we remember that we are made of 70% pure water. To find someone else in the desert of life is a miracle and the greatest chance to succeed in survivor. The title 'In the desert, we are the oasis' comes precisely from this belief and worship of the Human."
Follow Artists In This Show