Mad Love
Marlene Steyn creates paintings of different worlds that swim in multiplicity. The human becoming-tree, becoming-braid proliferates in scenes that dip in and out of bodies-without-organs. Steyn creates an installation out of several works - a world is created, space transformed
Apr 24th – May 20th 2015
London, 38-50 Pritchard's Road
Map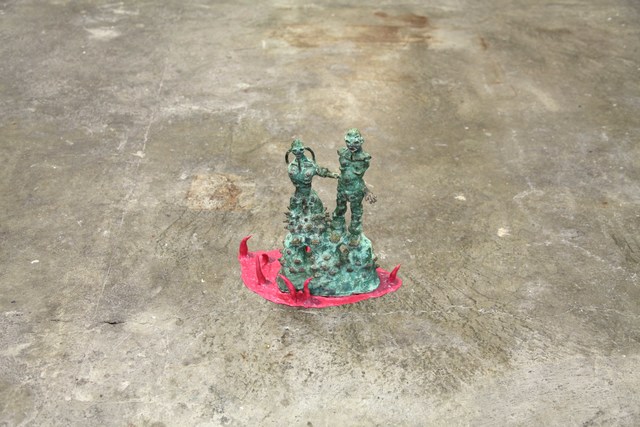 Press Release
"...he looked like one of the oldest men I had ever seen."
Georges Bataille commenting on Antonin Artaud after his return from Rodez.
Evidence piles upon evidence, becoming a mound.
A mound might be a light congregation of things, a junkyard pile, rotting vegetables in the corner of a garden, the ruin of a monument, or dead bodies in the aftermath of war. But equally a mound might be constituted out of a mixture of dreams and apparitions. These are paintings that are not so much compositions as mounds. A mound is always composed out of an excess of things. Marlene is a monist who piles everything together. She is not interested in categories and distinctions but the play of fragrance and flagrant starts to excite. Her mind is an engine of difference and her painting, the manifestation of this. Each time a different mound.
Mounds are in-betweens especially the in-between of life and death. They are also the point at which remembering and forgetting meet. Painting as presence looks two ways, they emerge out of emptiness and face the void of the yet-to-come. It is this feature that gives painting its edge. This is also why paintings have such a slender life or are mere slithers on the edge of a vast elsewhere.
A question arises: what demarks the difference between a rock and a brain? In painting it might be a matter of tone. At the other side of the difference of tone is eruption so perhaps we are being given over to matters of tone followed by eruptions. A case of consistency and force becoming joined in the wedlock of painting.
Imagine witnessing the figure of Artaud after his delicate brain had been turned ashen with convulsive electrical charges. Images flicker intermittently breaking the composure of logic: a strange mixture of excess and emptiness in the form of scattered eyeballs are on the exterior of this vision. Now ashen face, electrical storms, flickers of eyeballs, the warping of logic, and broken images - arrange and rearrange again. This is non-stop theatre, with setting after setting, staging and restaging.
The art of the non-stop: without stoppage valves that give ways to the acceleration of sense.
That is it, a fractured bliss, accelerated, non-stop: imagine.
Mounds of the non-stop.
Follow Artists In This Show