Giuseppe Penone: Ideas of Stone (Idee di pietra)
Sep 26th, 2013 – Feb 9th, 2014
New York, 23rd Street and 5th Avenue
Map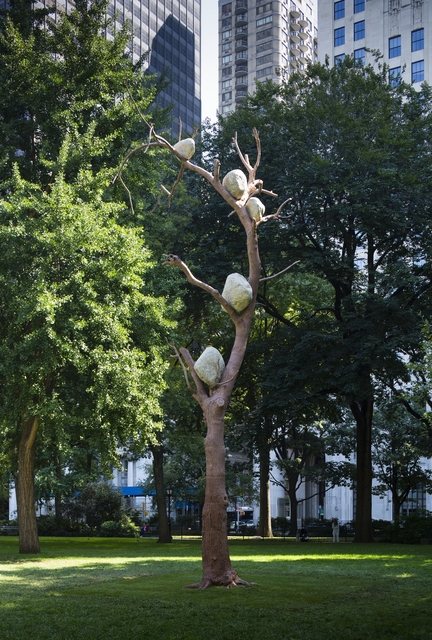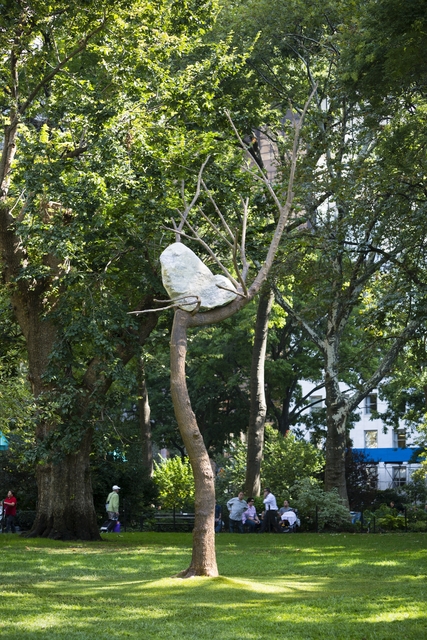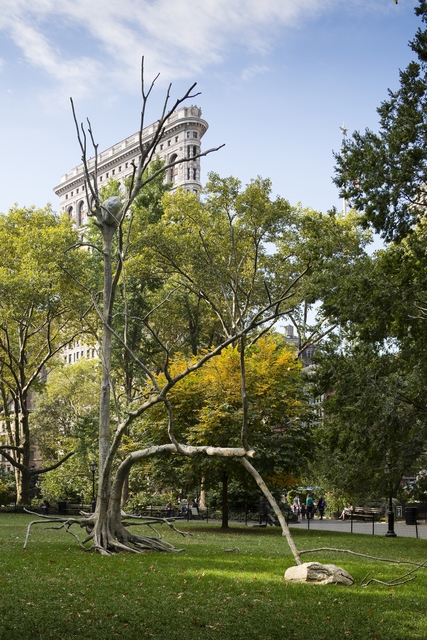 Press Release
Madison Square Park Conservancy's Mad. Sq. Art announces a new sculptural installation for fall 2013 by renowned Italian artist Giuseppe Penone, consisting of three monumental, 30-foot tall bronze trees. Ideas of Stone, featuring Penone's signature manipulation of the trees' natural forms, will interact with Madison Square Park's lush landscape to highlight the relationships among man, sculpture and nature. The three works are titled Triplice (Triple), Idee di pietra – 1303 Kg di luce (Ideas of stone – 1303 Kg of light), and Idee di pietra – Olmo (Ideas of stone – Elm). The exhibition will remain on view daily from September 26, 2013 through February 9, 2014 in the Park.
Throughout his 40-year career, Penone has employed natural materials and forms in an exploration of the contrasting and fundamental relationships between man and nature. Penone was a member of the Italian Arte Povera group, artists who sought to dissolve divisions between art and life by using commonplace subjects and materials in their work. Trees as living sculpture is a recurring theme for Penone. He often manipulates these natural forms by twisting, deconstructing, hollowing, and uprooting the organic figures. He incorporates traces of fingerprints, nails, wires, carvings, and precariously placed boulders as remnant evidence of the sculptures' manmade composition and the effect of human interaction with the natural world. Penone addresses concepts of weight, balance, and scale, while merging the manmade and the organic.
President of the Madison Square Park Conservancy, Debbie Landau comments: "With this, the Park's twenty-sixth exhibition of outdoor sculpture, we are honored to present Giuseppe Penone, an esteemed artist of international stature. Penone's work may be best-known to European audiences, and the opportunity to display his towering bronze trees in New York is a tribute to his unique vision which complements the natural environment of the Park's foliage as the seasons transition from fall to winter."
Artist Giuseppe Penone states: "It is with great anticipation that I have planned for the exhibition of my work in Madison Square Park. A tree summarizes in an exemplary way the contrast between two forces: the force of gravity and the weight of life we are part of. The need and the search for balance, which exists in every living being to counteract the force of gravity, is evident in every step and in every small action of our lives. It is a river stone that appears amid the branches of a tree. A stone suspended amid the branches of a tree, separated from the soil by a structure that is not land and is not air, a stone that lies between the force of gravity and the force of the attraction of light."
About the Artist:
Giuseppe Penone (b. 1947) lives and works in Turin and Paris. Penone was the recipient of the Rolf Schock Prize for Visual Arts in 2001 and has exhibited internationally at the Art Gallery of Ontario, Toronto; Documenta 13, Germany; Musée des Arts Contemporains, Belgium; Museo d'Arte Moderna di Bologna, Italy; the Venice Biennial; Centre Georges Pompidou, Paris; Jardin des Tuileries, Paris; La Reggia di Venaria Reale, Torino, Italy; Museum of Contemporary Art, Sydney, Australia; Tate Gallery of Modern Art, London; and the Toyota Municipal Museum of Art, Tokyo, Japan.
Penone's recent solo exhibitions include Giuseppe Penone: Le Corps D'Un Jardin (2013), Galerie Marian Goodman (Paris, France); Giuseppe Penone (2013), Kunstmuseum Winterthur (Winterthur, Switzerland); Penone Versailles (2013), Chateau de Versailles (Versailles, France); and Giuseppe Penone: Entre les lignes (2013), Chapelle du Méjan (Arles, France). Selected group exhibitions include Morandi and Casorati in the De Fornaris Collection, From Workshop to Work (2013), Italian Cultural Institute (New York, NY); Neunzehnhundertsiebzig. Material, Orte, Denkprozesse (2013), Kunstmuseum Luzern (Luzern, Switzerland); and Turbulences II (2013), Villa Empain, Boghossian Foundation (Brussels, Belgium). He was selected for the 2012 Bloomberg Commission at the Whitechapel Gallery, London.
Giuseppe Penone is represented by Marian Goodman Gallery.
Follow Artists In This Show