Orly Genger: Red, Yellow and Blue
May 2nd – Sep 8th 2013
New York, 23rd Street and 5th Avenue
Map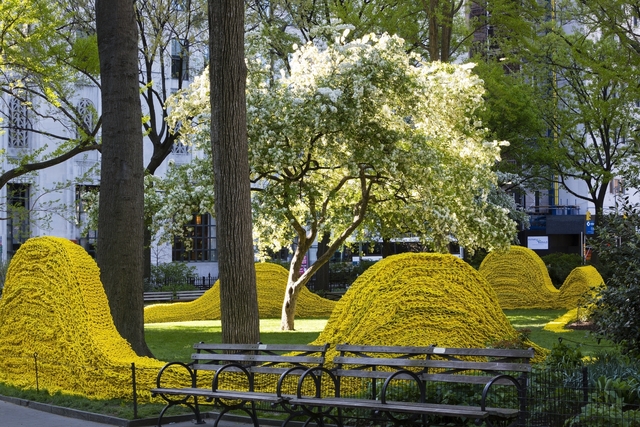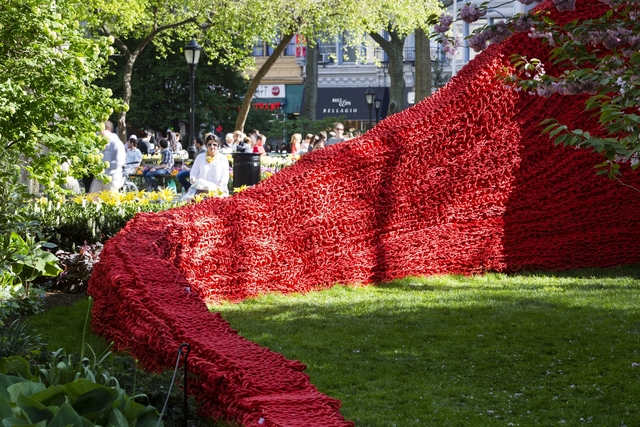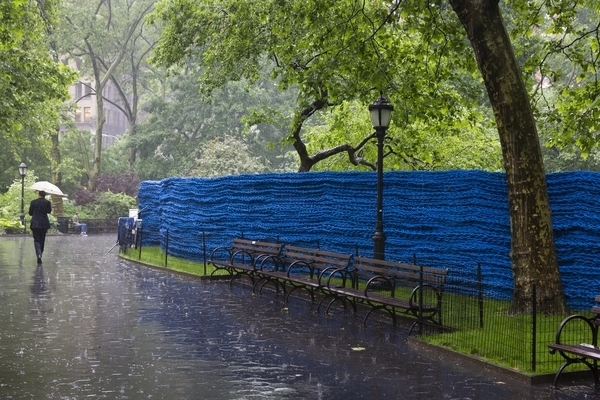 Press Release
New York—Madison Square Park Conservancy's Mad. Sq. Art announces a new installation for Spring and Summer 2013 by New York-based artist Orly Genger. The monumental commission entitled Red, Yellow and Blue will feature the artist's renowned usage of intricately hand-knotted nautical rope covered in paint, creating a work that will transform the park's lush lawns into colorfully-lined chambers. The work will remain on view daily from May 2 through September 8, 2013 in Madison Square Park. Following its New York run, the installation will travel to the deCordova Sculpture Park and Museum outside of Boston in October 2013, marking the first Mad. Sq. Art commission to tour.
Genger's work artfully transcends the perceived limits of the materials she employs. This Mad. Sq. Art commission will consist of 1.4 million feet of rope—the total length equating to nearly 20 times the length of Manhattan—covered in over 3,500 gallons of paint, and weighing over an astounding 100,000 pounds. Red, Yellow and Blue employs repurposed rope collected from hundreds of miles up and down the Eastern seaboard, bringing elements of the coastline to the urban setting of Madison Square Park. Together, three separate undulating structures of layered rope shaped on-site by the artist will redefine the landscape of the park, creating interactive environments that will invite visitors to explore both exposed and hidden spaces, encouraging them to navigate and experience Madison Square Park anew.
President of the Madison Square Park Conservancy, Debbie Landau comments:
"After ten amazing years, Mad. Sq. Art is entering a new phase of its programming with the first-ever commission to tour outside of Madison Square Park. The commission of Orly Genger's Red, Yellow and Blue is very dear to us as the work, while site-specific, will not begin and end within the park, but will travel up the eastern seaboard, touching base with locations from which its materials are supplied, to land on view at the deCordova Sculpture Park and Museum. There, it will be reimaged and reshaped to reflect deCordova's own distinct space. We are thrilled to have commissioned a new work by Orly and are delighted that Red, Yellow and Blue will be the first to represent the program outside of New York City."
Artist Orly Genger states:
"For Madison Square Park I wanted to create a work that would impress in scale but still engage rather than intimidate. In context to my other installations, the rope used for Big Boss (2010) at MASS MoCA will comprise only 10% of the rope used for the project at Madison Square Park, allowing me to work at an unprecedented scale. The tradition of knitting carries the sharing of stories and the installation draws on that idea. The repurposed rope brings with it the stories of different locations and by knotting it, a space is created for the words and thoughts of viewers in New York City to complete the work, creating a silent dialogue that waves along."
With a title referencing Barnett Newman's Who's Afraid of Red, Yellow and Blue? series from the late 1960's, Genger's exhibition will call on the minimalistic traditions of Richard Serra and Frank Stella, while allowing for Genger's own distinct contemporary aesthetic to emerge outdoors. As she adopts the intimate, domestic, and traditionally "feminine" activity of knitting, Genger also creates large-scale, monolithic, "masculine" constructions that actively challenge and engage.
The installation in Madison Square Park will also coincide with an exhibition of the artist's work on view at the Larissa Goldston Gallery in New York.
Follow Artists In This Show