Rachel Feinstein: Folly
May 7th – Sep 7th 2014
New York, 23rd Street and 5th Avenue
Map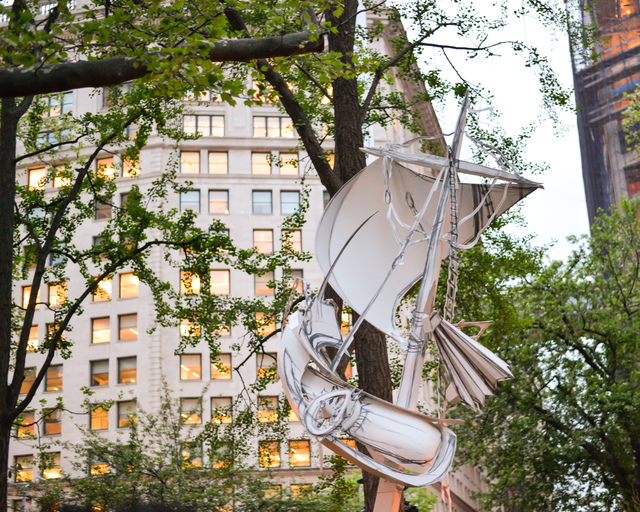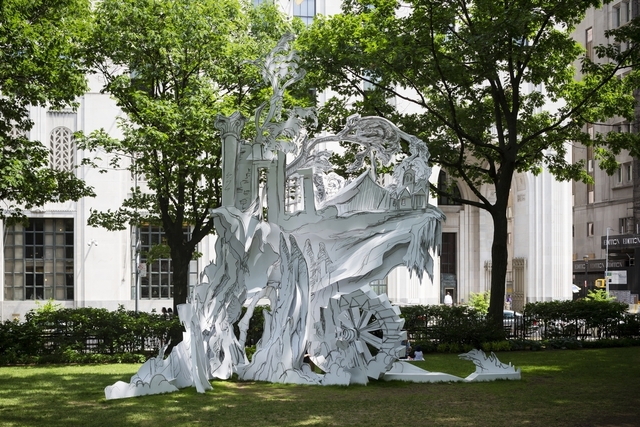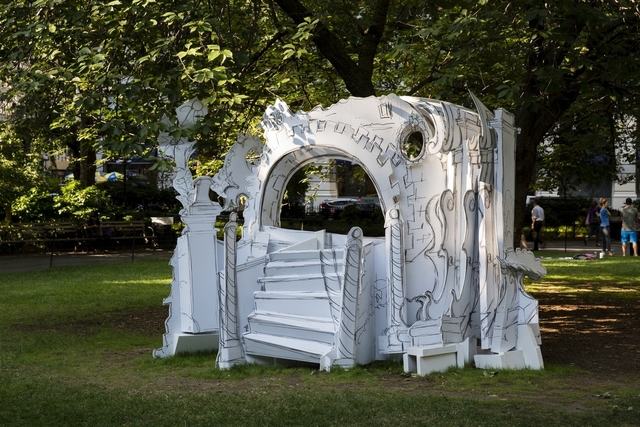 Press Release
New York—Madison Square Park Conservancy's Mad. Sq. Art presents a new sculptural installation for summer 2014: Folly by New York sculptor Rachel Feinstein. Marking Feinstein's first public art exhibition in the U.S. and comprising her largest sculptural works to date, the installation consists of three follies—structures that were popular in eighteenth- and nineteenth-century architecture, built with decorative rather than functional purpose. Feinstein's sculptures are executed in graphically printed and detailed panels of thin metal, ranging from seven and a half to 26 feet tall. The three structures include a house perched on a towering cliff, a Rococo-style hut, and a flying ship moored high in a tree, supported by a mast extending to the ground. The installation is on view daily now through Sunday, September 7, 2014, in Madison Square Park at 23rd Street and Broadway.
Best known for her fanciful sculptures, Feinstein's stage-set follies for Mad. Sq. Art are made of powder-coated aluminum with applied surface illustration. They are not inhabitable as the works are sculptural reliefs: they have active, three-dimensional facades and flat backs with structural supports. Installed on three park lawns, the structures evoke theatrical scenery in which the park visitors are the actors.
Artist Rachel Feinstein states: "The Madison Park Conservancy has given me the opportunity to marry my early interest in theatre and performance with my later obsession with the handmade in one of the most spectacular settings. I picture Folly as an empty Fellini-esque set dropped into the middle of a lush green wonderland in the historical Flatiron district of New York City. I have always been driven by the stark contrast between good and evil in old fairy tales. Having this setting, a hidden natural jewel situated within the tall skyscrapers of yesterday and today, will be the perfect backdrop for my theatre, where the real people who occupy the park every day will stand in as Commedia dell'arte performers."
Brooke Kamin Rapaport, Martin Friedman Senior Curator of the Madison Square Park Conservancy, comments: "It has been fascinating to work with Rachel Feinstein to realize these imaginary stage sets as they transformed from her layered, handmade paper models to large-scale, architectural, aluminum lawn sculptures. The artist's whimsical vignettes bring a fairy tale narrative to Madison Square Park because Rachel has created a unique occasion for the public to enliven her work with their participation."
Common curiosities of European landscape architecture since the late 1500s, follies swelled in numbers through the nineteenth century. Taking on a range of forms such as a gothic-style ruin or a grotto, they served the excesses of imagination, solely for amusement and ornamentation. As decoration, they sampled anachronistic styles and indulged a fanciful sense of history. Feinstein's sculptures draw on the emptiness of a place that was once filled with excitement and promise, reminiscent of the ruins and decay in artist Giovanni Battista Piranesi's landscapes. Folly contemporizes a bygone architectural form by receiving viewers into the artist's constructed twenty-first century scenario.
About the Artist:
Rachel Feinstein (American, b. 1971) lives and works in New York City. Feinstein holds a BA from Columbia University in New York, and studied at the Skowhegan School of Painting and Sculpture, Skowhegan, Maine.
Feinstein has mounted solo exhibitions at Lever House, New York; Le Consortium, Dijon, France; Marianne Boesky Gallery, New York; Corvi-Mora, London; Gagosian Gallery, Rome; and White Columns, New York. Her work has been included in group exhibitions at MoMA PS1, Long Island City, NY; SCAD Museum of Art, Savannah, GA; Gavin Brown's enterprise, New York; Friedrich Petzel Gallery, New York; Sprueth Magers, Cologne.
Rachel Feinstein is represented by Marianne Boesky Gallery, New York and has a forthcoming exhibition with the gallery in the winter of 2014/2015.
Follow Artists In This Show