Tony Cragg: Walks of Life
Sep 18th, 2014 – Feb 8th, 2015
New York, 23rd Street and 5th Avenue
Map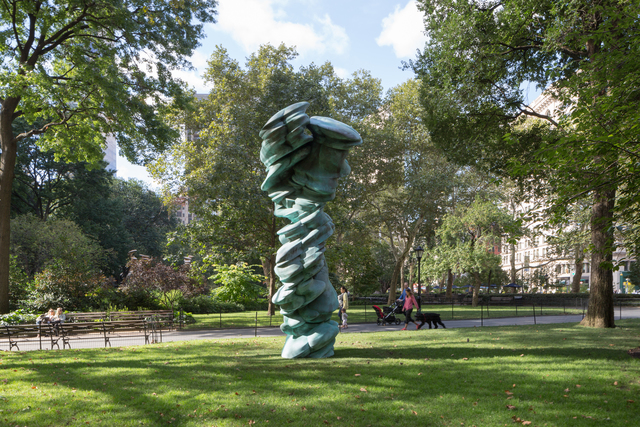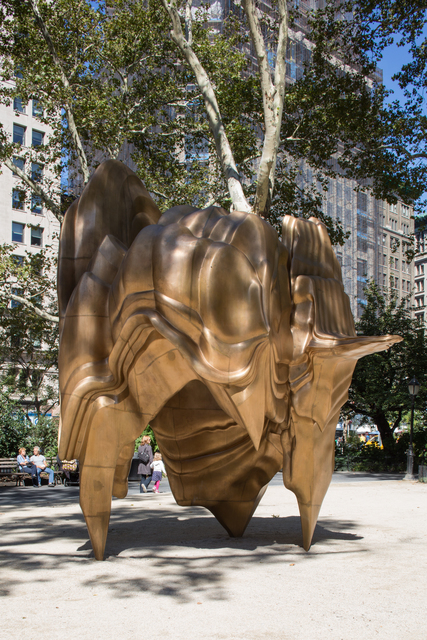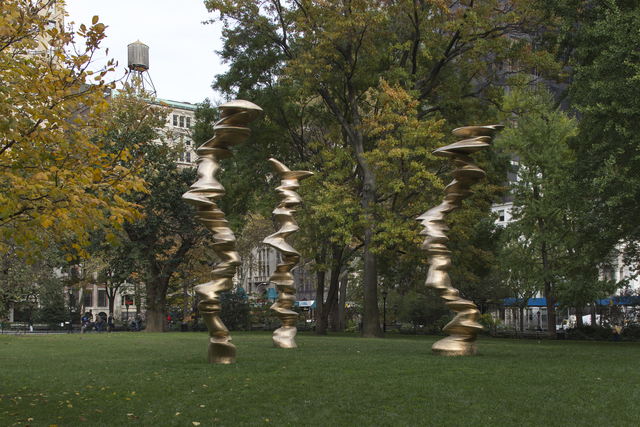 Press Release
NEW YORK, July 24, 2014—Mad. Sq. Art, the free, contemporary art program of the Madison Square Park Conservancy, announces its Fall and Winter exhibitions featuring commissioned artworks made by internationally renowned sculptor Tony Cragg and New York-based visual artist and landscape designer Paula Hayes.
Tony Cragg's Walks of Life consists of three monumental bronze sculptures on three lawns in the Park. Cragg's exhibition will be on view from September 18, 2014 through February 8, 2015.
Paula Hayes's first outdoor sculpture exhibition in New York City will be on view throughout the Park from February 19 to April 19, 2015. Gazing Globes features eighteen crystal balls that hold the detritus of contemporary culture, including used batteries, computer parts, and other remnants of technology sprinkled with fairy dust made of pulverized CDs.
Brooke Kamin Rapaport, Martin Friedman Senior Curator, Madison Square Park Conservancy, said, "With the launch of our fall and winter exhibitions by Tony Cragg and Paula Hayes, Mad. Sq. Art is confirming this period of stylistic polyphony in contemporary outdoor sculpture. Cragg creates monumental work in bronze—a medium with a storied history—with a fluidity that pushes the very properties of that material. Hayes, by contrast, uses the residue of technology for the contents of her gazing globes."
Tony Cragg's work supplants any longstanding art historical division between abstraction and figuration: his sculptural innovation is to fuse both styles in one work and to make bronze into a malleable material. Cragg's sculpture is characterized by repeated facial profiles and torqueing imagery that reshapes the experienced world. These forms intermingle to create vital objects where contours shift and morph, provoking the viewer to differentiate between a work of humanism and a work of dynamism.
In an interview, the artist said: "I think that sculpture is a kind of sensitizing activity and that it has a role in being a catalyst that may lead to more sensitive thinking. It's a materialist's tool, which I would hope would also lead to a more open-minded approach to the world around us."
Installed on the west gravel section of the Park, Cragg's Caldera is a strapping, tumultuous sculpture that rests on three points. Viewers will have the opportunity to walk beneath the work to experience its massive presence. At eighteen feet high, Mixed Feelings will command a northern lawn. Three times human height, the object is simultaneously immense and elegant. Points of View is a tripartite work of sinuous forms which interact with one another and with the viewer on the Park's Oval Lawn. Facial profiles zig and zag across each column's surface. All three sculptures in this exhibition were cast specifically for Madison Square Park.
Follow Artists In This Show