Teresita Fernández: As Above So Below
May 24th, 2014 – Apr 1st, 2015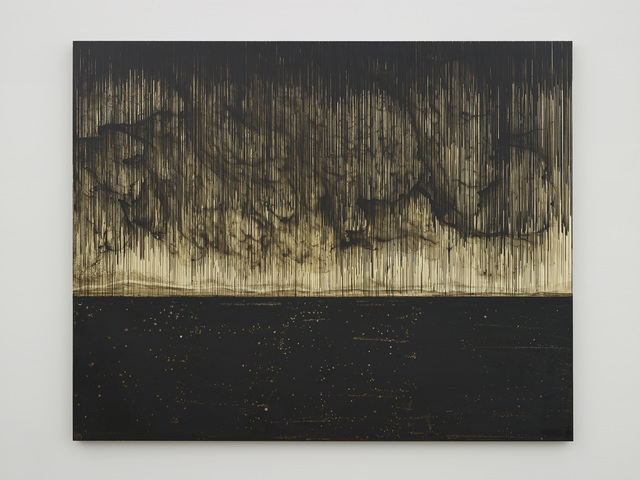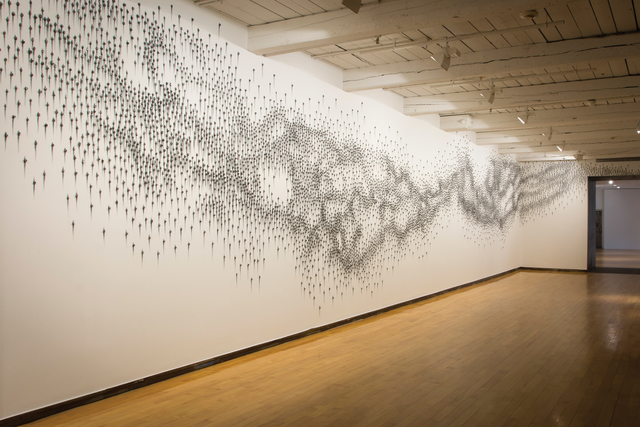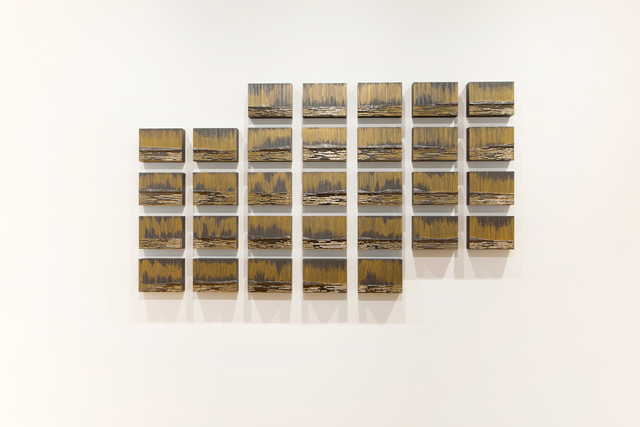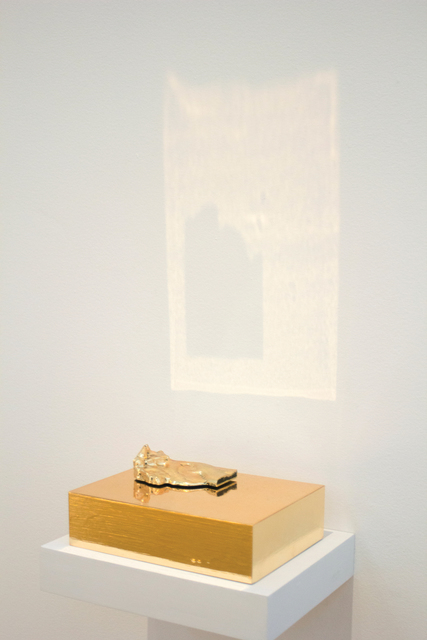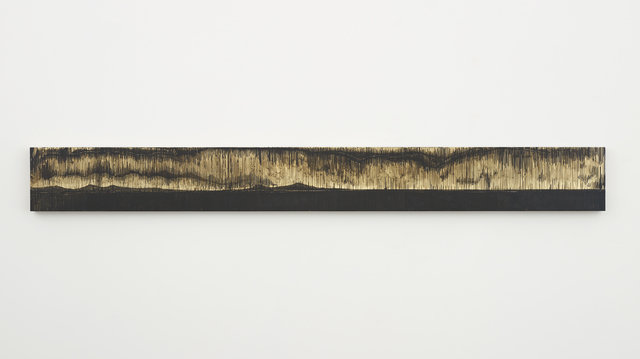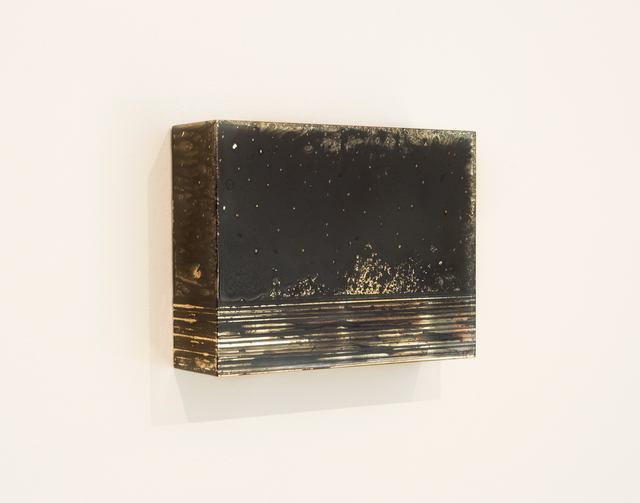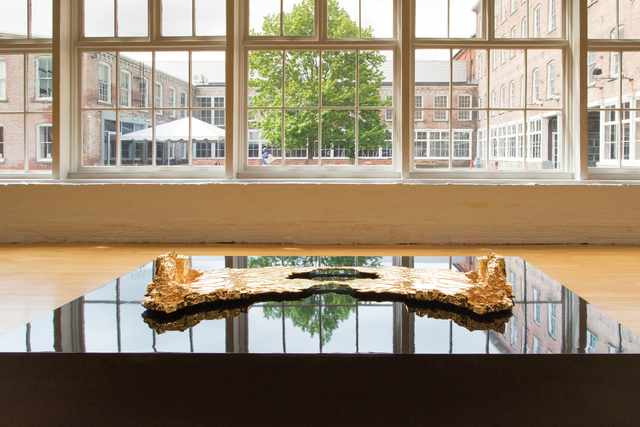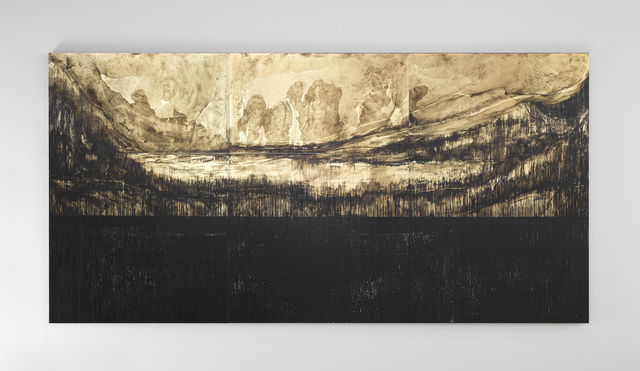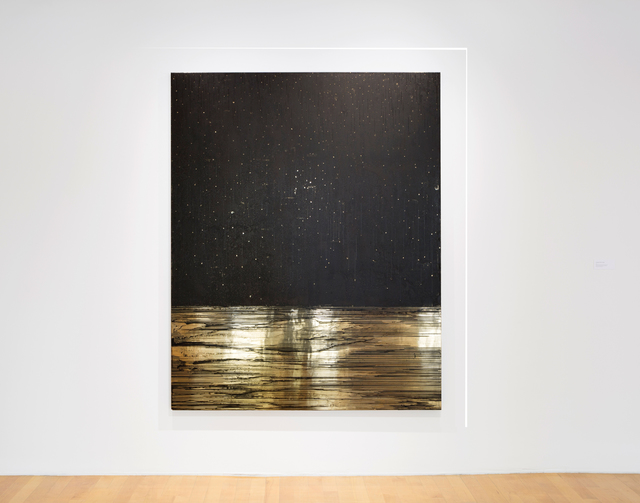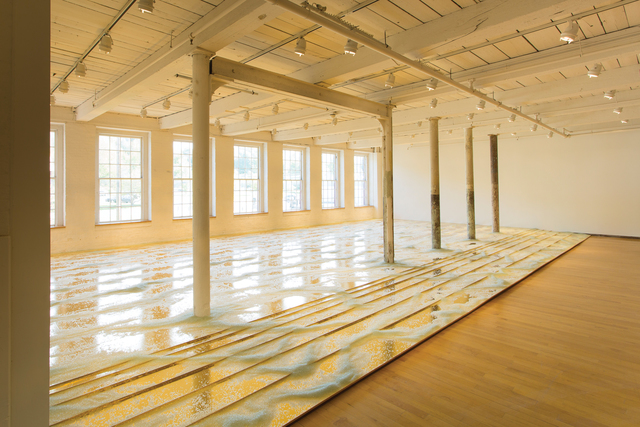 Press Release
Demonstrating the artist's remarkable ability to transform materials and their surrounding architecture into an enveloping perceptual experience, Teresita Fernández: As Above So Below combines graphite and gold to create a series of immersive, interconnected installations whose scale shifts from intimate to vast, from miniature to panoramic. Fernández's largest solo exhibition to date, As Above So Below is made up entirely of new works.
Describing a universe in balance, the phrase "as above, so below" originates from the ancient Hermetic tradition central to alchemy, in which every action occurring on one level of reality (physical, emotional, or mental) correlates to every other. Responding to MASS MoCA's massive and light-filled first-floor galleries, Fernández's trio of new landscape-informed, large-scale installations embodies this expression, and is united through the show's elaborately detailed exploration of two essential minerals.
In MASS MoCA's triple-height gallery, occupying more than half of the 128' x 29' space, an installation titled Black Sun, 2014, evokes an amplified, glowing, cloud cover when viewed from underneath. When observed from overlooking mezzanine balconies, the same elements become vast topographical landscapes. Slowly gradating in color from amber to solid black, and composed of thousands of translucent tubes suspended from the ceiling, Black Sun creates a series of overlapping atmospheric planes; the entire work changes in an instant with the shifting natural light, and at times appears a slowly moving cinematic dissolve.
The second work, Sfumato (Epic), is a large-scale site-specific installation that spreads across the walls of the museum's central galleries like an organic swarm. The work consists of over 40,000 small rocks of raw, mined graphite – each with a small, hand-drawn, graphite mark, almost like a cosmic trail – emanating from each fragment. In its entirety, Epic functions as a constellation. Up close, individual graphite elements and clusters become miniaturized landscapes of their own.
The title of the third installation, Lunar (Theatre), 2014, alludes to poet Susan Howe's line, "The Sea is a Theater." Here, Howe is referencing the cinematic and theatrical quality of looking at and being enclosed within the landscape. For this work, Fernández – taking full advantage of MASS MoCA's naturally lit galleries – fills an 800 square-foot space with a virtual sea of small glass beads. The translucent beads, arranged on a highly reflective gold surface, reflect or absorb light, alternately allowing the gold surface to be exposed and reflect, or for the beads to become opaque as they accumulate. The work alludes to the magnetic pull from heavenly bodies and the moon's tidal influence down below, experienced as a phenomenal landscape event. The result is like looking across a vast sea that mirrors and refracts the changing light from the peripheral windows.
Alongside these dramatic architectural interventions, the exhibition includes new drawings made with India ink on reflective gold-chromed panels from Fernández's most recent series, Golden. These works continue the artist's inquiries into landscape painting, mining, the connections between the cosmos and the subterranean, and the cultural significance of gold. The series encompasses striking shifts of scale, including panels as small as 7.5 x 9 inches alongside a massive triptych, Golden (Obsidian Sky), 2014, which measures 24 feet long. The thick, visceral pitch-black depth of the ink marks on top of the mirror-like surface explores painterly conventions of figure-in-the-landscape by superimposing the viewer's own distorted reflection into the image, making it appear and dissolve into the work.
About the Artist
Teresita Fernández (b. 1968, Miami, Florida) is a 2005 MacArthur Foundation Fellow, the recipient of a Guggenheim Fellowship, a National Endowment for the Arts artist's grant winner, an American Academy in Rome Affiliated Fellow, and a Louis Comfort Tiffany Biennial Award recipient. In 2011, President Obama appointed Fernández to serve on the U.S. Commission of Fine Arts, a federal panel that advises the President, Congress, and governmental agencies on national matters of design and aesthetics. Fernández's large-scale commissions and site-specific works include "Hothouse" at The Museum of Modern Art, New York; "Blind Blue Landscape" at the Benesse Art Site in Naoshima, Japan; "Stacked Waters" at the Blanton Museum of Art in Austin, Texas, and "Seattle Cloud Cover" for the Seattle Art Museum's Olympic Sculpture Park. Fernández has exhibited at the San Francisco Museum of Modern Art; the Modern Art Museum of Fort Worth, TX; Castello di Rivoli, Turin, Italy; and the Centro de Arte Contemporáneo (CAC) in Málaga, Spain. She received her M.F.A. from Virginia Commonwealth University and her B.F.A. from Florida International University. She lives and works in Brooklyn, NY, and is represented by the Lehmann Maupin Gallery, New York and Hong Kong.
Follow Artists In This Show