Then She Did
Then She Did is a story, a moment, a change, a reflection, a movement forward; a space full of words, images, objects, people and their voices. Then She Did is a personal step of reckoning. It is the scream that is the loudest but often the most silent. It is the ugly and it is...
Mar 3rd – Apr 7th 2018
Long Island City, Plaxall Gallery 5-46 46th Ave
Map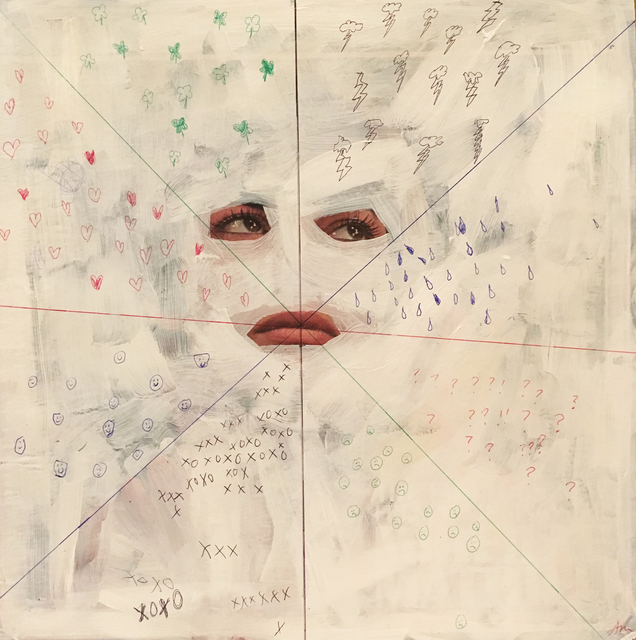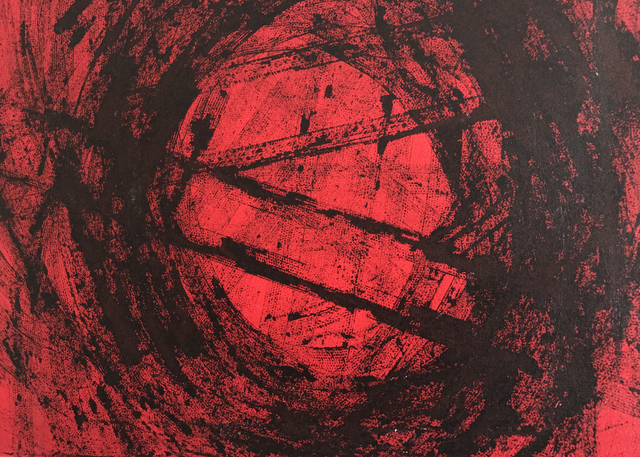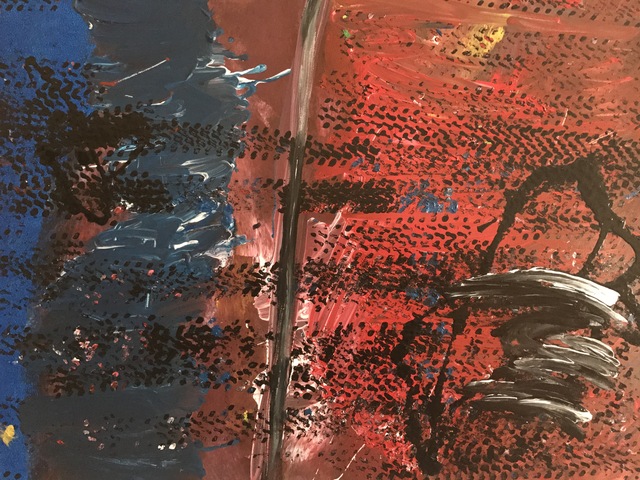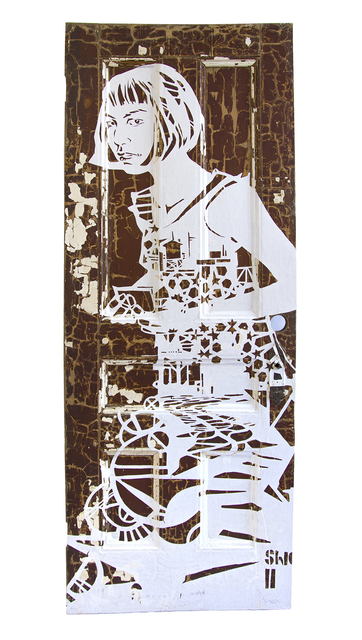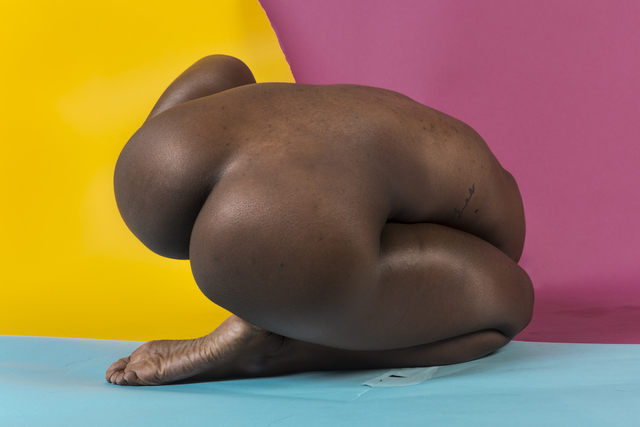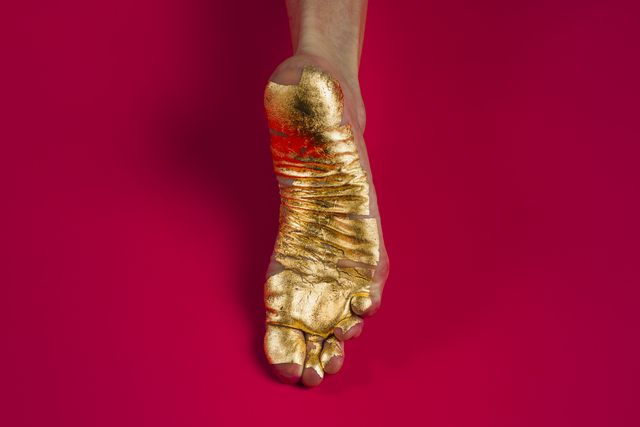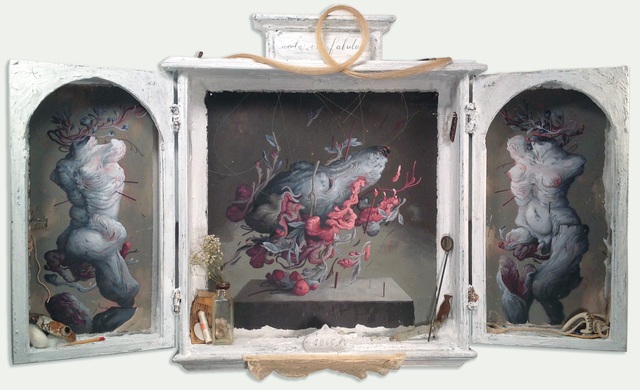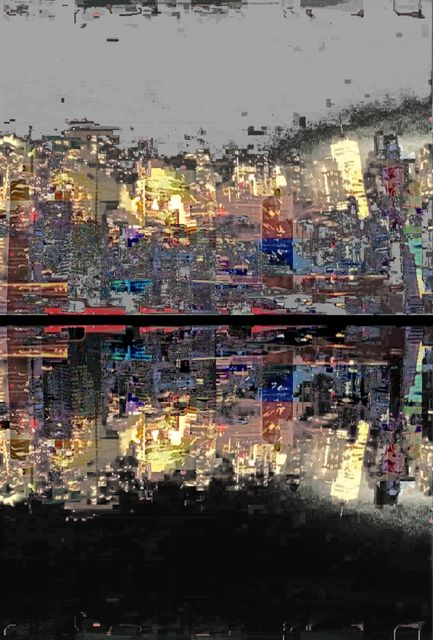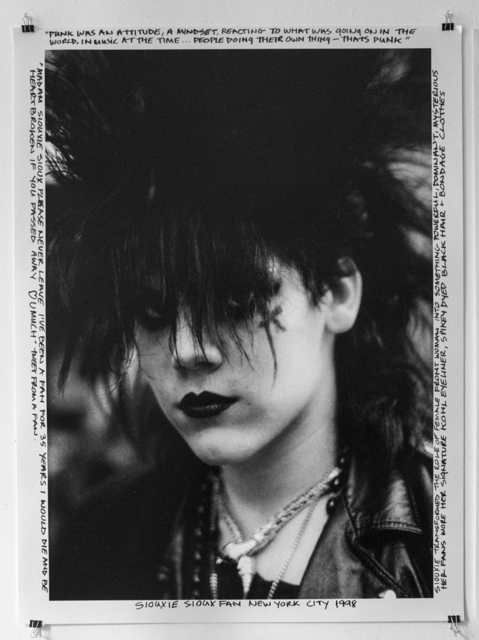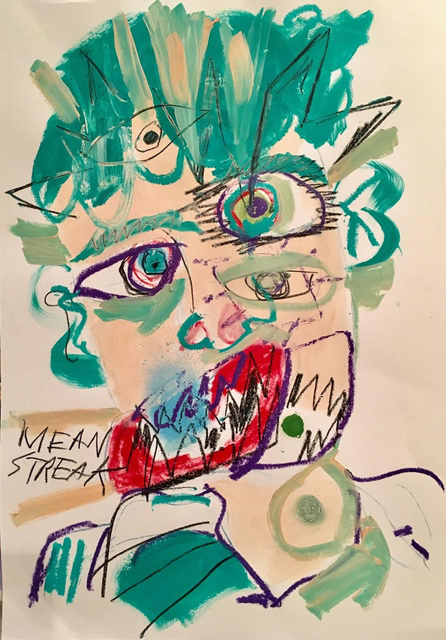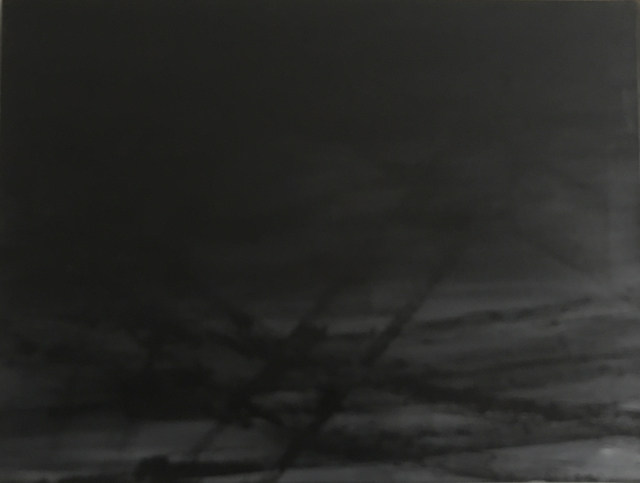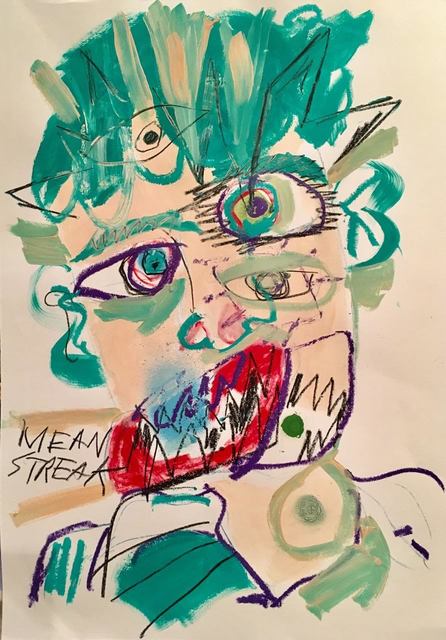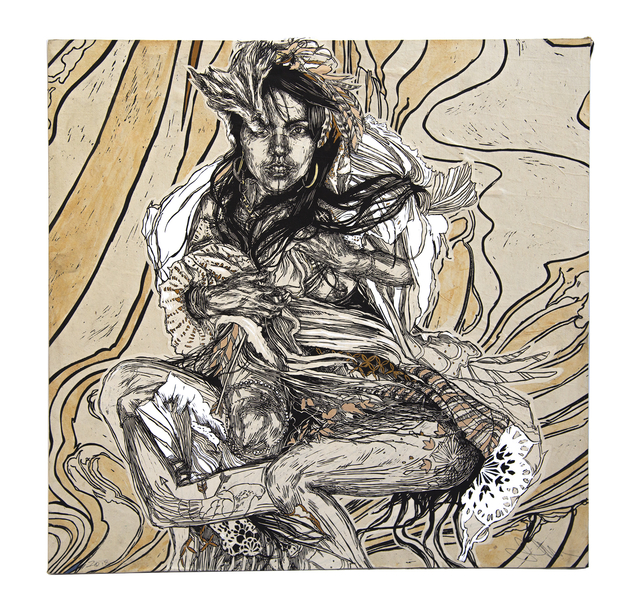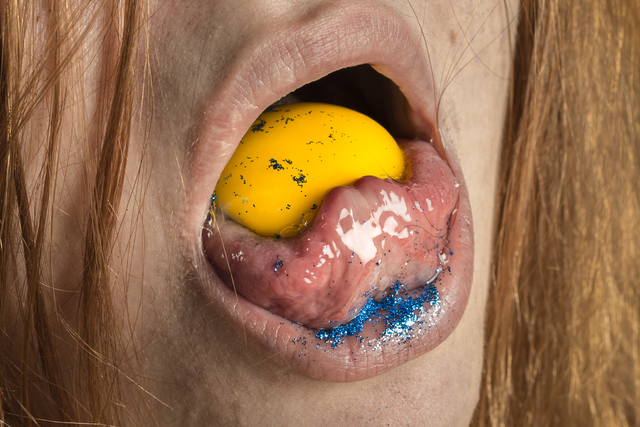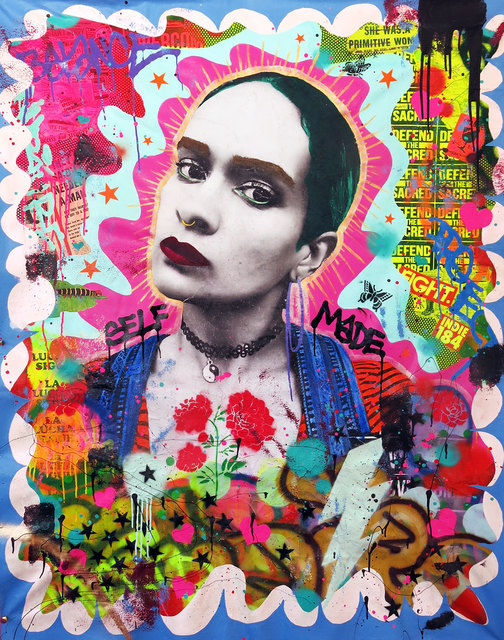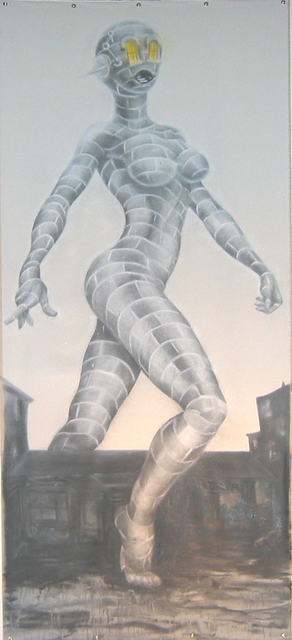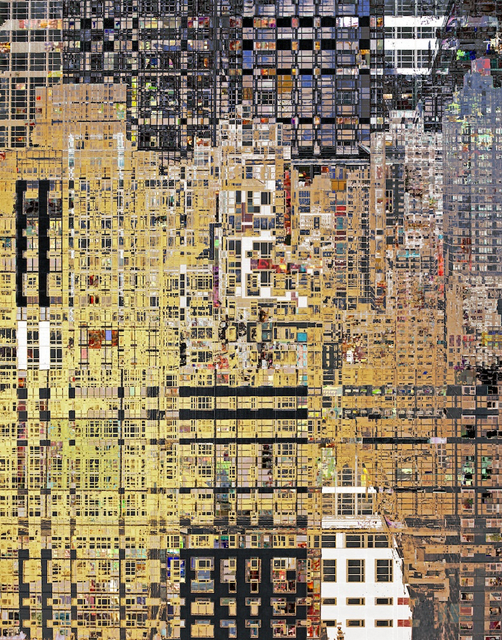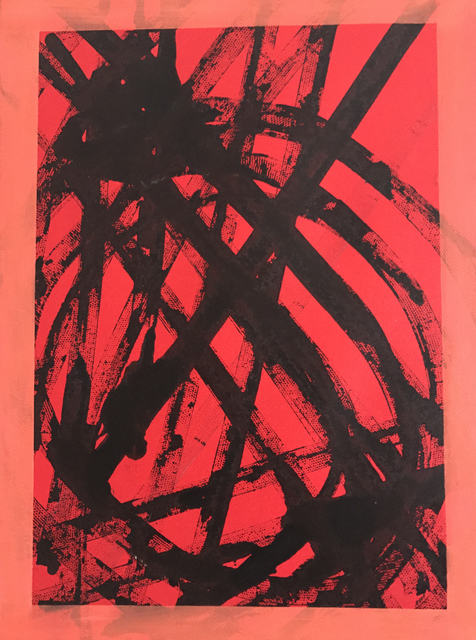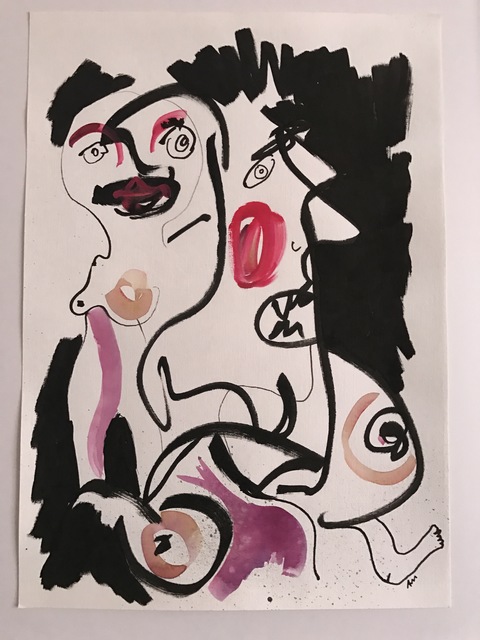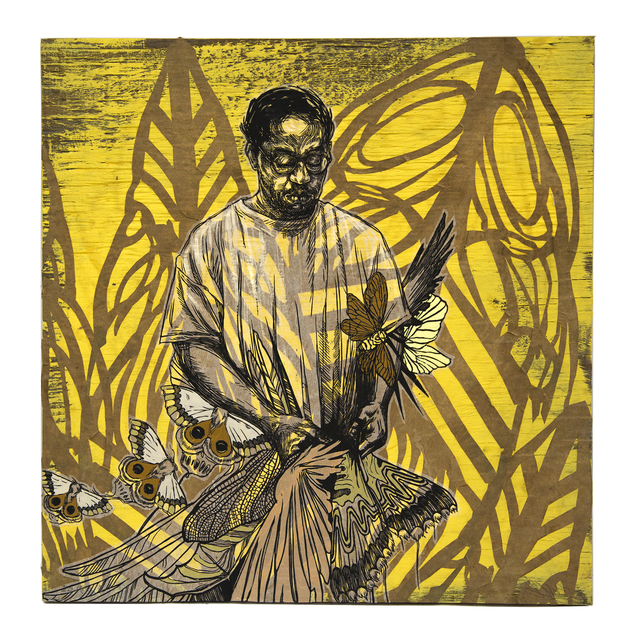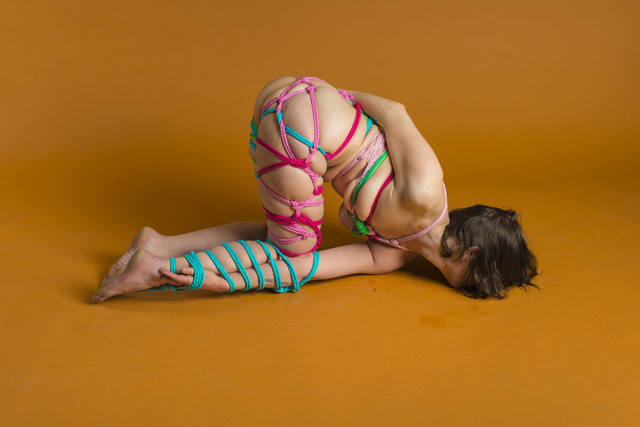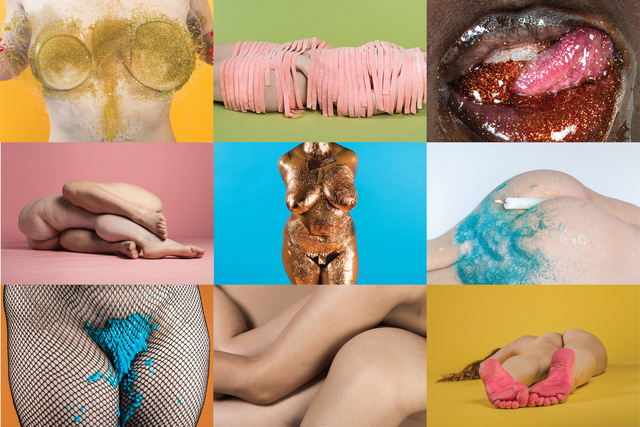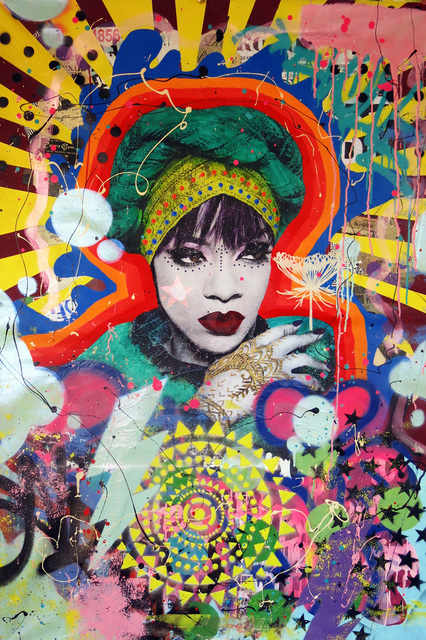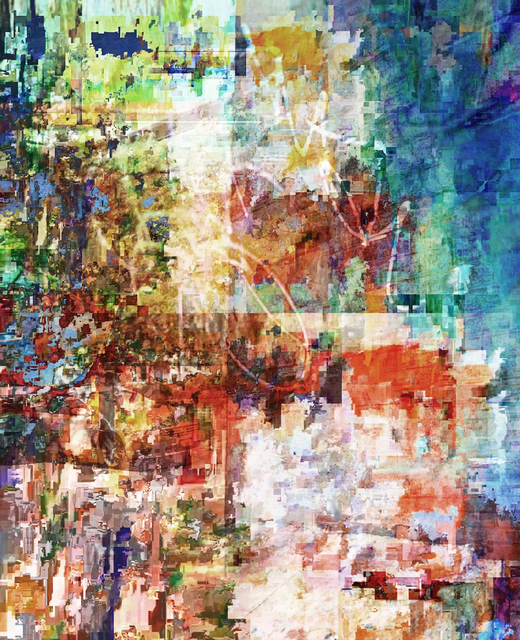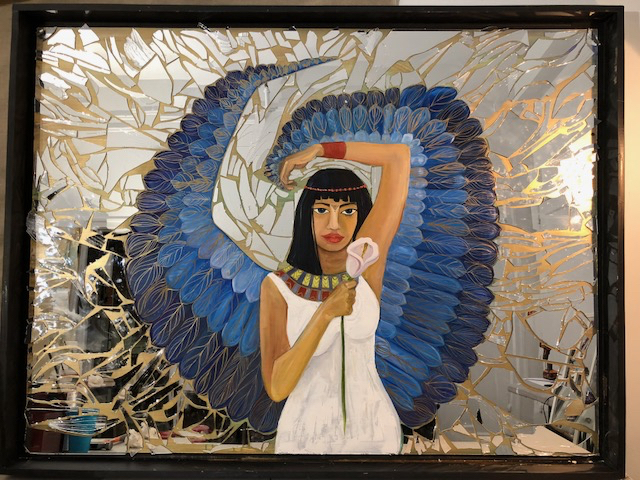 Press Release
February 20, 2018, NEW YORK, NY — Curators Lori Zimmer and Melissa McCaig-Welles are pleased to present "Then She Did", a mixed media group exhibition opening Saturday March 3rd from 6-10pm at The Plaxall Gallery LIC, featuring works by Alexandra Momin, Alice Mizrachi, Alison Mosshart, Allison Sommers, Audrey Dimola, Caitlin Harris, Chinon Maria, Elizabeth Winnel, Indie 184, Janette Beckman, Joanne Leah, Karen Dimit, Kathryn Rose, Katrina del Mar, Kendra Heisler, Lady Pink, Marne Lucas, Paola Martinez, Queen Andrea, Rebecca Reeve, Swoon, Vahge and Vicky Barranguet
Now her paints are dry…
And I looked outside…
At the corner boys, yeah…
Ayh, oh, where did you go?
I don't know.
Then She Did is a story, a moment, a change, a reflection, a movement forward; a space full of words, images, objects, people and their voices. Then She Did is a personal step of reckoning. It is the scream that is the loudest but often the most silent. It is the ugly and it is the most beautiful. Then She Did is the ordinary person who did something small that changed the entire world.
Then She Did is an exhibition of artists who tell us her story.
Curators' note:
The artists from Then She Did not only choose who they want to be but also how they want to think and how they want to influence others. They take us on a journey through the personal revolutions of everyday women in America, whose diverse methods and beliefs are only stronger when unified. The catalyst for change has become sidetracked with a judgmental wave, a seemingly widespread personal obsession with being "right" that has somehow taken precedence over working toward what's right. Incessant attacks over doing too much or not enough, speaking or not speaking, forgetting to include a group or an issue, including too many groups or issues- we've begun to pick apart how we enact change, which deters change from happening itself. This distraction of in-fighting doesn't get anyone anywhere, stalls progress, and creates enemies of allies. Then She Did presents various approaches and views on sexuality, strength, femininity, independence, support, societal norms, roles, methodology, art, and activism, which speak instead of shout, and invite discussion instead of criticism.
The Plaxall Gallery
5-25 46th AVE
LIC, NY 11101
(917) 287-3093
Opening Reception: Saturday, March 3, 2018 6pm- 10pm
Exhibition dates: March 3rd - April 7, 2018
Gallery Hours: Thursday 6pm- 10pm Saturday and Sundays 11am- 6pm
For more information, please contact Lori@ArtnerdNewYork or Melissa@McCaigWelles.com
ARTIST BIOS:
Alexandra Momin is a contemporary artist living and working in New York City who focuses on photography based urban landscape. Influenced by the city's complex and multifarious facades, she explores the boundaries of photography by digitally layering and removing elements of the images and at times introducing layers of digitized video stills. This technique results in an abstract painterly approach. The works are printed direct to aluminum or acrylic with UV ink, which creates a strong physical presence and reflects the lighting of their surroundings. She received a BFA in Fine Art from New Jersey City University and is currently the artist in residence at Urban Studio Unbound Gallery in Yonkers, NY. Her work has been shown throughout New York including The Parrish Art Museum and was published in Nonstop Metropolis: A New York City Atlas by Rebecca Solnit and Joshua Jelly-Schapiro. http://www.alexandramomin.com
Alice Mizrachi is a New York based mixed media artist. Her practice includes work as a muralist, fine artist, educator and curator. Grounded in deep compassion for the human experience across borders, Mizrachi explores both the spiritual and physical dimensions of being human, and in particular- female. Often times, the female figure in various mythical iterations intersects with earthbound feminine forms as a means to communicate and transmit social consciousness. Mizrachi's intentions include the empowerment of self and others through artisti expression, as well as advocacy for women, youth and the environment. Family, community, and tribe are also recurring themes and are approached as active spaces of shared engagement. http://www.alicemizrachi.com
Alison Mosshart is a 39 year old artist, musician and writer currently residing in Nashville and Los Angeles. She is best known for her work in her musical duo The Kills, as well as fronting the Grammy nominated Nashville based rock n' roll band, The Dead Weather. She has released upwards of 15 albums in her musical career and has toured around the world performing for the last 25 years. Mosshart is also a visual artist, working in paints, multi-media and photography. She studied two years of art at the University of Florida, following a brief unrecorded spell at the University of Honolulu learning print making in the middle of the night. She is for the most part, self taught. She has had artwork in numerous group shows in New York at Art Now NY, the Zener Schon Gallery in California, and has had two major solo shows, Fire Power, June 2015, at the Joseph Gross Gallery in NYC and in 2017 at Maxfields in Los Angeles, and Tonight Only, in Mussel Shoals, Alabama in 2016.
Mosshart's painting style varies, from fast driven screaming lines, to surreal and abstract. Often there are many faces, many mouths, many eyes, many moods in one piece. A coming together through disconnection, a world view as seen through a bullet train window, love and fear and terror and hope. Always inspired by travel and music, life and the heart, and painted as if a performance itself. Rarely there is a plan, other than to start. The work is often visceral and raw. http://alisonmosshart.com
Allison Sommers is a Brooklyn-based art-worker. A self-taught artist, she graduated from the University of Virginia with a Bachelor of Arts in History and a concentration in Early Modern England. Sommers' work combines the supple with the grotesque, drawing imagery from pink viscera, heroic dogs, awarded pigeons, chromosomes, war detrius, barnacled crabs, frustrated nostalgia, to create a world that is soft, plushy and palatable. http://allisonsommers.com
Audrey Dimola Celebrated for her dynamic presence on stage and on the page, Queens native Audrey Dimola is a poet, performer, curator, local arts advocate, community organizer, and lifelong artist. She is also Director of Public Programs at her beloved Socrates Sculpture Park in Long Island City. Audrey is the author of two poetry & prose collections, "Decisions We Make While We Dream" (2012) and "TRAVERSALS" (2014), and the forthcoming "WILDLIGHT," and is creator of the Compass Project, a guerrilla poetry sticker initiative that has traveled across the globe spreading positivity. https://audreydimola.com
Caitlin Harris grew up in New York City and is currently in her third year studying Studio Art at Bard College. Caitlin primarily works in oil paint and mixed media casting. Her work is intimate and personal, largely informed by her experience as a young woman living with two autoimmune diseases.
Chinòn Maria was born and raised in the Green Mountains of Vermont. She first began cultivating her creative path by secretly drawing and painting on the walls of her home. She attended the Pont-Aven School of Contemporary Art in France, undergraduate programs through the Rhode Island School of Design and graduated with a BFA from Montana State University. Previously a professional alpine skier, Chinòn Maria began a career in the arts immediately after her retirement from competitive sports at 24. Her Colombian roots have greatly impacted her use of a vibrant colorful palette while her life long influences of textile design, the golden age of animation, urban street art and the fashion industry are present throughout her work. An advocate of child education, gender equality, and immigration rights, Chinon Maria's artistic narrative typically surrounds these topics and believes it is crucial to have communities involved in her work to actively inspire others through creativity. In Fall 2017, Chinon Maria completed One World Our Children Mural #MuralToUnite at the World trade Center Campus! Over 200 ft long and 2,400 square feet. The project was commissioned by the Downtown Alliance of New York and partnered with USA for the United Nations High Commission of Refugees. http://www.chinonmaria.com
Elizabeth Winnel is a Canadian born artist residing in Savannah, known for her hyperrealistic portraits using herself as muse. She explores versions of the private and public self, feminine identity and most recently has focused on nuances of her own mouth, teeth and awkward facial expressions. Her paintings of
the mouth are sometimes in the most beautiful and realistic forms, painted with makeup in all colors and in states of smeared, and removed lipstick. She takes what people go through, covers it up and glosses it over. http://elizabethwinnel.com
Indie184, (born 1980) is a native New Yorker, has been active in the graffiti culture for over a decade and a half. Determined to express herself to the world through art, she quit business college to teach herself how to sew, paint and produce graphic design. Influenced by abstract expressionism and pop art, her paintings are raptures of color and textures fused with of her original graffiti and street art, imagery, and designs juxtaposed with personal messages. Indie's art has been exhibited in galleries and museums worldwide, including El Museo del Barrio in New York City and Völklingen Ironworks Museum, in Saarbrücken Germany. You can find her graffiti pieces in the streets from the South Bronx to Paris. Her current endeavors also include designing the latest collection for her streetwear brand Kweenz Destroy. Indie's graffiti was featured the record breaking Rockstar Games' Grand Theft Auto IV video game. Her most recent collaborations have been with M·A·C Cosmetics, Marvel and Netflix. Catch her creating her latest work in the streets or painting in her studio. Indie184 Is Rimmel London's New Chief Artistic Officer. http://www.indie184.com
Janette Beckman is a British-born photographer who now lives and works in New York. She began her career at the dawn of punk rock working for The Face and Melody Maker. She shot bands from The Clash to Boy George as well as three Police album covers. Moving to NYC in 1983 she was drawn to the underground hip-hop scene and photographed pioneers such as Run DMC, Slick Rick, Salt'n'Pepa, Grand Master Flash and LL Cool J. Beckman has published four books: 'Rap, Portraits & Lyrics of a Generation of Black Rockers', 'Made In The UK The Music of Attitude 1977-1983', 'The Breaks, Stylin' and Profilin' 1982- 1990′ and 'El Hoyo Maravilla'. Her work has been shown in galleries worldwide and is in the permanent collections of the Smithsonian Museum and the Museum of the City of New York. She is represented by the Fahey Klein Gallery. Beckman continues to chronicle sub-cultures of our generation and as well as working on shoots for fashion brands such as Levis, and Dior.' http://janettebeckman.com
Joanne Leah is a Brooklyn-based artist who creates photo-based images that portray a series of contorted nude body parts, juxtaposed with ordinary yet highly stylized props. Using color as her narrative, she takes the viewer on an eerie trip through staged, fairytale crime scenes. She draws from her own personal experiences with the unreal, by acts of rebellion and psychedelic voyeurism, repeated frequently as a teenager. Exploring themes of isolation, detachment and self-identity, she challenges the viewer to react to the human form and tactile quality of fluids, fleshiness and voluptuousness. http://joanneleah.com
Karen Dimit, The "Subway Goddess Pageant" series is in response to recognizing the effects my Patriarchal upbringing had on my sense of self-worth. The sculptures juxtapose ancient powerful female figures, carved in stone, with these goddesses today, done in mosaics. The mosaic goddesses are light-hearted, but they are perhaps less confident and more superficial, tinged with a sense of something lost. Again, the process mirrors the concept: mosaicing on a 3D form is literally superficial (applying a skin on a substrate), versus digging the inner goddess out of the depths of a stone. As the series progressed, the mosaic women became noticeably stronger, reclaiming the knowledge of their power. www.kkdimit.com
Kathryn Rose, trained as a traditional oil painter, paints photorealistic portraits with a whimsical twist. She is a graduate of Parsons: The New School of Design in NYC and is a full time painter based in Brooklyn. The often barely visible things in K.r.'s work are where the stories and commentary are hidden. Throughout all of her pieces scale is used as a way to stretch the limits of imagination and to put emphasis on certain ideas or themes. Each painting displays a large, central figure that acts as a theatre for tiny painted creatures to perform stories. Typically beside each piece a magnifying glass is hung in order see the minutely painted details. She is currently working on a new series which approaches the topic of women in relation to wallpaper and roses, and women's ability to excite change and lessen violence. For the past year, she has been in the process of writing a novel titled, Roblet. The word "roblet" is a verb that is no longer used in the English language meaning to lead astray. Her book serves as the background for many of her pieces. http://krkitsch.com
Katrina del Mar is a New York-based photographer, video artist, writer, and award- winning film director. She is perhaps best known for her decades-long work in video and photography, chronicling the reality and illusion of her Lower East Side friends and lovers as punk heroines; or within her girl gang movie world of strictly female population. Creating a family tree indebted equally to B-movies and diaristic photography, del Mar's defiantly queer photographs and videos are iconic alternatives to the cultural status quo, offering an exuberant, hyper-stylized sexuality, an unapologetic feminist voice, and often guerilla-style production tactics. Her solo exhibition GIRLS GIRLS GIRLS was presented in January 2013 at Participant Inc. in New York. Del Mar has shown her critically acclaimed "Girl Gang Trilogy" of films internationally, including venues such as the Museum for Contemporary Art (CAPC), Bordeaux, France, the Fringe Film Festival, London, UK, 2012; the MoMA Dome 2 in Rockaway Beach. Del Mar's work has garnered numerous awards including a fellowship in video from the New York Foundation for the Arts. http://katrinadelmar.com
Kendra Heisler is a Brooklyn bred photographer who specializes in narrative and conceptual imagery. Her current series 'Shot on a Scandal' is based on Americana taboos and saucy societal secrets. Each image is carefully staged with the hope of exploring conversation about the patriarchal practices of our country's past, the dichotomy of infidelity and the nuclear family, and the incredible secrets that lurk in our less documented history. www.kendraheisler.com
Lady Pink was born in Ecuador, raised in NYC and currently resides in the countryside north of the city. In 1979 she started writing graffiti and soon was well known as the only female capable of competing with the boys in the graffiti subculture. Pink painted subway trains from the years 1979-1985. In 1982 she had a starring role the motion picture "Wild Style". That role and her other significant contributions to graffiti have made her a cult figure in the hip-hop subculture.
While still in high school she was already exhibiting paintings in art galleries, and at the age of 21 had her first solo show at the Moore College of Art. As a leading participant in the rise of graffiti-based art, Lady Pink's canvases have entered important art collections such as those of the Whitney Museum, the MET in New York City, the Brooklyn Museum and the Groningen Museum of Holland. She has established herself in the fine arts world, and her paintings are highly prized by collectors.
Today, Lady Pink continues to create new paintings on canvas that express her unique personal vision. She also shares her 30 years of experience with teens by holding mural workshops and actively lecturing to college students throughout the world. http://www.ladypinknyc.com
Marne Lucas aka CuntemporaryArtist is a multidisciplinary artist based in Harlem, New York, using photography, video and installation to present unique aesthetic or social philosophies. Central to her practice are investigations of nature, culture, and the body, working in conceptual overlaps: life's energy, the environment, beauty, identity, intimacy and mortality. In experimental videos and photographs, she uses military imaging technology to reference surveillance culture and the fragility of human existence. Her recent black & white infrared short film Haute Flash (2017), is part of 'Transitional States: Hormones at the Crossroads of Art and Science', a video exhibition and lecture series at Space Plus, Lincoln, U.K, Peltz Gallery, London, Centre de Cultura Contemporània de Barcelona, and Sala Borsa, Bologna. Previous infrared collaborations with Jacob Pander are Incident Energy (2013) a multichannel video installation, and their most famous work 'The Operation' (1995) depicts an eerie, sci-fi, surgeon/patient coupling in an operation room theater; the result merged fine art with invasive imaging technology and the body, and became a cult classic, garnering many awards including Best Experimental Film, NY Underground Film Festival and screened at the ICA London. http://www.marnelucas.com
Paola Martinez-Fiterre
My artwork reflects what being a young, Cuban woman means. Often stereotypes and gender expectations influence the way Cuban women act. Women are taught to clean, cook and expected to raise kids. As a young girl I felt uneasy with people's comments and strongly believed that I should be able to make my own choices without having to worry about what others would say. My work recognizes the beauty of femininity and encourages women to love themselves.
I want to provoke reactions that may not be pleasant. I want to show female bodies doing what "they are not supposed to do". I want female bodies showing what "they are not supposed to show." I want to show that women can control their own existence and feel great about it. paolamartinezphotography.squarespace.com
Queen Andrea, born Andrea von Bujdoss is a NYC-based fine artist, graffiti artist, typographer and graphic designer. A die-hard native New Yorker raised in downtown Manhattan, Andrea has been deeply inspired by the urban landscape from an early age. Her style is consistently marked by a bold use of color, design and advanced typography. As a young teen part of a newer generation of early 1990's graffiti writers, she befriended some of the most prolific old school subway graffiti writers and diligently taught herself the complicated artform of graffiti by consistently practicing her letters and eventually developing her own unique style. She earned a BFA in Graphic Design and began a successful career, working for worldwide brands who appreciate her versatile and passionate knowledge of typography, branding and visual communication. Her work has directly impacted graffiti, streetwear and urban culture. Andrea has spent nearly 20 years perfecting her graffiti and typography skillset and she is now one of the most notable female graffiti artists in the world. http://www.superfreshdesign.com
Rebecca Reeve was born in London, England. She received her Bachelor of Fine Arts degree at Bath Spa University and a Masters of Visual Arts at the University of South Wales, Australia. Her photographs have been exhibited nationally and internationally including La Biennale de Montreal, (Canada), Freies Museum, Berlin, (Germany), Museum of Latin American Art, (Buenos Aires), EFA Project Space, (NYC) and the Masur Museum of Art, (Louisiana). In 2013, she was Artist in Residence at Everglades National Park and was the recipient of the Artist in Exploration grant underwritten by Rolex. In 2016 she was the Artist in Residence at Joshua Tree National Park and included as part of the Hermès artist in window program series. She lives and works in New York City. http://www.rebeccareeve.com
Swoon, born Caledonia Curry, is a classically trained visual artist and printmaker who has spent the last 14 years exploring the relationship between people and their built environments. Her work has been collected and shown internationally at galleries and museums, including the Museum of Modern Art, New York; the Brooklyn Museum; the Institute of Contemporary Art, Boston; and the São Paulo Museum of Art. https://swoonstudio.org
Vahge approaches collage as sculptural craft, using tiny pieces of magazine paper to build layered characters and scenes with precise depth, texture, and detail. In her hands, an eye, a stem, a tendril of hair yields its former intention and forms a new narrative. Her collage explores complexities between personal values and public culture. Mixing contemporary images and symbols, Vahge tells intimate and surreal stories
Where light-heartedness challenges uneasiness.
Where self-ownership and valuation are undermined by society.
Where the histories of our societies, families, and even our selves, are often half-invented.
She arranges these moments into celebrations of human fragility.
A self taught artist, Vahge moved to Brooklyn, NY in the fall of 2007, where she currently lives and works. Her collages have been shown and sold worldwide: in Europe, Asia, and North America. She has created album and promotional artwork for a variety of musical acts and companies. http://vahge.com
Vicky Barranguet is a New York-based painter, born in Montevideo, Uruguay, whose work has exhibited both nationally and internationally and has been acquired by various private collections. Her work is embodied by an empirical investigation of the pictorial structure, where processes departing from spontaneous gestures evolve into elaborate and complex systems where improvisation, organization of form and space, and attention to detail are at its core. She created in 2005 the show: Painting Music, a live painting - music show, touring since then through out the world, with original music, nominated for the Latin Grammy Awards, by her partner Gustavo Casenave and participation of Jane Ira Bloom y Federico Britos, Grammy award winners. In 2006, she created a special collection of hand painted dresses, presenting them in Uruguay's Fashion Week '06, '07 & '08, collaborating with different designers. In 2010 she was the featured artist for Jodi Arnold's 2010 collection in New York City, featured in the New York Times. She exhibits a new fresh style of painting revealing a unique voice of complexities that challenges vision and the experience of painting. Her career developed over many years in Uruguay and in United States where she has studied in the recent years with painters such as Larry Poons and William Scharf, and Clever Lara in Uruguay. Barranguet's work has also been commissioned by Nike, Adidas and Longchamp just to mention a few. http://www.vickybarranguet.com
Follow Artists In This Show