Mike Karstens Galerie
IFPDA Fine Art Print Fair 2017
ONE MAN SHOW SIGMAR POLKE. Presentation of the very fruitful collaboration between the printer Mike Karstens and Sigmar Polke during his last live decade.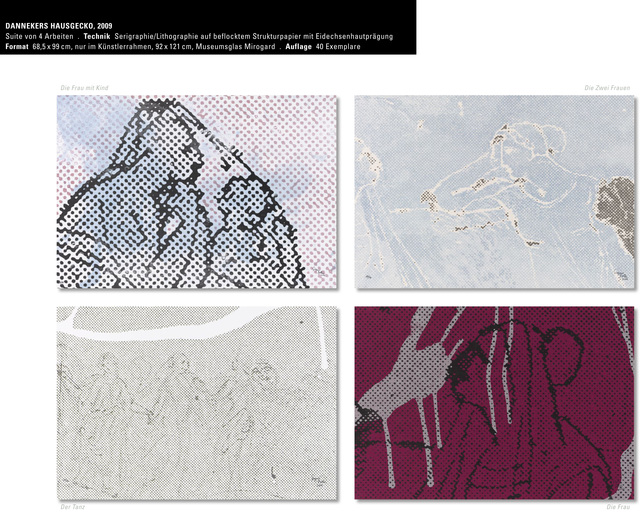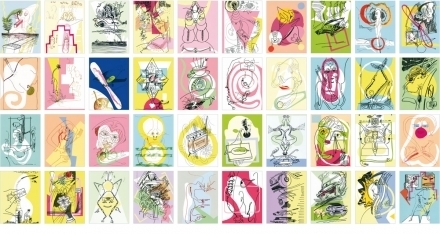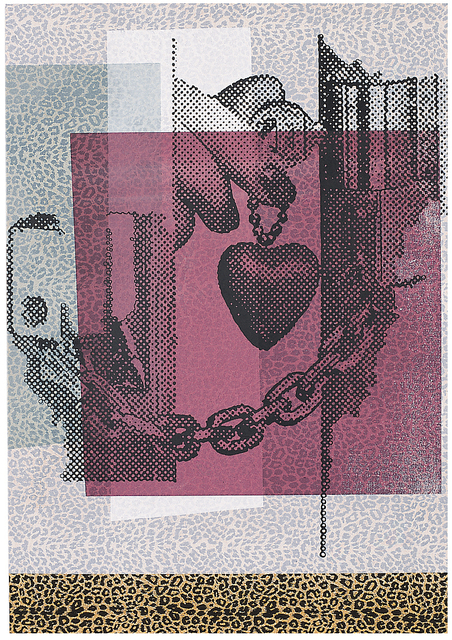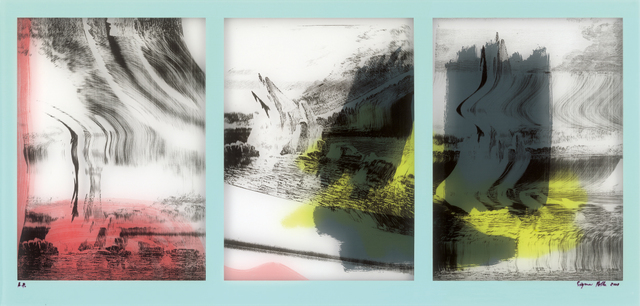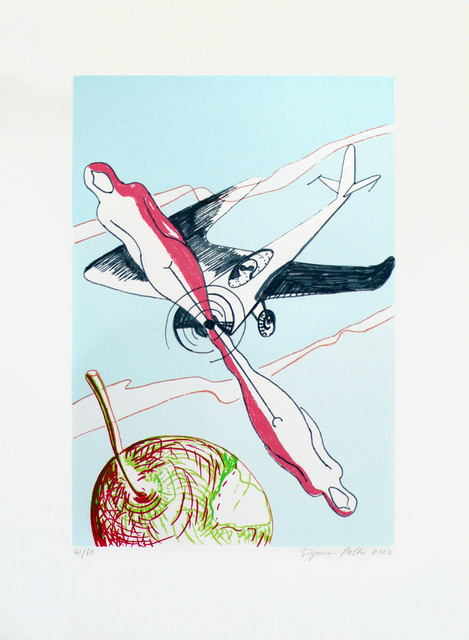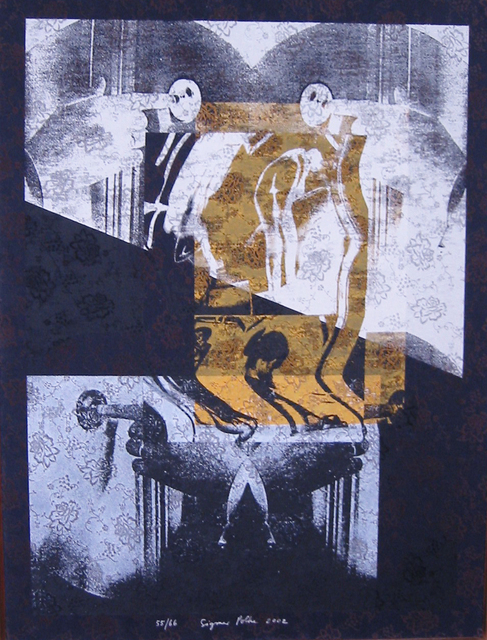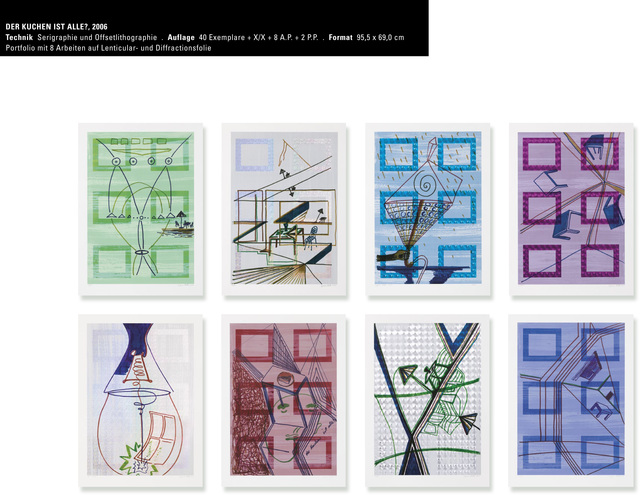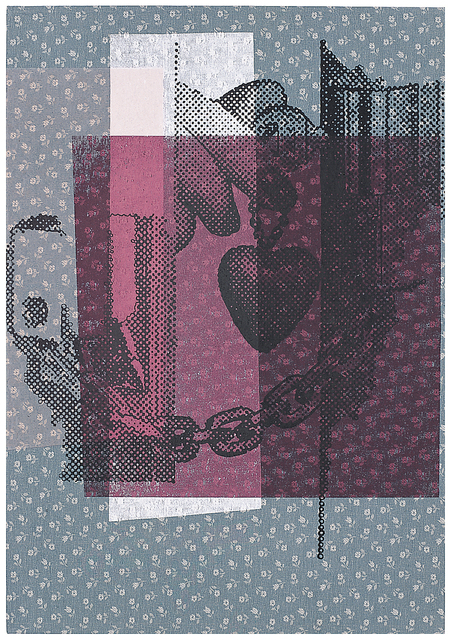 Press Release
PRINTFAIR NEW YORK 2017
ONE MAN SHOW
SIGMAR POLKE
October 26 to 29, 2017, RIVER PAVILION at Javits Center, Booth 300
In 2014, Polke's work was exhibited in a large retrospective, first presented in April at the MoMA in New York, then continuing in October with a show at the TATE MODERN in London, and again in March 2015 at the MUSEUM LUDWIG in Cologne. Finally, his entire graphic works were exhibited at the me-collectors Room in Berlin in the summer of 2017.
The works of this prolific, complex superstar of the international art scene are fascinating due to their variety, wit, and poetic density, as well as the many extraordinary aspects that can be found in their innovative style, formality, and content.
With his work situated between parody and provocation, Polke belongs to those artists who "constantly reinvent themselves."
His complex, amusing, often mysterious works are mainly characterized by projections, reproductions and transformations. Polke not only painted on canvases, but woolen blankets, decorative materials and aerial silk. In his lab-like studio, one could find iridescent interference colors, iron oxide, chlorinated rubber, and polyester.
"He is an alchemist, who one can almost imagine being at the court of Rudolf II in Prague" (Götz Adriani)
Yet Sigmar Polke's path was long and wrought with misunderstandings; only 600 visitors were welcomed to the show by the then young artist, presented at the Kunsthalle Tübingen in 1976. Today, Polke's works are part of major collections and museums, and the artist himself has received an impressive number of important awards, including the Praemium Imperiale , awarded by the Japanese imperial house – the "Nobel Prize" of art.
It was Polke, together with Beuys, Richter, Baselitz and Kiefer, who raised the reputation of fine art in Germany to international acclaim.
He is known to have formulated the following sharply ironic bon mot:
"We cannot simply expect good pictures to be painted one day - we must take matters into our own hands!"
In his essay "On the Difficulty of Meeting Sigmar Polke", the Cologne-based collector, Rainer Speck, has perhaps described the dilemma most accurately: the artist was extremely shy to the public, and unapproachable; In the art scene, he was often known as the "Loch Ness Monster – rarely to be seen...".
For Karstens, the idea of a possible cooperation seemed, therefore, an almost forbidden undertaking.
In the autumn of 2000, however, the prestigious German ranking system for artists, the Kunstkompass, published in the economic magazine, Capital, sought to release a special edition for its readers on the occasion of its 30th anniversary. The number one on that year's "global ranking list for art" required special attention. It was in that year, that Mike Karstens, who also works with other greats such as Gerhard Richter, Kiki Smith or Ilya Kabakov, entered Sigmar Polke's studio for the first time.
The result of this first contact was the now much sought-after edition, "S.H.-oder die Liebe zum Stoff" ("S.H.- or the love of fabric)", in which Polke succeeded, most convincingly, to transfer the quality of his original works to the world of print-graphics. The result is an edition on decor fabrics in 15 variations, wedged together like a canvas.
In the years that followed, Polke developed a series of print-making, which he continued until his death in 2010. In retrospect, this period was remarkably productive, and will find its place in the forthcoming second part of the catalogue raisonné of the editions.
The most important pieces that were created within this decade were realized in his Münster workshop.
The 40 page portfolio "Vollmond im Widder" ("Full Moon in Aries"] from 2004, was regarded by art critics as Sigmar Polke's "Vollard Suite" in reference to Pablo Picasso's famous etchings.
The work in 66 variations on fabric and snakeskin imitations "Sauberes Auto-gute Laune" ("Clean Car, High Spirits") from 2002, is deemed a legend, and is one of the most sought-after works in the market today; as the work, like no other, represents Polke's boundless drive for experimentation.
His search for strange material, which, until then, had been regarded as "unprintable," could perhaps have even been surpassed by the portfolio " Der Kuchen ist alle?" "The cake is gone?" from 2006—eight works on diffraction and lenticular films, which are usually considered decor materials.
Here, Mr. Polke presented himself, as so many times before, with the capricious ease that had foiled all previous attempts to give this highly prolific artist a solid place in art history. Once again, he failed to meet the audience's expectations by resisting any attempts to categorize himself into a specific stylistic category.
In 2009, he created the "Danneckers Hausgecko" suite—4 leaves on embossed,textured paper, imitating lizard skin. In the workshop, it was only possible to print the peaks of the "Micro-mountain-range" (original Polke nomenclature ) after a number of experiments, the result of which were repeated, small-scale screenings of the screen dots that had already been created, which lent the work a wonderful sense of levity.
Within Mike Karstens' team, Polke found a like-minded partner. Going perhaps beyond the role of the anglo-american "masterprinter," Mike Karstens acted as artist assistant, muse, promoter and friend, who was not only able to meet Polke's demand for quality, but was also able to cope with his working rhythm, as the artist was notorious for ignoring deadlines and prone to disappearing acts.
The fact that art world chatter described this meeting as both "a stroke of luck" but questioned why it happenned so late in the game, speaks for itself.
After Polke inquired about the progression of his extremely complicated photo/print project, "Eisberg" from 2001 (an edition for the Hamburg-based galerist Jürgen Becker), Mike Karstens complained that he was experiencing difficulties in the darkroom. Polke simply answered in typical lapidarian fashion:
"Come on now Mike...anyone can do easy....!"
This set the benchmark for every project that followed thereafter.
Simply Polkesque.
October 26 to 29, 2017, RIVER PAVILION at Javits Center, Booth 300
Follow Artists In This Show