Bent, Cast & Forged: The Jewelry of Harry Bertoia
"Bent, Cast & Forged: The Jewelry of Harry Bertoia" introduces the lesser-known jewelry works that in many ways are the predecessors of the prolific artist and designer's internationally acclaimed sculpture and furniture designs.
May 3rd – Sep 25th 2016
New York, 2 Columbus Circle
Map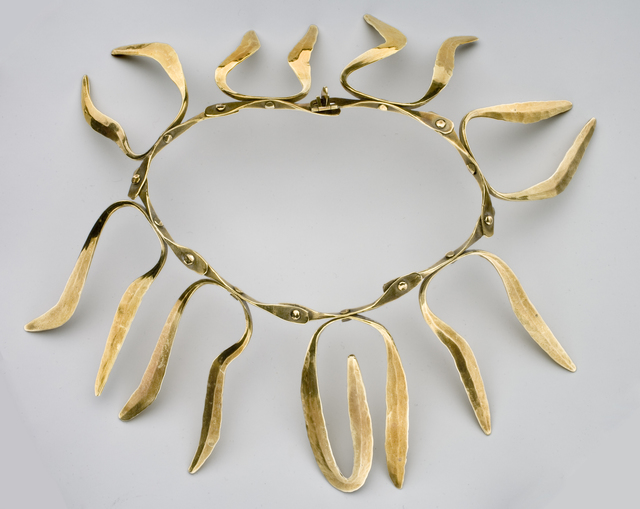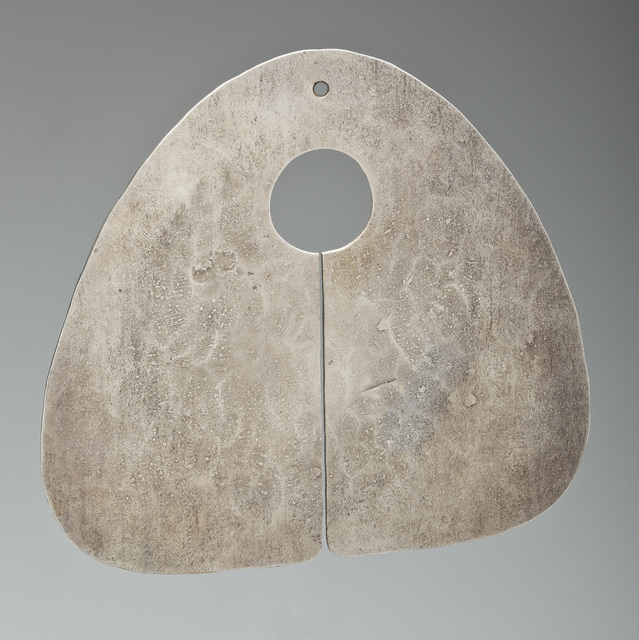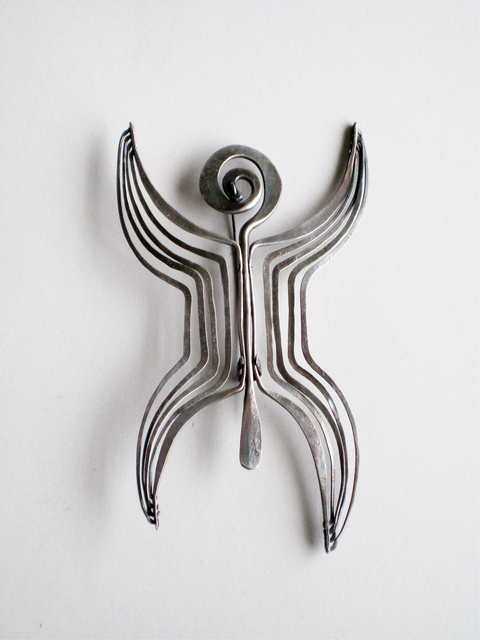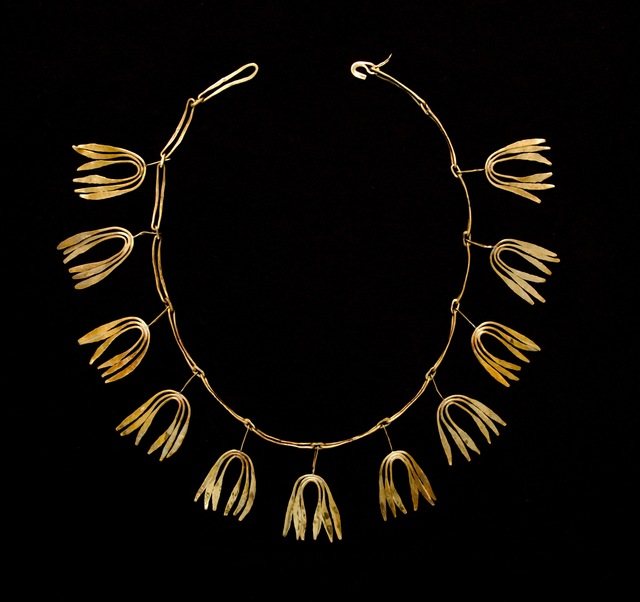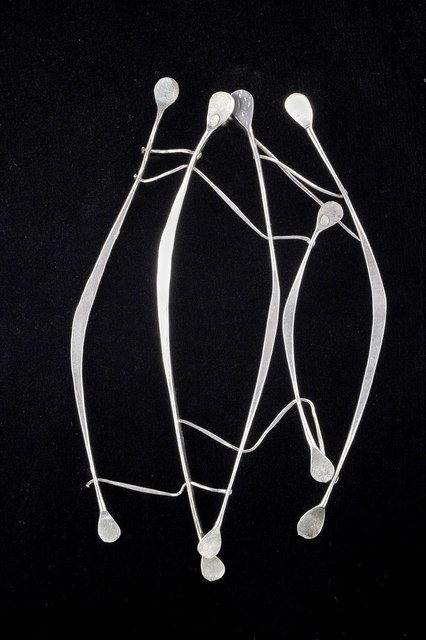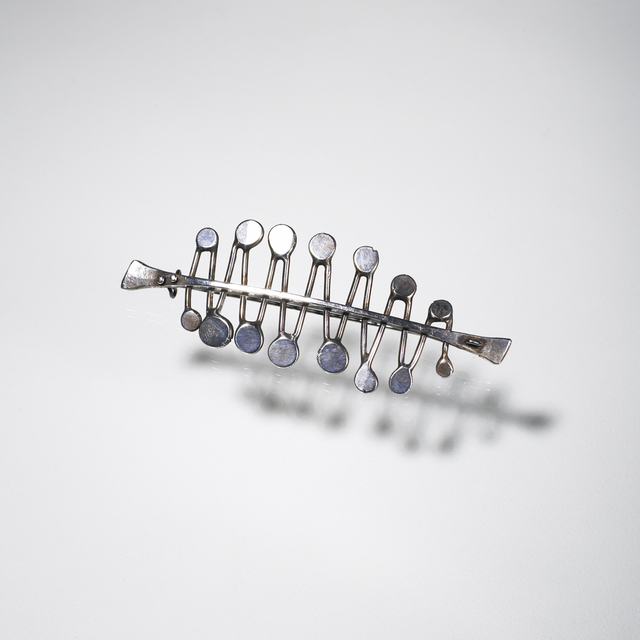 Press Release
From May 3 to September 25, 2016, the Museum of Arts and Design (MAD) presents two exhibitions focused on prolific artist, designer, and sculptor Harry Bertoia (1915–1978)that highlight the distinct practices that bookended his illustrious career. Atmosphere for Enjoyment: Harry Bertoia's Environment for Sound explores the sounding sculptures collectively referred to as Sonambient, their installation in Bertoia's stone barn, and their legacy as sound art, while Bent, Cast & Forged: The Jewelry of Harry Bertoia introduces the lesser-known jewelry works that, in many ways, are the predecessors of his internationally acclaimed sculpture and furniture designs.
"Harry Bertoia is a perfect subject for the Museum of Arts and Design," says Shannon R. Stratton, MAD's William and Mildred Lasdon Chief Curator. "His prolific practice has pushed the boundaries of art, design, and craft. Whether it was kinetics in jewelry, the monotype as drawing, or the creation of a sound environment as an artwork, Bertoia worked across disciplines and scales fluidly and with inventiveness. The impact of his work is tremendous, and transcends specific art and design fields to influence architects and sculptors as readily as sound designers and musicians."
Atmosphere for Enjoyment: Harry Bertoia's Environment for Sound
In the 1960s, Bertoia began exploring the potential relationship between sculpture and sound, and eventually created a significant oeuvre that would crown his life's work. Upon discovering the range of tones possible when pieces of wire or metal rods strike one another, Bertoia spent two decades crafting hundreds of "sounding sculptures" in pursuit of a simple instrument. These sculptures are interactive, kinetic, and audible forms consisting of bundles of metal rods that collide and set off radiant tones when activated by wind or human touch. Beginning in 1968, Bertoia remodeled an old stone barn, which still stands on his ninety-acre property in Pennsylvania, to house the works and act as a recording studio for their sounds. There he created 360 known tapes, eventually producing eleven LPs with titles such as Phosphorescence and Ocean Mysteries.
Taking its title from an unrealized concept drawing in which Bertoia imagined a complete environment for his sculptures and furniture, MAD's Atmosphere for Enjoyment exhibition consists of original sounding sculptures by Bertoia, an immersive four-channel sound installation created by John Brien from Bertoia's original Sonambient recordings; interactive sounding sculptures made by Bertoia's son, Val Bertoia; a selection of monotypes that capture the artist's atmospheric vision for the Sonambient forms; and an array of ephemera, recordings, and hands-on materials, including a timeline documenting the sounding sculptures' production, exhibition, performance, and influence.
To complement the exhibition, MAD commissioned two new recordings and performances by contemporary sound artists Lizzi Bougatsos and Robert Aiki Aubrey Lowe at Bertoia's Sonambient barn, the environment he created for the installation and recording of the sounding sculptures on his property in Pennsylvania. These recordings are available in the exhibition and online, and a series of live performances in the galleries will explore the legacy of the barn, recordings, and sounding sculptures as important influences on sound, music, and art today. For the last Friday of each month throughout the run of the exhibition, MAD invites musicians to participate in Studio Sessions and create recordings with the installation of sounding sculptures by Val Bertoia in the gallery.
Bent, Cast & Forged: The Jewelry of Harry Bertoia
Presented in conjunction in MAD's Tiffany & Co. Jewelry Gallery is Bent, Cast & Forged: The Jewelry of Harry Bertoia, which displays Bertoia's jewelry and explores his investigations of form and material during his early days as an artist and designer at the Cranbrook Academy of Art. Though Bertoia is best known for his metalwork, particularly his latticed wire "Diamond" chairs for the Knoll furniture company, his Sonambient and Gong sounding sculptures, and his large-scale brass and copper screens for corporate interiors, his initial experimentations with metal began with small pieces of jewelry.
For Bertoia, jewelry making was a process of creative discovery, an exploration of material on a manageable scale, and an avenue of inquiry for his conceptual interests. Inspired by the artistic theories emanating from Europe's avant-garde, he was particularly fascinated by the vital forces of nature and its cycle of growth and decay. These investigations of form, dimension, and structure were produced largely during the first decade of Bertoia's career and offer an early glimpse of a creative vision that would crystallize as he matured as an artist. The brooches, bracelets, and necklaces showcased in this exhibition are standing evidence of the artist-craftsman's first forays into biomorphic abstraction, and establish him as both a pioneer of the American studio jewelry movement and a master of elevating fashionable adornment to objets d'art.
Several early monotype prints further illustrate how Bertoia harnessed the same intuitive, experimental approach to creating his works. These early works extend from Bertoia's concept of the direct, expressive graphic line—an approach that is reflected in the artist's oeuvre, from the lines of his iconic bent-wire furniture for Knoll to his later reed-shaped Sonambient sculptures.
Follow Artists In This Show