Myriam Blundell Projects
Moving Image Istanbul 2015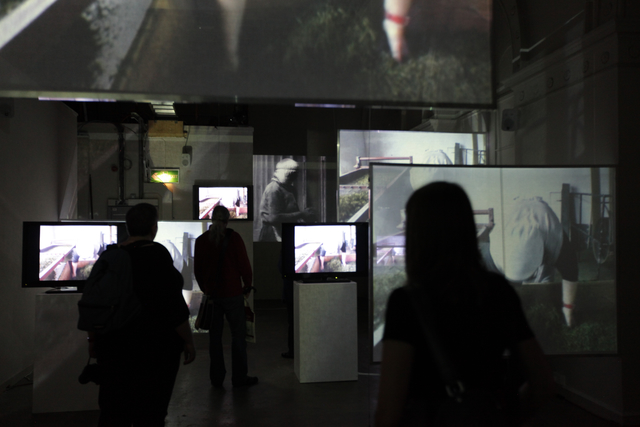 Press Release
The exhibition N​Y​man with a Movie Camera is conceived as a multi-screen installation of twelve video projections. It features eleven independant -yet interelated- edits of Nyman's ​NYman with a Movie Camera engaging in a visual discourse with Dziga Vertov's 1929 film Man with a Movie Camera. The latter is presented in its entirety on an twelveth screen.
Nyman's original engagement with Vertov's film dates back to 2003 when he was commissioned by the British Film Institute to compose a new soundtrack for Vertov's film. This visual encounter subsequently triggered a five years' journey of experimentation with the medium of moving image, taking its starting point from Vertov's documentary making principle of "The Perception of Truth", the documentation of "life as it is" or of "life caught unawares". In 2009, Nyman's first feature film NYman with a Movie Camera captures the artist's personal response to Vertov's original with a thorough and scrupulous analysis of his shot content and durations. Borrowing from his own diaristic film archives, Nyman proceeds with a systematic reconstruction of Vertov's frames replacing his shots with precisely-related and -timed visual material of his own.
The 2009 version will then become the first of a series of "remakes" in which Nyman engages with the concept of 'non-destructive editing" as originally defended and implemented by Vertov in his Kino Pravda series. This form of editing signals where the original content is not modified in the course of editing. Nine edits will then follow the original version in which Nyman questions the choices he makes in terms of imagery, sequences, themes, randomness and visual punctuation within the same framework of time and pool of imagery.
The result is a post-modernist essay on experimental documentary film making through the bias of cinematographic collage. A unique and groundbreaking technical adventure, the exhibition creates a sensory experience through its '"forest of images" accompanied by the original score for Vertov's Man with a Movie Camera written by Michael Nyman.
First shown at Summerhall, Edinburgh during the Edinburgh International Fringe Festival 2013 and then during Art Basel Miami Beach in December 2013 as well as during Zona Maco Art Fair in February 2014, in Bostons' Tuft University in March 2015, NYman with a Movie Camera has received great critical and public acclaim.
Follow Artists In This Show