Natural Resources Defense Council (NRDC)
EXPO CHICAGO 2016
The Natural Resources Defense Council (NRDC) is pleased to present work by Lucerne-based origami artist Sipho Mabona in an effort to raise awareness of the threat posed by international trade of ivory and rhino horn—the second-largest threat to wildlife after habitat loss.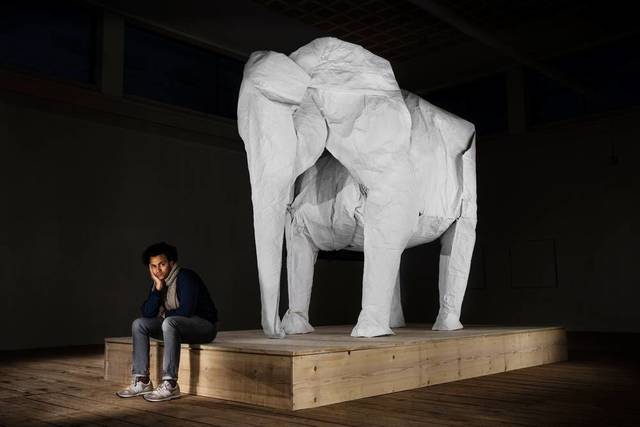 Press Release
CHICAGO – Natural Resources Defense Council (NRDC) will present the work of Sipho Mabona at EXPO CHICAGO, the International Exposition of Contemporary & Modern Art, taking place at Navy Pier's Festival Hall from September 22-25 to raise awareness of the threat posed by the international trade of ivory and rhino horn.
Mabona, a Swiss artist with South African roots, will showcase his intricate and delicate origami animals in NRDC's booth – including a life size elephant made from a single sheet of paper. 30% of net proceeds from sales of Mabona's artwork at EXPO CHICAGO will support NRDC.
The illegal trafficking of wildlife is a growing problem that is driving an increasing number of species to the brink of extinction. Elephants, whose ivory tusks are used for jewelry and decorations, are in particularly dire straits with scientists predicting that the African forest elephant could go extinct in less than a decade. An elephant is killed for its tusks every 15 minutes, and the surging demand for rhino horns on the Asian medicine market has led to record levels of poaching.
"Between 2010 and 2012, more than 100,000 elephants were poached for their tusks, putting this magnificent species in serious trouble. NRDC's collaboration with Sipho will expose a larger audience to the dangers posed by the illegal ivory trade," said Elly Pepper, deputy director of NRDC's wildlife trafficking initiative.
Worth at least $19 billion per year, the illegal wildlife trade is the fourth largest illegal trade in the world, behind narcotics, counterfeiting and human trafficking.
This exhibit is just one of the strategies NRDC is employing to save elephants from extinction. At the same time EXPO CHICAGO is happening in Chicago, a delegation of NRDC staff will be at the 17th meeting of the Conference of the Parties (CoP17) to the Convention on International Trade in Endangered Species (CITES) in South Africa fighting for protections for elephants, rhinos, pangolins, and other species. CITES is the only international mechanism to regulate the trade in animals and plants. NRDC will be lobbying the convention's 182 member countries to support a resolution encouraging countries to follow our nation's lead and ban their domestic ivory markets.
"Sipho's artistic vision helps people understand the threat of wildlife trade in a whole new light, proving that art can be a powerful tool for environmental advocacy. Visitors will be inspired by the subtlety of his work and reminded of the delicate balance of the natural world" said Elizabeth Corr, NRDC's Manager of Art Partnerships.
Tony Karman, President and Director of EXPO CHICAGO remarked, "NRDC has a great track record as a Special Exhibitions Partner at EXPO. Their exhibits creatively explore the intersection of art and advocacy to spur greater awareness of key environmental issues. I am delighted to work with them again this year to support the protection of elephants."
Follow Artists In This Show