Nancy Baker, No Regrets
Nancy Baker, No Regrets March 2 - April 8, 2018 Opening Reception, Friday March 2, 6-8 pm with Flat File Artists Meg Atkinson, Richard Bottwin, Dana Kane, and Becca Lowry
Mar 2nd – Apr 8th
Brooklyn, 229 Cook St.
Map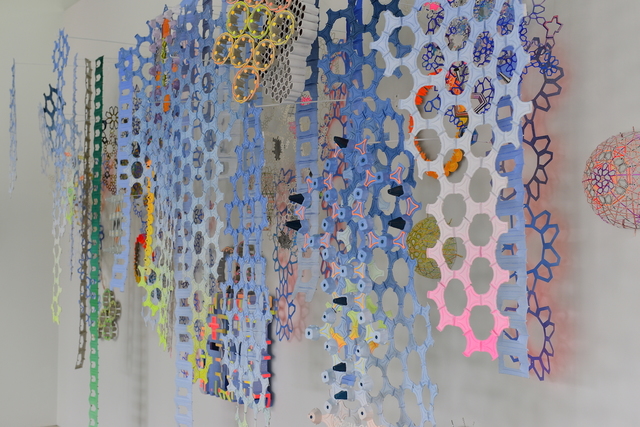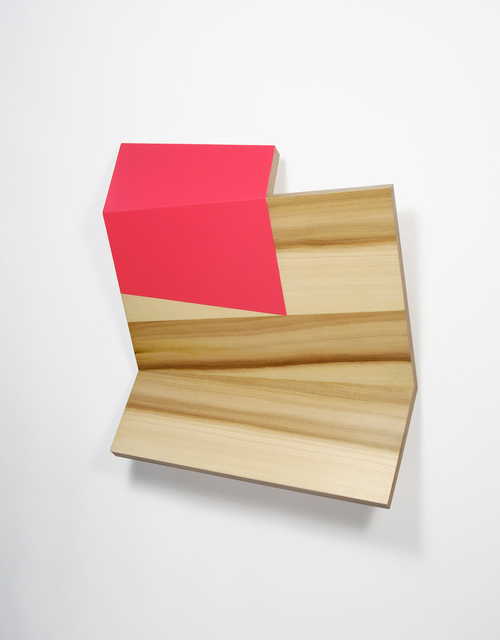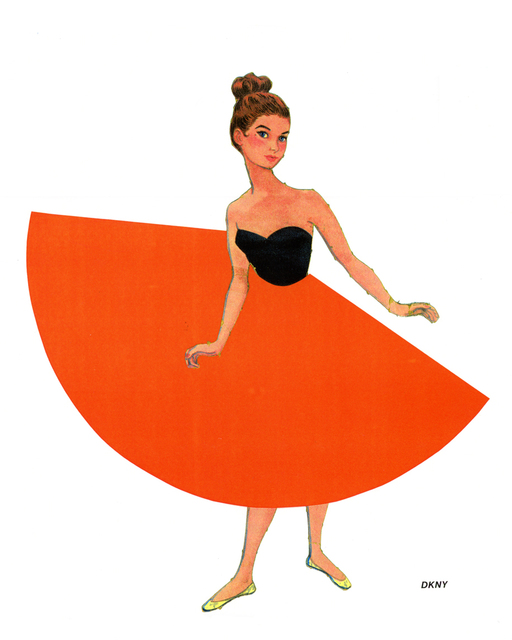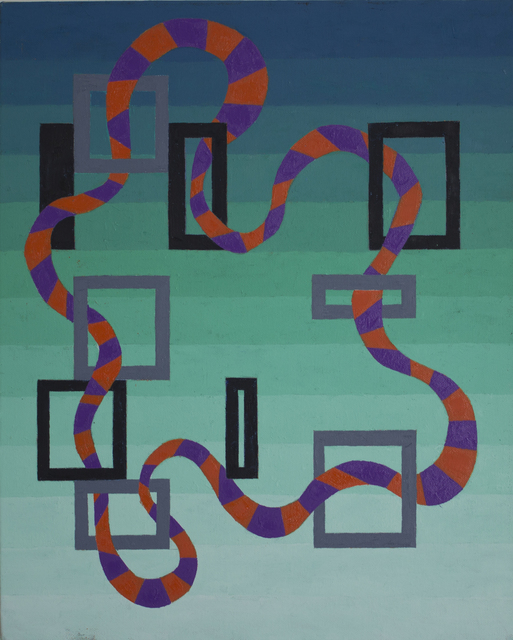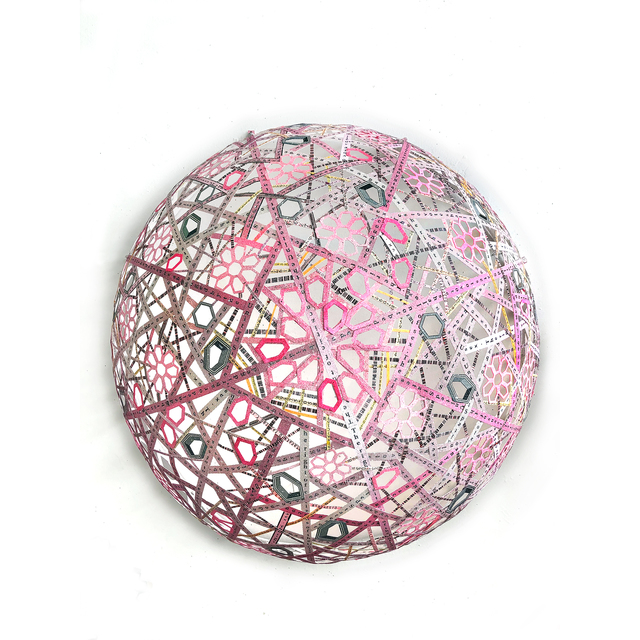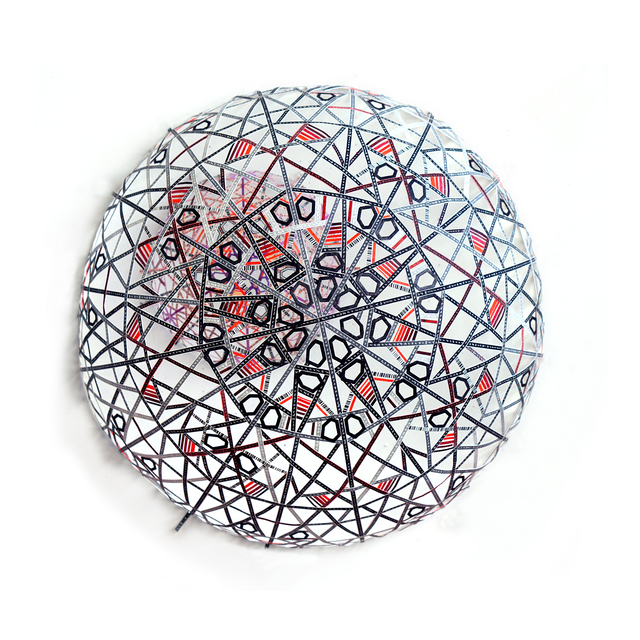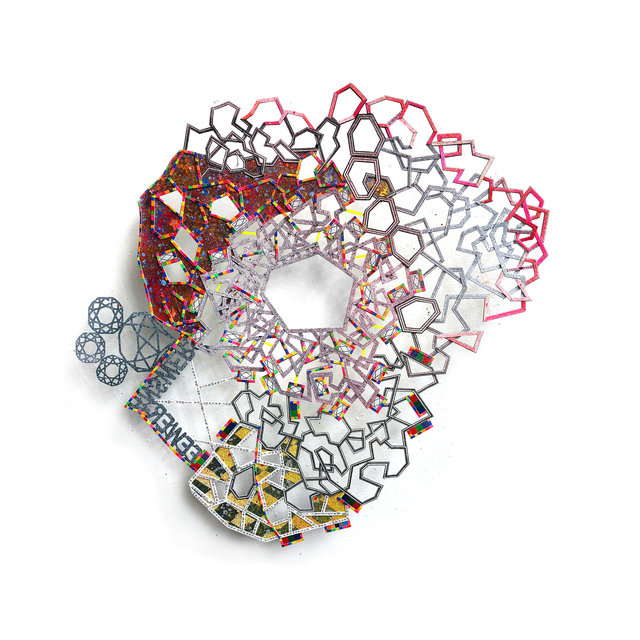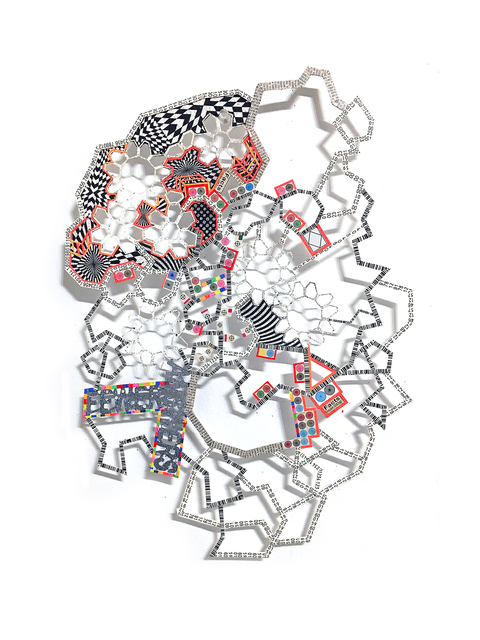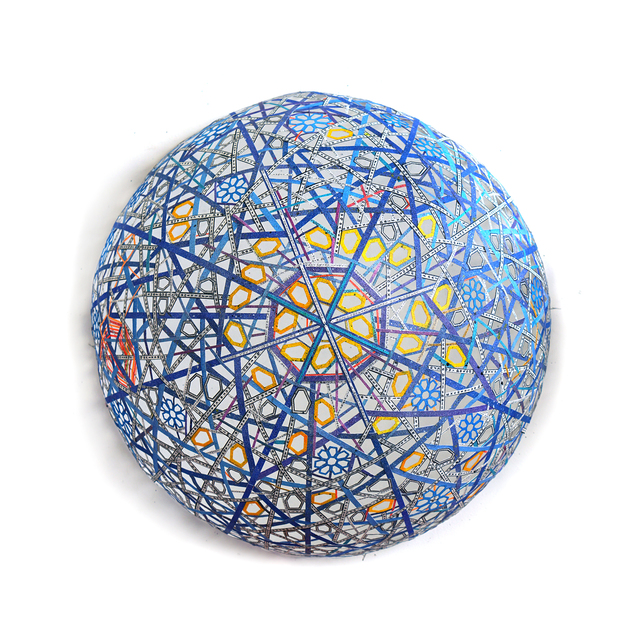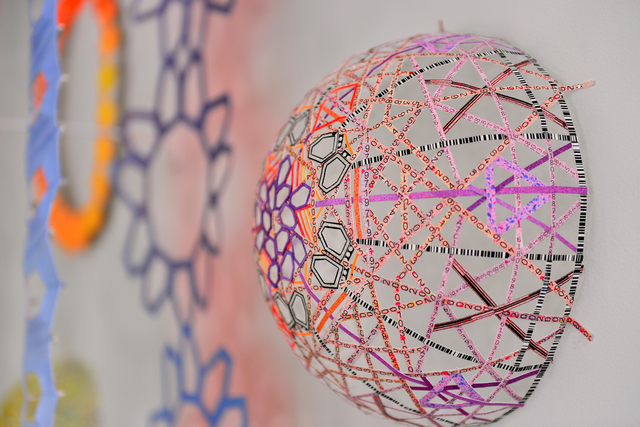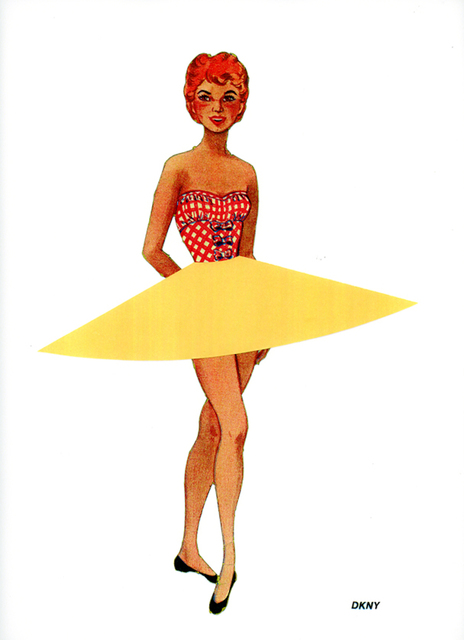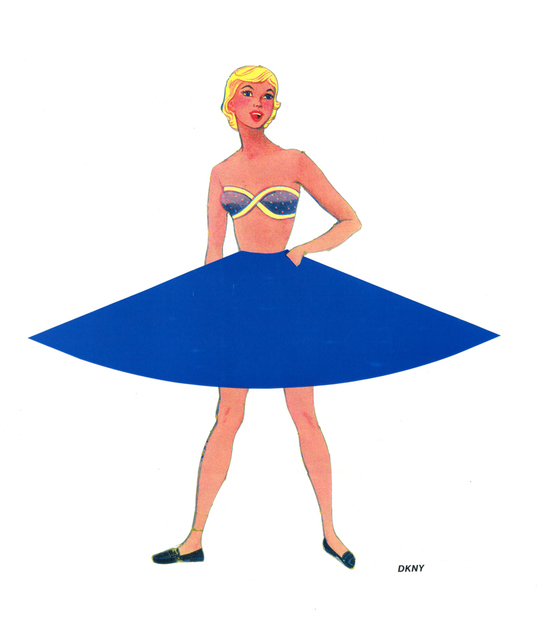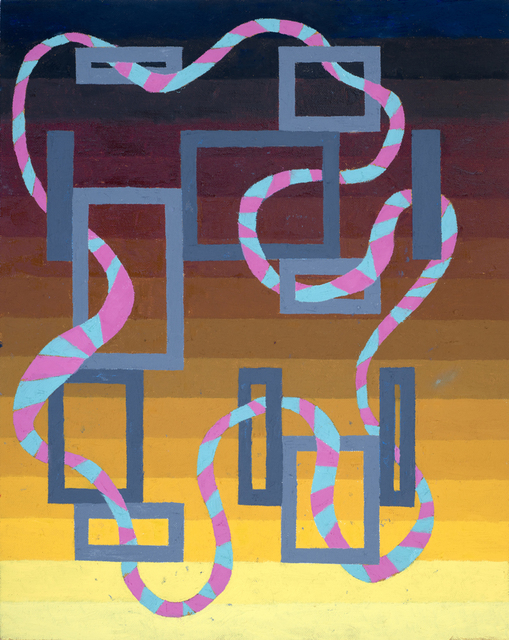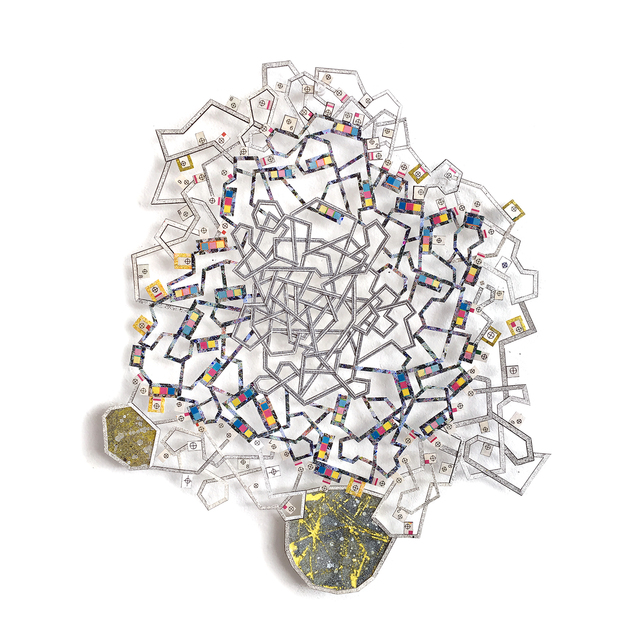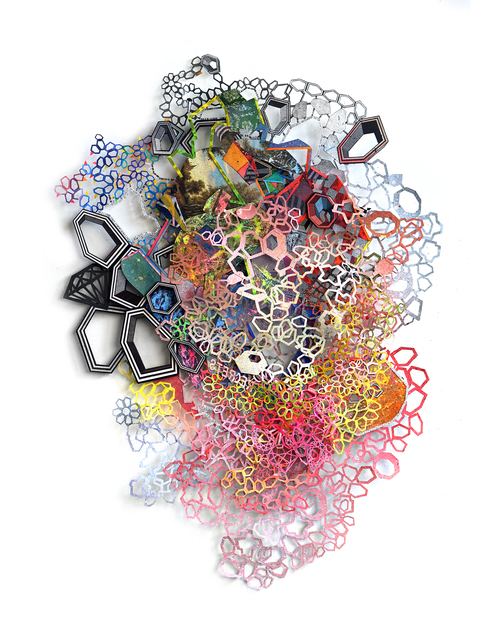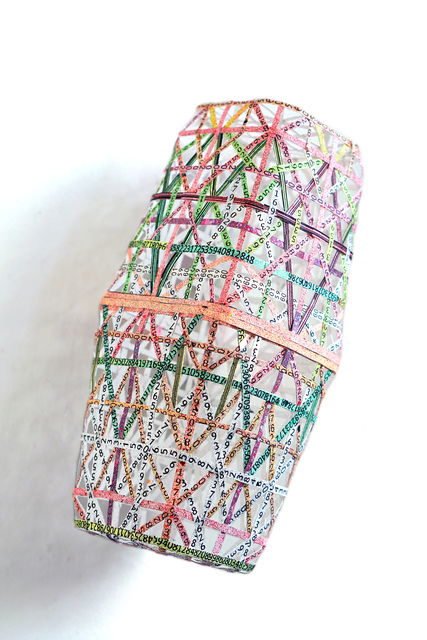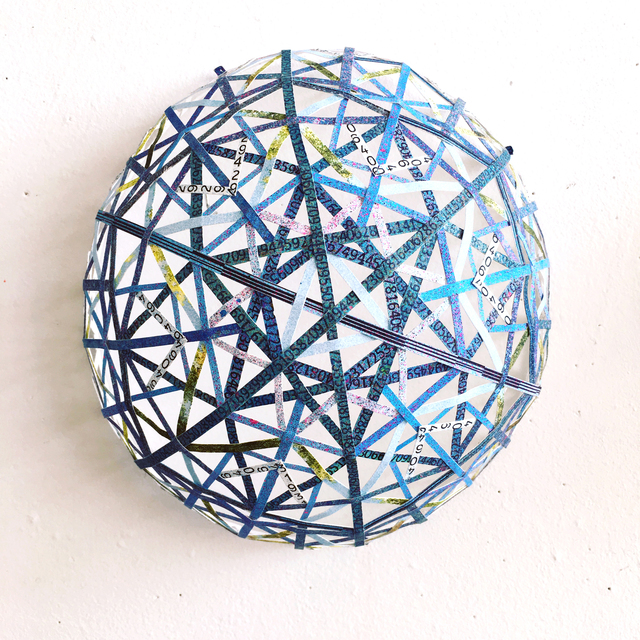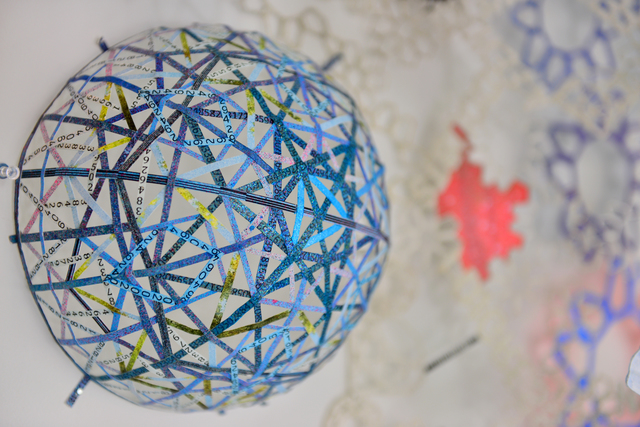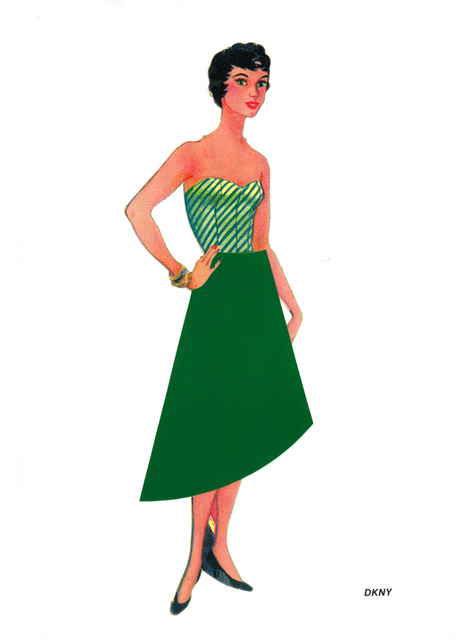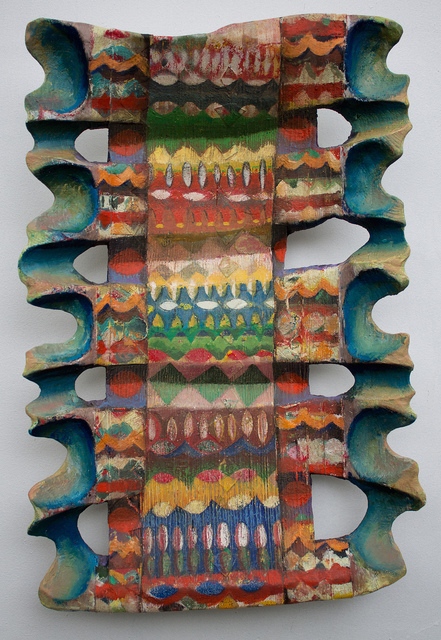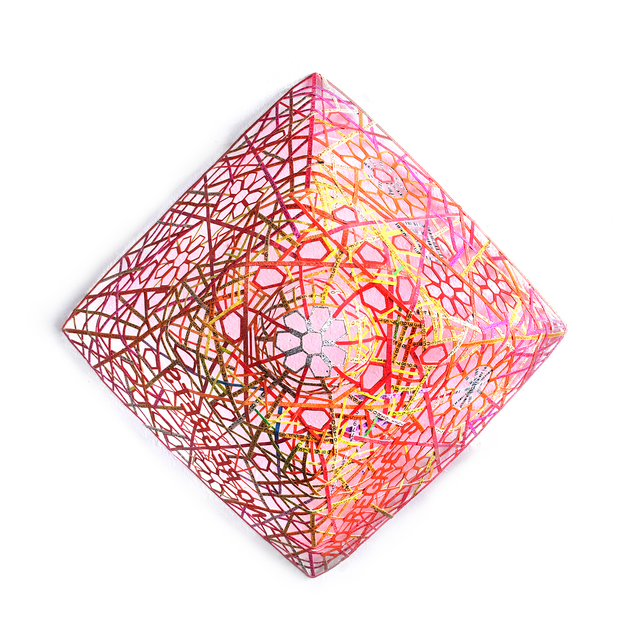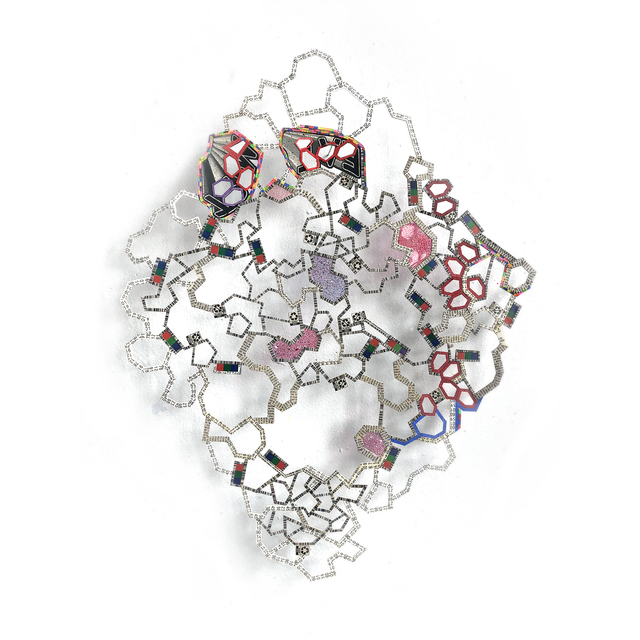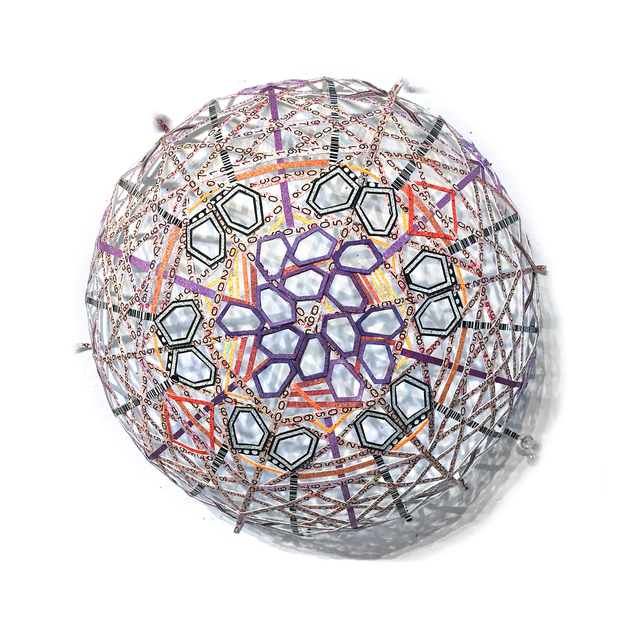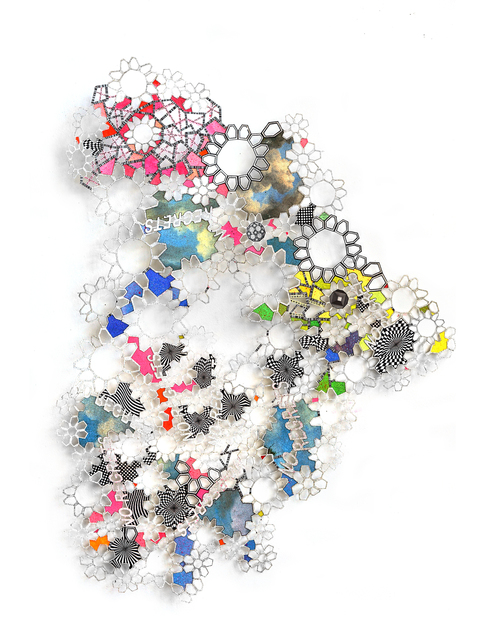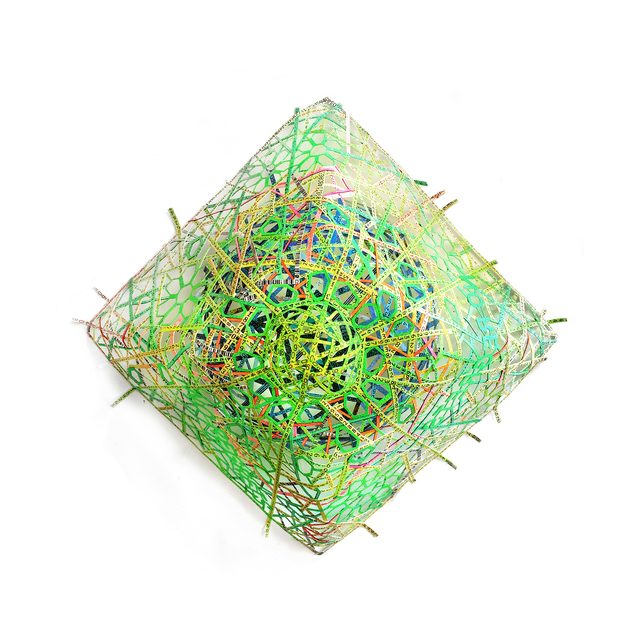 Press Release
Nancy Baker, No Regrets
March 2 - April 8, 2018
Opening Reception, Friday March 2, 6-8 pm
with Flat File Artists
Meg Atkinson, Richard Bottwin, Dana Kane, and Becca Lowry
In Baker's work, there is solace in the geometry of fundamentals, and a practice that focuses on the ephemeral nature of paper and the ease of its transportability, which allows her to create large-scale constructions. A new major installation has been created for her solo exhibition at ODETTA that layers baroque design elements found in paper cup carrying trays with thought-provoking phrases, rendered as gorgeous, yet fragile paper spheres.
This collapsible, frantic universe parallels the global climate created by our current administration.
Nancy Baker is compelled to put things together; underscoring the process of combining and interlocking forms in elegant configurations, she interweaves mathematical data in her constructions that speak to her need for stasis and a reliable reality. The recently new experience of living once again in an urban environment has made her sensitized to the dominating forces of infrastructure, and to those corresponding interstitial spaces that arouse wonder and concern.
The competition for space and sky has been instructive; her work reflects this struggle by recreating the battlefield in the studio, and attempting to tame it, and ultimately, to own it.
For the exhibit, No Regrets, Baker seizes upon current political anxiety that informs her series of works, which employ text from the US Constitution, in addition to mathematical constructs such as Pi, and the Golden Section. Intermixed within her constructions are additional phrases that seek to undermine the authority of No Regrets, such as Fewer Answers, No Illusions, Some Ideas, and Little Idea How. In claiming a definitive confidence, there is for Baker, consequences of hubris that reflect a truly complex lifetime of shifting doubts.
For No Regrets, Baker has made good use of the ubiquitous commercially available paper drink carrying tray. She has deconstructed this object, recreating forms that strangely reflect their Baroque sensibility, inherent in the original article. Reimaging these paper pulp products as eccentric participants in her constructions, Baker's chosen literary tropes signify a contemporary fear and suspicion that perhaps the enemy is invisible and unaccountable
Her paper constructions combine digitally printed, hand and laser cut geometric shapes that are painted, sprayed, scraped and gouged. Incorporated into these paper, polystyrene and Dura-Lar sections are glitter, paint, modeling paste, gold leaf, printed commercial matter and recycled paper pulp forms.
Nancy Baker earned her BFA from the School of Visual Arts, New York, NY. Her work has been widely exhibited throughout the US, including ODETTA Gallery in Brooklyn, NY; Front Room Gallery in Brooklyn, NY; Mark Moore Gallery, CA; Winkleman Gallery, NYC; Schema Projects, Brooklyn, NY; Marcia Wood Gallery, Atlanta, GA; Jancar Gallery, Los Angeles, CA; NC Museum of Art, Raleigh, NC; 1708 Gallery, Richmond VA; Heriard Cimino Gallery in NOLA; and Lump Gallery, Raleigh, NC, and in Fall of 2018, the Changwon Sculpture Biennale in South Korea.
She has received numerous awards, including two North Carolina Artists Fellowships, a Tennessee Individual Artist Fellowship, and an NEA Southern Arts Fellowship.
She was awarded a commission with New York City MTA Arts and Design for two train stations in Brooklyn, which was fabricated in stainless steel. She was also was commissioned to create a new work for Karen Brooks Hopkins, the Director of Brooklyn Academy of Music.
Her work is included in numerous public and private collections including the International Collage Center, Bucknell, PA; US Embassy, Kiev, Ukraine; Wellington Art Collection, Boston; Memorial Sloane Kettering, NYC, City of Raleigh Municipal Art Collection, Raleigh, NC; North Carolina Museum of Art, Raleigh NC; MCI Corporation, Raleigh NC; Reynolds Industries, Winston-Salem, NC; Herman Miller, New York, NY; Bellevue Hospital Center, New York, NY; TRW, Cleveland, OH; American Hospital Corporation, Nashville, TN; First Nation Bank, Nashville, TN, among others.
She has participated in several artist residencies including Casa de Mateus, Vila Real, Portugal, and Studio Camnitzer, Valdottavo, Italy.
ODETTA's Flat Files are curated to tie in with every exhibition. Meg Atkinson, Richard Bottwin, Dana Kane, and Becca Lowry have created new works that bring viewers into a more intimate encounter with their work. Opening each drawer in the cabinet presents interactive site-specific installations on a micro-scale that offer an element of surprise with the breadth of dimensionality and innovation. Richard Bottwin's Bauhaus inspired wood constructions will be the Flat File Feature on the main wall in the studio.
Meg Atkinson is an artist and art educator who lives in New York City.
The constraints of the rectangle are central to Meg Atkinson's thinking. Each of her paintings begins as a grid. In response to the grid and to create tension she draws organic shapes and at times scenes. The elation felt when a painting is finished is like no other. It has to do with the fact that while she is identifying for each painting its essential visual problem she is also at the same time solving it.
A finished painting expresses duality. It bridges the gap between intellect and imagination.
Atkinson received her BFA from Pratt Institute in 1984, and her MFA from CUNY, Queens College, in 1991. Meg has exhibited in New York City and the tri-state area, including shows at ODETTA, Cooler Gallery, Morgan Lehman Gallery, Geoffrey Young Gallery, Storefront Ten Eyck, Noyes Museum of Art, and Curious Matter.
Richard Bottwin lives and works in New York City and has maintained his sculpture studio in Brooklyn since 1990.
Architecture, functional objects and the human gestures that occur when interacting with these structures inform the vocabulary of Richard Bottwin's sculpture.
The plywood surfaces, laminated with wood veneers or painted with acrylic colors, are configured to reveal surprising shapes and patterns with shifts in the viewer's perspective.
A sense of disorientation and weightlessness are created by the reductive forms and subvert the modernist vocabulary of the simple constructions.
Bottwin's solo exhibitions include shows at OK Harris Gallery in New York, Metaphor Gallery in Brooklyn and Pentimenti Gallery in Philadelphia. He has participated in group exhibitions at DM Contemporary Gallery, New York, Bunsen/ Götz Galerie, Nuremberg, Galleri Tom Christoffersen, Copenhagen and Art Forum Ute Barth, Zurich.
Bottwin's museum exhibitions include group shows at The Neuer Kunstverein, Aschaffenburg, Germany, The Visual Arts Center of New Jersey, Summit NJ, Moma PS 1 in Long Island City, NY and the Pennsylvania Academy of Fine Arts in Philadelphia.
Bottwin has also created site-specific installations at The Sculpture Center in Long Island City, NY, The Pratt Institute Campus in Brooklyn New York and In Fairmont Park, Philadelphia with the Philadelphia Art Alliance.
His work in public collections includes the Bayerische Landesbank headquarters in NYC and The Pratt Institute outdoor sculpture collection in Brooklyn.
Richard Bottwin has received two artist's grants from the State of Pennsylvania and one from New York State and he was awarded a residency at the Edward Albee Foundation, Montauk NY.
His work has been reviewed in The New York Times, The Philadelphia Inquirer and The Brooklyn Rail.
There will be an opening reception for the artists on Friday, March 2, 2018, from 6 – 8:00 pm and the public is invited. Gallery hours are Friday thru Sunday 1-6 pm, and by appointment. Please check the gallery website for related events throughout the course of the exhibition.
Dana Kane, is a visual artist who works within the varied disciplines of painting, drawing, photography and sculpture. Ms. Kane has shown her work at the Museum of Modern Art, The Brooklyn Museum, Bard College and many galleries in the Tri-State Area.
Ms. Kane received her BFA in Painting and Printmaking from the University of North Carolina, and her Master's Degree in Sculpture and Multi-media from Washington University, St. Louis, Missouri.
Significant residencies include the MacDowell Colony and the Fine Art Work Center in Provincetown, Mass.
The Kelly Girls (1996) was created to draw attention to the serious lack of representation for women artists in galleries and in museums across the country.
These realizations were made all the more evident through the efforts of the Guerilla Girls in the '80 and '90's. The Guerilla Girls were creating an "in your face" campaign geared towards confronting museums and galleries. In their crazy Guerilla outfits, they pasted posters in strategic places that were always filled disturbing statistics about the discrimination women artist faced.
The term Kelly Girls has a two-fold meaning: not only does it refer, albeit tongue and cheek, to the exquisite work of Ellsworth Kelly, but "The Kelly Girls" was also the name of a company in Manhattan that supplied temporary office workers to businesses, i.e., they were mostly women, and they were 'secretaries'.
The "Kelly Girls" Project is composed of several distinct parts:
Color Xeroxes of paper dolls modeling colorful abstract shapes of the sort that Ellsworth Kelly made famous.
Pattern envelopes that would have a particular 'skirt' on the cover, with full instructions including a pattern for busy moms to make at home in their spare time. Note, I no longer have any of these life size patterns left, only a few of the envelopes.
And finally, a series of colorful abstract "drawings/paintings" of the patterns themselves.
Ms. Kane has lived and maintained a studio in Brooklyn since 1982.
Becca Lowry creates elaborate mixed-media works combining carved and collaged wood, wire and thread weavings, oil and spraypaint. Situated somewhere between sculpture and painting, the works have a three-dimensional quality that is intended to make them feel like protective objects.
Lowry writes "I am both fascinated and confused by what I see as a very fine and shifting line between vulnerability and strength, by the strange truth that often the bravest thing we can do as humans is to expose the most tender aspects of ourselves. These shields I am making try to speak to that, to the relationship between the soft and hard parts of the human experience."
Lowry received her BA in Economics with a certificate in African Studies from Smith College in North Hampton, MA. Lowry's work has been exhibited throughout New England and can be found in many prestigious private collections. She is represented by Fred Giampietro Gallery in New Haven, CT.
Becca Lowry refers to her sculptures as contemporary interpretations of ancient warrior shields. They are contemporary in the obvious sense that they incorporate tools and media of the present day: Plywood rather than hardwood, spray paint and telephone wire rather than natural pigments carved primarily with the aid of power tools rather than painstakingly carved by hand.
But they are also contemporary in the sense that the warriors she aligns with are made of the emotional courage required to be true to oneself. The warrior boy in ballet shoes, the warrior grandmother who feeds refugees when they wash up on her shore, the warrior black mothers and fathers and sisters and brothers who dare to use their bodies in protest against a system that doesn't value their lives.
She thinks of the courage it takes for many people just to walk out the door in the morning. And from the safety and solitude of the studio, she becomes the forger of a stockpile of armor fit for an uprising.
Becca Lowry's mixed media drawings and weavings began while staying with her father was in and out of the hospital. In the face of knowing that he was slipping away she was able to keep her hand productive, giving herself something quiet and small to work on in the face of larger concerns; end of life, grieving, and profound loss.
Images:
Nancy Baker, 4th Amendment, 2017, paper construction, 12 h x 24 diameter inches
Nancy Baker, Sweet Dreams are Made for This, 2018, paper construction, 40 x 28 inches
Nancy Baker, Purple Pi, 2018, paper and wood construction, 16 x 12 x 4 inches
Nancy Baker, Installation, Studio, 2018, paper construction, dimensions variable
Meg Atkinson, Rope in Pink and Green, 2017, oil on canvas, 20 x 16 inches
Richard Bottwin, Square.2, 2018, Poplar veneer on birch plywood, acrylic. 6 x 5 x 4 inches
Dana Kane, Kelly Girls IV, 1996, colored xerox, 17 x 11 inches
Becca Lowry, Don't Take the Hills, 2017, mixed media, weaving, acrylic, plywood, 19.25 x 12 x 2.5 inches, Courtesy of Fred Giampietro Gallery
ODETTA is a Bushwick-based gallery created and run by artist Ellen Hackl Fagan. The gallery exhibits the works of contemporary artists focusing on Color Theory, Minimalism, Glyphs, Buddha Mind, Fluxus, History, Humor, Psychedelia, Ephemera, Science, Math and Music.
Follow Artists In This Show