Florian Pumhösl, 'Alteration of character'
Parra & Romero is pleased to present the first solo exhibition by Florian Pumhösl at the gallery and in Spain. Titled 'Alteration of character', the show features the most recent series of the works dedicated to the letters of the Georgian alphabet.
Nov 19th, 2015 – Jan 30th, 2016
Madrid, Claudio Coello, 14
Map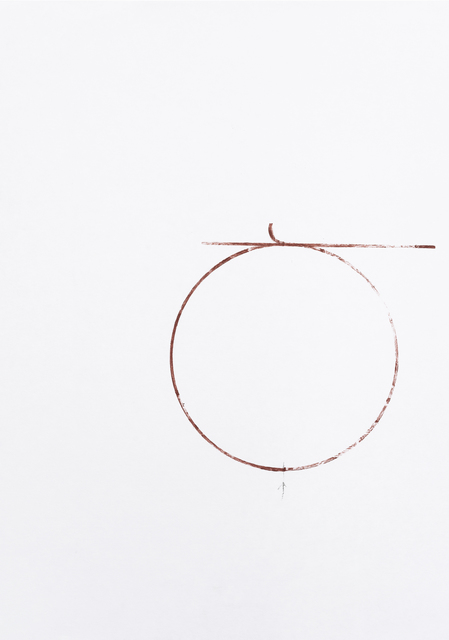 Press Release
Florian Pumhösl processes the tropes of art, architecture and graphics of the modernist avant-garde to create new aesthetic models through painting, film and installation. His visual language, purely formal, is based upon the legacy of modernism. The mode of production of his most recent series suggests avant-garde experiments in typography and graphic design.
In 'Alteration of character', Pumhösl presents six paintings and three drawings. Three of the paintings are based on the obsolete Georgian Asomatavruli alphabet. The three others describe the difference to the Mkhedruli alphabet as it is used today. The austere motifs, carefully stamped on ceramic plaster panels in oil paint, were produced using separate rubber clichés for each line.
With these pieces, Pumhösl intends to question the essential cultural character of the symbol. For him, the Georgian letter has been a phonographic object, primarily referring to a sound than to a meaning. The letters appear as unable to transcend, they are a notation based the cultural agreement that a certain graph might represent a specific sound. So, the artist is making a picture of a cultural object, which always depends on the speaker. All the paintings presented reflect an idea of the absoluteness of the letter, the total equilibrium between visual shape and sound as the Russian futurists would have fantasized it. In their formal appearance, the works shown should be read as phonographic, in opposition to ornamental or typographic. They are also an act of disagreement to what we presume as a historical cultural character that would give us rest or legitimation.
The three drawings presented are accompanied by other two drawings by the Uruguayan artist Joaquín Torres – García (1874 – 1949). This dialogue between artists is used as a way to support the idea of the abstract painting as an irregularity in the physical space.
Florian Pumhösl was born in Vienna in 1971. Solo exhibitions of his work were staged at Kunsthaus Bregenz (2012); Mumok (Vienna, 2011); Kunstverein für die Rheinlande und Westfalen (Düsseldorf, 2010); Musée d'Art Moderne Grand-Duc Jean (Luxembourg, 2009), Stedelijk Museum (Amsterdam, 2008); Neue Kunsthalle St. Gallen (2005); Centre d'Édition Contemporaine (Geneva, 2004); Kölnischer Kunstverein (Cologne, 2003); Secession (Vienna, 2000); and Salzburger Kunstverein (1998), among others. His work was featured in Documenta 12 (Kassel, 2007), São Paulo Biennial (2006) and the 50th Venice Biennale (2003) and recently at Generali Foundation (Vienna), MACBA (Barcelona), Raven Row (London) or Haubrok Foundation (Berlin).
Follow Artists In This Show