Emma Talbot - Time After Time
Sep 3rd – Oct 22nd 2016
Düsseldorf, Birkenstrasse 45
Map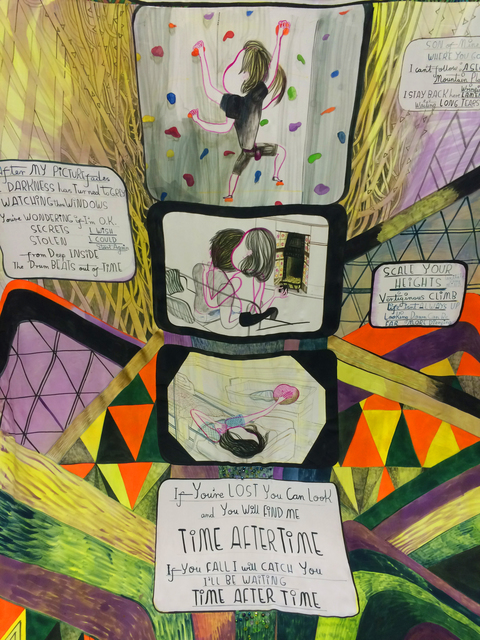 Press Release
In work that moves between drawing, painting and sculpture/installation, Emma Talbot has been searching for ways to poetically transfer inner experiential images, and in the recent work this functions in an even more effective, stronger and irresistible way. Through her combinations and arrangements of a variety of media, she makes reference to the private sphere, to her own emotions, to personal relationships and family life. Relational forces are inscribed in bodies, which are in turn situated in frames and spaces. This, however, does not take place as part of an exhibitionist routine of transgression, in Talbot's imagery deep emotions correspond to a depth of thought, and hold the quasi-poetic immediacy of language.
Through combinations of pictures and texts, importing particles and motifs of popular culture, the work interacts in a highly eclectic manner with the contemporary universe of networked imagination. Talbot articulates an incessantly expanding image of the world as it presents itself to a woman of her generation and with her cultural background.
The protagonists that appear in her narratives, organized in situations based on real experience and presented in series or singly, are transparent spiritual beings with childlike proportions. With their open form, in colorfully painted and drawn room and frame constructions, they also seem to effortlessly transform into abstraction. The openness, through which her spindly, vibrantly-drawn figures are depicted, ascribes them with the quality of osmotically skilled receptacles for a diversity of emotions, and makes it evident that one of Talbot's main objectives is to mediate between the subjective and universal.
Handwritten texts of all sorts – individual words, quotes from songs and poems – play a crucial role in Talbot's unfolding oeuvre. They often appear as equal to the pictorial, writing of sensuality, intimacy and secrecy. The texts do not appear as an unambiguous, lyrical, autobiographical ego - their effective placement prompts the viewer to read these words of unknown origin, which are tinged by their subtle pictorial surroundings, quietly or out loud.
Placing the artist in the tradition of the great autobiographical comic authors of the 1990s (Julie Doucet, Debbie Drechsler, Chester Brown...) suggests itself, but proves to be insufficient, not only because Emma Talbot is more strongly oriented toward a fine arts audience. For, in addition to the practice of identification and psychological projection evolving within the pictoral, she repeatedly makes use of materiality, polyperspectivity and the atmosphere of the exhibition space for which her works are intended. She pronouncedly refers to the aim of immediacy, always seeking new possibilities to let her experiential images speak. And she does not speak from an authoritarian, elevated position, in her handmade aesthetic, which often makes a passionately confessional impression, deep transmissions remain entangled with the possibility of failure.
Follow Artists In This Show