Martin Creed: Understanding
The southern end of Brooklyn Bridge Park will be illuminated this season by a new 25-foot-tall, rotating, ruby red neon sculpture by Turner Prize-winning artist Martin Creed. Sited on the waterfront of Pier 6.
May 4th – Aug 23rd 2016
Brooklyn, Brooklyn Bridge Park
Map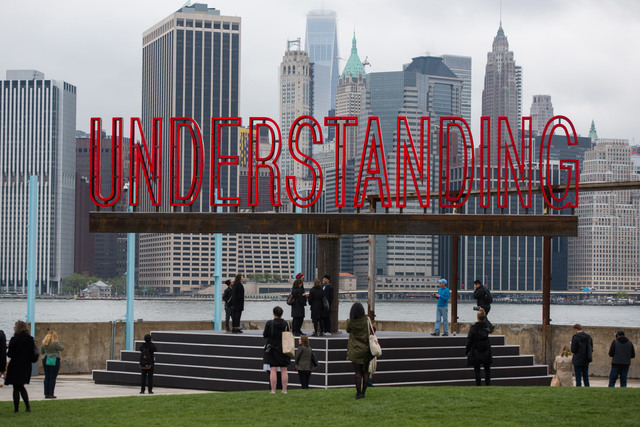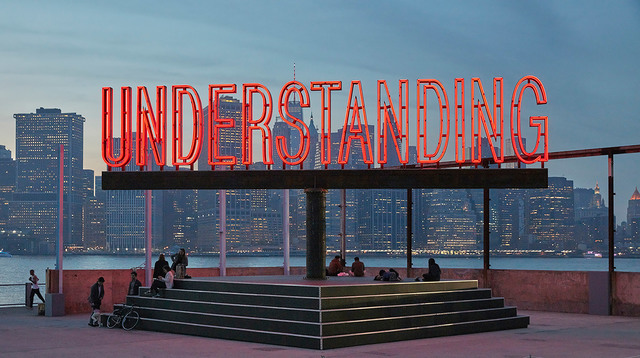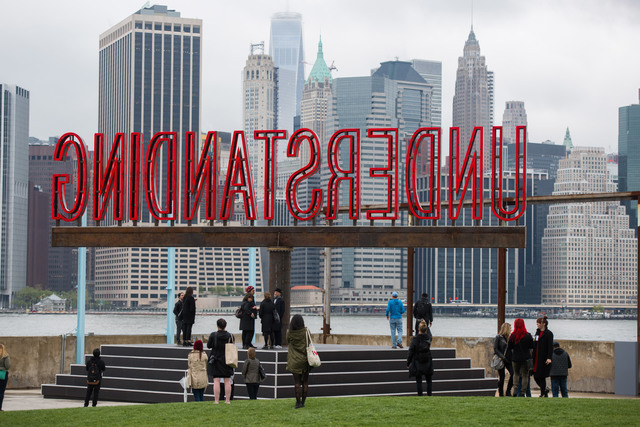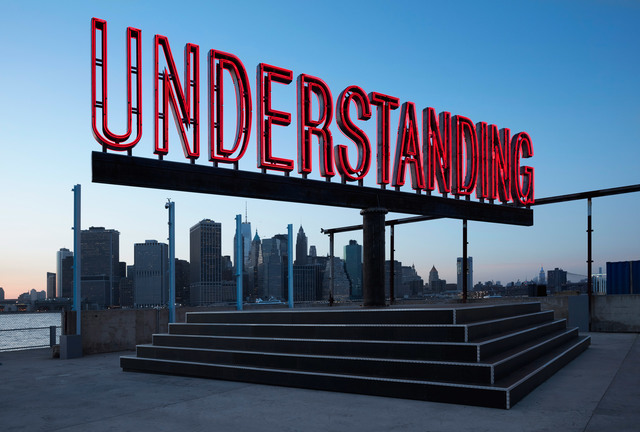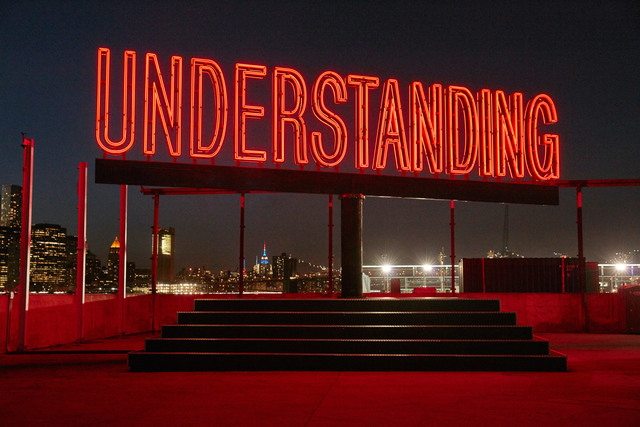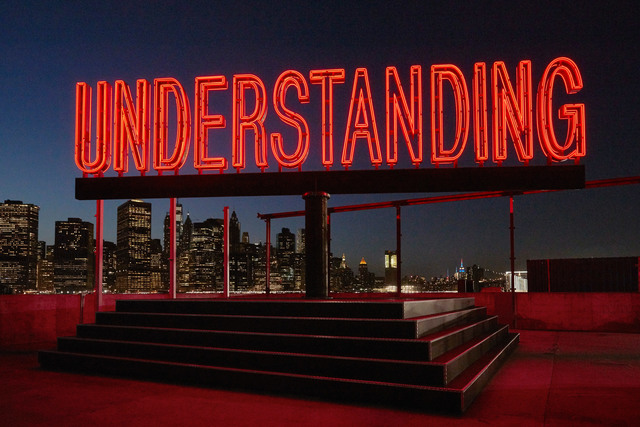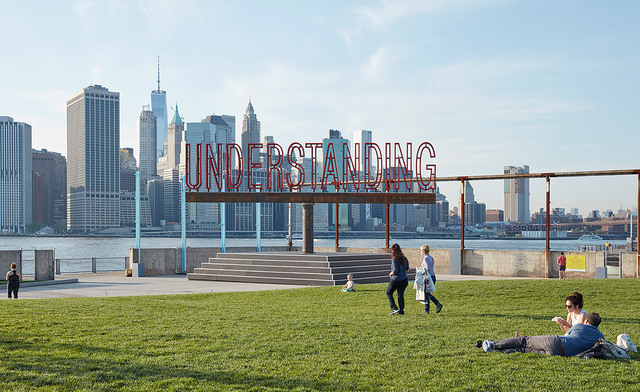 Press Release
Public Art Fund announces Understanding, an exhibition featuring a new 25-foot-tall rotating ruby red neon sculpture by British artist Martin Creed commissioned specifically for Brooklyn Bridge Park's Pier 6. Sited on the Park's southernmost pier overlooking the East River, its message will be visible from nearby Brooklyn, Lower Manhattan, the river, and the Brooklyn Bridge. Work No. 2630, UNDERSTANDING (2016) is Creed's largest public sculpture to date. Martin Creed: Understanding will be on view May 4 to October 23, 2016 at Brooklyn Bridge Park's Pier 6.
"Martin Creed is a poet of the everyday," said Public Art Fund Director & Chief Curator Nicholas Baume. "His art confronts us with things we think we already know – inviting us to look at them afresh. 'Understanding' is a simple word with complex meanings; we might, for example, show understanding on an emotional level, even while not understanding what somebody has said or done. In this luminous and dynamic sculptural form, the word is isolated, monumental, and continually moving. Both literally and figuratively, Creed offers us a new vantage point to see the world. But is this a celebration of understanding or a challenge to us to understand more? Either way, Martin Creed's disarming eloquence captures our imagination."
Defined by red neon lights, the word 'understanding' is formed from individual steel letters and supported by an industrial I-beam mounted to a post and rotating on a central axis. The beam will spin at varying speeds, sometimes moving slowly and other times at a faster pace; the rhythm will be determined by a computerized program designed by Creed. The post stands in the center of a stepped base reminiscent of a ziggurat that will act as seating for park visitors. From Pier 6, the work will be highly visible—a luminous sign with a clear and poignant message—while visually interacting with the City's well-known skyline. Work No. 2630, UNDERSTANDING (2016) is the third and biggest iteration of Creed's large-scale rotating neon text sculptures including Work No. 1357, Mothers (2012), which was exhibited in front of the Museum of Contemporary Art in Chicago, and Work No. 2070, People (2014).
One of Great Britain's most acclaimed contemporary artists and a 2001 Turner Prize winner, Creed works in a wide array of media including sculpture, painting, installation, choreography, and music. Making use of existing materials and situations, the artist creates works that question the definition of art with playful approach to conceptual minimalism. His logical and deadpan approach to artmaking is evident in the names he gives to his works, which are titled in numerical and sequential order. One of his best known pieces is Work No. 1197, All the Bells in a Country Rung as Quickly and Loudly as Possible for Three Minutes (2012), which Creed presented on the occasion of the 2012 Olympic Games in London. Thousands participated in the piece, ringing bells from Big Ben and the Houses of Parliament in London to Millennium Square in Bristol to St Albans Cathedral in Hertfordshire, and in hundreds of other churches and community centers throughout the United Kingdom to usher in the Olympics. Public Art Fund previously presented Creed's now-famed Work No. 225, EVERYTHING IS GOING TO BE ALRIGHT (1999) on the façade the Hilton Times Square in 2000.
From June 8 to August 7, Park Avenue Armory will present a new exhibition by Creed, marking the most comprehensive survey of his work in the US to date. Utilizing both the Wade Thompson Drill Hall and the historic interiors of the building, the artist will animate the space with opening and closing doors, curtains, a slamming piano, and balloons, as well as new performance and video work. For more information, visit www.armoryonpark.org.
ABOUT THE ARTIST
Martin Creed (b. 1968, Wakefield, England) lives and works in London. Solo exhibitions of his work have been recently presented at the Hayward Gallery, London (2014); Tate Britain, London (2013); The Andy Warhol Museum, Pittsburgh (2013); the Museum of Contemporary Art, Chicago (2012); MAMAC, France (2011); and the Moscow Museum of Modern Art (2010). He was the recipient of the Turner Prize in 2001 for Work No. 227: The Lights Going On And Off. An accomplished musician, he has released several albums including Mind Trap (2014), Chicago (2012) and Love to You (2012). His latest album is due to be released this summer. His work is held in the collections of the Museum of Modern Art in New York, the Tate in London, and the Cleveland Museum of Art. He studied at Slade School of Fine Art in London. Creed is represented by Gavin Brown's Enterprise and Hauser & Wirth.
VISITING THE EXHIBITION
Brooklyn Bridge Park is the not-for-profit entity responsible for the planning, construction, maintenance and operation of Brooklyn Bridge Park, an 85-acre sustainable waterfront park spanning 1.3 miles along Brooklyn's East River shoreline. As steward of the park, BBP has transformed this previously deteriorated stretch of waterfront into a world-class park where the public can gather, play, relax and enjoy sweeping views of New York Harbor. The Park was designed by the award-winning firm of Michael Van Valkenburgh Associates, Inc. and features expansive lawns, rolling hills, waterfront promenades, innovative playgrounds, a greenway, sports facilities and the popular Jane's Carousel. BBP serves thousands of people on any given seasonal day, who come to picnic, walk their dog, play soccer, jog, bike or roller skate. Brooklyn Bridge Park is a signature public investment for the 21st Century and will be an enduring legacy for the communities, elected officials and public servants who made it happen.
Follow Artists In This Show