The Language of Things
From the glow of a lamppost or the curve of a bench to a bird's song, we are constantly in dialogue with what theorist Walter Benjamin called "the language of things." This exhibition speaks to our innate attempts to understand and read patterns inherent in the world around us.
Jun 29th – Sep 29th 2016
New York, City Hall Park
Map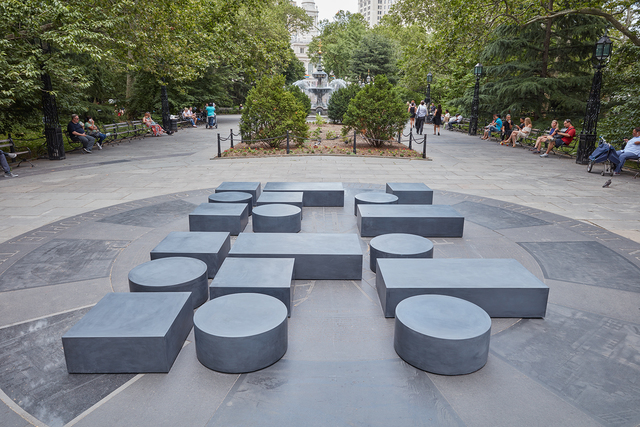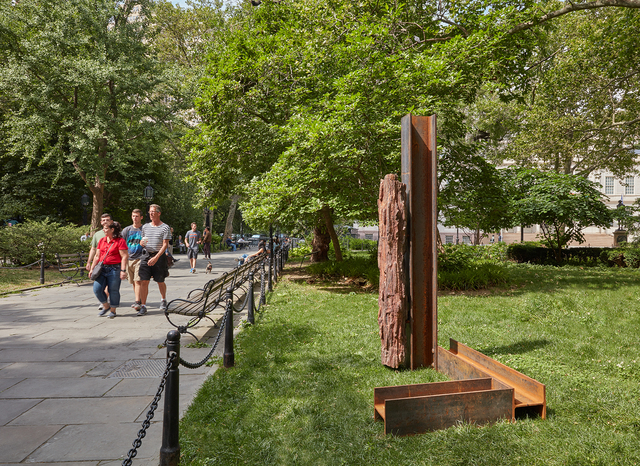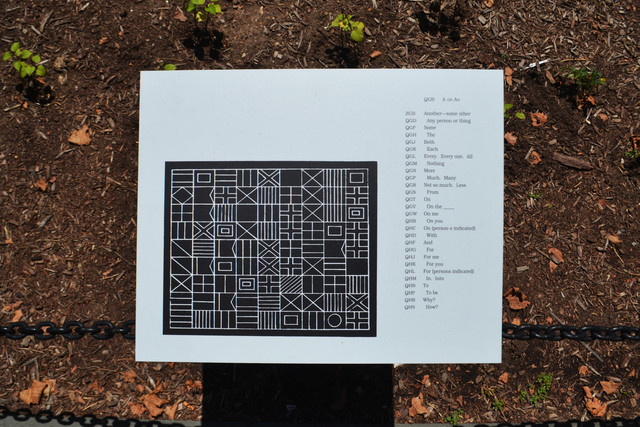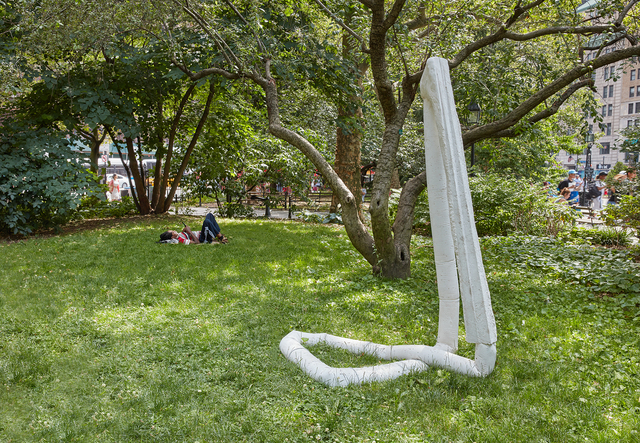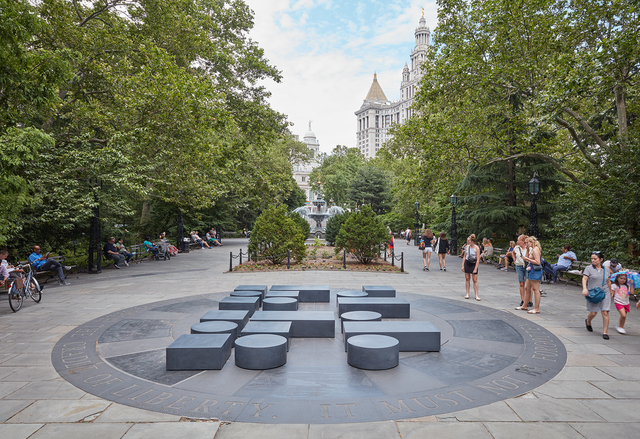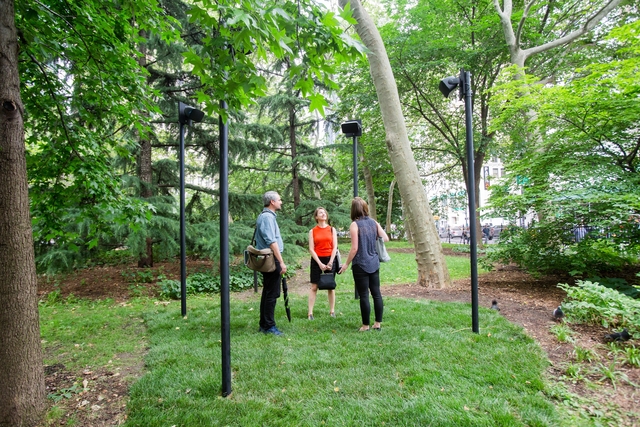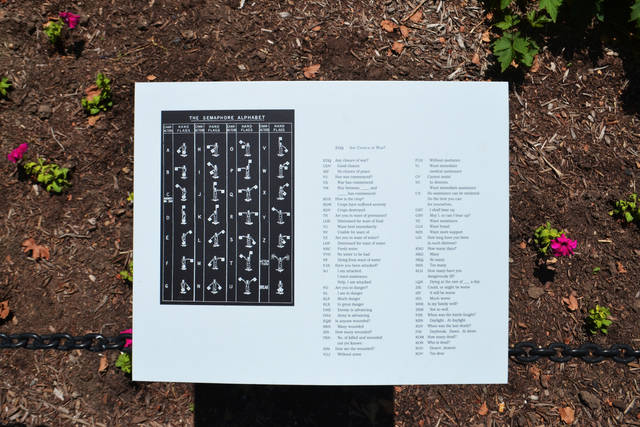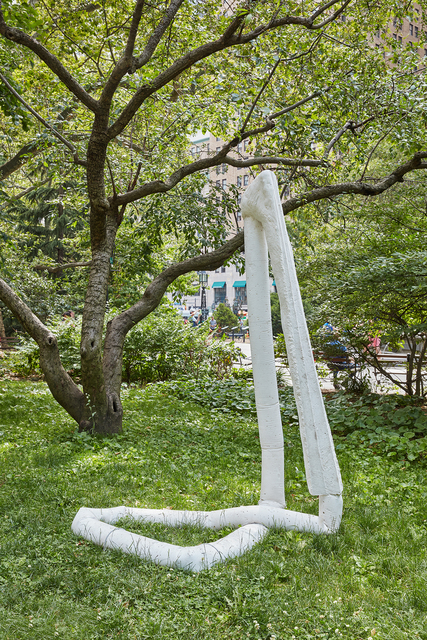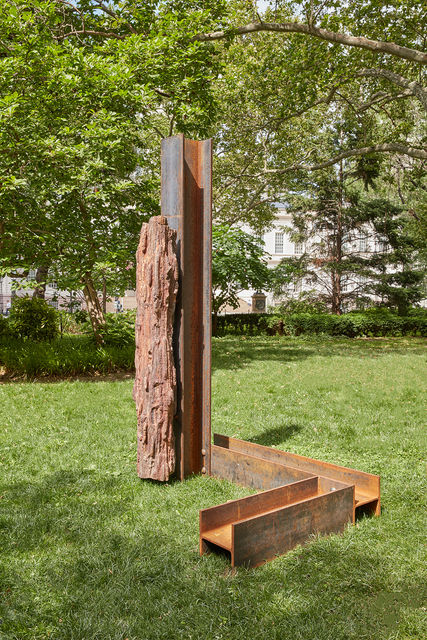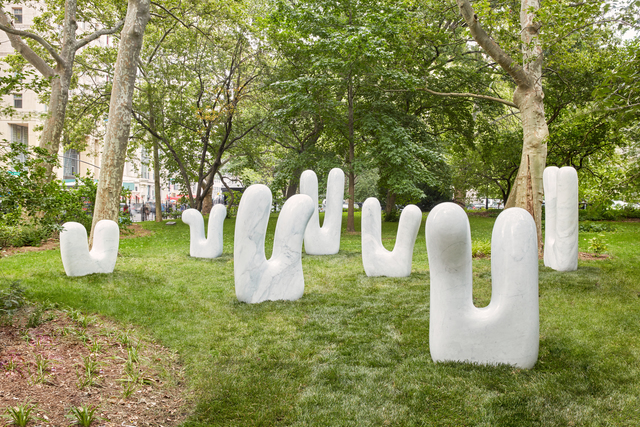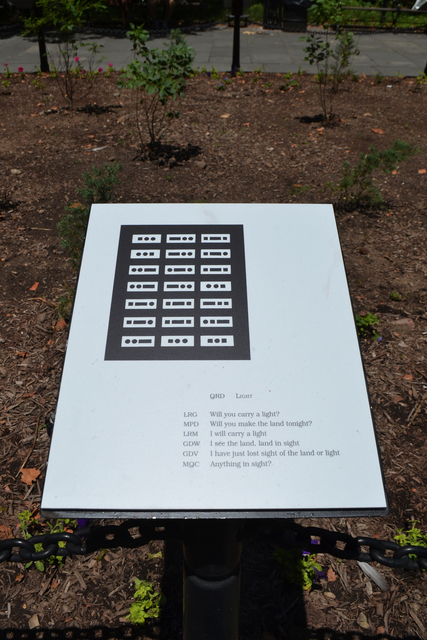 Press Release
Public Art Fund announces The Language of Things, a new thematic group exhibition at City Hall Park that explores the nature of language and communications extending beyond spoken and written word. Drawing its title from Walter Benjamin's essay On language as Such and on the Language of Man (1916), the show features a diverse international group of seven artists: Carol Bove, Claudia Comte, Michael Dean, Adam Pendleton, Tino Sehgal, Chris Watson, and Hannah Weiner. Their sculptures, situational works, sound pieces, and poems speak to our innate desire to read and understand the patterns and codes inherent in the world around us. The Language of Things is on view June 29 – September 29, 2016 at City Hall Park, Lower Manhattan.
"This exhibition begins with the simple idea that language is not limited to the form of words. Objects, sounds and movements are all signifiers waiting to be decoded. Beyond written and spoken language, they're trying to tell us what they are, some directly, others through their context, some through their layers," said Emma Enderby, Associate Curator at Public Art Fund. "We are constantly greeted by everything that surrounds us, in what Benjamin calls the 'language of things,' and the works within this exhibition ask visitors to rethink the connection between the transmitter and receiver. In this way, the works invite 'conversations' between people and object, people and nature, and people with one another."
In bustling cities like New York, the senses are continuously exposed to all types of spoken and unspoken communications. From the constant noise of traffic, to a snippet of a passerby's conversation, and even the squawking of a bird, we often absorb these cacophonic elements unconsciously and without much thought. Situated at the busy crossroads of Wall Street,
Chinatown, and TriBeCa, this exhibition in City Hall Park invites visitors to take a step back from this overwhelming environment and to think about the very nature of communication, from its most common form—the human language that enables us to name and categorize everyday objects—to its original state free of any translational process: the language of things.
Known for his "constructed situations" consisting of live encounters between people, Anglo-German artist Tino Sehgal (b. 1976, United Kingdom) presents This You (2006), the only live work of the exhibition and the only outdoor piece in this seminal artist's oeuvre. The work, which traverses the nature of personal encounters and translation, is interpreted by a female vocalist on the park's pathways.
The Language of Things also features field recorder Chris Watson's (b. 1953, United Kingdom) Ring Angels, a multichannel sound installation that will be exhibited for the first time at full length. Featuring the murmuration made by flocking starlings in the United Kingdom at sunset, the work calls attention to the unknown matrix of information and signals that move rapidly through the flock and enable the fluidity of the starlings' flight patterns. While Watson's work is concerned with the language of a natural phenomenon, his piece also touches upon human coded communications; the work's title comes from a term used by the British government in the 1930s to describe the mysterious concentric patterns recorded by radar before dusk and soon after dawn. Fearing enemy or even alien aircrafts or communications, military planes where tasked with trying to identify these unseen forces, however it was as late as the 1950s when the patterns were revealed to be the gathering of roosting starlings. The birds' presence in the United States also has a history relating to language: a hundred starlings were released in Central Park in 1890 by a small group of European Shakespearian enthusiasts who intended to introduce all the species mentioned in the works of William Shakespeare to the country. The birds have since spread in the millions across the United States. Recorded from the perspective of the birds in close formation, Ring Angels describes the rhythms, timbre, and language of a world we live alongside yet can never experience.
Drawing on various sources like architecture, design, nature, and popular culture, and using repetition as well as rhythm as a consistent feature in her practice, Claudia Comte's (b. 1983, Switzerland) new sculptural work The Italian Bunnies (2016) playfully explores the relationship between material, space, and form. For The Language of Things, Comte presents a site-specific installation of seven white marble sculptures sited on one of the park's discreet lawns. The work consists of seven variations of a single "U", a letter which can be visually rotated, inverted, doubled, and otherwise manipulated, to create a series of other letters. While inviting the visitors to walk among these larger-than-life hieroglyphics, Comte draws on the language of modernist abstraction and investigates the way artwork can transform a space, turning a static place into a dynamic environment.
Michael Dean's (b. 1977, United Kingdom) work begins with text, with his writings physicalized into sculptures, performances, drawings, and photographs. For The Language of Things Dean has created a new sculpture that explores the conversion of language from word to form, as well as the language of urban surfaces through the use of materials such as concrete and steel.
The exhibition also includes a selection of Code Poems (1960s) from renowned poet Hannah Weiner (b.1928, United States; d. 1997, United States). By creating this series using Morse code and semaphore (a maritime telegraphy system conveying information at a distance through the use of hand-held flags, paddles, rods, or disks), Weiner disassembles the connections between symbol and word. For Weiner, coded communications are universal, unhindered by distance, origin, or language, and allow for 'the translation of simultaneous equivalents' – abstract visual and aural signs, motion, electronic sound, and words all implemented through sending and receiving.
Influenced by Weiner's poetry, Adam Pendleton (b. 1984, United States), whose work often utilizes language as an artistic medium, presents a new commission for The Language of Things. Taking the form of an indecipherable code composed of large-scale black concrete geometric forms like circles, squares, and rectangles, the scale of these sculptural dots and dashes', as well as their stepping-stone quality, almost disguise their linguistic purpose, requiring visitors to move across and around the sculpture to read it.
Shown in the United States for the first time, Carol Bove's (b. 1971, Switzerland) Lingam (2015) is a large-scale sculpture composed of three connected steel beams and a large piece of petrified wood. As the work's title suggests, the sculpture poetically communicates the mystical power of an object. A lingam is a symbolic object. Representing the Hindu God Shiva, these worshipped abstract phalluses are understood to possess mysterious and spiritual forces, allowing them to speak beyond their form. Bove's object holds an equal innate power, with the seemingly floating block of petrified wood speaking of a transformative phenomenon, one marked by time and nature.
VISITING THE EXHIBITION
City Hall Park is located in Lower Manhattan, and is bordered by Broadway, Chambers Street, Centre Street, and Park Row.
Hours: 7:00am – 12:00am daily
Subways: A, C, E to Chambers Street; 4, 5, 6, J to Brooklyn Bridge-City Hall; R to City Hall; 2, 3 to Park Place
EXHIBITION SUPPORT
This exhibition is generously supported by Marian Goodman Gallery, the AB Foundation, Erin & Matthew D. Bass, Linda Lennon & Stuart Baskin, and Patricia & Howard Silverstein.
Audio equipment provided by Bowers & Wilkins.
Public Art Fund exhibitions are supported in part by the New York City Department of Cultural Affairs in partnership with the City Council.
Special thanks to the Office of the Mayor, Office of the Manhattan Borough President, Department of Cultural Affairs, and NYC Parks.
ABOUT PUBLIC ART FUND
As the leader in its field, Public Art Fund brings dynamic contemporary art to a broad audience in New York City and beyond by mounting ambitious free exhibitions of international scope and impact that offer the public powerful experiences with art and the urban environment.
Follow Artists In This Show