ANALIA SABAN CANVAS ON PAINT 阿娜利亚·萨班 颜料上的画布
Canvas on Paint is Analia Saban's first solo show in China. The exhibition conveys Saban's continuous attention to the traditional tools of art-making which she uses to reconstructs the concept of the painting, sculpture and drawing.
Nov 9th, 2017 – Feb 11th, 2018
Opening Reception: Thursday, Nov. 9th, 4pm -7pm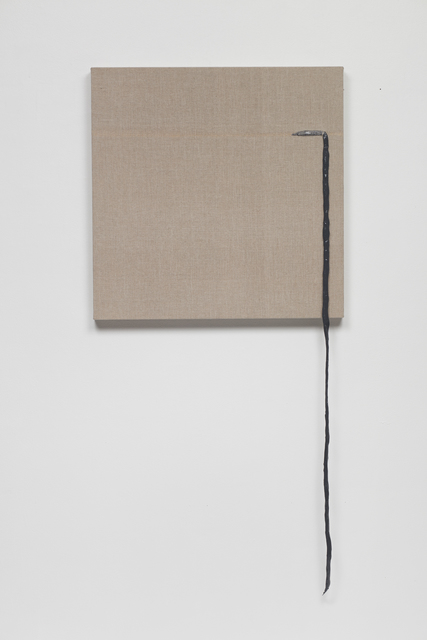 Press Release
阿娜利亚·萨班
颜料上的画布
ANALIA SABAN
CANVAS ON PAINT
2017.11.09 — 2018.02.11
Qiao Space, in cooperation with Sprüth Magers, is pleased to present Analia Saban's first show in China. The exhibition Canvas on Paint furthers the artist's experimental, witty, and profound exploration into the genesis of artworks and the ways they engage with their surroundings. Across two recent series, Saban weaves together literally, at times medium, content and architectural references into everyday concerns that range from playful investigations to meditations on mortality. Saban's new series continues her long-held occupation with the basic tools of art-making; while using traditional materials such as paint, linen, and paper, she frustrates our concept of what a painting, sculpture or drawing can be.
In Saban's series of weavings each painting has been woven by hand on a traditional loom. As the linen canvas emerges from the loom, networks of dried acrylic brushstrokes are knitted into its fibres. The monochromatic lines and forms that run through these works share the minimalist impulses of painters such as Sol Lewitt and Agnes Martin. However, they also subvert received notions of painting as strictly paint-on-canvas, by mastering what is essentially paint-within-a-canvas. The resulting objects are situated somewhere in between painting and sculpture. The geometric patterns within the works gradually consolidate into recognizable forms, such as window frames, doorways, and the protective accordion-style gates that are frequently seen across the artist native Los Angeles. What begins as an innovative subversion of artistic conventions develops into an exploration of the permeable boundaries between artworks, objects, architecture, and daily life.
A recent series of photographic inkjet prints in the exhibition contests ideas of how art mediums are understood to function. We observe the gradual unravelling of a linen canvas, its threads are unwoven by an unseen hand. The photographs look uncannily real, tempting viewers to reach out to pull the loose strands themselves. They are printed onto carefully prepared sheets of acrylic paint, which are created by drying thin layers of white paint, building them up over time until they are dense enough to support the printing process.
About the Artist
Analia Saban (b.1980 Buenos Aires, Argentina) lives and works in Los Angeles, CA. Saban received a BFA in Visual Arts from Loyola University in New Orleans in 2001, followed by an MFA in New Genres at the University of California in Los Angeles in 2005. Her work has been exhibited widely in both solo and group shows in the US and Europe, including two concurrent exhibitions at Sprüth Magers in Berlin and Los Angeles (2017); Blaffer Art Museum, Houston (2016), Rubell Family Collection Contemporary Art Foundation, Miami (2015-2016), LACMA, Los Angeles (2012, 2014-2016), The National Museum, Oslo (2014-2015), Kiosk, Ghent (2015), Armory Center for the Arts, Pasadena (2014), Palais de Tokyo, Paris (2013), and Centre d'art Contemporain de Fribourg, Switzerland (2012-2013). Furthermore, Saban's works are represented in the collections of the Hammer Museum at UCLA, Museum of Contemporary Art, and Los Angeles County Museum of Art in Los Angeles; Centre Pompidou in Paris, and Fundación Proa in Buenos Aires, amongst others.

阿娜利亚·萨班
颜料上的画布
ANALIA SABAN
CANVAS ON PAINT
2017.11.09 — 2018.02.11
乔空间与 SPRÜTH MAGERS 画廊荣幸地宣布,将于11月9日在上海乔空间举办阿娜利亚·萨班(Analia Saban)的中国首次个展——颜料上的画布。 此次展览将继续萨班关于艺术源起与环境关系实验性的、机智深入的探索。阿娜利亚·萨班在近期创作的两个系列中采用了编织的手法,并不时地将媒介、内容和架构参考与自身的日常关注交织起来——其中包括值得玩味的调查研究和对生命必逝的深思。萨班的新作持续了其对艺术创作基础工具的长期关注,运用诸如颜料、亚麻画布、纸等传统材料,颠覆着观者对油画、雕塑和素描的概念。
萨班编织系列中的每一幅作品都是在传统织布机上手工编织而成的。随着亚麻画布从织机上渐渐浮现,干涸的丙烯笔触网络被织进了画布的纤维中。这些作品中单色的线条和形状呼应了索尔·勒维特(Sol Lewitt)和艾格尼丝·马丁(Agnes Martin)等极简主义艺术家的创作。但其作品也推翻了绘画仅限于"画布上颜料"的既定观念,而呈现出"画布中的颜料"的状态。其最终结果是一种介于绘画与雕塑之间的物质呈现。萨班作品中的几何图案逐步固化为可辨识的形状,例如窗框、门廊,以及艺术家居住地洛杉矶常见的折叠形防护门。萨班对艺术惯例的创新性颠覆发展为一种对于艺术作品、物体、建筑和日常生活间交织边界的探索。
展览中,艺术家新近创作的一组喷墨打印摄影挑战了对于艺术媒介的运用。我们看到逐渐消解的亚麻画布——似乎有一双隐形的手拆分了其纤维。这组作品看上去真实得出奇,引诱观者伸手去拉松散的线串。照片印在精心准备的由丙烯颜料构成的薄板上。白颜料被层层堆叠、晒干,直到其密度足以支撑印刷过程。
关于艺术家
阿娜利亚·萨班(Analia Saban),1980年出生于阿根廷布宜诺斯艾利斯,现工作生活于美国加州洛杉矶。2001年,萨班于新奥尔良洛约拉大学获得视觉艺术学士学位,2005年于加州大学洛杉矶分校获得新流派艺术硕士学位。阿娜利亚·萨班的作品曾在美国和欧洲的许多个展与群展中广泛展出,包括近期在柏林与洛杉矶 SPRÜTH MAGERS 画廊的两个展览;休斯顿布莱弗美术馆(2016), 迈阿密鲁贝尔家族珍藏馆(2015-2016),洛杉矶郡立美术馆(2012, 2014-2016),奥斯陆国家博物馆(2014-2015),比利时根特Kiosk美术馆 (2015),帕萨迪纳军械库艺术中心(2014),巴黎东京宫(2013),瑞士弗里堡当代艺术中心(2012-2013)。此外,许多知名艺术机构收藏了阿娜利亚·萨班的作品,包括洛杉矶哈默艺术博物馆,洛杉矶当代艺术博物馆,洛杉矶郡立美术馆,巴黎蓬皮杜艺术中心,布宜诺斯艾利斯普罗阿基金会等。
Follow Artists In This Show